WATCHDOG REPORT
Miami-Dade, Florida
Vol. 10 No. 21  October 25, 2009
Daniel A. Ricker, Publisher & Editor
Est. 05.05.00  I go when you cannot & A community education resource & news service —
Celebrating My Tenth Anniversary since May 5th,  www.watchdogreport.net & Former, Miami Herald independent news columnist
CONTENTS
Argus Report: Candidates must not campaign in government buildings; scrutiny will increase, as U.S. Senate primary looms nearer
Florida: Children's Trust to collaborate with Census Bureau on 2010 count, "everyone needs to be counted"
Miami-Dade County: Commissioner Diaz tries to return the "love," & Souto says residents call building "palace of corruption"
Broward County: State PD Finkelstein in the spotlight this week, also television personality, had $705,000 net worth through 2008
Palm Beach County: Long serving PA Nikolits in the spotlight, first elected 1992, $1.16 net worth through 2008
Monroe County: Clerk Kolhage in the spotlight, small circuit, had $745,000 net worth through 2008
Miami-Dade Public Schools: Board member Feldman in the spotlight, elected in 2008, had $2.53 million net worth through 2008
Public Health Trust: Trust to cut lobbyist fees 15 percent, new lobbyist Diaz de la Portilla gets $50,000 contract
City of Miami: Mayor Diaz saying sayonara, many positives including ethnic relations, but some missteps
City of Miami Beach: Commissioner Diaz stepping down, goes out on an ethics role
City of Coral Gables: About 50 City workers get laid off, "sad month for the City," says Slesnick
Florida City: Congressman Diaz-Balart office will answer resident's questions in monthly open house
Community Events: Downtown Bay Forum luncheon on pensions — Imagine Miami Changemaker Conference III: Show Us the Money! For Education, Healthcare & Human Needs
Editorials: Miami-Dade Commission must resolve budget crisis, not the doing of the press
Letters: Reader on Miami DDA new Master Plan – Reader cries foul that candidate Ferre is on county commission dais, without U.S. Rep. Meek
Sponsors – Publisher's mission statement & Subscription information is at the bottom of this issue
>>> Just because you do not take an interest in politics does not mean politics will not take an interest in you. –Pericles (430 B.C.)

>>> The Watchdog Report publisher would like to thank the John S. and James L. Knight Foundation www.knightfoundation.org for funding the University of Miami's Knight Center of International Media http://knight.miami.edu within the University's School of Communication www.miami.edu assistance to rebuild my web site www.watchdogreport.net that is now on line again, since the previous one was shut down in July 2008. Past reports will continue to go on line in the future, potentially as far back as May 2000.  This institutional support is a major break through for me, and I am deeply appreciative of the help these two substantial international institutions have given me at a time the site was an unbudgeted expense and to keep the Watchdog Report a community education resource, while also being a decade old news service.
>>> I was interviewed on www.WPBT.Org show, Issues, hosted by Helen Ferre Friday regarding the Miami and Miami Beach upcoming elections >>> Watch This Week's Issues >>> Here are the links to watch this week's program on uVu. Friday, October 23 @ 7:30 PM and Sunday, October 25 @ 12:30 PM : ISSUE ONE: State Race Review >> ISSUE TWO: Early Voting for City of Miami and Miami Beach >>>  State Race Review –Polls indicate Marco Rubio is beginning to close the gap with Governor Charlie Crist for the senatorial Republican primary.  Is the same true for Chief Financial Officer Alex Sink and Attorney General Bill McCollum?  How can name recognition and the lack of a Democratic gubernatorial primary influence election results? Guests: Sean Foreman, Ph.D., Barry University, Anthony Man, SunSentinel, Joy Reid, South Florida Times, Justin Sayfie, Sayfie Review
>>> Early Voting for City of Miami and Miami Beach –The Cities of Miami and Miami Beach begin early voting next week for key races, including the Mayor and Commission seats.  Daniel Ricker of the Watchdog Report joins us to analyze the candidates in this upcoming election. Guests: Daniel Ricker, Watchdog Report Posted at 04:31 PM | Permalink
>>> I will be on Topical Currents hosted by Joseph Cooper on WLRN/NPR 91.3 FM, Nov 3, Election Day with other guests to discuss the local elections being held at the cities of Miami, Hialeah and Miami Beach. Readers should listen in www.wlrn.org
ARGUS REPORT – Heard, Seen on the Street
>>> Candidates must not campaign in government buildings, scrutiny will increase as primary looms nearer
Maurice Ferre, 74, a new Democratic Party candidate for the U.S. Senate was on the Miami-Dade Commission dais for a panel Monday afternoon and the Watchdog Report went to the meeting to specifically remind him he was now an active candidate and must be very careful what he says in a government meeting that was televised countywide on the county's television station. In reviewing the meeting tape, he complied but all candidates must keep the federal and state campaigning rules in mind and any political comments in government buildings are forbidden by a candidate. Ferre, has months to go before the he has to qualify as an official candidate for his bid to try to get the Democratic Party's voters nod, and he is facing off against U.S. Rep. Kendrick Meek, D-Miami (net worth around $62,000 in 2002) and former North Miami Mayor Kevin Burns. However, his most important challenge is fund raising and he must quickly raise at least $1 million, at a minimum to show he is a true player in the race. Further, Ferre is a member of the board of the Miami-Dade Expressway Authority, that organization spends hundreds of millions on freeway projects for the extensive local roads that crisscross South Florida, and the candidate must tread carefully when it comes to who gives campaign contributions to his war chest.
What about the U.S. Senate race?
On the Republican side, Gov. Charlie Crist (net worth $466,000) is still ahead in the polls and has over $6 million in his campaign treasury but former House Speaker Marco Rubio, R-Miami (net worth $8,351) has been dogging the governor and a wide gap in favor of the governor has tightened up and with a closed Republican primary. Rubio could do some damage and he is forcing Crist toward the right that could come back to haunt him in the General Election. Further, all the candidates will be highly scrutinized in the months ahead leading up to the August primary on both sides and the Watchdog Report has extensive files made up almost exclusively of public documents and political operatives from both political parties will be going over the public record and there are some gems in the public domain.
>>>  Press release: Zogby Interactive: Healthcare Reforms Important to Most, Yet Concerns Persist –Most Obama Goals Rated Highly by More Than 80% of Likely Voters; Concerns Raised by GOP Shared by More than Half
More than 80% of likely voters rate most of President Barack Obama's healthcare reform proposals as important to them and their families, but majorities also share concerns about reform proposals that have been raised by Republicans. Those are findings of a Zogby Interactive poll of 3,694 likely voters conducted from October 16-19, 2009. The margin of error is +/-1.9%. The poll asked voters to rate the importance of seven of Obama's primary goals for healthcare reform. Only one of the seven goals, making sure all U.S. citizens have coverage, had fewer than 80% rate it as important. Please click the link below to view the complete news release on our new website:
http://www.zogby.com/news/ReadNews.cfm?ID=1758
>>> Thanks to my supporters, the Watchdog Report, celebrated its Tenth Anniversary on May 5th.
Over the past ten years there have been so many stories and here are just a miniscule few that have been in the past 410 Watchdog Report's that each has had almost three dozen stories or announcements per week, and that does not include around 100 Watchdog Report EXTRAS over this time. Back in September 2000, then county manager Merrett Stierheim gave the Watchdog Report the gift of a lifetime when I wrote he would be retiring by Feb 1 and he responded with a official county memo to the mayor and commissioners titled Rumor Control blasting my assertion that later became true. Other stories broken were that Miami Police Chief John Timoney was joining Miami in Jan. 2003 and that there was a man in Italy claiming to be a Miami vice Mayor and being wined and dined by Italian officials even though the city does not have such an office. Over the years I have covered almost every significant story regarding Jackson Memorial Hospital, the school board and county and sent a EXTRA from the PAC construction committee in the summer of 2003 noting the arts centers would be 20-months delayed and needed immediately over $60 million in new funding that ultimately came in at $472.9 million.
In addition, I have covered the Miami-Dade ethics commission and the Office of the Inspector General since there inception and over the years have done dozens of stories on people busted by both agencies since then. For me it is difficult to reflect sometimes on past stories because there have been so many and generally once I have done it I move on to the many other news stories that develop every day and spring up like weeds every week. I have tried to be the news contrarian, and if there is major media at an event, I will move on unless I have something significant to add, and given the size of our public institutions, something is always going on somewhere else. We may just not be aware of it.
>>> See what was said about the Watchdog Report in the Miami New Times 2003 — Best of Miami — BEST CITIZEN  — Daniel Ricker –
Three years ago, we said Ricker was our Best Gadfly. Given his dedication and perseverance, this new honor, Best Citizen, is well deserved. Ricker goes to 2500 mind-melting meetings annually, from the Public Health Trust's purchasing subcommittee to the Efficiency and Competition Commission to the Alliance for Human Services' nominating council to the school board's audit committee. Sometimes he's the only public observer. Object: to be the Public Citizen for all those out there who can't attend, and to connect and serve as an information bridge among the special-interest-dominated Miami-Dade governmental institutions that seem so problematic and indifferent to the democratic process.
This month his e-mail newsletter, The Watchdog Report, celebrates its fourth anniversary. In a former life Ricker made a handsome living as an international salesman of heart pacemakers. As the hard-working publisher of Watchdog Report, though, he's struggling financially — this despite the fact that his weekly compendium of meeting summaries, analysis, interviews, and commentary has become essential reading for anyone involved in public affairs. What his written work may lack in polish, it more than makes up for in comprehensiveness. So raise a toast to the man whose official slogan says it all: "A community education resource — I go when you cannot!"
FLORIDA
>>> Children's Trust to collaborate with Census Bureau on 2010 count, "everyone needs to be counted"
The Children's Trust of Miami-Dade is joining in the upcoming U.S. 2010 Census effort that starts in April and the organization is working with the Census Bureau, the county and local municipalities to make sure every one is counted, especially children, who many times are missed. The trust discussed the activity Monday at its monthly board meeting and after the flawed 2000 Census where at least 80,000 people were undercounted countywide. After the activity coincided with the young Cuban boy Elian Gonzalez arriving and splitting the community along ethnic divides. That undercount has kept on giving every year since then, resulting in between $2,300 to $3,000 in federal dollars per person per year that has not come to south Florida and it also reduces our elected representation. Staff told trustees "there are gaps where greater attention might be needed" around the county and the goal is "to spread the word everyone needs to be counted," said an administration representative. For more information about the Census and Complete Count Committees go to http://2010.census.gov/partners/materials/general-materials.php
>>> What about the trust's new future five-year strategy?
Moe Abety, the trust CEO at a Ad Hoc Group Committee meeting held before the full board met suggested that two RFP's and one contract extension on the agenda in total worth about $15 million be deferred until the trust, with nine new trustees meets in a retreat and discusses what the new five-year strategic plan should be. The last plan ended in 2007 and 2008 was a bad year to address the issue since the organization's budget for programs fell from a high of $162 million a few years ago to $141 million to $115 million in the current year and staff had their hands full dealing with this falling revenue while maintaining funding effective programs. The trust will have a retreat to discuss a new five-year investment plan focused on the desired community results for children, youth and families in Miami-Dade, state trust documents. The plan will provide guidance to staff, for the developed work plan, which will provide a five-year framework for budget planning and development, and will include a one-page version of the plan for use with public communication, state trust handout documents.
>>> Press release: Governor Charlie Crist today appointed David E. Klement of Bradenton to the Public Service Commission. He will succeed Katrina McMurrian, who resigned earlier this month
"David's community involvement and professional experience have given him a unique perspective on consumer issues," Governor Crist said. "I look forward to his getting to work right away with the Commission." Klement, 69, has directed the Institute for Public Policy and Leadership at the University of South Florida Sarasota-Manatee since October 2007. He previously worked for the Bradenton Herald newspaper as editorial page editor, business editor and city editor from 1975 to 2007. From 1966 to 1975, he worked for The Detroit Free Press newspaper as night metro editor, deputy business editor and photo editor. From 1962 to 1966, he was an assistant city editor and reporter for The Daily Oklahoman in Oklahoma City. He earned a bachelor's degree in journalism from the University of North Texas and a master's degree in mass communication from the University of South Florida. >>> The Public Service Commission is responsible for regulating the rates, services and safety of privately owned public utilities. The commission is charged with adopting energy efficiency goals and providing competitive market oversight. Klement will complete the remainder of McMurrian's term, effective October 22, 2009, and ending January 1, 2010. Earlier this month, Governor Crist appointed him to a four-year term beginning January 2, 2010, and ending January 1, 2014.  The appointment is subject to confirmation by the Florida Senate.
>>> Press release: www.FloridaFellows.com >> Gov. Crist today re-launched the Gubernatorial Fellows Web site and invited college and university students to apply for the 2010-11 Gubernatorial Fellows program. Participation in the program provides Florida college and university students with firsthand, high-level experience and insight into how government operates. Established in 2004 and endowed by Al and Dawn Hoffman in 2005, the program gives Florida college and university students the unique opportunity to work alongside state government's top staff for two semesters. "No work is more rewarding than public service, and I applaud the 59 Fellows during the past five years who have learned more about how government works," said Governor Crist. "I invite college students throughout the Sunshine State to consider a career in public service and explore the opportunities available through the Gubernatorial Fellows program." The Fellows Web site – www.FloridaFellows.com – includes information about the expectations and requirements of the program, as well as testimonials from Fellows alumni.  Interested students must apply online, and the site includes complete information about the recruitment process. The Gubernatorial Fellows program provides students who are interested in public service with the opportunity to gain experience and exposure by working in key areas of government. Gubernatorial Fellows are assigned to the Executive Office of the Governor and the Governor's agencies, based on their major or area of concentration.  Fellows work a minimum of 20 hours per week and are paid for their time on the job.  Fellows also participate in a weekly lecture series, where they meet face-to-face with prominent leaders, including Governor Crist, Lt. Governor Jeff Kottkamp, Cabinet officers, agency heads and other top government officials.
Fellows also participate in policy study trips throughout Florida and in Washington, D.C.  These additional commitments are designed to broaden the Fellows' exposure to state government and enhance the experience of all participants. "What I learned about state government and how it works as a Gubernatorial Fellow opened the doors for many unforeseen opportunities," said Torey Alston, Class III Fellow and executive director of the Office of Supplier Diversity within the Florida Department of Management Services since 2007. "The real-world experience and professional development gained in this program is second to none." "The program provided extraordinary opportunities to participate in real governance, to sit at the table with current and future state leaders," said Tyler Cathey, Class III Fellow and associate with Holland and Knight. To be eligible for a Gubernatorial Fellowship, candidates should be enrolled at a Florida college or university as an upperclassman (junior or senior) or a graduate student. Applicants should exhibit strong leadership, written and oral communication skills, community activism and a desire to serve the people of Florida. Approximately 12 students from around the state will be selected based on a competitive application process. Applications are due by March 12, 2010. The Fellowship will follow the university calendar starting in August 2010 and ending in May 2011. The Governor's screening and selection committee will announce the program participants during the first week of June 2010. For more information on the Gubernatorial Fellowship program, please visit www.FloridaFellows.com.
>>> Press release: Governor Charlie Crist today announced Shane Strum will take over as Chief of Staff beginning November 3. Strum currently serves as Deputy Chief of Staff to the Governor.
"Shane's past experience as a successful businessman combined with his experience in our administration on the important issues of transportation and business have prepared him well to lead our office," Governor Crist said. "He has shown tremendous leadership, and I am confident he will serve the people of Florida well." Strum, 40, currently oversees a portfolio of Governor's agencies vital to Florida's economic growth that includes the Departments of Transportation, Education and Business and Professional Regulation. He has championed such issues for the administration as strategic transportation and infrastructure planning and higher education reform. "I am humbled by this new responsibility to serve Governor Crist and the people of Florida. Under the Governor's leadership, I look forward to the opportunities that lie ahead and working together to better the lives of those we serve," Strum said. "These are challenging times in our state and I thank the Governor for his confidence in me. I welcome the opportunity to work alongside the dedicated staff of the Executive Office of the Governor."
Strum previously served as the Deputy Secretary for Business Operations in the Florida Department of Management Services. As deputy secretary for business operations, Strum directed a 450-person team that manages state purchasing, real estate development, fleet operations, federal property surplus, correctional privatization and supplier diversity.  Prior to serving at DMS, Strum directed new business development for seven years at Blue Frog Solutions, Inc., a Pompano Beach-based finance and insurance technology firm. From 1995 to 2000, Strum served as the Director of Corporate and Government Affairs for Nova Southeastern University's Huizenga School of Business and Entrepreneurship.  He earned his bachelor's degree in political science from the University of Alabama and a master's degree in business administration from Nova Southeastern University. Eric Eikenberg, current Chief of Staff to the Governor since January 2008, will remain in his post until November 2 for purposes of transition. Eikenberg, 33, previously served as Deputy Chief of Staff in the Crist Administration, Chief of Staff to former United States Congressman E. Clay Shaw Jr. and deputy executive director of the Republican Party of Florida. He is a graduate of The American University. "Eric is a tremendously talented member of our team who has served the people of Florida well for the past two years," Governor Crist said. "Serving in this administration under the leadership of our great Governor Crist has been one of the greatest honors in my life," Eikenberg said. "I thank the staff of the Governor's office for their support and tireless effort on behalf of the people of Florida." Eikenberg will continue to serve the Governor in a new capacity.
>>> Press release: Good News/Bad News: State Revenues Exceed Estimates, But Unemployment Rate Reaches Highest Level in Decades
Florida's unemployment rate in September climbed to 11%, the highest it has been in 34 years (October 1975).  The September rate is 0.2 points higher than the previous month (August 2009) and 4.3 points higher than one year ago (September 2008).  The state has lost 360,000 jobs since September 2008. The highest unemployment rates in the state are in Palm Coast (16.2%), Vero Beach (15.2%), and Port St. Lucie    (14.1%).  The lowest unemployment rates are in areas which rely on government, education, and military employment – Tallahassee, Gainesville, and Ft. Walton are all below 7.5%.  The national unemployment rate is 9.8%.
There are now more than one million Floridians out of work, the largest number of unemployed persons in state history.  According to the Florida Agency for Workforce Innovation (AWI), there are roughly five unemployed persons for every available job opening.  Moreover, one in five of the employed are said to be underemployed – i.e., overqualified for their job.  Construction, transportation, and business and professional services have been hit the hardest, accounting for two-thirds of the total job losses.  Health care is the only sector experiencing growth. There is some good news regarding employment.  AWI reported that for the first time in a year it received no major layoff announcements last week.  The number of major layoff notices the agency has received has fallen from 36 in March 2009 to seven in September. There are some other signs we may be turning the corner.  Consumer confidence is up and foreclosures are down.  At a recent meeting of the Florida TaxWatch Council of Economic Advisors, there was a consensus that a slow national recovery has begun or will soon begin. Additionally, the Florida Department of Revenue (DOR) just reported that actual deposits exceeded estimated deposits by $94 million (4.8%) in September 2009 for the general revenue (GR) sources that DOR collects.  The DOR data does not cover all revenue sources, so the total GR collection numbers will not be known until the Legislative Office of Economic and Demographic Research releases the data in a couple weeks; however, it appears that actual collections will certainly exceed estimates, which is a positive sign.  Considering also that actual revenue collections exceeded estimates for the first two months of the current fiscal year (July and August) by $32.1 million, the next General Revenue Estimating Conference (which has not yet been scheduled) might produce the first upwardly revised forecast in some time.
While the state has collected $32.1 million more than was estimated in July and August, it must be remembered that the two-month take is still $400 million less than the same two months last year.  Additionally, forecasts indicate that the current fiscal year (FY 2009-10) will be the fourth consecutive year that GR collections have declined from the previous year and that the state's GR collections are not expected to again reach the highest level of FY 2005-06 until at least FY 2013-14. It is too early to tell if the good revenue news means the state is on the way back up, but it is cause for some optimism.  Still, the new DOR numbers show that more than half of the September overage comes from sales tax collections, which were certainly given a temporary boost by the "Cash for Clunkers" program (because September collections reflect August activity).  The other source well over estimate was the corporate income tax, which is very volatile and difficult to predict month to month. >>> Florida TaxWatch is a statewide, non-profit, non-partisan research institute that over its 30-year history has become widely recognized as the watchdog of citizens' hard-earned tax dollars.  Its mission is to provide the citizens of Florida and public officials with high quality, independent research and education on government revenues, expenditures, taxation, public policies and programs and to increase the productivity and accountability of Florida state and local government. Its support comes from homeowners and retirees, small and large businesses, philanthropic foundations, and professional associations. On the web at www.FloridaTaxWatch.org.
MIAMI-DADE COUNTY
>>> Commission tries to return the "love," Souto says residents call building "palace of corruption"
"A lot of love," said Commission Vice Chair Jose "Pepe" Diaz (net worth $226,000) is coming from The Miami Herald www.miamiherald.com when it comes to the commission and the elected body last week fired back at the paper by possible modifying how public notices get out to the public. One commissioner's suggestion was to have radio stations do public service spots of upcoming meetings; another commissioner suggested using the internet and the county's web page for such announcements that are required under the Florida Sunshine Laws. However, as Commissioner Natacha Seijas (net worth $655,000) noted, many county residents are elderly and may not use or have access to a computer, while others suggested using the commission's periodical program to get the public meeting information out to our diverse community.
Commissioner Joe Martinez said over $1 million is being spent on these ads in the general circulation daily by the county and was told The Daily Business Review would fulfill the notice requirement but that paper has a targeted business and legal audience and is quite expensive. Further, in the case of the local free periodicals, these entities already get around $1 million for running press releases written by county media staff that sometimes appears reporters write these in the small paper outlets and when it comes to elections. These community papers generally run incumbent political campaign ads and it clouds the issue of trying to be fair and balanced when it comes to candidate coverage. The Herald, to some members of the county commission is almost like the Great Satin and the recent series of stories, that most recently detailed the commissioners holding on to $5 million in discretionary office funds through carryover, while the administration is having to make $444 million in cuts, and people are getting pink slips drove some commissioners over the edge in their criticism of the paper. On Tuesday and Thursday, some commissioners especially Diaz took verbal pot shots at the press and "those guys" (A Miami Herald reporter and me) in the glass press booth in the chambers at the time.
What did commissioner Souto say about "the palace of corruption?"
Commissioner Javier Souto, a former state senator and long serving commissioner was fed up Thursday during some of the budget hearings trying to resolve the $208 million financial hole the county is in during the current year, but is making little headway. After the commission adjourned in the afternoon and will take up the issue of the three union cuts in benefits and salary, that is currently at impasse, again on Monday at 1:00 p.m.  Every pay period without a resolution of the reductions costs the county around $4 million, but I was told by a reliable source it is actually a higher number and either way. The longer the commission drags this decision on, the more it will have to cut during the current budget year. Souto said he travels around the county and listens to what residents say and he noted the Stephen P. Clark Government Center had the moniker of "the palace of corruption" and he emphasized he was "for the little people" and noted when it came to the budget, "the manager controls the purse." He said, "Don't push me or you will get burned" saying he has seen everything over the years and some commissioners have gotten into "trouble" and while he is older. "My memory is fine," he concluded.
Seijas said "many months ago I knew we were in trouble" and carped when it came to what was being said on many media outlets about the county government. "The fact of the matter is the people that call in to the radio" criticizing county salaries and perks for employees are "the same people, and I know their voices," she said. The veteran commissioner said when her constituents ask her about the level of the salaries. "I have to explain that some of these people have gotten Master Degrees" or higher and is why when the commission honors county workers for their 30 or 35- years of service "not a single employee said a negative thing," during a earlier employee ceremony in the chamber.
Mayor Carlos Alvarez, (net worth $1.66 million) looking almost ashen at one point in the discussion Thursday told commissioners that "the reduction in salary was to reach a goal" and it was the "last thing we got to" when it came to across the board five percent salary reductions. "No one likes to take pay cuts," said Alvarez but there is a "revenue shortfall" and without this concession in some form "significant service reductions and more layoffs" are the only answer and could involve "hundreds more in layoffs" of the county's 30,000 plus total employees. The mayor said there was "no  pot of gold" the administration was holding on to after Chair Commissioner Dennis Moss (net worth $477,000) inquired if there was money somewhere the commission did not know  about. The mayor said, "Everyone is dancing around the question and we need to make a decision" because there is "approximately $200 million" that needs to be cut and he said that can only be achieved through "salary reductions and freezes in salary" and it needs to be "done sooner rather than later," said the mayor.
>>> County feeding program hits almost 700,000 meals through September
The Miami-Dade Homeless Trust had its monthly board meeting Friday and the number of meals served in a feeding program has soared to 698,644 meals through the fiscal year that ended Sept. 30. The Homeless Assistance Feeding Program was consolidated at a few indoor sites back around 2005 and it has been a success but the number of meals served is staggering. Prior to the consolidation many organizations fed people from vans and out doors and Miami Commissioners, especially Commissioner Angel Gonzalez wanted these church and charity groups cited or possible arrested. The new program was a compromise and Miami Commissioner Tomas Regalado was the person representing the city on the trust board.
>>> Press release: Elections Department Reminds Voters – Three Convenient Ways to Vote Early Voting Begins Monday >>> Press release: Approximately one-third of the County's registered voters are eligible to vote during the upcoming November 3 Municipal Elections in the cities of Hialeah, Homestead, Miami and Miami Beach.  Voters may vote early, via absentee ballot, or at their assigned precincts on Election Day. "We are looking forward to accommodating all voters and encourage everyone to participate in their municipal election. It's never been more convenient," said Supervisor of Elections Lester Sola. "Early Voting begins on Monday for most cities, but you can vote absentee or wait until Election Day."
>>> EARLY VOTING
For the cities of Hialeah, Miami and Miami Beach, Early Voting will take place from Monday, October 26 through Sunday, November 1, 2009.  In Homestead, Early Voting is scheduled from Thursday, October 29 through Saturday, October 31, 2009.  Early Voting locations and hours of operation are available by calling 3-1-1 or going online at www.miamidade.gov/elections.
>>> VOTE ABSENTEE: The last day to request an Absentee Ballot is Wednesday, October 28, 2009 by 5 p.m. Voted absentee ballots must be received by the Elections Department no later than 7 p.m. on Tuesday, November 3. Any registered voter eligible to vote in one of these municipal elections may request an absentee ballot by submitting a request in writing. For more information please call 3-1-1 or visit the Elections' website and click on "Absentee Voting."
>>> VOTE ON ELECTION DAY :On Election Day, November 3 voters must vote at their assigned polling place listed on their voter information card.  Voters who are unsure of where to vote should call 3-1-1 or go to the Elections' website and click on "Find Your Precinct."
>>> Hialeah Primary Election (November 3, 2009)

>>> Miami General Municipal Election (November 3, 2009)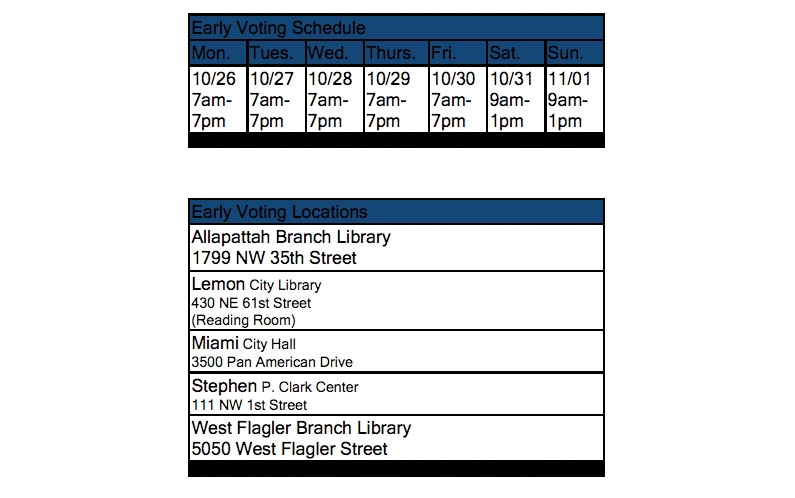 >>> Miami Beach General and Special Elections (November 3, 2009)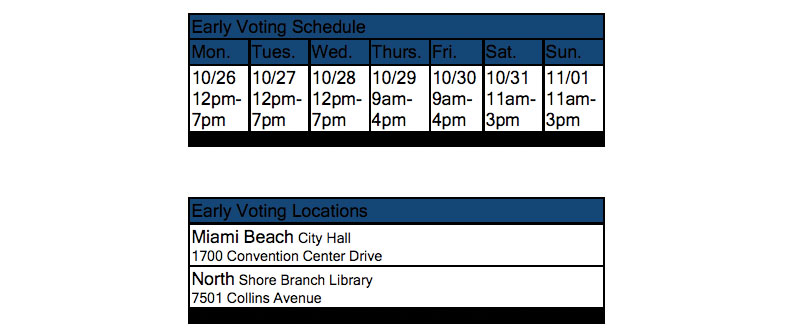 >>> Homestead General Election (November 3, 2009)

BROWARD COUNTY
>>> State PD Finkelstein in the spotlight this week, also television personality, had $705,000 net worth through 2008
Howard Finkelstein, the Broward Public Defender elected in 2004 is in the spotlight this week and he gained fame in the 1990's providing legal comments during the O.J. Simpson murder trial. He continues to be on television and has a gig called Help Me Howard on FOX TV and when he first decided to run for office some people cried foul since he also was a media personality. However, other people argue that voters knew what they were getting, he was essentially grandfathered in regarding the show, and he continues to do it to this day. In 2008, he faced a Democratic Party challenger in the primary that he bested and he then defeated the Republican candidate for the office in the Nov. General Election.
What do we know about his finances?
Finkelstein through Dec. 2008 had a net worth of $705,000 and he lists $75,000 in household goods. He has $757,000 in assets that include $24,000 of cash, two IRA's have $100,000 and $8,500, the cash value on life insurance is $112,000 and there is $87,954 in deferred compensation. He has $5,703 in the Florida Prepaid College Fund, there is $20,000 in stock, a car is worth $14,000 and his home is valued at $383,000. The attorney lists liabilities of $115,000 with GMAC, he owes a credit union $10,800, and VW credit is owed $1,714. His income for the year was $154,462 as the public defender and $37,024 came in from Sunbeam Television.
>>> Web page Bio: Howard Finkelstein Public Defender >>> Howard Finkelstein received his Bachelor of Arts degree in the Social and Behavioral Sciences from the University of South Florida in 1975. He received his Juris Doctor degree from the University of Miami School of Law in 1978.  He has practiced both as a government lawyer and in the private sector. As a public defender, he has represented indigent citizens charged with crimes ranging from misdemeanors to murder in the first degree. While in private practice, he was a partner in the law firm of Brackey, Finkelstein and Dallas, and specialized in the defense of people charged with drug crimes. As a Chief Assistant, Howard was instrumental in forming the first drug court in Florida and initiating a misdemeanor and later felony mental health court in Broward County. See his commentary on mental health issues. Howard is the elected Public Defender. He also serves as the on-air legal analyst for the Fox networks local affiliate, WSVN Channel 7 News. In that capacity he has provided gavel to gavel legal commentary in the case of the State of California vs. O.J. Simpson and has provided ongoing commentary during the USA vs Timothy McVeigh and Nichols Oklahoma bombing trials, the President Clinton impeachment proceedings, and the Terry Schiavo right to die case. He presently has his own regular news spot on Channel 7 that airs twice weekly called "Help Me Howard".
Howard has been recognized by many organizations for his work and his community service. He is the recipient of the E.P.I.C.(exceptional People Impacting the Community) Award(1996) from the Mental Health Association of Broward County, the Harry Gulkin Award for Honesty and Integrity(1996) from the Broward Association of Criminal Defense Lawyers, the Humanitarian of the Year (1996) from the Broward County Young Democrats, the Citizen of the Year(2000) from the National Association of Social Workers, The Independent Spirit Award (2002) from the Center for Independent Living, and the Distinguished Service Award(2003) from C.C.O.H.A.L.N. In addition the Broward County Commission has declared May 21, 2000, February 8, 2003 and September 12, 2003 as Howard Finkelstein Appreciation Day. He has also received the Civics in Action Award, Broward League of Women Voters, 2008, Stars of the Rainbow, Gay and Lesbian Community Center of South Florida, 2008, "Elected Official of the Year", Coalition to End Homelessness, 2007, Distinguished Achievement in Public Service Award and Presidents, National Medal of Patriotism Award from the American Police Hall of Fame, 2005,  and the Profiles of Excellence Award from Henderson Mental Health Center, 2004. His hobbies include reading, exercise, philosophy, yoga, and meditation. He is a man whose passion in life is his family and helping others. http://www.browarddefender.org/about/about.htm >>> Assistant Public Defenders Wanted — We continually interview for Assistant Public Defender positions. We are interested in admitted Florida Bar members. We have entry level positions requiring no legal experience as well as felony level positions where two years criminal trial experience is required. All candidates are expected to submit resumes, cover letters and references. All candidates are expected upon a job offer to commit to a minimum of two years. Please submit resumes and any questions to resume@browarddefender.org
>>> Thank you for using the Broward County Commission Agenda E-mail Notification System. A new Broward County Commission Agenda is available. Point your browser to http://www.broward.org/commission/welcome.htm to view the new agenda.
PALM BEACH COUNTY
>>> Long serving PA Nikolits in the spotlight, first elected 1992, $1.16 net worth through 2008
Gary Nikolits, the Property Appraiser of Palm Beach County is in the spotlight this week and he assesses property values in the state's third largest county. He was first elected to the countywide office in 1992 and he has been reelected continuously since then.
What do we know about his finances?
Nikolits had a net worth of $1.16 million through 2008 and he lists $76,500 in household goods. He has $75,302 in stocks and an IRA, a receivable note is valued at $527,000, there is $393,000 in deferred income, a bank account has $74,754 and a CD is worth $81,500. He lists a mortgage owed $65,030, his income for the year was $156,129 from his elected position, and another $1,163 came in from interest.
>>> PA web page: Gary R. Nikolits, CFA, is a professional real estate appraiser with more than 32 years experience in appraising property in Palm Beach County. He holds the Certified Florida Appraiser (CFA) designation, awarded by the Florida Department of Revenue. He serves as Immediate Past-President of the Florida Association of Property Appraisers, and is a member of the International Association of Assessing Officers. He is certified by the 15th Judicial Circuit as an expert witness in real estate appraisal. He served as a Commissioner on the Health Care District of Palm Beach County board of directors from 2000-2004. He also served on the Riviera Beach City Council for eight years in the 1970s. Mr. Nikolits was elected to his first term as Property Appraiser in 1992 and was re-elected in 1996, 2000, 2004 and 2008.
>>> CAPTAIN AND CO-DEFENDANT SENTENCED IN WEST PALM BEACH ALIEN SMUGGLING CASE
Jeffrey H. Sloman, Acting United States Attorney for the Southern District of Florida, Anthony V. Mangione, Special Agent in Charge, U.S. Immigration and Customs Enforcement (ICE), Office of Investigations, Harold Woodward, Director of Field Operations, U.S. Customs and Border Protection (CBP), Rear Admiral Steve Branham, Commander, 7th U.S. Coast Guard District (USCG), Kirk W. Blouin, Chief, Town of Palm Beach Police Department, Delsa R. Bush, Chief, West Palm Beach Police Department, and Ric L. Bradshaw, Sheriff, Palm Beach County Sheriff's Officer, announced today's sentencing of defendants Aurelio Sanchez-Ortega, 21, and Angel Julio Navarro-Lliteras, 36, both of Miami, for their participation in an alien smuggling conspiracy that resulted in death, in violation of Title 18, United States Code, Sections 1324(a)(1)(A)(v)(I), and (a)(1)(A)(v)(I). Earlier today in West Palm Beach, U.S. District Judge Daniel T. K. Hurley sentenced defendant Aurelio Sanchez-Ortega to 75 months in prison, to be followed by 36 months of supervised release.  Judge Hurley sentenced Navarro-Lliteras to 19 months in prison, to be followed by 36 months of supervised release.  Navarro-Lliteras received credit for time already served. On November 14 and 15, 2007, the U.S. Border Patrol (USBP) received information from the Juno Beach Police Department regarding three possible smuggling operations.  Within hours, USBP was notified by the Town of Palm Beach Police Department that 34 migrants had landed in the Town of Palm Beach, Fla.  All of the migrants stated that they had recently swum ashore from a boat that traveled directly from Cuba. The United States Coast Guard (USCG) responded and discovered that one of the migrants, Carlos Alberto Pons-Arias, drowned as he tried to swim to shore on Palm Beach.  The migrants consisted of a total of 35 Cuban nationals, including 17 adult males, two juvenile males, 12 adult females, three juvenile females, and a deceased male who drowned.  The incident was referred to ICE special agents in West Palm Beach for investigation. On June 12, 2008, six individuals, Duany Jimenez, 26, Aurelia Sanchez Ortega, 21, Angel Navarro, 37, all of Miami, Makiel Soto, 30, of Homestead, Luis Perez, 31, of Loxahatchee, and Angel Arce-Perez, 43, of Hialeah, were charged in a 38-count indictment on charges of conspiracy to smuggle aliens, in violation of Title 8, United States Code, Section 1324.  ICE special agents arrested five of the defendants.  Defendant Angel Arce-Perez remains a fugitive. A second superseding indictment was subsequently returned, charging Duany Jimenez, Angel Navarro and Makiel Soto with conspiracy to smuggle aliens, in violation of Title, United States Code, Section 1324.  The superseding indictment also charged Luis Perez, Aurelia Sanchez Ortega and Angel Arce-Perez with various other violations, including Title 8, United States Code, Sections1324 (a)(1)(A)(I); 1324 (a)(1)(A)(ii); 1324 (a)(1)(A)(v)(I); 1324 (a)(1)(A)(v)(II); and 1324 (a)(1)(B)(iv).
According to documents filed with the Court, Sanchez-Ortega was the captain of a 33′ boat that brought the 35 migrants from Cuba to the U.S. on November 15, 2007.  Co-defendant Navarro-Lliteras assisted in the failed smuggling attempt. To date, all five defendants arrested have pled guilty and were sentenced to prison. On January 14, 2009, Duany Jimenez pled guilty to conspiracy to smuggle aliens and was sentenced to 36 months in prison, to be followed by five years of supervised release.  On March 20, 2009, Luis Orlando Perez was sentenced to 120 months in prison, to be followed by five years of supervised release. On May 22, 2009, Makiel Soto was sentenced to 50 months incarceration, to be followed by four years of supervised release. Luis Arce Perez is believed to have fled to Cuba and is armed and dangerous. ICE urges anyone with information on his whereabouts to contact 1-866-DHS-2ICE (347-2423). >>> Mr. Sloman commended the investigative efforts of agents and officers from ICE, USCG, CBP, the Palm Beach County Sheriff's Office, and the Town of Palm Beach. This case was prosecuted by Assistant U.S. Attorneys Emalyn Webber and John McMillan. A copy of this press release may be found on the website of the United States Attorney's Office for the Southern District of Florida at www.usdoj.gov/usao/fls. Related court documents and information may be found on the website of the District Court for the Southern District of Florida at www.flsd.uscourts.gov or on http://pacer.flsd.uscourts.gov.
MONROE COUNTY
>>> Clerk Kolhage in the spotlight, small judicial circuit, had $745,000 net worth through 2008
Danny Kolhage, the Monroe Clerk of the Courts is in the spotlight this week and he controls the records and other duties for the nation's most southern county. The county is small in population, around 65,000 but has a high profile on the world scene with Key West being the tourist jewel and county draw along with the exclusive Ocean Reef Club.
What do we know about his finances?
Kolhage, through 2008 had a net worth of $745,000 and he lists $50,000 in household goods. He has $70,000 in cash, there is $435,000 in investments and his real estate holdings are worth $525,000. He lists no liabilities, his income was $109,130 from his official capacity, and the Florida Retirement System kicked in $72,229.
>>> The Monroe County Personnel Policies and Procedures Committee will be holding a Business Meeting. The meeting will be held on Wednesday, November 4th, 2009, 10 a.m. in the Employee Services Conference Room, 1100 Simonton Street, 2nd Floor, Room 2-268, Key West, Florida. >>> For further information, please contact Teresa Aguiar, Division Director, Monroe County Employee Services, 305/292-4458.
MIAMI-DADE PUBLIC SCHOOLS
>>> Board member Feldman in the spotlight, elected in 2008, had $2.53 million net worth through 2008
School Board Member Lawrence "Larry" Feldman, Ph.D., is in the spotlight this week and he won his office in August 2008 after defeating incumbent Evelyn Langlieb Greer who was ill through most of the campaign. Feldman first got coverage when during the budget crisis facing the school he offered to work for a dollar a year in his capacity as a principal. However, then district superintendent Rudy Crew rejected the offer even though Greer had no problem with it and Crew later was voted out of his administrative capacity that had divided the board for the past few years. Further, the United Teachers of Dade got behind one of their own in the race that helped catapulted Feldman to victory. The veteran educator since has made his mark on the dais but he has a habit of saying things that make fun of others, sometimes at their expense and for an elected leader, that is a bad habit to get into. He also recently failed to realize a student production done at the last school board meeting for the Superintendent Alberto Carvalho that had women singing they wanted to be a teacher's pet might be a little uncomfortable for the superintendent after a controversy surfaced with a former Herald reporter, which he denies occurred, who covered the nation's fourth largest public school district.
What do we know about his finances?
Feldman through Dec. 2008 had a net worth of $2.53 million and he lists $25,000 in household goods. Real property is valued at $175,000 and investment accounts have $1.86 million, another has $117,000 and a third has $332,000 and there is $20,336 in Feldman Investments. He lists no debt. His income for the year was $6,337 from Panasonic Consulting, past school wages, school board salary came in at $72,655, and he lists $16,000 in dividends and interest for the year.
>>> Biography: DR. LAWRENCE S. FELDMAN, Miami-Dade County Public Schools Board Member, was elected to office to represent District 9 in August 2008.  Miami-Dade County Public Schools is the fourth largest school system in the United States.  His district represents 27 Elementary Schools, six K-8 Centers, ten Middle Schools, six Senior High Schools, six Adult/Community Schools, one Specialized Center and 20 Charter Schools.  Dr. Feldman currently serves as Vice Chairperson of the M-DCPS Board's Facilities and Construction Reform Committee;  voting member of the School Support Accountability Committee; Board of Directors, M-DCPS District 3; and M-DCPS Joint Military Affairs Committee. His appointments include the Council of Great City Schools;  Miami Dade College School of Education Advisory Committee; Board of Directors, Drug Free Youth In Town (DFY-IT); Board of Directors, The Education Fund; Alternate Director, Florida School Board Association; Florida High School Athletic Association (Section Four Appeals Committee); Greater Florida Consortium of School Boards; and Homestead Education Facilities Benefit District. His over 30 years of service to the M-DCPS included teacher, assistant principal, principal and region director.
Dr. Feldman has been the recipient of numerous awards and honors including the 2008 Administrator of the Year and the Superintendent's Award for Merit and Leadership, Region VI each year from 1990 through 1996.  Additionally, Dr. Feldman has been a keynote speaker, participant or facilitator for numerous educational leadership panels and symposiums including the Council of Great City Schools, The University of Miami at the invitation of Dr. Donna Shalala, President, and the Oxford University Round Table.  His philanthropic endeavors at large include lectures, speeches and hands-on services to various foundations including Senior Consultant, Panasonic Foundation, and work with many school districts. Dr. Feldman received both his B.A. in Elementary Education and M.Ed. in Special Education from the University of Florida.  He received his Ph.D. in Educational Leadership/System Reform from The Union Institute and University, Cincinnati, Ohio. His Board term expires in November 2012.
PUBLIC HEALTH TRUST
>>> Trust to cut lobbyist fees 15 percent, new lobbyist Diaz de la Portilla gets $50,000 contract
At Monday's PHT board meeting the trustees will vote to reduce all lobbying contracts by 15 percent and it is expected to pass easily and would become effective Nov.1. The health trust recently picked up a new state lobbyist when attorney and Miami-Dade School Board member Renier Diaz de la Portilla joined in that activity. He is replacing a representative from the law firm Gray Robinson and it is a $50,000 contract. His brother is state Sen. Alex Diaz de la Portilla, R-Miami and another older brother Miguel was the first Cuban American to chair the county commission in the early 1990's. The elder brother is now running for his brother's senate seat in 2010 and is being challenged by state Rep. Julio Robaina, R-South Miami.
>>> What could funding changes in Washington bring?
The federal payments known as DSH funds that come to public safety net hospitals and are planning to be cut could cost the local health system up to $123 million if eliminated and the systems exposure regarding GME payments comes in at another $28 million loss in funding, state trust documents. Further, while "Medicaid expansion while covering more people under Medicaid will be helpful during the first years when the federal government assumes the majority of the cost, the state will be unable to absorb this increase and will likely reduce rates [paid]," state's a Oct 13 trust document.
>>> The monthly PHT board meeting starts at 3:00 p.m. Monday, in the Ira C. Clark DTC, room 259 and is televised normally live, but the county commission is meeting at 1:00 p.m. to continue to hammer out a around $200 million budget hole and that meeting will take priority on the airwaves.
>>> Press release: Jackson Health System is facing a very uncertain future as it weathers this difficult economic climate and reorganizes to ensure its financial stability. Jackson's leadership cannot afford any distractions as we face these monumental challenges. For this reason, Jackson Health System's President and CEO Eneida Roldan, M.D., M.P.H., M.B.A., asked Qorval LLC on Friday, October 16, to relinquish its engagement with the health system. Qorval's leadership has agreed and respects Dr. Roldan's decision to proceed without their assistance at this time.
This decision is in no way a reflection on Qorval or their expertise in the area of financial restructuring and management services. Dr. Roldan's top priority is the well-being of the health system and she simply does not want issues not pertaining to Jackson to become a distraction at this critical time. Dr. Roldan assures the community that she remains focused on preserving Jackson and will work to bring a strong chief operating officer who, alongside her and the rest of the leadership team, will work to ensure Jackson can continue to meet the healthcare needs of our community.
CITY OF MIAMI
>>> Mayor Diaz saying sayonara, many positives including ethnic relations, but some missteps
Mayor Manuel Diaz is taking his last laps around the political track with only a few weeks left in his second term of office with a mayoral race on Nov. 3 that has Commissioners Tomas Regalado (net worth $5,000) and Joe Sanchez (net worth $319,000) facing off. Diaz (net worth of $1.8 million) has had a remarkable successful time while in office in comparison with some other past mayors, and he took to the national political stage like a duck in water and was the preceding president of the National Council of Mayors. Early into his term, he embraced different religious groups, held huge Christmas Parties with hundreds of kids and elders in the Convention Center next door to city hall and of course, there was the Manny Mobile, a RV that he used to use at community events here and in Tallahassee. He also got union support in his first election in 2001 and in the runoff against Maurice Ferre back then but that support has changed with the passage of time.
Diaz, 53, who speaks in a modulated tone of an attorney also reached out in a variety of ways to the business community, the public school district and the University of Miami's Miller Medical School located in the municipality stressing education and meaningful job creation. Further, since the beginning he has had a strong green policy that was put on the front burner a couple of years ago and includes solar panels outside city hall and special light bulbs in the building that cuts down on energy costs.
Diaz also got the U.S. Justice Department off the city's police department's back after the federal agency had oversight on the force that had a number of rogue cops with questionable shootings of Miami residents. He brought in Chief John Timoney in Jan. 2003 and the chief changed the department's culture and made the force more professional, got rid of the federal oversight, and initiated community based policing while also supporting bringing back the federal assault rifle ban that did sunset in 2004. Critics of Timoney cite the heavy handed police presence during the November 2003 FTAA meeting in Miami, that involved police from multiple jurisdictions, including a significant state and federal law enforcement presence.
Diaz's tenure could have been a Miami Camelot
However, Diaz has also had his share of missteps that he almost refuses to admit to and these are what will cloud his future legacy. First was the massive out of control development of downtown and it remains to be seen when all the projects actually have owners and occupants in the buildings. He also was involved in allowing seven people to get a $7 million payment in a fire rescue fee lawsuit that denied any payments to around 80,000 residents that had paid the fee, but was thrown out by the courts. That settlement was also thrown out in court later and the attorney involved putting the deal together, Hank Adorno is facing the Florida Bar and is fighting a possible suspension of his legal license after being hit with breaking nine Florida Bar rules, though his attorney says Adorno is innocent of any wrongdoing. Since then a $15.5 million settlement was reached and some 53,000 residents got some form of payment back.
Diaz also refused to see what the problem was when he along with then Commissioner Johnny Winton and City Manager Joe Arriola, and a now deceased partner bought a house in the South Grove together as an investment and ethics commission documents state the manager put up the $400,000 mortgage down payment with Gibraltar Bank in April 2005 to close the deal and the three guaranteed the loan as well. The Miami-Dade Ethics and Public Trust Commission after an extensive investigation hit Diaz with a $250.00 fine that also included a blistering multi-page Letter of Reprimand. Since leaders from all three branches of the municipal government were in a private transaction together, that coincided closely with the commission bumping Diaz's around $92,000 salary to $150,000 with Winton and Arriola leading the charge for the salary change for the mayor. The ethics commission concluded there were conflicts across a wide spectrum of areas with the mayor since he appoints the manager, the commission confirms the appointee, and the manager is the inferior of the group when it comes to office rank in the political process. Diaz's attorney at the ethics commission hearing on the issue argued that the people of Miami should be grateful for having someone of his stature in the office and he was giving the best legal years of his life for public service, and that attitude has evolved since Diaz was first elected. However, ethics Commissioner Seymour Gelber, a former judge and mayor of Miami Beach called that line of argument "outrageous" at the time and led the discussion on what the commission should do when it came punishing Diaz.
Diaz, also was part of the charge for a Global Deal, still being challenged by auto magnate Norman Braman in Florida courts, that included a $1 billion Port of Miami tunnel mostly funded by the state, a new $525 million plus stadium with a retractable roof for the Florida Marlins professional baseball team along with a couple of other projects. The tunnel project had been on life support but was recently brought back to life and it is a go. However, the stadium is another matter and when financing interest payments are calculated over the 40-years of the bonds. The cost goes to a minimum of $2.4 billion and that has shocked the community, and a separate parking garage costs have grown from an original estimate of $94 million to around up to $135 million, though the commission cut back that number at Thursday's commission meeting to a lower number, but it remains to be seen what the final cost will actually come in at.
>>> Is Jimbo's on Virginia Key going to survive new $5.00 entry charge
Jimbo's the venerable yet eclectic shrimp encampment on Virginia Key since 1954 is under the financial gun now that the city of Miami is charging anyone that wants to go there or to the city run beach. In August City Manager Pete Hernandez sent a memo instructing that everyone going to either location must pay a $5.00 going through the gate charge and I tried it and saying your going to Jimbo's is no longer cutting it in these tough economic times. However, since this has occurred the level of people going there has dropped markedly and while the elder Luznar only pays one dollar in rent, there are still many other expenses. He made the agreement with the city decades ago when the area was good for only a county water and sewer facility. However, now is a different time and while the location would revert back to the city upon Luznar's death. The city may not have to wait for that to occur given the tolls impact on the business. For more information about the spot go to Jimbo's Place, smoked fIsh, bocce, Virginia Key Jimbo Luznar has been selling shrimp bait and cold beer since 1954. Come enjoy the smoked fish, the bocce ball and good friends at Jimbo's Place. http://www.jimbosplace.com/ – 16k – Cached
>>> Press release: Miami Neighborhoods Primed for Investment New Social Compact "DrillDown Report" finds powerful information about population and spending ability in 14 Miami neighborhoods. Mayor Manny Diaz and representatives from Social Compact will present the City's new DrillDown report on Monday, October 26, 2009 at 11:00 a.m. at Miracle Marketplace, 3301 Coral Way.  The Social Compact/City of Miami DrillDown uses real-time data to assess economic opportunities to demonstrate that Miami neighborhoods have both the population and spending power to support substantial business investment. This study, funded by the Citi Foundation and the Cohn S. and James L. Knight Foundation, provides concrete data for potential business investors and entrepreneurs to use in determining that these communities have resources and merit investment.  The full report can be found on http://www.socialcompact.org. >>WHO: Mayor Diaz, Social Compact President and CEO John Talmage, representatives from John S. and James L. Knight Foundation, and the Citi Foundation and local leaders WHAT: Official Release of Social Compact, City of Miami DrillDown Report WHERE: Miracle Marketplace, Third Floor Lobby, 3301 Coral Way, Miami, Florida, WHEN: Monday, October 26, 2009 11:00 a.m
>>> The following e-mail was sent  to Mayor Manny Diaz using his e-mail address on his extensive city web-page on Sept. 13, 2008 at 9:38 a.m. and to date there has been no answer from the mayor.>>> "Mayor Diaz, I wanted to ask you in the chamber today but not in front of Chair Joe Sanchez. My question is where did the extra $400,000 in the 2007 disclosure form come from? I will run what ever you respond unedited but I would appreciate closing this issue, as I am sure you do. Sorry but I have to ask.  Best to all. Dan" >>>> The Watchdog Report through Dec.7 has yet to get a response or catch-up with Miami Mayor Manuel Diaz on where he got the extra $400,000 in cash listed in his 2007 financial disclosure forms. To see what CBS 4 reporter David Sutta's take on this issue and the other city leaders financial disclosures go to cbs4.com Blogs . >>> Readers should stay tuned and catch the meeting on the city's cable station channel 77. >>> Stream Channel 77, for all City of Miami meetings, (Commission, Village Council meetings, Waterfront, Zoning, PAB, Code, etc. hearings)    http://videos.miamigov.com/
CITY OF MIAMI BEACH
>>> Commissioner Diaz stepping down, goes out on an ethics role
The Watchdog Report last week contacted the mayor and commissioners asking about the ethics legislation discussion on the commission dais Oct. 13 and only Commissioner Victor Diaz replied to the e-mails. A number of commissioners had proffered new ethics and conflict of interest legislation but Diaz said his was the only ones to get the nod. In his e-mail back he wrote, "I am thrilled all my proposed legislation passed. No one else got legislation passed, due to heavy lobbying by lobbyists and incumbent politicians. It is very difficult to transform politics in this community. It is like a salmon perpetually swimming up stream. >>> To read about the legislation go to www.miamibeachfl.gov
>>> What about the mayor and commission races? >>> Clerk's office: NOVEMBER 3, 2009 GENERAL ELECTION — The following individual(s) have submitted Form DS-DE 9 (Appointment of Campaign Treasurer and Designation of Campaign Depository for Candidates) Mayor (Mayor Bower's Seat) Matti Herrera Bower, Raphael Herman, Joshua Larose; Group I (Commissioner Libbin's Seat), Jerry Libbin, Oduardo Segui;  Group II (Commissioner Gross' Seat), Roger Abramson, Jorge Exposito, Maria Mayer, Sherry Roberts; Group III (Commissioner Diaz's Seat), Alex Fernandez, Michael Gongora, Gabrielle Redfern, Luis Salom, and Martin Shapiro –*denotes latest change >>> Editor's note: David Smiley in www.miamiherald.com did a great profile on the candidates Saturday.
>>> PRESS RELEASE  Meeting Date:  Tuesday, October 27th, 2009 Meeting time:  8:30 AM, Meeting Location:  David's Café, 1654 Meridian Ave., South Beach
Miami Beach City Commissioner Victor Diaz will be the guest speaker at the October 27th meeting of the Tuesday Morning Breakfast Club. With the upcoming November elections, Commissioner Diaz will be ending his one year appointment to the Miami Beach City Commission.  He is expected to share his experiences with the Breakfast Club, as well as perhaps give some recommendations to the new Commissioners.  Prior to his appointment to the Commission, Victor served as Chairman of the Planning Board and was a member of the Charter Review Committee. Everyone is welcome to attend. David Kelsey, Moderator for the Breakfast Club. For more information contact David Kelsey.  To be placed on the Breakfast Club's mailing list, contact Harry Cherry.  Both can be reached at: TuesdayMorningBreakfastClub@Yahoo.com
CITY OF CORAL GABLES
>>> About 50 City workers are laid off, first for city in decades,
The Watchdog Report contacted Mayor Donald Slesnick, II and commissioners last week asking about the budget and how the city was addressing the revenue shortfall, that is cutting across the board from property values to permit revenues and other municipal fees. The mayor said, "This is a sad month in the life of the City – we are "laying-off" about 50 employees to help reduce the personnel expenses of our government.  While this definitely reduces the expenses, it hurts loyal employees and their families.  It also puts more people on unemployment and restricts their ability to be consumers – which further hurts the economy." And Commissioner Maria Anderson was more succinct in her comments writing, "Budget done…Not much excitement."
FLORIDA CITY
>>> Congressman Diaz-Balart office will answer residents questions in monthly open house
Press release: Today Congressman Mario Diaz-Balart (R-FL) announced that starting next month, his office will host community office hours in Florida City.  A member of the Congressman's staff will be on site at the Florida City Hall the second Thursday of every month to assist constituents with questions pertaining to the federal government including citizenship, housing, social security, IRS, and veteran affairs.  For more information please contact Diaz-Balart's District office at (305)-225-6866. >> WHAT: Ongoing Community Office Hours in Florida City, WHO: Congressman Mario Diaz-Balart and staff, WHEN: Second Thursday of every month from 10:00 a.m. to 12:00 p.m., WHERE: Florida City Hall, 404 W Palm Drive Florida City, Florida  33034
COMMUNITY EVENTS
>>> Downtown Bay Forum —www.downtownbayforum.com >INVITES YOU TO OUR LUNCHEON MEETING ON WEDNESDAY OCTOBER 28, 2009 –11:30 AM

PENSIONS UP – REVENUES DOWN WHAT IS OUR FINANCIAL FURTURE? SPEAKERS: JOHN C. HALL, EXECUTIVE DIRECTOR, FLORIDA CENTER FOR FISCAL AND ECONOMIC POLICY: JENNIFER GLAZER-MOON, DIRECTOR, OFFICE OF STRATEGIC BUSSINESS MANAGEMENT-MIAMI-DADE COUNTY, MODERATOR HELEN FERRE- CHANNEL 2 TALK SHOW HOST >>> MARRIOTT HOTEL–1633 N. BAYSHORE DR., MIAMI, $5.00 Valet Parking Available at Marriott Hotel, Call ANNETTE EISENBERG (305)757-3633 Fax (305)754-2015 – RESERVATIONS REQUIRED –Membership Application &/or Luncheon Reservation (please print clearly)
Name:         ___________________________________________________
Business:    ___________________________________________________
Address:    ___________________________________________________
Phone No: _____________E-mail___________________ Fax  No. _____________      __$30 Membership     ­­­___ $22 Lunch, member w/reservation  __ $52 Membership & Lunch __$26  Non-Member or Member without reservation if space is available ___$250 Table of 10
DOWNTOWN BAY FORUM   P.O. Box 371633, Miami, FL 33137-1633
>>> Imagine Miami Changemaker Conference III: Show Us the Money! For Education, Healthcare & Human Needs: Date: Friday, Nov. 6 | 8:30 am – 1:30 pm >> Temple Israel | 137 NE 19th St. | Miami, FL (Free Parking & Metro Accessible) REGISTER NOW! (deadline to register is Nov. 2) More info Limited Scholarships Available (DEADLINE to apply for a scholarship is Monday Oct. 26) >>> Keynote by Florida Senator Dan Gelber: Raising the Bar, Conversation Cafe on Economic Opportunity in Miami-Dade: Build your knowledge of the state of economic equity in Miami-Dade and Florida. Learn about Miami-Dade County's budget. Find out about local use of state and federal funding. >>> Karen Woodall, Florida Center for Fiscal & Economic Policy >>>Manny Garcia, Senior News Editor, The Miami Herald (Executive Editor, El Nuevo Herald): >>> Gihan Perera, Miami Workers Center: >>> Jennifer Glazer-Moon, Miami-Dade County Office of Strategic Business Management –Moderator: Daniella Levine, Human Services Coalition Workshops with State and National Experts
Learn how to advocate for changes in Florida's tax structure to increase economic equity. Find out how we can prevent mismanagement of federal and state funds at the local level. Common Cents: It's All About Choices Karen Woodall, Florida Center for Fiscal & Economic Policy Education Funding: What You Need To Know Iraida Mendez-Cartaya, Miami-Dade Public Schools Mapping the Money: Tips for Advocates of Racial Equity Hashim Yeomans-Benford, Miami Workers Center Healthcare Advocacy Network! Meet Others who Share an Interest in Building Economic Opportunity for All Miami-Dade Residents Discover Resources & Tools for Building Economic Opportunity, Includes Refreshments & Lunch –This conference is presented by the Human Services Coalition (www.hscdade.org ), and is made possible through the generous funding of The Children's Trust and Allegany Fransciscan Ministries, with in-kind support from Temple Israel.
EDITORIALS
Miami-Dade Commission must resolve budget crisis, not the doing of the press
There has always been tension between government and the media for the last three centuries and here in Miami-Dade. Leaders bashing The Miami Herald www.miamiherald.com and other press outlets is an ongoing blood sport but what would the community be like if a strong and vibrant press was not there? Some people would say it is heaven not to have to worry about the annoying reporters asking questions or challenging how public dollars are being spent but what is odd. Some of these same critics when they are out of office, then carp about how they were scrutinized so much more when they were in elected office, and actually start to appreciate the role of journalism in connecting and informing the residents and watching over public tax dollars.
Last week, a number of county commissioners continued bashing the press, or "those guys" in the glass enclosed press room built within the chambers wall, and these leaders would be better served in getting down to business, and how they were going to resolve a over $200 million budget hole, which is part of $444 million in cuts for the current year. And next year's county budget and revenue will be even worse. When elected leaders run for public office they make a contract with voters while also knowing the public environment they will now live in, what they will be paid. And if the pay is to low and the public exposure is too much then don't hold elected office. For no voter wants to be represented by a disgruntled elected official especially at a time real leadership is called for like now. South Florida is ground zero when it comes to diverse demographics and people come from around the globe to live here, some rich, some in the middle, but there are many that are poor, and local government leaders must rise above the old political fray that has such a corrosive affect on our community as a whole, and when it comes to blaming the press for everything, that is not the answer.
We collectively must look for solutions, compromise in a transparent way for it is not about a few leaders but We the People, and the people are looking for leadership not rhetoric and the current financial situation is not the fault of the press. Something are local leaders should realize at a time a $4 million hole widens every pay period for Miami-Dade and the commission gets another crack at it Monday at 1:00 p.m. in the commission chambers and hopefully the role of the press will not be a secondary distraction. For there is no pot of gold the county administration has stashed away and the financial shortfall in revenues are real. Now is the time for commissioners to show leadership and step forward and resolve the budget issues because the clock is ticking and everyday that passes is only making matters worse.
LETTERS
>>> It's no secret that much of Miami's growth to date has been largely fueled by speculation – rather than sound planning – underscoring the need for the City to enact a long-term, sustainable vision for the future. With this in mind, the Miami Downtown Development Authority's (DDA) Board voted unanimously last week to approve its Downtown Master Plan, a 15-year roadmap for enhancing the quality of life and livability of the region's urban core. Below, I have pasted a press release outlining an overview of the plan, its vision and objectives, and the next steps towards implementation. A number of projects proposed are already in the works. If interested, I can send the Plan in full – it is pretty user-friendly and easy to digest. You can also download it straight from the Miami DDA's homepage (www.miamidda.com).
Alisha
>>> The Miami-Dade County's (SEDC) Social & Economic Development Council is sponsoring a workshop on Taxing and Economic Development. I feel it is not fair that they have invited Maurice Ferre to speak and not Congressman Meek. Please consider an ethics complaint.
William F
>>> Publisher's Statement on the mission of the Watchdog Report and the special people and organizations that make it possible:  Government Subscribers/Corporate Subscribers/Sustaining Sponsors/Supporting Sponsors
***** LIFETIME FOUNDING MEMBERS & Initial sponsors since 2000
ANGEL ESPINOSA – (Deceased) owner COCONUT GROVE DRY CLEANER'S
HUGH CULVERHOUSE, Jr.
THE MIAMI HERALD     www.miamiherald.com
ARTHUR HERTZ
WILLIAM HUGGETT, Seamen Attorney (Deceased)
ALFRED NOVAK
LINDA E. RICKER (Deceased)
JOHN S. and JAMES L. KNIGHT FOUNDATION  www.knightfoundation.org
THE HONORABLE STANLEY TATE
***** Watchdog Report supporters – $2,000 a year
FLORIDA POWER & LIGHT www.fpl.com
RONALD HALL
MIAMI-DADE COUNTY www.miamidade.gov
UNITED WAY OF MIAMI-DADE COUNTY www.unitedwaymiamidade.org
***** Watchdog Report supporters – $1,000 a year
BARRETO * MAY & ASSOCIATES
THE BILTMORE HOTEL www.biltmorehotel.com
RON BOOK
LEWIS TEIN  www.lewistein.com
LINDA MURPHY: Gave a new laptop in Oct. 2001 to keep me going.
WILLIAM PALMER
REGIONS BANK      www.regionsbank.com
SHUBIN & BASS     www.shubinbass.com
***** Public & Educational institutions – subscribers at $1,000 or less
CITY OF MIAMI www.miamigov.com.
CITY OF CORAL GABLES www.coralgables.com
CITY OF MIAMI BEACH www.miamibeachfl.gov
GREATER MIAMI CONVENTION & VISITORS BUREAU www.miamiandbeaches.com
THE STATE OF FLORIDA www.myflorida.gov
MIAMI-DADE COUNTY COMMISSION; OFFICE OF THE CHAIR www.officeofthechair.com
MIAMI-DADE PUBLIC SCHOOLS BOARD www.dadeschoolsnews.net
PUBLIC HEALTH TRUST & JACKSON HEALTH SYSTEM www.jhsmiami.org
THE BEACON COUNCIL   www.beaconcouncil.com
THE CHILDREN'S TRUST www.thechildrenstrust.org
UNITED STATES OF AMERICA    http://www.firstgov.gov/
UNIVERSITY OF MIAMI www.miami.edu
>>> The Watchdog Report covers a few of the meetings attended weekly. It remains my belief that an informed public will make better decisions. Therefore, I go to meetings, make the presence of an informed citizen known, and bring the information to you.   The Watchdog Report is in the fourth year of publication and it has been an honor to be able to send this information to you. It is sent to readers in Miami-Dade, Florida, the U.S. and the world. The Watchdog Report is sent to thousands free and while readers have been prodded to subscribe the results have been mixed. Over 250 reports and Extra's have been sent since May 5, 2000 and over one million words have been written on our community's governments and events.  The report is an original work based on information gathered at public meetings, interviews and from documents in the public domain.
LETTER POLICY
I welcome letters via e-mail, fax, or snail mail. Letters may be edited for length or clarity and must refer to material published in the Watchdog Report.  Please see address and contact information. Please send any additions and corrections by e-mail, fax or snail mail. All corrections will be published in the next Watchdog Report. If you or your organization would like to publish the contents of this newsletter, please contact me. Please send your request to watchdogreport1@earthlink.net
Daniel A. Ricker
Publisher & Editor
Watchdog Report
Est. 05.05.00
Copyright © of original material, 2009, Daniel A. Ricker
>>> Watchdog Report is expanding as a new service and this content is now available to other news media, no longer exclusive to The Miami Herald
The Watchdog Report is no longer exclusively with The Miami Herald, and excluding the one story a week that is printed in the paper on Monday in the Metro & State section by me. The rest of the 20 or so news stories weekly sent out Sunday in the Watchdog Report are now available to television stations web pages, and all the newspapers and other media in South Florida if the publishers have an interest to run part or all of the stories. Further, in 2000, I used to have some paper's running the report in the Spanish press, that option is available again, and publishers should contact me.  The news content will not be free, but you can pick and chose the stories of interest, edit them if necessary but you must still keep the general story intact.  If you are a news outlet and would like to learn more about, the Watchdog Report and this offer contact me at watchdogreport1@earthlink.net for further information.
>>> Here is what past newspapers have written about the Watchdog Report publisher including a survey and regional study done by the U. North Carolina at Chapel Hill on the media in the southeast United States.
>>> The Miami Herald and Orlando Sentinel & Sun-Sentinel articles on the Watchdog Report publisher over the years.
Published on September 9, 1999, Page 1EA, Miami Herald, The (FL)
CITIZEN ADVOCATE' KEEPS TABS ON POLITICIANS
Published on January 3, 2000, Page 1B, Miami Herald, The (FL)
MIAMI-DADE WATCHDOG WILL BE MISSED
Published on January 20, 2003, Page 1E, Orlando Sentinel, PAPERWORK TIGER, Miami's citizen watchdog piles up government files in his quest to keep the "little people" informed.
>>>Watchdog Report publisher named 'Best Citizen' 2003 by the Miami New Times  —The publisher would like to thank the weekly alternative paper Miami New Times for bestowing their 2003 Best of Miami, 'Best Citizen' award to me and I am honored.  Thank you. To read the full story go to http://www.miaminewtimes.com/issues/2003-05-15/citylife2.html/1/index.html
From the spring of 2003:  U. North Carolina, Chapel Hill:  Southeast U.S. Media Report lists Watchdog Report publisher as leading Florida commentator >>> Selected excerpts from the report on Florida's media sources
Those who do read the newspaper in Florida have a bevy of options for state government and political coverage. The dominant newspapers in the state are Knight-Ridder's The Miami Herald (Acquired by The McClatchy Company in 2006) and the Poynter Institute's St. Petersburg Times. Both papers endorsed Gore in 2000 but split on the 2002 gubernatorial race, with the Herald endorsing Republican incumbent Jeb Bush and the Times backing Democratic challenger Bill McBride.
Daniel Ricker of The Miami Herald also writes an influential column as well as an email newsletter called the Watchdog Report that goes out to more than 100,000 subscribers. FEBRUARY 2004 – Florida: Columnists in Abundance —ERIC GAUTSCHI, graduate student, School of Journalism & Mass Communication, UNC-Chapel Hill – D) LEADING COMMENTATORS – Resource Commentator Organization Type Web site –Steve Bousquet St. Petersburg Times Column www.sptimes.com/columns/bousquet.shtml -"First Friday" WPBT TV (Miami) TV Show www.channel2.org/firstfriday/issues.html –Lucy Morgan St. Petersburg Times Column www.sptimes.com/columns/morgan.shtml –Daniel Ricker Miami Herald/Watchdog Report Newsletter –www.miami.com/mld/miamiherald/news/columnists/dan_ricker/ >>> Readers who would like to read the complete University of North Carolina, Chapel Hill Southeast United States Media Report go to view the complete report or download all the data used in this study. >>> Watchdog Report Editor's note to the NCU/CH study: The subscriber number referenced is incorrect and applies to readership. The Southern Media Landscape (PDF)  Daniel Ricker. Miami Herald/Watchdog Report Newsletter. www.miami.com/mld/miamiherald … circulation, 134,269. Dan Hoover leads the. publication's ..www.unc.edu/~davismt/SouthNow.pdf – 574k – View as html
General subscriber's names will not be published in the Report. To subscribe to the Watchdog Report please use the form below as a subscription invoice.
********************************************************************************************************************************************
Watchdog Report Supporters Invoice-Form
NOTE: Invoice is for Yearly supporter/sponsorship Rates: Thank you.
Corporate Sponsors $1,000 (All levels above will be listed in the report with web-site link if desired)
Large Business Supporters $500
Small Business Supporters $250
Please make checks payable to: Daniel A. Ricker/Watchdog Report
Fax 305-668-4784 -To contact the Publisher please e-mail to watchdogreport1@earthlink.net