CONTENTS
Argus Report: It's ShowTime, Iowa caucus has Dems and GOP holding their breath and will Trump after no show debate be punished by voters? Or will they be forgiving, Trump no show gives Jeb's campaign resuscitation
Florida: Lawmakers want Sunshine open records laws to go dark, bad idea given the state's reputation for corruption and back room deals municipalities claim legal costs are a hardship for cottage industry of suing municipalities to get public documents
Miami-Dade County: Mayor Gimenez gives upbeat assessment of state of the County that included protestors outside of the event, rival Regalado says mayor out of touch
Public Health Trust: JHS has another good month, $4.6 million surplus, despite fiscal challenges' ahead, writes CEO Migoya – Best of the best applicants wanted to apply to JHS oversight board, no conflicts or controversy wanted, application deadline is Feb.8th at 4:00 p.m. – health trust will be looking for trustees in near future, only the best of the best need apply to be on seven member oversight board, $830 million GOB oversight board looking for trustees as well
City of Miami: Because of legal "[zoning] snafu," commission changes zoning on Watson Island to accommodate seaplane base and next door a helipad after years of litigation and services dormant, Commissioner Russell helped get it finally done
City of Miami Beach: Storied Beach Fire Department celebrates 95 years of public service, on tony island community, condo fires can be the worse
City of Doral: Public Service Aide and Two Tow Truck Drivers Arrested for Participating in Bribery Scheme
Palm Beach County: Two Palm Beach County Residents Sentenced for Their Participation in Stolen Identity Tax Fraud Scheme involving at Least 790 Identities
Community Events: The Adrienne Arsht Center for the Performing Arts of Miami-Dade County Presents -THE LEGEND OF ZELDA: SYMPHONY OF THE GODDESSES
MASTER QUEST Multimedia symphonic concert returns with new music and scenes from "Tri Force Heroes," the latest The Legend of Zelda video game. The Legend of Zelda franchise celebrates its 30th anniversary in 2016! – Major new show at The Margulies Collection at the Warehouse –
Editorial: Public institutions need to remember baby boomers not as nimble with technology as young folks, small font a nightmare for some – One of Watchdog Report's main missions is to keep watch on all the host of Trust's in Miami-Dade County and involve some serious public money in the billions
Letters: Pet trust founder on past WDR – advocate's petition for FDOT to come up with alternative to yellow polls and injuries from pole divers
Sponsors – Publisher's mission statement & Subscription information is at the bottom of this issue
>>> Just because you do not take an interest in politics does not mean politics will not take an interest in you. –Pericles (430 B.C.)
>>> If you wish to be deleted, just e-mail me with that message.

>>> The Watchdog Report publisher would like to thank the John S. and James L. Knight Foundation www.knightfoundation.org for funding by the Knight Foundation with technical support from the Knight Center www.knightfoundation.org   to maintain my webpage. The Watchdog Report webpage is free, has no pops-up and is just the news in a mainstream reporting manner.
>>>> The Watchdog Report publisher for 16 years now, has reported back weekly on how your billions of public dollars in local government are being spent. And how to help support me providing this service is at the end of the WDR. And I hope you will consider keeping an independent news service out in our community, where what is going on with all our government entities is of critical benefit for both the public institutions but voters as well. Thank You. And to my Supporters I pledge to keep 'going when you cannot.' And in the past I have broken the story on Cuban refugees coming in droves and also the Oriental fruit fly quarantine and its huge economic impact to name just a few of the more recent stories in past WDR's.
>>> And you can now easily support the Watchdog Report by going to my new PayPal Button account at www.watchdogreport.net Thank you for the past support over the last 16 years. And to read a national story and profile of the WDR publisher in the early years back in 2003 go to: http://articles.orlandosentinel.com/2003-01-20/news/0301190045_1_ricker-miami-watchdog
ARGUS REPORT – Heard, Seen on the street
>>> It's ShowTime, Iowa caucus has Dems and GOP holding their breath and will Trump after no show debate be punished by voters? Or will they be forgiving, Trump's no show gives Jeb's campaign resuscitation
With the Iowa caucuses coming up Tuesday the Democratic Party's presumed front runner Hilary Clinton was hit again regarding her private server and emails that were on it and some more sensitive ones have emerged though were not labeled classified, but the controversy (blended with many voters questioning if she is trustworthy) continues to dog the former secretary of state and Bernie Saunders is coming on strong and millennials are the key voting block. And many of this emerging voter block say they don't know which candidate they might vote for and overall it is a wide-open race and Jeb Bush looked much more relaxed and has started to find his campaign voice and so Trump's no show just gave the other candidates more of an opportunity to make their case in a mid-west state with 3 million people and how the candidates fair will quickly winnow the field and sets up a must win victory over all the candidates in New Hampshire.
>>> UM President Dr. Julio Frenk takes the helm, first Jewish and Hispanic physician president for university turning 100 years in 2025, and announced Dr. Philip Frost and his wife's $100 million donation to UM for science and engineering
With the inauguration of new University of Miami President Julio Frenk Friday, a physician, scholar and public health guru also came with an announcement that Dr. Philip and Patricia Frost were making a $100 million donation to the university for science and engineering research and the Frost's are major benefactors for the new Frost Science Museum currently having funding woes and is seeking more money from Miami-Dade County and Mayor Carlos Gimenez is looking for a way to craft a deal to provide the extra money to finish the facility now two-thirds done but ran out of money and had contractors stopping work for the lack of payment. And for more on Dr. Frenk's investiture go tohttp://www.miamiherald.com/news/local/education/article57338333.html
>>> Past Miami Herald Executive Editor Marty Baron, who left in 2001 to go to the Boston Globe, and a lead character in the movie 'Spotlight' where he was the driving force of an investigation series on Catholic priests' abuse of young parishioners, and the true story was portrayed in the movie Spotlight. And at a recent screening of the movie in Coral Gables. Baron joked he does have a sense of humor at a John S. and James L. Knight Foundation's special screening of the movie and the characters were well played. And Baron's character was spot on but in the Catholic state multiple attempts were made to co-op the paper so we can be on the same page. And shows what can happen when the investigative press touches a third rail especially in a state that is predominately Catholic. And the movie details how the investigative unit Spotlight and its reporters had to fight hard not to be co-opted by the local establishment https://www.youtube.com/watch?v=Zg5zSVxx9JM when some meetings were to get everyone on the same page, given the salacious nature of the story. That some 90 priests were involved and being protected by church leaders, and the Church knew about the abuse but ignored it and transferred the priests to Parishes around the globe and was a major hit to the Catholic Faithful. And to see the movie's trailer go to https://www.youtube.com/watch?v=WUycZyrvZwk
And Baron when he was the executive editor at the Miami Herald was known as a hard-nosed newsman, of few words and the herald won a Pulitzer for its coverage of the young Cuban Boy Elian Gonzalez and Baron is accurately played in this great investigative journalism movie and given the topic and realistic newsroom and the passion of the reporters to get to the truth despite obstacles like having the paper sue the Catholic Church and would likely cut into the paper's circulation and Baron poached Charlie Savage a former Miami Herald reporter who later joined the Globe and won his own Pulitzer in 2007 for the investigative story on the increase of Congressional earmarks that went from around 4,000 requests to some 15,000 by the mid-2000s. And for more on Baron, a Lehigh University graduate, go to https://en.wikipedia.org/wiki/Martin_Baron Editor's note: It is amazing how often people try to suppress a story or change its focus and it is one of the challenges reporters and editors face with controversial stories and subsequent community or institutional blowback.
>>> For all the presidential candidates, the rubber meets the road in Iowa caucuses Feb.1, followed by Feb. 9th New Hampshire primary, large GOP field expected to get whittled down
With the New Year the political primaries are coming up in a month and polling shows a wide gulf between candidates though Hillary Clinton on the Democratic Party side is pulling ahead of Bernie Sanders (who raised a whopping $33 million) and when it comes to the GOP's pack of candidates brash business man Donald Trump is still tracking high in the polls but the real question is how will he do in these first primaries in Iowa Feb. 1 and Feb. 9th in New Hampshire and former Gov. Jeb Bush got a break when Trump missed the debate in the polls, and senators Marco Rubio and Ted Cruz are still in the hunt and performed OK at the debate. And with Super Tuesday on March 1. The pack of Republican candidates is expected to be whittled down to a smaller number and had Lindsey Graham dropping out recently.
http://www.uspresidentialelectionnews.com/2016-presidential-primary-schedule-calendar/ here is USA Today polling http://www.usatoday.com/pages/interactives/poll-tracker-2016/ on the race.
>>> Press release: Obama weekly report card: A from Zogby for good behavior
John Zogby's Obama Weekly Report Card is Featured in Paul Bedard's "Washington Secrets" Published weekly in The Washington Examiner
Our presidential report card graders seemed to be looking at two different Obama worlds this week, with John Zogby chortling at how President Obama appeared to be the only professional in the business. John Zogby: "How could the president look anything but good, or at least better, this week? Bill Clinton is looking tired, frail and weak. Chelsea Clinton throws a bash, gives away tickets, and still no one shows up. Bernie Sanders' health is good 'for the most part.' Susan Sarandon trashes Hillary Clinton. Donald Trump turns a hissy fit into a major event. Fox's Megyn Kelly forgets that she has posed for GQ. Roger Ailes, who has slaughtered people for whining, is whining.
Please click on the link below to view the full release:
http://zogbyanalytics.com/news/706-obama-weekly-report-card-a-from-zogby-for-good-behavior
>>> Press release: Hunger Strikes By Cuban Democracy Leaders Illustrate The Reality of Suffering Under Castro's Cuba, Says Ros-Lehtinen- "The Obama administration and the international community should pay attention to the hunger strikes of these courageous leaders because human rights abuses are unfortunately part of the Castro brothers' modus operandi."
Congresswoman Ileana Ros-Lehtinen (FL-27) made the following statement regarding two Cuban pro-democracy advocates who are currently waging hunger strikes in defense of their democratic freedoms. Misael Canet Velasquez, an independent journalist, has been on a hunger strike for approximately 43 days in front of the Camaguey courthouse in order to draw attention to the Castro regime's human rights abuses. Additionally, Mario Alberto Hernandez Leiva has been in a Cuban jail on a hunger strike beginning January 5.
Statement by Ros-Lehtinen: "I stand in solidarity with Misael and Mario who are risking their own lives to shed light on the increase of human rights abuses in Castro's Cuba.  The Obama administration and the international community should pay attention to the hunger strikes of these courageous leaders because human rights abuses are unfortunately part of the Castro brothers' modus operandi. While the White House trips over itself to promote its unilateral concessions to the Castro regime, it is unconscionable that it remains silent and fails to hold the same regime accountable for its abuses."
FLORIDA
>>> Lawmakers want Sunshine open records laws to go dark, bad idea given the state's reputation for corruption and back room deals municipalities claim legal costs are a hardship for cottage industry of residents suing municipalities to get public documents
Florida lawmakers are trying to water down the Florida Sunshine law carping the law has made a cottage industry of people having to sue a government entity to get documents released and then seeking legal fees for the effort and the change is being pushed by local lawmakers and is an end run on the open public records legislation that is one of the strongest in the nation.
MIAMI-DADE COUNTY
>>> Mayor Gimenez gives upbeat assessment of state of the County, which included protestors outside of the event, rival Regalado says mayor out of touch
Miami-Dade County Mayor Carlos Gimenez gave his state of the County speech on Wednesday and he began his speech by singing Happy Birthday to County Commissioner Audrey Edmonson and Gimenez was upbeat in his remarks to a packed audience at the County's Auditorium where protesters were outside decrying the mayor's efforts to make Uber legal and has the taxi industry up in arms but the ride service is widely popular with residents. The mayor noted in the past year there were record tourists coming through MIA and the Port of Miami and he is submitting a balanced budget for the next five years and he has kept his promise to keep property taxes low and some $1 billion has been saved by homeowners since his election in 2011. http://www.miamiherald.com/news/local/community/miami-dade/article11217950.html
And this speech kicked off his mayoral reelection campaign and his rival school board member Raquel Regalado said she thinks the mayor is out of touch with regular resident's problems from transportation to crime. And Gimenez reminded the audience that he had kept taxes flat and gave multiple shout outs to county employees and tourism promoters and their staff for the robust tourism numbers.
>>> Miami-Dade County Homeless Trust being overwhelmed by Cuban refugees numbers, federal funding not keeping up despite Sen. Nelson's involvement, number of families coming on the rise some 3,000 last year, Mayor Gimenez says he has contingency plan with "triggers," not tripped yet
The Miami-Dade County Homeless Trust is being overwhelmed by all the Cuban refugees coming to Miami and not at other locations around the nation is costing the public schools district some $43 million in unfunded costs and Sen. Bill Nelson, D-Fla. sent a letter to DHS requesting federal funds but the amounts allocated fall far short of what is needed in South Florida and the influx is having a major ripple effect as the homeless population swells including the number of families needing shelter and has been reported in past WDR's but the issue is not going away since there is also the rumor the Cuban Adjustment Act will be repealed now that relations are normalizing between the U.S., and Cuba, though there is heated debate whether a consulate should be in Miami or in Tampa, given the extra security costs in Miami.
Cost of Cuban refugees coming to some 3,000 per year is taxing county resources from schools to healthcare and JHS
And Mayor Carlos Gimenez said some 3,000 Cubans came to Miami last year and they continue to come and he said the county has a number of contingency plans that have "triggers,' but have yet to be hit said Gimenez and there is a full court press to get Federal funding, since it is federal policies that are causing this influx and Commissioners Rebeca Sosa and Danielle Levine Cava wanted to know the impact of these refugees coming and how it will also impact Jackson Health System as well as the public schools district where it has cost the district some $40 million and is impacting housing and a rumor these new Cubans are getting better benefits than those living here and is causing tension in the community.
>>> And the County passed legislation banning unmanned aircraft around County Airports and the issue of drones had an AA flight near MIA almost having a rendezvous with a commercial flight.
When it comes to Miami-Dade County's CBO's that provide a host of services all the County regulations including no more than 25 percent of the money can go to administrative costs is causing problems for many smaller organization's and County Commissioner Juan Carlos Zapata suggested there should be a "range" since as Leroy Jones says all the regulations and this limitation is "killing," these smaller service providers, and Audrey Edmonson agreed with Zapata's idea of having a range to determine the administrative percentage that could be used for administrative costs. And Commissioner Sally Heyman had a past beef because county money went to "the salaries," going to well-connected people. And I "find it offensive when we give money and it goes into salaries," said Heyman.
However, Jennifer Moon the County's budget director noted those abuses had occurred in the past and that was before CBO's had to compete for the money. And they need "flexibility," and organizations cannot pay "inordinate salaries," and in the past the funding was not competitive and was a commission line item said Moon to county commissioners recently when discussing CBO's and she noted her office meets with organizations like United Way, and other CBO's to help them understand county funding regulations trying to build capacity and one commissioner Daniela Levine Cava and Dennis Moss all have had extensive experience with CBO's. Since they were involved in these type of organizations in the past.
What about Human Trafficking and the State Attorney's office and the U.S. Atty's?
January is Human Trafficking month and attorneys from the state attorney's office to the U.S. Atty's assistant attorney Barbara Martinez of the Southern District headed up by Wilfredo Ferrer all have dedicated investigative details. Just for this crime that for years stayed in the shadows of South Florida but is a billion dollar industry and one assistant U.S. Attorney Martinez is heading up the human trafficking section here in Miami. And she once told the County's Public School board members. That pimps were using 7th and 8th graders to recruit young girls, "because they have such a high premium she told the school board members last year and immigrants with poor documentation are prime targets for this essentially slave trade and at MIA people are trained in spotting people doing human trafficking with some reluctant flyer and given South Florida's demographics this is a serious problem. And for more on a federal initiative go to: http://www.justice.gov/usao-sdfl/project-safe-childhood
>>> Commissioner Barbara Jordan gives major shout out to Our Kids of Miami-Dade and Monroe County
And Commissioner Barbara Jordan gave a significant shout to Our Kids of Miami-Dade and Monroe County, last week. A foster care program created around 2001 after the disappearance of Rilya Wilson who had been in state foster care disappeared and the new entity was pushed by then Gov. Jeb Bush who created a Blue Ribbon panel of experts on children and different foster system models chaired by Children advocate David Lawrence, Jr. And the director of the Department of Children and Families was fired and for more on Our Kids go to: http://www.ourkids.us/Pages/Home.aspx and these kids are prime targets for Human Trafficking in South Florida where we rank number 3 in the nation. And for more on the Wilson case go to: https://en.wikipedia.org/wiki/Rilya_Wilson
Commissioner Jordan honors foster, adoptive, and kinship parents

Clockwise from top left: Commissioner Barbara Jordan and Commissioner Daniella Levine Cava present a certificate of appreciation to Miami-Dade County Foster & Adoptive Parent Association President Shamele Jenkins; Shamele Jenkins, Ivor Pogson, his adoptive son, Commissioner Jordan, and Our Kids of Miami-Dade Inc. CEO Charles Scherer; Foster, adoptive, and kinship parent honorees and leaders from various children's organizations in the Commission Chamber.
(Photos by Ryan Holloway / Miami-Dade County)
Press release: Nearly 100 people were honored by Commissioner Barbara Jordan and the Miami-Dade County Foster & Adoptive Parent Association in the Miami-Dade County Commission Chamber on January 28 for opening their hearts and homes to foster and adoptive children. The Foster, Adoptive & Kinship Parent Commemorative Ceremony paid homage to men and women who care for and protect those children who are in the state's system.
"My mother opened her home to foster care children," Commissioner Jordan said. "It makes a difference when you give a child love. They won't forget. They can't thank you enough."
Shamele Jenkins, President of the Miami-Dade County Foster & Adoptive Parent Association, praised the honorees and their families who were in attendance.
"You serve out of the kindness of your heart," she told the audience. Jenkins implored the general public to assist foster and adoptive parents. "Give to the children and the people who are helping our children."
Commissioner Jordan presented Jenkins with a certificate of appreciation while praising her for her "hard work and sacrifice."
Zackary Gibson, Chief Child Advocate and Director of the Office of Adoption and Child Protection Executive Office of the Governor, acknowledged the dedication and selflessness of the honorees. Gibson also commended Jenkins for her tireless efforts: "You are a true advocate; we thank you."
This year's ceremony targeted individuals who have served as foster, adoptive, and kinship parents for five years or more. Next year, Commissioner Jordan plans to expand the criteria to recognize children who have aged out of foster care as well.
>>>> GMCVB press release: DEMAND FOR TRAVEL TO GREATER MIAMI & THE BEACHES DURING DECEMBER 2015 REMAINED STRONG RANKING #3 IN AVERAGE DAILY ROOM RATE (ADR), #3 IN REVENUE PER AVAILABLE ROOM (REVPAR) AND #3 IN HOTEL ROOM OCCUPANCY AMONG THE TOP 25 U.S. MARKETS AS DEFINED BY SMITH TRAVEL RESEARCH.
 December 2015 – Miami #3
Average Daily Room Rate (ADR)
December 2015
December 2014
% Change vs. 2014
$240.77
$232.47
+3.6%
Revenue Per Available Room (RevPar)
December 2015
December 2014
% Change vs. 2014
$184.90
$181.51
+1.9%
Average Daily Occupancy
December 2015
December 2014
% Change vs. 2014
76.8%
78.1%
-1.6%
Monthly Room Supply
December 2015
December 2014
% Change vs. 2014
51,787
50,020
+3.5%
Monthly Rooms Sold
December 2015
December 2014
% Change vs. 2014
1,232,878
1,210,699
+1.8%
PUBLIC HEALTH TRUST
>>> JHS has another good month, $4.6 million surplus, despite fiscal challenges ahead, writes CEO Migoya
Jackson Health System had another surplus for the first quarter coming in at $4.6 million before bond reimbursements an is "more than double the budgeted level," wrote JHS CEO Carlos Migoya in his Jan. budget memo see below
Migoya memo: The beginning of FY 2015-16 fiscal year showed that Jackson Health System continues to exceed expectations, even in the face of significant short- and long-term challenges. The system's total surplus for the first quarter was nearly $4.6 million before bond reimbursements, more than double the budgeted level of $2 million. As always, this surplus is entirely reinvested in Jackson's programs, facilities, and healthcare professionals.
Jackson's strategic vision depends upon continued growth, and patient volumes during the first quarter showed important success in that area. More than 15,300 inpatient admissions were logged across the system, exceeding budget by 4.2 percent and the same period from last year by 8 percent. Surgeries at Jackson Memorial Hospital were similarly up, nearly 4 percent against budget and nearly 8 percent against the same period in FY 2014-15. Observation visits were incredibly strong at 8,828, more than 35 percent over budget and 34 percent over the prior year.
In the short term, however, much of the revenue from those added visits is offset by unusually high supply costs, particularly with skyrocketing pharmaceutical costs. This is consistent with a national trend and largely attributed to shortages. We continue to work with our providers on identifying alternative drug options to address significant negative rate variances on certain medications.
The bottom line was also supported during the first quarter by sales-tax revenues, which continue to exceed the conservative estimates used for budgeting.
Key financial indicators remained strong, consistent with a multi-year trend. For example, Jackson now has more than 49 days' cash on hand – more than 12 days better than a year earlier – even as we accelerate investments in our quality initiatives and capital projects.
We continue holding frequent discussions with our elected officials in Tallahassee and Washington, particularly around the funding of the Low-Income Pool. Previously announced cuts to this federal funding stream could cost Jackson $52 million currently used to care for uninsured and underinsured patients. Such a drastic cut would cripple our ability to maintain current service levels and jeopardize the long-term transformation of the system. Fortunately, our Dade Delegation has indicated it will again mobilize to protect Jackson's mission and prioritize this funding, as it has consistently done in recent years. We will continue to keep you all updated about this and other key legislative issues.
>>> Best of the best applicants wanted to apply to be on JHS oversight board, no conflicts or controversy wanted, application deadline is Feb.8th at 4:00 p.m.
Applicants to be on the health trust board are being sought and the deadline to apply is Feb. 9 at 4:00 p.m. to be on the prestige's board that oversees Jackson Health System and it requires some 30 hours of a trustees time and is not for the faint of heart, and applicants must not have conflicts and must resign from any other county board they might be on if appointed to the PHT board a confirmation process done by the 13 member board of county commissioners. And JHS is watched over by the County's Ethics and Public Trust commission and the Miami-Dade Inspector general's office. And only the best of the best in our community should apply. And for more or to apply go board of Trustees go to Applications are now being accepted for the Board of Trustees of the Public Health Trust of Miami-Dade County, the governing authority for Jackson Health System. Please click here to learn more. http://www.jacksonhealth.org/library/applications/PHT-Application-2016.pdf
CITY OF MIAMI
>>> Because of legal "[zoning] snafu," commission changes zoning on Watson Island to accommodate seaplane base and next door a helipad after years of litigation and services dormant, Commissioner Russell helped get it finally done
The MESA board discussed the issue of a new seaplane base and helicopter landing pad (where the only helicopter that has landed recently on the site recently, "was the FBI," said a man representing the helicopter facility. And the Miami Commissioners Thursday discussed the controversy and dispute with the city because of a "legal [zoning] snafu," changed the areas zoning but was not included in the major zoning revamp called Miami 21. And for more go to http://www.miamiherald.com/news/local/community/miami-dade/article57179648.html
>>> PAST WDR: Two impressive brands agree to keep working together, from climate change to healthcare, the city of MIAMI and The U of Miami, entities intertwined, from healthcare to tech hub creation says new president Dr. Frenk
University of Miami president Julio Frenk, M.D. met with City of Miami leaders Friday morning and he and Miami Commissioners Frank Carollo, Wilfredo Gort, and Mayor Tomas Regalado attended the Sunshine meeting and it was a love session. Since so many city employees had gone to the U including Victoria Menendez the city's attorney and she has three degrees from Miami. And Stuart Miller the chair of the Miami board of trustees attended and both sides were bullish on the Miami brand globally and locally. And the Miami Hospital District downtown and in Gort's district is an important component to UM that also owns the old Cedars of Lebanon Hospital the University bought to augment the University of Miami's Leonard Miller Medical School that has an over 50 year affiliation with Jackson Health System and the university's physicians bringing cutting edge medicine to patients being treated at Jackson. And the two organizations and leaders are off to a great start and Frenk was smart to "lay this ground work," Gort told the Watchdog Report recently when I asked if he was attending the meeting and Ken Russel had a conflict. Since he chaired his first Miami Downtown Authority meeting (DDA) but Miami and the university face many of the same challenges and climate change is at the top of the list, along with healthcare and Miami has a couple of outstanding departments and schools that deal with these issues. And at a commission meeting Thursday Steve Marcus, Ed. D. the CEO of the Health Foundation of South Florida that since 2000 has committed $78 million in healthcare initiatives and healthcare services in a three county area from Broward to Monroe Counties and for more on the foundation go to http://www.hfsf.org/ And Commissioner Russell ate the apple. Marcus gave commissioners after the presentation and the announcement of a new health initiative by the Foundation in the City of] Miami.
CITY OF MIAMI BEACH
>>> Storied Beach Fire Department celebrates 95 years of public service, on tony island community, condo fires can be the worse
The Miami Beach Fire Department is celebrating its 95th anniversary and the storied department over the decades has bought confidence and public trust to the Island community with some 100,000 residents and the Beach has morphed into a cultural mecca an with all the high rise condominiums fire in one of the structures is no easy fire to fight and ads certain challenges to the department, though most of these buildings have sprinkler systems.
CITY OF DORAL
>>> Press release: Former Doral Public Service Aide and Two Tow Truck Drivers Arrested for Participating in Bribery Scheme
A former Doral Police Department Public Service Aide and two tow truck drivers were arrested for participating in a bribery scheme. Wifredo A. Ferrer, U.S. Attorney for the Southern District of Florida, George L. Piro, Special Agent in Charge, Federal Bureau of Investigation (FBI), Miami Field Office, and Donald W. De Lucca, Chief, Doral Police Department (DPD), made the announcement. Former DPD Pubic Service Aide (PSA) Leonardo Mayi, 36, and two tow truck operators Andreo Cambria, 51, and Roberto Dominguez, 31, were arrested pursuant to a federal criminal complaint charging each defendant with conspiracy and corruption charges related to their participation in a pirate towing scheme.
According to the allegations contained in court filings, Cambria offered to pay PSA Mayi cash in return for Mayi misusing his official position to corruptly steer business to Cambria and Dominguez.  During the course of the corruption scheme, Mayi would permit Cambria and Dominguez to circumvent Doral's rotational wrecker system and approach stranded drivers at accident scenes to illegally solicit their business.  When Cambria or Dominguez was successful, they would tow the disabled vehicles to garages which would, in turn, pay cash kickbacks to Cambria and Dominguez.  For his part, Mayi was paid approximately $100 per successfully towed vehicle.  As a result of their participation in the scheme, between February 2013 and February 2014, the conspirators generated thousands of dollars of illicit business and Mayi himself received at least $5,000 in bribes. A Mayi submitted his resignation with the Doral Police Department.  Before resigning, Mayi had been with the department since 2008.
Each of the defendants are charged with conspiracy to commit an offense against the United States, that is, engaging in a wire fraud scheme resulting in the deprivation of Mayi's honest services and accepting bribes in connection with Mayi's duties with the DPD, an agency that receives federal funding, all in violation of Title 18, United States Code, Section 371.  Each defendant is exposed to a maximum sentence of five years' imprisonment, to be followed by three years supervised release, and up to a $250,000 fine.
Mr. Ferrer commended the investigative efforts of the FBI Miami Area Public Corruption Task Force and the Doral Police Department.  This case is being prosecuted by Assistant United States Attorney Anthony W. Lacosta. Related court documents and information may be found on the website of the District Court for the Southern District of Florida at www.flsd.uscourts.gov or on http://pacer.flsd.uscourts.gov.
PALM BEACH COUNTY
>>> Press release: Two Palm Beach County Residents Sentenced for Their Participation in Stolen Identity Tax Fraud Scheme involving at Least 790 Identities
Two Palm Beach County residents were sentenced to prison for their participation in a stolen identity tax fraud scheme involving at least 790 stolen identities.
Wifredo A. Ferrer, United States Attorney for the Southern District of Florida, Kelly R. Jackson, Special Agent in Charge, Internal Revenue Service, Criminal Investigation (IRS-CI), Nadine Gurley, Special Agent in Charge, U.S. Department of Housing and Urban Development, Office of the Inspector General (HUD-OIG), and Karen Citizen-Wilcox, Special Agent in Charge, U.S. Department of Agriculture, Office of Inspector General (USDA OIG), made the announcement. Latonia Verdell, 40, of Palm Beach County (Case No. 14-CR-80158), and Starling Willis, 32, of West Palm Beach (Case No. 15-CR-80119), were each sentenced to a term of imprisonment by U.S. Senior District Judge Daniel T. K. Hurley, for their participation in a stolen identity tax fraud conspiracy.  Verdell and Willis were previously convicted of aggravated identity theft, in violation of Title 18, United States Code, Section 1028A(a)(1), and conspiracy to commit wire fraud, in violation of Title 18, United States Code, Sections 1343 and 1349.  Verdell was also convicted of being a felon in possession of a firearm, in violation of Title 18, United States Code, Section 922(g)(1); possession of fifteen or more unauthorized access devices, in violation of Title 18, United States Code, Section 1029(a)(3); theft of government property, in violation of Title 18, United States Code, Section 641; and making a false statement to a federal government agency, in violation of Title 18, United States Code, Section 1001(a)(2).
Verdell was sentenced to a total of 94 months in prison, to be followed by three years of supervised release, and was ordered to pay restitution in the amount of $947,296.81.  Verdell's sentence includes a concurrent term of 70 months in prison for each count of conviction for theft of government money, felon in possession, and unauthorized access devices; and a concurrent sentence of 5 years in prison for the false statement conviction.  In addition, Verdell was sentenced to a mandatory term of 24 months in prison, to run consecutive to all other sentences, for the aggravated identity theft conviction. Willis was sentenced to a total of 33 months in prison, to be followed by three years of supervised release, and ordered jointly and severally liable for restitution, with Verdell, in the amount of $32, 4551.  Willis was sentenced to 9 months in prison for the conspiracy, to be followed by a mandatory consecutive term of 24 months in prison for the aggravated identity theft conviction. According to court documents and the defendants' testimony during the sentencing hearings, Verdell, Willis and co-defendant Kelli Witherspoon McIntosh, participated in a widespread stolen identity refund fraud scheme involving at least 790 stolen identities and personal identification information (PII).  The PII was used to file fraudulent on-line income tax returns, with those refunds being directed to various bank accounts created and maintained by Verdell, McIntosh and Willis, as well as to reloadable debit cards.  Identity theft victims whose personal information was used for this scheme spanned from Indian River, Highlands, St. Lucie, Martin and Palm Beach Counties, as well as persons outside the State of Florida.  This scheme resulted in the submission to the IRS of more than 590 fraudulent returns in the names of other persons, seeking approximately $1.5 million in fraudulent income tax refunds. Court documents also indicate that on September 1, 2010, while Verdell was receiving unauthorized income from the filing of fraudulent income tax returns with the IRS, she received a housing assistance payment funded by the U.S. Department of Housing and Urban Development (HUD), while knowing she was not entitled to receive such a payment.  On September 24, 2013, Verdell submitted an application for enrollment in the Supplemental Nutrition Assistance Program (SNAP), also referred to as 'food stamps.'  In her application, Verdell knowingly stated that her only monthly income was $715, without any other source of income, when she was in fact receiving significant income from fraudulent tax refund payments.
Court documents also indicate that evidence of the stolen PII, a list of bank accounts belonging to Willis, information regarding accounts which received fraudulent refunds, and a stolen .38 caliber pistol, were found in Verdell's home during the execution of a federal search warrant. Kelli Witherspoon McIntosh is scheduled to be sentenced on February 16, 2016 in West Palm Beach by U.S. Senior District Judge Hurley.
Mr. Ferrer commended the investigative efforts of the IRS-CI, HUD-OIG, and USDA OIG.  Mr. Ferrer also thanked the Palm Beach County Sheriff's Office for their assistance with this investigation.  The case is being prosecuted by Assistant U.S. Attorney Theodore Cooperstein. Related court documents and information may be found on the website of the District Court for the Southern District of Florida at www.flsd.uscourts.gov or on http://pacer.flsd.uscourts.gov.
COMMUNITY EVENTS
>>> Press release: The Adrienne Arsht Center for the Performing Arts of Miami-Dade County Presents -THE LEGEND OF ZELDA: SYMPHONY OF THE GODDESSES
MASTER QUEST Multimedia symphonic concert returns with new music and scenes from "Tri Force Heroes," the latest The Legend of Zelda video game. The Legend of Zelda franchise celebrates its 30th anniversary in 2016!
"An utterly flawless presentation!" – WIRED Part of the 2015-2016 Live at Knight Series
April 16, 2016 at 8 p.m. Tickets: $35-$125* VIP Package: $150*John S. and James L. Knight Concert Hall
MIAMI, FL January 15, 2016 – Now celebrating its 10th Anniversary Season, the Adrienne Arsht Center for the Performing Arts of Miami-Dade County is proud to present the return of THE LEGEND OF ZELDA: SYMPHONY OF THE GODDESSES and its new highly-anticipated multimedia symphonic concert MASTER QUEST. This latest edition of The Legend of Zelda symphony will feature brand-new music and visuals from the new The Legend of Zelda: Tri Force Heroes video game released in October 2015. As part of the Center's Live at Knight Series, MASTER QUEST will delight video game and orchestral music fans alike on April 16 in the John S. and James L. Knight Concert Hall.
Tickets to MASTER QUEST are on sale now and range from $35 to $125*. A VIP Package for $150* includes premium seating, meet and greet with executive producer Jason Michael Paul and principal conductor Amy Andersson, official tour VIP lanyard, limited edition poster and a VIP Fast Pass to the merchandise booth. Tickets may be purchased at the Adrienne Arsht Center box office by calling (305) 949-6722, or online at www.arshtcenter.org.
Making its South Florida premiere, MASTER QUEST is a never before seen or heard multimedia concert experience featuring a live 56-piece orchestra, 20-person choir and a larger-than-life video presentation of gameplay imagery. The concert also boasts live orchestral performances of theme music from Nintendo's beloved The Legend of Zelda franchise – now celebrating its 30th anniversary. Guests will enjoy their favorite game moments from the series, carefully and beautifully timed with a gorgeous orchestral score approved by Nintendo sound director and The Legend of Zelda composer Koji Kondo.
Those new to THE LEGEND OF ZELDA: SYMPHONY OF THE GODDESSES will also have the opportunity to experience the beautifully orchestrated four-movement symphonic work from last season which chronicles fan-favorite moments from the video game's rich and storied history, carefully and expertly timed with videos. The concert is a festive experience for all fans, many of which attend in "cosplay" as their favorite characters.
For more information, please visit: www.zelda-symphony.com. Support for the Live at Knight Series is provided by Wells Fargo. *All programs, artists, ticket prices, availability, dates and times are subject to change without notice. Additional fees may apply. Visit www.arshtcenter.org for up-to-date information, details and performance.
Additional high-resolution photos are available at www.arshtcenter.org/press.
The Adrienne Arsht Center for the Performing Arts of Miami-Dade County is made possible by the public support of the Miami-Dade County Mayor and the Board of County Commissioners, the Miami-Dade County Department of Cultural Affairs and the Cultural Affairs Council, the Miami-Dade County Tourist Development Council and the City of Miami Omni Community Redevelopment Agency, as well as the State of Florida, Department of State, Division of Cultural Affairs and the Florida Council on Arts and Culture. The Adrienne Arsht Center also receives generous support from individuals, corporations and local, state and national foundations. In its 10th anniversary season, the Arsht Center thanks its institutional donors for their historic commitment to the performing arts and Greater Miami: Adrienne Arsht; Miami-Dade County; John S. and James L. Knight Foundation; Dr. Sanford L. and Dolores Ziff & Family; The Arison Family/Carnival Corporation; Knight Ridder Inc. and The Miami Herald/El Nuevo Herald; Sears Roebuck and Co.; Arthur F. and Alice E. Adams Foundation; Bank of America; Joyce and M. Anthony Burns; Audre and Donald Carlin, Hedy Carlin and B. Pair Carlin; The Cejas Family Foundation; Gilbert S. Kahn and John J. Noffo Kahn; Haskell Company; Miami Salon Group Inc.; Odebrecht; Peacock Foundation Inc.; Ryder Charitable Foundation; Terra Group; Wells Fargo and Lynn Wolfson.
About the Adrienne Arsht Center for the Performing Arts of Miami-Dade County
Set in the heart of downtown Miami and designed by world-renowned architect Cesar Pelli, the Adrienne Arsht Center for the Performing Arts of Miami-Dade County is one of the world's leading performing arts organizations and venues. Since opening in 2006, the Arsht Center, a 501C3 non-profit organization, has emerged as a leader in presenting innovative programming that mirrors South Florida's diversity as well as a catalyst for billions of dollars in new development in the downtown area. Spotlighting legends and serving as a launch pad for local artists to make their mark on the international stage, the Center presents nearly 500 events each year across its eight flexible, state-of-the-art performance spaces. The Center programs 12 signature series, including the largest jazz series in South Florida, the biggest flamenco festival on the East Coast, and a robust program of new theatrical works as well as free programming for the community and an arts education program that serves nearly 30,000 children each year. As Miami's new Town Square, the Arsht Center also houses Brava!, a fine dining restaurant; the Café at Books & Books in the historic Carnival Tower and a weekly Farmers Market. Visit www.arshtcenter.org for more information.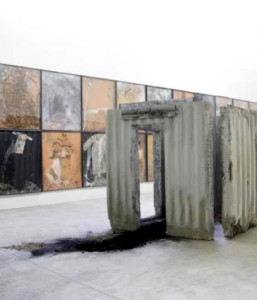 >>> THE MARGULIES COLLECTION AT THE WAREHOUSE is proud to announce its new exhibitions Anselm Kiefer: Paintings, Sculpture and Installation -Susan Philips: Immersive Sound Installation -through April 30, 2016 – Anselm Kiefer: Paintings, Sculpture and Installation
Staged across 18,000 sq. ft. of space the new Kiefer exhibition at the Margulies Warehouse is the largest presentation of the artist work ever made in the United States. The show includes major sculptures, installation and paintings from 1986 to 2015. Four immense rooms within the Warehouse have been built specially to house the exhibition.
"Anselm Kiefer is one of the most important European artists of the past four decades," says curator Katherine Hinds. "In our ongoing process of building the collection we recognized that Anselm Kiefer was critically important. This exhibition comes at a pivotal time. It is the most comprehensive project ever undertaken by the collection. We are honored to present this exhibition, which is the result of an ongoing collaboration between the collector Martin Z. Margulies and the artist. We see this exhibition as a fulfillment of our educational mission at the Warehouse to produce powerful exhibitions of seminal work by the greatest international artists of our times."
The artist traveled to Miami to install his 17ft high work Die Erdzeitalter (Ages of the World), 2014 that was the centerpiece of his retrospective at the Royal Academy in London in 2014. The largest work in the show, Geheimnis der Farne (The Secret of the Ferns) is based on a work Kiefer created eight years ago for Monumenta 2007 Grand Palais exhibition. After meeting with the collector, Kiefer changed and rearranged elements of the work and made a site-specific installation for the Margulies collection. Included in the show is the 3-ton workSprache der Vögel, 1989, which was the first work by Anselm Kiefer acquired by the Margulies collection. It has been on exhibit at the Warehouse since 2013.
The Margulies Collection at the Warehouse is honored to join the exemplary collection exhibitions devoted to the art of Anselm Kiefer including the Hall Art Foundation at Mass MoCA, the Doris and Donald Fisher Collection, The Broad Art Foundation and HangarBicocca, Milan.
Anselm Kiefer was born in Donaueschingen, Germany in 1945 and has lived and worked in France since 1993. He has exhibited widely, including solo shows at MoMA, New York (1987); Neue Nationalgalerie, Berlin (1991); The Metropolitan Museum, New York (1998); Fort Worth Museum of Art (2005); the San Francisco Museum of Modern Art (2006); Mass MoCA, Massachusetts; Guggenheim Museum, Bilbao; the Grand Palais, Paris; Louisiana Museum of Modern Art, Denmark (2010); the Rijksmuseum, Amsterdam (2011), Tel Aviv Museum of Art (2011) and The Royal Academy, London (2014). In 2007 Kiefer became the first artist to be commissioned to install a permanent work at the Louvre, Paris since Georges Braque some 50 years earlier. In 2009 he created an opera, Am Anfang, to mark the 20th anniversary of the Opéra National in Paris. The Centre Georges Pompidou and the Bibliothèque Nationale de France in Paris will stage major solo presentations of his work in 2015.
Susan Philipsz: Immersive Sound Installation
The Margulies Collection is also pleased to feature a large scale Immersive Sound Installation by the acclaimed European artist Susan Philipsz, winner of the prestigious Turner Prize in 2010, Tate Britain. Drawing from the histories of 1930's emigrant artists who fled Germany for America only to experience McCarthy-era blacklist censorship, Susan Philipsz' work evokes the emotions of alienation, loss and exile. The audience views the work by walking into a large room with abstract sound emanating from 12 speakers placed in a symmetrical pattern at eye level. On the walls of the room 12 large prints of musical compositional scores are layered over with redacted FBI documents. "The sound of the deconstructed music heard over 12 channels combined with the visual experience of the recognizable but evasive censored text in the prints is a stunning and evocative experience," says Ms. Hinds. "This has been a very ambitious project for us, it is the very first sound art installation work here at the warehouse and we are excited about adding a new dimension to the Collection."
Permanent exhibitions: Magdalena Abakanowicz, Ron Bladen, Pier Paolo Calzolari, Anthony Caro, John Chamberlain, Willem de Kooning, Olafur Eliasson, Dan Flavin, Michael Heizer, Jannis Kounellis, Sol LeWitt, Mario Merz, Joan Miró, Isamu Noguchi, Michelangelo Pistoletto, George Segal, Richard Serra, Tony Smith, and Franz West
New works: Meuser, Lawrence Carroll, Liat Yossifor, Mark Handforth and Martin Boyce. Click here for more information about this season's exhibitions.
The Margulies Collection at the Warehouse
591 NW 27th Street, Miami, FL 33127
p: 305.576.1051 / f: 305.576.4963
mcollection@bellsouth.net
www.margulieswarehouse.com
The Martin Z. Margulies Foundation, inc. is a not for profit institution dedicated to the presentation of exhibitions and educational programs. The Margulies Collection at the WAREhOUSE houses an extensive collection of contemporary and vintage photography, video, sculpture and installation art.
Curator, Katherine Hinds
Editorials
>>> Public institutions need to remember baby boomers not as nimble with technology as young folk's small font a nightmare for some
There is not just a digital divide, but a widening technological gap as baby boomers get older and are expected to be more capable of their computer skills, despite having some medical issue like a stroke and public institutions are moving faster with this new technology leaving many people behind, who may or not have a smart phone that was first introduced Jan. 9th 2007 by Steve Jobs and the Apple iPhone and while young people have no problem with all this technology that is likely not the case if you are in your sixties where reading small font requires a magnifying glass and public institutions as they rush to embrace this technology need to remember that for some people they may need some help navigating it and catching up to speed of this technological revolution that is moving nonstop.
>>> One of Watchdog Report's main missions is to keep watch on all the host of Trust's in Miami-Dade and involve some serious public money in the billions
Residents in Miami-Dade County periodically ask why I cover all the trust's found in the county, from the Children's Trust to the Public Health Trust to the County's Homeless Trust and it is because elected county leaders are always looking for new funds and while the raids of these public dollars periodically occurs like in the case of the Citizens Independent Transit Trust where the county is slowly paying back the sales tax dollars absorbed by the county's transit system in what was called "unification," by county leaders but the Public Health Trust was also raided back in 20002 when county commissioners shifted some $ 70 million in unfunded mandates on to organization and that cost has risen over $100 million a year and was one of the reasons the Public health trust needed a $830 million GOB passed overwhelmingly by voters a few Years back to upgrade its infrastructure and ageing main campus after this past money was diverted over a decade by the County commission that does provide some $250 million in public funds for a maintenance of effort contribution. But in Miami-Dade where everything is political I keep watch so that these organizations are kept whole and politics is kept to a minimum and this oversight helps keep the organizations on the straight and narrow when it comes to public dollars and it is no small amount of money and helps explain why there have been so few scandals in the past that plaque the county back in the 1990's and a frequent topic in the media.
LETTERS
>>> Clarification of MESA story by XO Blanco, minutes not kept by past director Menendez, are now
There are discrepancies in the MSEA article. Kirk Menendez is the past Executive Director that failed to keep minutes of the board of directors meetings. He was not a senior staffer. He did not leave, he was transferred to legal department. He was in legal department for a short period of time. Since I was named Executive Director,   all minutes, agendas, and records of attendance of board members and attendees have been filed with the City Clerk's office. I will appreciate very much, if you would correct this article on your next publication, Lourdes Blanco, MSEA, Executive Director
>>> A Reader on danger of yellow pole barriers on 195, and sign petition asking FDOT to modify polls https://www.change.org/p/florida-department-of-transportation-change-i95-plastic-poles-to-unable-movement-in-and-out-of-the-express-lanes
>>> Great story on the Pets' Trust.  I'd love to speak with you and tell you more.  You are right…..it will be an issue in the Mayor's race. Please watch this…      Pets' Trust…the Story    password is     movie. And read this……..  http://www.miamiherald.com/opinion/op-ed/joe-cardona/article2087823.htmlMichael RosenbergPresident Pets' TrustRita Schwartz Cofounder
>>> And another reader sent the following the shocking truth about Miami-Dade Animal Services, http://www.animalliberationfront.com/ALFront/Actions-USA/MiamiAnimalServices.htmDRCoconut Grove
>>> The Watchdog Report is Celebrating 16 years of weekly publishing since May 5th 2000 and when I started back then I never thought I would be doing this sohttp://articles.orlandosentinel.com/2003-01-20/news/0301190045_1_ricker-miami-watchdog. And while I have taken a licking over the years including some medical issues I have kept at the job thanks to my supporters who I thank so very much over the many years. And the community's public institutions are better when it comes to them knowing what the other is doing and why I have tried to be an information electrolyte for these giant institution's leaders and things and here is a national story done on why I started to watch government back in 2000 http://articles.orlandosentinel.com/2003-01-20/news/0301190045_1_ricker-miami-watchdog and to all the people along the way that have helped me I thank you from the bottom of my heart.
>>> LIFETIME FOUNDING MEMBERS & INITIAL SPONSORS IN 2000
Government Subscribers/Corporate Subscribers/Sustaining Sponsors/Supporting Sponsors
ANGEL ESPINOSA – (Deceased) owner COCONUT GROVE DRY CLEANER'S
HUGH CULVERHOUSE, Jr
FLORIDA POWER & LIGHT www.fpl.com
THE MIAMI HERALD www.miamiherald.com 
(2000-2008)ARTHUR HERTZWILLIAM HUGGETT, Seamen Attorney (Deceased)
ALFRED NOVAK
LINDA E. RICKER (Deceased)
JOHN S. and JAMES L. KNIGHT FOUNDATION www.knightfoundation.org
THE HONORABLE STANLEY G. TATE
>>> Watchdog Report supporters – $2,000 a year
Mr. NORMAN BRAMAN http://www.bramanmotorcars.com/dealership/normanbraman.htm
BADIA SPICES www.badiaspices.com
RONALD HALLMIAMI-DADE COUNTY www.miamidade.gov
UNITED WAY OF MIAMI-DADE COUNTY www.unitedwaymiamidade.org
>>> Watchdog Report supporters – $1,000 a year
COLSON HICKS EIDSON, PA www.colson.com
BERKOWITZ POLLACK BRANT Advisors and Accountants www.bpbcpa.com
JEFFREY L. BERKOWITZ TRUSTRON BOOKLINDA MURPHY: Gave a new laptop in Oct. 2001 to keep me going.
WILLIAM PALMER www.shutts.com
Rbb PUBLIC RELATIONS www.rbbpr.com
ROYAL MEDIA PARTNERS www.royalmp.com
SHUBIN & BASS www.shubinbass.com
WILLIAMSOM AUTOMOTIVE GROUP http://williamsonautomotivegroup.com/
>>> Public, Educational & Social institutions – subscribers at $1,000 or less
CAMILLUS HOUSE, INC. www.camillushouse.org
CITY OF MIAMI www.miamigov.com
CITY OF CORAL GABLES www.coralgables.com
CITY OF MIAMI BEACH www.miamibeachfl.gov
CHAPMAN PARTNERSHIP FOR HOMELESS www.chapmanpartnership.org
FLORIDA INTERNATIONAL UNIVERSITY www.fiu.edu
THE STATE OF FLORIDA www.myflorida.gov
GREATER MIAMI CHAMBER OF COMMERCE www.miamichamber.com
GREATER MIAMI CONVENTION & VISITORS BUREAU www.miamiandbeaches.com
HEALTH FOUNDATION OF SOUTH FLORIDA www.hfsf.org
MIAMI-DADE COUNTY COMMISSION www.miamidade.gov
MIAMI-DADE COMMISSION OFFICE OF THE CHAIR www.miamidade.gov
MIAMI-DADE COUNTY HOMELESS TRUST: www.miamidade.gov/homeless/
MIAMI-DADE COLLEGE www.mdc.edu
MIAMI-DADE COUNTY COMMISSION ON ETHICS and PUBLIC TRUST www.ethics.miamidade.gov
MIAMI-DADE COUNTY INSPECTOR GENERAL www.miamidade.gov/ig
MIAMI-DADE PUBLIC SCHOOLS BOARD www.dadeschools.net
MIAMI-DADE PUBLIC SCHOOLS SUPT. http://superintendent.dadeschools.net/
MIAMI DOWNTOWN DEVELOPMENT AUTHORITY www.miamidda.com
PUBLIC HEALTH TRUST & JACKSON HEALTH SYSTEM www.jhsmiami.org
THE BEACON COUNCIL www.beaconcouncil.com
THE CHILDREN'S TRUST www.thechildrenstrust.org
THE GOOD GOVERNMENT INITIATIVE http://goodgov.net/
THE MIAMI-DADE COUNTY LEAGUE OF CITIES www.mdclc.org
THE MIAMI FOUNDATION www.miamifoundation.org
UNITED STATES OF AMERICA http://www.firstgov.gov/
UNIVERSITY OF MIAMI www.miami.edu
>>>Publisher's Statement on the mission of the Watchdog Report and the special people and organizations that make it possible: the Watchdog Report covers a few of the meetings attended weekly. It remains my belief that an informed public will make better decisions. Therefore, I go to meetings, make the presence of an informed citizen known, and bring the information to you.   The Watchdog Report is in the fourth year of publication and it has been an honor to be able to send this information to you. It is sent to readers in Miami-Dade, Florida, the U.S. and the world. The Watchdog Report is sent to thousands free and while readers have been prodded to subscribe the results have been mixed. Over 250 reports and Extras have been sent since May 5, 2000 and over one million words have been written on our community's governments and events.  The report is an original work based on information gathered at public meetings, interviews and from documents in the public domain. I welcome letters via e-mail. Letters may be edited for length or clarity and must refer to material published in the Watchdog Report.  Please see address and contact information. Please send any additions and corrections by e-mail, fax or snail mail. All corrections will be published in the next Watchdog Report. If you or your organization would like to publish the contents of this newsletter, please contact me. Please send your request to watchdogreport1@earthlink.net
Daniel A. Ricker
Publisher & Editor
Watchdog Report
Est. 05.05.00
Copyright © of original material, 2016, Daniel A. Ricker
>>> The Miami Herald and Orlando Sentinel & Sun-Sentinel articles on the Watchdog Report publisher over the years.Published on September 9, 1999, Page 1EA, Miami Herald, the (FL)CITIZEN ADVOCATE' KEEPS TABS ON POLITICIANS Published on January 3, 2000, Page 1B, Miami Herald, the (FL)MIAMI-DADE WATCHDOG WILL BE MISSED Published on January 20, 2003, Page 1E, Orlando Sentinel, PAPERWORK TIGER, Miami's citizen watchdog piles up government files in his quest to keep the "little people" informed. http://articles.orlandosentinel.com/2003-01-20/news/0301190045_1_ricker-miami-watchdog>>>Watchdog Report publisher named 'Best Citizen' 2003 by the Miami New TimesThe publisher would like to thank the weekly alternative paper Miami New Times for bestowing their 2003 Best of Miami, 'Best Citizen' award to me and I am honored.  Thank you. To read the full story go to http://www.miaminewtimes.com/best-of/2003/people-and-places/best-citizen-6399517
From the spring of 2003:  U. North Carolina, Chapel Hill:  Southeast U.S. Media Report lists Watchdog Report publisher as leading Florida commentator >>> Selected excerpts from the report on Florida's media sources-Those who do read the newspaper in Florida have a bevy of options for state government and political coverage. The dominant newspapers in the state are Knight-Ridder's The Miami Herald (Acquired by the McClatchy Company in 2006) and the Poynter Institute's St. Petersburg Times. Both papers endorsed Gore in 2000 but split on the 2002 gubernatorial race, with the Herald endorsing Republican incumbent Jeb Bush and the Times backing Democratic challenger Bill McBride. Daniel Ricker of The Miami Herald also writes an influential column as well as an email newsletter called the Watchdog Report that goes out to more than 100,000 subscribers. FEBRUARY 2004 – Florida: Columnists in Abundance —ERIC GAUTSCHI, graduate student, School of Journalism & Mass Communication, UNC-Chapel Hill – D) LEADING COMMENTATORS – Resource Commentator Organization Type Web site –Steve Bousquet St. Petersburg Times Column www.sptimes.com/columns/bousquet.shtml -"First Friday" WPBT TV (Miami) TV Show www.channel2.org/firstfriday/issues.html –Lucy Morgan St. Petersburg Times Column www.sptimes.com/columns/morgan.shtml  –Daniel Ricker Miami Herald/Watchdog Report Newsletter –www.miami.com/mld/MiamiHerald/news/columnists/dan_ricker/ >>>
General subscriber's names will not be published in the Report. To subscribe to the Watchdog Report please use the form below as a subscription invoice.
**************************************
Watchdog Report Supporters Invoice-Form
NOTE: Invoice is for Yearly supporter/sponsorship Rates: Thank you.
Supporting Sponsors $5,000
Sustaining Sponsors $2,000
Corporate Sponsors $1,000 (All levels above will be listed in the report with web-site link if desired)
Large Business Supporters $500
Small Business Supporters $250 
Individual Supporter $150
Name & Address
Make checks payable to Daniel A. Ricker.
Send to:
3109 Grand Avenue, #125
Miami, FL 33133
And to contact me go to watchdogreport1@earthlink.net OR TO USE PayPal go to www.watchdogreport.net.