CONTENTS
Argus Report: What about video of M-DC Animal Control Services and how dogs are being treated at the facility and the video is quite graphic. A Face book posting has some disturbing footage of what is going on at the Miami-Dade County Animal shelter and it is not pretty and one reader sent in the following email:
Florida: $4.2 billion budget gap forces face off with House & Senate re Medicaid expansion, With time winding down state lawmakers are still battling the issue of expanding Medicaid but with a $4.2 billion budget gap GOP lawmakers are hesitant to expand the program and has both the House and Senate at odds with the clock ticking down http://www.miamiherald.com/search/?q=Florida+BUDGET
Miami-Dade County: County Atty. "The Cuevas," says sayonara since joining the County Attorney's Office in 1970, his #2, Price-Williams tapped to top spot at county
Miami–Dade County Public Schools: District refinances $900 million in COPS, saves $30 million in bond payments
Public Health Trust: New trustees for PHT include Treasurer Khaghan and Brantley if confirmed by BCC
City of Miami: Commissioner Sarnoff jokes if he was a judge, "First we hang you, then we try you," he tells fellow Commissioners Thursday.
City of Miami Beach: Miami Mayor Tomas Regalado and Miami Beach Mayor Philip Levine are linking up with other Florida mayors to fight the expansion of gambling in Florida and the state legislature is currently trying got come up with some deal but that seems unlikely
Community Events: Jackson Transplant Gala — Margulies Warehouse opens in Oct. Lotus House benefits, public students enter free the date draws closer to "Ethics in Education: A to Z" – the two day conference touching on controversial and critical issues in all levels of schools — COE Executive Director Joseph Centorino encouraged early registration today and noted the positive response received so far to the program. The conference, scheduled for May 1 and 2
City of Homestead: County Ethics Commission rules on "wholesale waiver of ethics prohibition of travel related expenses"
Editorials: Government leaders must work together on big projects if chaos on the roads is not to occur
Letters: County Mayor's son wrote the letter supporting Cason in Gables
Sponsors – Publisher's mission statement & Subscription information is at the bottom of this issue
Just because you do not take an interest in politics does not mean politics will not take an interest in you. –Pericles (430 B.C.)
>>> If you wish to be deleted, just e-mail me with that message.
I took a little time off last week for the Easter Holiday after publishing 54 weeks in a row and I was exhausted and the Watchdog Report will return next Sunday and readers should stay tuned as your government tries to spend your tax dollars efficiently but taxpayers need to be vigilant for public dollars are precious and few and must be spent wisely. And on May 5th the Watchdog Report will celebrate its 16th Anniversary and consider financially helping me have another year of watching your public institutions.

The Watchdog Report publisher would like to thank the John S. and James L. Knight Foundation www.knightfoundation.org  for funding by the Knight Foundation with technical support from the Knight Center www.knightfoundation.org  to maintain my webpage. The Watchdog Report webpage is free, has no pops-up and is just the news in a mainstream reporting manner.
The Watchdog Report publisher needs help and I hope you will consider supporting me allowing me to stay out in the field so that I can keep at this and report back how your billions of public dollars in government are being spent on a weekly basis. And how to do that is at the end of the WDR. Thank You.
CORRECTION: Miami Commission District 2 Candidate Grace Solaris raised $101,000 for her campaign and Teresa Sarnoff has some $500,000. In hard and soft money in her campaign war chest.
ARGUS REPORT – Heard, Seen on the Street
What about video of M-DC Animal Control Services and how dogs are being treated the facility and the video is quite graphic. A Face book posting has some disturbing footage of what is going on at the Miami-Dade County Animal shelter and it  is not pretty and one reader sent in the following email: "Dan go to site scroll down until you get to Videos of guy abusing the dog under the car. Also his pictures of his face. MDAS needs to get a grip and get cleaned up or shut down. Just go read all the posts for a week.  Botched surgeries. I mean who is doing the spay neuters ? Some vet tech or worse?  Place is dirty. Dogs are cold abused all winter. Hot abused all summer. Unfortunately good breeders like me got shut down but pet stores are ok. All licensed to stay open. My friend just got rid of most of her dogs due to animal control. All ours go to no kill shelters.  What a shock!!!  NO KILL SHELTER. MDAS has no clue here is a link to the videohttps://m.facebook.com/urgentdogsofmiami?refsrc=https%3A%2F%2Fwww.facebook.com%2Furgentdogsofmiami
A Facebook posting https://m.facebook.com/urgentdogsofmiami/photos/a.400024653365277.99258.191859757515102/525808710786870/?type=1&source=44&refid=17
>>> There was a gathering of Arts patrons on Wednesday and I suspect the topic was the Coconut Grove Playhouse and getting it open while also possible including a larger 1, 0000 seat theater. The Miami-Dade Commission last week approved naming  the architectural firm Arquitectonica  to do  the $1.6 million renovation to the Historic theater in the Grove that closed suddenly in 2006 and the County has $20 million in a general obligation bond money to restore the facility but some advocates want more than a 300 seat theater managed by Gables Stage but something larger say 1,000 seats but that is considered too large and economically not viable in the long run and County Mayor Carlos Gimenez has stated in the past that whatever is done has to be fiscally self-sustaining. However, prominent attorney Mike Edison has been pitching an idea that with the help of Kevin Spacey he believed he could raise some $40 million to help fund the larger facility that is believed to bring back the theaters past glory. Edison met with a host of community leaders on Wednesday at a Italian restaurant in the Grove along with his legal partner Dean Colson, Ralph G Patino a Public Health Trust board member and former Miami Commissioner Rosario Kennedy, along with Miami-Dade Commissioner Xavier Suarez whose District 7 includes the Playhouse and the former Miami Mayor has been haggling with Gimenez about what should be done with the iconic structure that brings out strong passions in the Grove and is a major economic driver for the area.
Press release: Zogby Presidential Report Card: Trade defeat threatens presidency John Zogby's Obama Weekly Report Card is Featured in Paul Bedard's "Washington Secrets" Published weekly in The Washington Examiner
Pollster John Zogby reports in our weekly White House report card that President Obama is feeling good after finally winning Senate confirmation of his new attorney general, but a fight over trade could hurt the presidency. "Some highs and lows for President Obama this week. On the high side an agreement between Democrats and Republicans on a human trafficking bill means not only another compromise but cleared the way for confirmation of new Attorney General Loretta Lynch.
Please click on the link below to view the full release: http://zogbyanalytics.com/news/576-zogby-presidential-report-card-trade-defeat-threatens-presidency
Learn more about partnering with Building Futures
Xavier Suarez webpage: Statement about the Coconut Grove Playhouse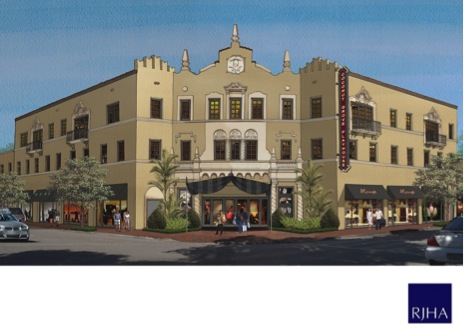 Commissioner Xavier Suarez webpage: I'm pleased to share that Miami-Dade County, in partnership with Florida International University (FIU) has reached the final step in a long process of transferring ownership of the Coconut Grove Playhouse from the State of Florida, to the County.  This facility will be jointly run and managed by both the County and FIU, going forward.  In a presentation today at the Cultural Affairs & Recreation Committee Meeting, Cultural Arts Director Michael Spring reported that the County has completed all of the required Title transfer documents, and completed all of the required encumbrances from the State and the Title company.  This will allow Miami-Dade County to satisfy the State and comply with the Cabinet's requirements, in conjunction with the Title Company.  The encumbrances were initially well over $3.5 million, but through hard work and negotiations in good faith by all parties, the County has negotiated down the encumbrances to less than $120,000 in total.
Director Spring informed our office this afternoon that the State has just granted their approval of all of the documents, and the transfer is now complete.  Miami-Dade County and FIU are now co-lessees.  He also indicated that they have worked in conjunction with the State, every step of the way, to effect a smooth transfer of Title.  Congratulations to Director Spring, along with all staff involved – job well done, and mission accomplished!
Onwards and upwards – let's move forward with the Playhouse and restore it for the benefit of all in our Community!
Imagine Miami: A vision for the future of Miami-Dade County
Commissioner Suarez proposes several projects in various areas of Miami-Dade to enhance the region's natural beauty while adding practicality for residents, commuters, and visitors.
Read about "New Town Square"
Read about "Virrick Park"
Read about "Plaza of the Americas"
;PAST WDR: FL legislature still playing "chicken" when it comes to losing up to $50 billion over a decade in federal LIP funds, state's $1 billion surplus disappears, Gov. Scott faces dilemma with lawmakers
Gov. Rick Scott is finding some of his proposed lofty budget proposals are hitting the rocks now that the state is facing a $1.2 billion hole versus having at one point a $1 billion surplus in extra money and had Scott calling for some $750 million in fee cuts for Florida consumers on their cable bills and more funding for education but the GOP controlled Legislature is dealing with another issue since the House budget is $76.2 billion to the Senate's $80.4 billion budget and Sen. Tom Lee, R    the Appropriations Committee Chair says the difference especially when it comes to healthcare funding of  the Federal Lower income Pool (LIP) program that draws down federal healthcare funds is ending this year since the ACA is in force. And Lee says the budget difference could cost Tampa General a public hospital some $120 million in lost funding and he said to
http://www.miamiherald.com/news/politics-government/article15519245.h  cuts must be made up and could come from a variety of sources including changing the Gov. Scott's request for $673 million in tax cuts and the loss of the LIPprogram "( that nets Jackson Health System some $515 million)," could have major funding impacts on other public hospitals and South Florida has had a major advocate for the expansion of the Medicaid program in Sen. Rudy Garcia, R-Hialeah who has been on the community circuit urging people, and he is taking a real political risk with his GOP peers to talk to their legislators to support the expansion because the lost federal dollars will not be used to pay down the nation's $18 trillion debt, but will be given to other states and over a decade could represent some $10 billion in federal funding and he notes people should think about how many jobs that would create given the needs of the ageing Florida population expecting to drive healthcare to even higher robust levels as of now. And JHS provides $350 million of the federal matching funds to draw down these dollars and CEO Carlos Migoya believes the federal money will come but his concern is in the outgoing years with the federal Low Income Pool Program actually ends. And the Miami Herald in an extensive analysis notes there are 850, 0000 Floridians that fall in this healthcare coverage gap and to read the extensive story done by Reporter Dan Chang go to go to http://www.miamiherald.com/news/health-care/article18717474.html
And State Rep Rene Garcia, R- Hialeah has drawn the ire of Gov. Rick Scott, for his sounding the alarm and persistence in getting Florida to expand its Medicaid coverage that Scott and the House are against the expansion and it has become a game of "chicken," because state's that don't expand Medicaid will lose billions in federal dollars  and Garcia in the past has said he too is a fiscal conservative but if the money was returned to the federal treasury it would not lower the nation's #18 trillion debt. He said the money would just flow to another state he has stated in the past http://www.miamiherald.com/incoming/article1986837.html
What about Garcia's jobs?
Scott is reported saying that Garcia is conflicted out since over the years he has worked in the industry and at a number of hospitals. But Garcia has noted that is not the case in the media but it shows how tough Scott can be, and he is threatening to veto member's projects if the lawmakers don't fall into line, but Garcia is an experienced lawmaker who has served in both the House and Senate. His net worth through Dec. 13 was $65,000 and Dade Medical College paid him $120, 0000 and In-State Media kicked in $4,000. But Garcia has been doing extensive PR in South Florida and his championing of the federal program is a gutsy move in the GOP controlled Senate and House but he knows the political landscape and is fiscally conservative and is well liked in his Senate District that includes Hialeah.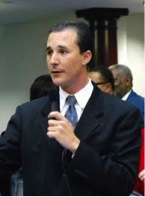 Garcia
What do we know about his income?
To review Garcia's financial disclosure form for 2013 go to http://public.ethics.state.fl.us/Forms/2013/43980-Form6.pdf

Disclosures forms on file go to website (www.et hics.state.fl.us):


The County Commission voted nine names to recommend to Gov. Rick Scott to consider to appoint to the Miami-Dade Children's Trust and one of the names was Kate Callahan, Ph.D., a former Public Health Trustee and Miami Commission Dist.2 candidate who lost to Miami Commissioner Marc Sarnoff.
On the well-being of our children. Visit The Children's Movement website to read their stories and share your own. >>> I find it unacceptable, as all of us should, that at least a half-million children in Florida – all citizens — have no health insurance. How could this be in our beloved country that seeks to be a beacon to the world? Health insurance for all children is one of the five major planks of The Children's Movement. With the support of Florida Covering Kids and Families, The Children's Movement is working with dozens of local partners to help build a meaningful signing-up initiative in more than a dozen Florida communities. Already we have: Completed 18 KidCare trainings around the state. Signed up, trained and deployed more than a hundred volunteers. Begun to build a growing collaboration between local school districts and KidCare outreach coalitions. It's a good start, but only the start. If you'd like to become a volunteer, just click here. Another way to help is to make a contribution – of any size – to help support this work. It is easy. Just click here. A real movement isn't possible without your helping in some meaningful way. Dave Lawrence, Jr., Chair the Children's Movement. >>> Update: Two encouraging meetings… The first, a visit from the Governor to the Rainbow Intergenerational Child Care center in Little Havana where he discussed his early learning priorities. That includes his support for "Help Me Grow," a statewide parent resource system where parents would be able — via phone and online — to get and she thought answers to questions about their child's development and connected with the proper resources. The second, a meeting with future House Speaker, Rep. Jose Oliva from Hialeah. He's a father of three, a real reader of history and student of policy, and committed to better understanding early learning. Dave Lawrence, Chair The Children's Movement.

Three of the basics of building a real movement for all children:
• Nothing is more important than a caring and knowledgeable parent. (Know that 71 percent of American mothers with children between birth and age 5 work outside the home, meaning high-quality, brain-stimulating child care is a major necessity.)
• 85 percent of brain growth occurs by age 3.
• Early learning is a continuum between before birth and age 8. ("Families are the ultimate pre-pre-school," wrote Clare Huntington in The New York Times last September, adding, "I don't want to rain on the pre-K parade, but we can't pretend that school preparation begins at age 4. Four is better than 5, but zero is better than 4.")
All that brings to me to a Miami-Dade Public Schools initiative focused on the transition from child care to kindergarten. This week I spent time at the superb YMCA in Allapattah, a bit north of downtown Miami. I spoke with Drs. Maggie Abrahante and Marisel Elias-Miranda, two key people responsible for early childhood programs that the superintendent has made a priority in this nationally honored school system. They've put together an excellent handbook for parents of children headed for kindergarten, and also:
• Five retired school administrators with a special interest in early childhood already have met with 400 child care center directors to give them a sense of what school is all about and the expectations for children.
• Principals are meeting with center directors.
• Parents are offered superb neighborhood workshops, one of which I attended.
Wouldn't that be smart to do in every school system?
Dave Lawrence
Chair
The Children's Movement of Florida
And if you would like to see you're County or state elected leaders financial
Disclosures forms on file go to website (www.et hics.state.fl.us):
MIIAMI-DADE COUNTY
The County Commission approved Abigail Price-Williams as the body's new head attorney and it was a tearful vote for some who knew the long time deputy attorney to Robert Cuevas, and commissioners joked you never saw the two of them alone since they worked as a team and that was true, and they used to eat lunch all the time together and both have a good temperament and got along with all the commissioners which is no easy task over the past years especially after the recall of Mayor Carlos Alvarez. And Cuevas has been a calm hand on the tiller of government over the years and for more go to Cuevas…http://www.miamiherald.com/news/local/community/miami-  and here is the link on his retirement in The Herald Dade/article18632040.html  The Miami Herald is reporting that Commission Chairman Jean Monestime is supporting naming Cuevas's number two Abigail Price-Williams to replace Cuevas who has been at the office since 1970 and Price-Williams joined the office in 1990 and both are well respected and been honored by their legal peers and with Cuevas leaving I suspect both of them will be picked off by one of the high profile law firms in Miami. And Commissioner Javier Souto when Cuevas was first appointed the County Attorney, Souto said everybody "Knows the Cuevas," during the confirmation vote a few years ago and Price- Williams used to be an attorney for the Public Health Trust board in her past assignments since she joined the office in 1980.
| | |
| --- | --- |
| Price-Williams | Cuevas |
What about the commission discussion on the Self-Funded Group Healthcare Program?
Commissioners had an extensive discussion last week on the new PFP going out for County Workers Healthcare insurance and has been contentious in the past and this new one promotes wellness to try to keep the costs down but the county's program is considered by many as being generous and costs around $400 million.
What new powers could Mayor Carlos Gimenez get on the MDX?
Legislation moving through the state legislature would make Mayor Gimenez the Chair of the beleaguered Miami Express way Authority (MDX) that controls the tolls on all the major freeways and is a political hot potato that was given to the Mayor because the County is in charge of transportation and for years transportation solutions have always been elusive. And the hope is the mayor can get something done since the tolls are revenue, though most of this money is dedicated to past bond payments, and the tolls could come back to bite him with voters when he runs in 2016.
What happened at a MPO meeting?
And a legislation move to change the number of members and the way the Miami-Dade Planning Organization (MPO) is comprised caused a flap with other board members and Miami Beach Mayor Philip Levine said he just wanted to "reform" the regional transportation board. Levine said the board "has too many people," and when it became clear the board can "reform itself, "I'm all for it said the Mayor." But he has been frustrated with the pace of public transportation and that residents "are clear they want better public transportation," he noted. But After extensive discussion Levine noted after all the comments had been made he noted it was clear "everyone wants reform."
And School Board Member and Board Chair Perla Tabares Hantman felt the way this was handled did not take into considertuionon of the tens of thousands students who are bused around the county and County Commissioner Dennis Moss believed people with
Different opinions and ideas should bring them first to the commission and keep the legislature out of Miami-Dade issues.

Moss
Moss believed it was more prudent to first bring it up at the commission because taking an issue to Tallahassee "is very dangerous," Moss and Commissioner Javier Souto echoed. And Commissioner Sally Heyman said she heard the the driving force behind the legislation was because the MPO "had the reputation of being dysfunctional and to large," of a board and Heyman said about "restructuring why not?" and should never happen again," said Heyman. And Commissioner Juan Carlos Zapata noted some people think he is behind this," but "Zapata said all he is trying to do is to create a more focused board."
And Miami Commissioner Marc Sarnoff in a rambling statement noted all cities "have to go vertical," or they won't be successful and he asked the MPO members, "For the past 20years have you done a good job?" Sarnoff asked the MPO members. And Sosa said she looked at all of the County's municipalities all at once and it cannot be done based and for will there be "another Happy Thursday," and Sosa's parents taught her  to love  this country," and "I might disagree, but I have been here 15 years fighting the same ghost lack of funding, "Sosa closed.
What about the MPO Executive Director?
The MPO has discontinued using a search firm after "18 or 19 highly qualified candidates," applied for the County transportation executive position.
| | | | |
| --- | --- | --- | --- |
| Suarez | Zapata | Sosa | Tabares Hantman |
Zoo Miami front man Ron Magill was honored by the county commission and the man's love of the zoo animals is infectious and the journalist, photographer has made him a media favorite appearing on many media outlets, and he is a strong environmentalist and is much beloved by the community as a whole and he deserves all the praise that was given by the Commission to the low key man and animal lover. Magill praised his staff for making all this happen and making him a personality and click below for more on the family man ishttp://en.wikipedia.org/wiki/Ron_Magill and the Watchdog Report gives him a Tip of The Hat for a job well done! Representing the Zoo.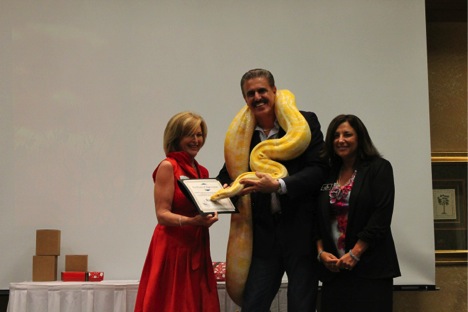 Photo Coral Springs Chamber Ron Magill is in the center
Daniella Levine Cava has been on the dais for five months she noted last week and said that she is learning the County Commission lingo and procedures of being a county commissioner and she has brought a breath of fresh air to the dais and asks good questions during the Commission deliberations. And Xavier Suarez is also learning the ropes of being a County Commissioner but Levine Cava is making an effective low key impression on the 13 member commission.
GMCVB Press release: RECORD DEMAND FOR TRAVELTO GREATER MIAMI & THE BEACHES DURING THE FIRST QUARTER 2015 (JAN. – MARCH) WITH #1 RANKING IN REVENUE PER AVAILABLE ROOM (REVPAR), #1 IN AVERAGE DAILY ROOM RATE (ADR) AND #1 IN HOTEL ROOM OCCUPANCY AMONG THE TOP 25 U.S. MARKETS AS DEFINED BY SMITH TRAVEL RESEARCH.
Record First Quarter 2015 – Miami #1
Revenue Per Available Room (RevPAR)
First Quarter 2015 First Quarter 2014 % Change vs. 2014
$212.78 $193.89 +9.7%
Average Daily Room Rate (ADR)
First Quarter 2015 First Quarter 2014 % Change vs. 2014
$250.61 $229.37 +9.3%
Average Daily Occupancy
First Quarter 2015 First Quarter 2014 % Change vs. 2014
84.9% 84.5% +0.5%
| | |
| --- | --- |
| Regalado | Suarez |
Regalado    Gimenez
>>>> State Law allowing more public comments working to make government more transparent and easier for public input
A law passed by  the Florida Legislature to allow the public to speak on a host of issues allowing more public input into municipal, counties and  the school board discussions is working very well and public comments are bringing  many issues to light that normally would never be heard of without this ability for the public to speak and at Miami-Dade County there was an insider's joke that there "was a trap door," at the podium and it used to intimidate the public comments since anyone's comments could be cut off and while elected leaders hate the new state law. It is having a positive affect when it comes to public discourse. And has made a more open discussion with residents who are asking for their time and no longer have to wait for hours until their item is called sometimes almost all day and while legislators are not wild about this it is working nicely and the public thanks the Florida Legislature for this new law.
What about mayoral Candidate Raquel Regalado?
Regalado comes from a family of journalists and she is effectively utilizing the media and last week at the school Board there was an extensive discussion of the Audit of the Value Adjustment Board (VAB) something she has been championing since the school during the budget process has to deal with a $40 million budget hole since it takes the County so long to clear property  tax appeals and the attempt was to see if there was some structural issue that must be corrected to mitigate this delay in funding owed to the nation's fourth largest public schools district. And at Wednesday's Board Meeting when a transfer of land for the large Mall passed.  She probable got some decent television time in the Spanish media and she is staying on the airwaves on a consistent basis( as to be fair so is Gimenez) but  his message is generally dour and not as upbeat in tone to Regalado's whose father is also campaigning for his daughter as well in the coming months but she is now defining herself with the county's voters who see her race a big stretch from being on the schools board since there is a Superintendent and in the County's case there is a strong mayor form of government and she will have to run the colossus herself with well over 26,0000 employees, and that competency was a known fact since Gimenez at one point was Manager of the City of Miami and a Miami Fire Chief, but with some people voter fatigue is setting in and Regalado the daughter is young and energetic  and she is slowly making her case with county voters, some are saying, but there is a long way to go before the Nov. 2016 general election. And the VAB issue sand the Mega Mall are likely to be campaign issues in the months ahead and readers should stay tuned and see how this development being done by Triple Five turns out for critics argue there are some downsides to this type of developments. And here is a critical on Mega Malls http://www.miamiherald.com/news/local/community/miami-dade/article14525900.html
What about any other challengers?
Further, So far no one has officially announced they will be challenging Gimenez for the office but former Miami Mayor Xavier Suarez is eyeing the post as well along with School Board Member Raquel Regalado and the mayor's dynamics with voters has changed since he first ran for the office back in 2011 and he is seen as being overly sensitive if anyone criticizes him and there is some media footage that does make him seem angry when he is criticized and not a warm and cuddly mayor and that imperious attitude is getting old for some voters. And the discontent (Which he believes is misunderstood and costs were cut along with positions) when he paid numerous vice mayors significant salaries and benefits that he says is necessary to get top people into government, but critics argue maybe these people should not be in public service. Since it might be for the wrong reasons, since government positions traditionally pay less than the private sector but also comes with a number of perks not found in the private sector.
What did Sarnoff say about signalization of traffic lights?
Miami Commissioner Marc Sarnoff during the television show told Putney that when it came to reducing traffic congestion that synchronized "signalization, was like moving the deck chairs on chairs on the Titanic," and the fix will not achieve the trafficking results many people are anticipating despite the long time taking to implement it.
What about the Grove Isle District 2 debate?
What about the Miami Commission Dist.2 Race that has a host of candidates taking on commissioner Sarnoff's wife Teresa who did not attend the candidate event at Gove Isle where a  new large tower has split condominium owners and is a hot button issue but she gave the event a miss, for a fundraiser at a new condominium and since all the other candidates were there she may be trying to run a stealth campaign where voters don't actually see her except through television and political ads, and may get known as the Invisible Women candidate Since she will likely have more campaign funds to dominate the airwaves running up to the election because she is also not a natural campaigner  and her acerbic husband Marc has too much political baggage to help her in many parts of the Grove except for the name reconition which is  a double edged
http://miamiherald.typepad.com/nakedpolitics/2015/04/sarnoff-a-no-show-in-first-district-2-candidates-forum.html sword when it comes to voters. To date Teresa has $500,000.in soft www.miamiherald.com  and hard funds in her campaign war chest mostly from developers. And her main challenger in the money game is Grace Solaris who has $101,000 for her campaign And here is a column done by Jack King a long time Grovite who was a Sarnoff Supporter but now believes and asks in his piece How Did- Commissioner- marc Sarnoff go  wrong? And here is the article.  Marcoihttp://www.biscaynetimes.com/index.php?option=com_content&view=article&id=2067:how-did-commissioner-marc-sarnoff-go-wrong&catid=48:miami-king and for a complete list of the candidates and how much they have raised go to http://www.ci.miami.fl.us/City_Clerk/Pages/Elections/CampaignReports15.asp.
Sarah Odio an aide to Miami-Dade County Commissioner Xavier Suarez is getting married in South Africa at Giants Castle and her father is Cesar H. Odio the convicted former Miami manager of the City of Miami and his daughter is a Vassar College graduate. For more on the marriage go to http://www.nytimes.com/2011/11/27/fashion/weddings/sarah-odio-andrew-torlage-weddings.html?_r=0 and given her background she appears to speak Mandarin Chinese. The Watchdog Report wishes hem good luck.
Press release: In other action today, The Ethics commission approved a resolution to honor retired Florida Supreme Court Justice Gerald Kogan with a "Lifetime Achievement Award for Ethics in Public Service."   In addition to his legal and judicial experience in the state and county courts, Judge Kogan has served as President of the Alliance for Ethical Government and as a member of the Miami-Dade County Public Schools Ethics Advisory Committee.  He has been an adviser and mentor to countless public servants, attorneys and citizens, as well as law students at four different universities.   The award will be presented at the opening session of the "Ethics In Education: A to Z" conference on Friday, May 1, 2015 at the University of Miami's Storer Auditorium beginning at 5:30 p.m.  Anyone wishing to take part may learn more and register by visiting www.ethics.miamidade.gov   >>> Finally, the Ethics Commission paid tribute today to Deputy General Counsel Miriam Soler Ramos, who is leaving the agency after more than nine years.  Ms. Ramos begins her new position as Deputy City Attorney in Coral Gables on March 16th.
MIAMI-DADE COUNTY PUBLIC SCHOOLS
District refinances $900 million in COPS, saves $30 million in bond payments
PASTWDR: Superintendent Alberto Carvalho gave school board members some good news Wednesday when it came to the nation's fourth largest public schools District's debt that skyrocketed when a host of new schools were built through roughly to 20004 to 2008 but the school construction was financed by Certificates of Participation ((COPS) and the District CFO Dr. Richard Hines when he talked about the district debt that "it was not for the faint" of heart given its size. Carvalho told the school board that the District had refinanced $900 million in COPS and the lower interest rates are saving the District some $30 million in savings and since funding from the state for school maintenance has practically ended any savings such as this is a big deal specially since County residents passed a $1.2 billion GOB to upgrade all 400 schools in the District
What did Regalado say about "financial literacy classes?"
School Board Member Raquel Regalado at Wednesday's monthly school board meeting said she has been in discussions with Florida CFO Jeff Atwater about having such a program to better prepare Floridians to handle their money and she is trying to make it part of the curriculum
Bd. Will be following up on VAB District Audit seeking reforms, Regalado and Hantman will be pushing the matter for the school board
The Long awaited audit of the Miami-Dade County's Value Adjustment Board (VAB) is out with some recommendations, and the County's OIG was copied.   The long awaited audit pushed by Board Member Raquel Regalado and Superintendent Alberto Carvalho by the Miami-Dade County School Board of the Miami-Dade County Value Adjustment Board (VAB) has been released and the report makes a number of recommendations and the County's Office of Inspector General is copied on the document that has become a political hot potato since legal suits are in play and the roughly $40 million funding impact it is having on the District because of taxpayer appeals and the length of processing these filings. To read the audit go to http://mca.dadeschools.net/AuditCommittee/AC_March_10_2015/item3.pdf. And there was extensive discussion at Wednesday's monthly school board meeting on the matter and Regalado is going to be the point of the spear when it comes to the VAB and trying to "reform" it said board members and Board Chair Perla Tabares Hantman will also lend her weight to the proceedings and the need for changes and the District Auditor is still waiting for some responses from the County entities involved in this VAB process.
PUBLIC HEALTH TRUST
New trustees for PHT Treasurer Khaghan and Brantley if confirmed by BCC
At a Public Health Trust Nominating Council meeting Thursday the Council accepted Mayor Gimenez's appointee to the seven member board and it was PHT Treasurer Mojdeh Khaghan, Esq. and she has been a valuable addition to the board and Kareem T. Brantley's name will also be submitted to the County commission for confirmation on the important oversight board. And State Rep Carlos Trujillo, R- Hialeah is the state delegation choice on the board.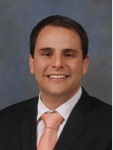 Trujillo
Trust to hold seven community meetings to hear people's concerns throughout Miami-Dade hear where new clinics might be placed using the $830 million bond money
At a County Commission Committee meeting Commissioner Xavier Suarez briefed his peers on the discussion he had with PHT CEO Carlos Migoya regarding the plans for clinics around the County after voters approved an $830 million GOB bond to upgrade the facilities. Commissioner Xavier Suarez had asked the Public Health Trust Administration for an explanation of what the Trust was planning. "Suarez said he got a very private meeting," with Migoya. And while the "information is propriety," I told the Migoya "we need to know," some of the organizations plans, to grow patient volumes since it was Public money and Suarez said the meeting with Migoya went on, "for two hours at 7:00 a.m., and should show people how "hard we work," on these policy issues contrary to the public perception. Further, The Public Health Trust is holding seven public events around the County from the SW., North and South West in the coming months, trying to get community input. But because Healthcare is a competitive industry the PHTstaff is very closed lip about future plans and the Watchdog Report understands this because the public Health System is behind in a number of areas, but does give world class healthcare but the facilities are ageing and the bond money was approved by county voters to help this community jewel prosperous and that includes the Ryder Trauma Center. A community treasure.
PHT closes past month "$3 million over past year," says CFO Knight at Thursday Committee meeting
For the first time in a while the Watchdog Repot attended the all-day PHT committee meeting Thursday and CEO Carlos Migoya has added some new staff and one new member to the administration is former Miami CFO Larry Spring and his job is to enhance efficiencies in the staffing operations he told the board during a presentation Thursday and the Trust continues it's remarkable turnaround.
What about the PHT's finances?
Jackson is reporting $1 million over budget for the past month and that is "$3 million over the prior year," said Trust CFO Mark Knight. And the health trust is benefitting from strong countywide one percent sales tax collections that came in "$1.5 million ahead of budget," and since consumer "spending is up," sales tax revenues for the month came in at "$8.8 million ahead of what was budgeted," said Knight. And cash on hand is 28 days and reflects the stringer performance of the health system that at one point only had about 12 days of cash on hand.
Jackson Health System Community Event

TOWN HALL MEETING – JHS GENERAL OBLIGATION BOND CITIZENS ADVISORY COMMITTEE
A JHS General Obligation Bond Citizens Advisory Committee Town Hall Meeting has been scheduled for Thursday, April 16, 2015 at 7:00 p.m. in the Kendall Village Center's Civic Pavilion located at 8625 S. W. 124th Avenue, Miami, Florida, 33183.   The Town Hall meeting will be held during the Kendall Federation of Homeowner Associations Board meeting.
CITY OF MIAMI
Miami Fire Rescue spends $30 million for1, 942 in new radios
The Miami Commission on Thursday approved a $30 million contract for radios and communication devices for the Miami Fire and Rescue Department and the devices have a range much larger than years before and even work if a worker is in Palm Beach. The City is buying 1,942 radios and another 1,050 in upgrade kits and this new gear will allow significant communications improvements a problem many municipalities have had to deal with since Sept. 11.
Merrie Christmas Park in South Coconut Grove (http://www.miaminewtimes.com/news/commissioner-sarnoff-toxic-soil-at-merrie-christmas-park-will-be-removed-soon-6546637)  has reopened and on Saturday a few hundred parents with their children attended a Neighborhood pot luck event organized by Commission District 2 candidate Grace Solaris and candidate Ken Russell and the park was packed with children after intensive remediation was done by the City of Miami. Commissioner Marc Sarnoff and his candidate wife Teresa also went to the event that had a number of candidates attending including Seth Skarley but there are a host of candidates in the field trying to take on the termed out Sarnoff who is helping his wife follow him on the dais and his wife Teresa was with him and she is just getting her political footing and is not a natural campaigner on her own but will have to be more so in the future, especially  when she faces the press that is getting antsy with her lack of communication of what her platform will be or just more of the same as her husband who went from being a Grove activist to almost creating a cult of followers and gives the impression it's his way or the highway which is getting old with many Miami Grove voters but the attorney has the ability to raise serious campaign cash from developers, but his political persuasion seems to change with the times. Since he was a big Barack Obama supporter in 2006 but did not do much campaigning for Obama in 2012 and this past year. He supported GOP Gov. Rick Scott so people have no idea what the admiralty attorney believes in. And here is a campaign webpage that came up in a searchhttp://www.marcsarnoff.com/connect/voter-information/  and click here to see all the candidates running for the District 2 seat and how much money they have raised.
http://www.ci.miami.fl.us/City_Clerk/Pages/Elections/candidates.asp and later in the day
Sarnoff seems to consider himself a comedian and always has a little quip that sometimes falls flat. Since it is usually directed at someone and at Thursday's Commission meeting during a discussion of some litigation and the slowness of the judge doing it, Circuit Court Judge Bronwyn C. Miller, and after making reference if he was a judge. The kind of jurist he would be met out would be "first we hang you," "Then we try you," would be how he ran his courtroom and it was an odd and insensitive comment for a local municipal leader especially since he is referring to the judiciary.
PAST WDR:  City may close the year with $18.6 million surplus for the year says budget guru Rose to Finance Committee
The Watchdog Report attended the City's Finance Committee meeting Wednesday and the volunteer board watches over the city's finances and is a very important board for it helps keep the city off the fiscal rocks as has occurred so many times over the years including having for five years a state appointed financial Advisory board appointed by then Gov. Jeb Bush and only dissolved in November 2001. Staff told committee members that "the budget process is well underway," and budget Director Chris Rose said he will be making a presentation "next week to the commission, "and he indicated the preliminary surplus for the year was likely to be "$14.5," million but that number is not set in stone. And Rose also updated the committee on union negotiations and he stated the tentatively agreed contract with AFSCME made up of "general employees passed a union vote by 579 to four against he told committee members. Rose said the new agreement gives all employees a "three percent" raise across the board and "fixes pay tables," that for many employees was prevalent, Rose said. He also mentioned a major new "Wellness Program" for the City's workers and a gym is becoming available that "has the same rehabilitation equipment," and "getting workers more healthy is a win," the budget guru concluded, and over the years the increased costs for diabetes, for example has shot through the roof for Miami employees and was discussed a couple of years ago at a past meeting I covered.
What about Miami's bond holdings?
The City of Miami has some $200 million in bond holdings and the Signa Cyber Security guidelines after a breach a while ago was discussed by one of the board members and Cyber Security in a host of ways is becoming a major worry for municipalities.
What about the Miami Audit Committee?
Because of the lack of appointments by the Miami commission the critical Audit Committee has not met in the "past year," and commissioners need to make appointments to this critical oversight board for it also plays an important role in keeping the city on an even fiscal keel.
What about the other candidates for the Dist.2 seat becoming open?

Teresa Sarnoff has decided to knock on doors with her husband Miami Commissioner Marc Sarnoff who she wants to follow in his seat since he is termed out after eight years in the office and there is clearly voter fatigue for the man. Who comes off irritating and has trouble connecting with people and could be the wife's downfall in the crowded Dist.2 Miami Commission race with a host of challengers who just need to get 50.1 of the overall vote to prevail in the primary and the expected general election in late November and having a strong organization getting voters to the polls will be key to any victor.
And When it comes to the Miami Commission District 2 race things are very quiet and the Watchdog Report has yet to see any of the candidates in my neighborhood or down at Miami Commission meetings but campaign reports show candidate Grace Solaris has raised some $77,210, (up from 57,680) to her likely challenger's Teresa Sarnoff who has increased her war chest to $172,149 through February,
Gimenez
And to review all the campaign reports go to http://www.ci.miami.fl.us/City_Clerk/Pages/Elections/CampaignReports15.asp
CITY OF MIAMI BEACH
Mayors ban together to fight gambling in Florida
Miami Mayor Tomas Regalado and Miami Beach Mayor Philip Levine are linking up with other Florida mayors to fight the expansion of gambling in Florida and the state legislature is currently trying got come up with some deal but that seems unlikely
Mayor Levine press release: Dear Fellow Floridians and Friends,  Please click here to view the ad below, that I was honored to participate in with my fellow Mayors from Bradenton, Orlando, and Miami.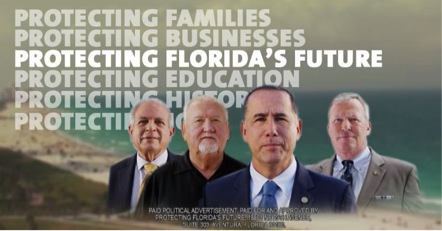 We must fiercely fight efforts in Tallahassee to STOP the expansion of gaming in Florida, especially in my home county of Miami-Dade. Gaming expansion will negatively affect our state's good brand and quality of life. Don't be fooled. Stand with us! Sincerely,
Philip LevineMayor of Miami Beach
What about the Watson Island project the City of Miami wants to allow?
Beach residents are gearing up to fight the large project proposed by a local developer for Watson Island and has been delayed since voters approved it back in 1999 and was selected because they agreed to pay the highest fees back to the city back then but since then traffic on the MacArthur Causeway has ben horrendous and is becoming a nightmare that this new development would only make worse and the lawsuits are flying.
CITY OF CORAL GABLES
CITY OF MIAMII LAKES
IT's over the Third District Court  has ruled that suspended Mayor Michael Pizzi should be put back in office After numerous court hearings  after a jury ruled he was not guilty in a federal public corruption probe and the charges were dismissed by the federal jury but the city attorney kept ruling that Pizzi was not entitled to resume his official duties as a mayor since there had been elections, which the Appeals Court disagreed with that reasoning   and for a longer version go to http://www.miamiherald.com/news/local/community/miami-dade/miami-lakes/article17033288.html . However, it will be interesting to see if Pizzi can make the transition back into office without his usual drama and taxpayers are holding their breath when it comes to the various court costs over the months since the acquittal.  
COMMUNITY EVENTS
the date draws closer to "Ethics in Education: A to Z" – the two day conference touching on controversial and critical issues in all levels of schools — COE Executive Director Joseph Centorino encouraged early registration today and noted the positive response received so far to the program.   The conference,  scheduled for May 1 and 2 at the University of Miami and at Miami Senior High School, will feature national and local leaders and experts, including Miami-Dade School Superintendent and National Superintendent of the Year Alberto Carvalho,  Harvard Professor and former Baltimore Schools CEO Andres Alonso, nationally renowned New Jersey school reformer Principal Barite Kaela, former Florida Chief Justice Gerald Kogan, current Miami-Dade Court Judge and former Miami Dolphin Judge Edward Newman, UM head football coach Al Golden, former Miami Herald publisher and president of the Early Childhood Initiative David Lawrence, journalists Glenna Milberg and Michelle Kaufman, Florida ACLU executive director Howard Simon, Good Government Initiative CEO Katy Sorenson and other prominent educators and high ranking administrators in the field.  The conference is generously sponsored by the Arsht Ethics Initiatives of the University of Miami Ethics Programs.   For program details and registration, go to ethics.miamidade.gov.Mr. Centorino also announced the appointment of Martha D. Perez as a part time staff attorney.  Ms. Perez previously served as public safety legal advisor for the City of Hollywood, a traffic hearing officer for Broward County Courts, a hearing officer in the Broward County Animal Regulation Division and as an adjunct professor at St. Thomas University Law School.  Her experience also includes ten years as a Senior Assistant City Attorney in Miami Beach and six years as an Assistant State Attorney for the 11th Judicial Circuit.  Ms. Perez earned her Bachelor and Juris Doctor Degrees from the University of Miami.  She will join the ethics commission staff next month.The Ethics Commission was created in 1996 as an independent agency with advisory and quasi-judicial powers. It is composed of five members, serving staggered terms of four years each. Through a program of education, outreach and enforcement, the Commission seeks to empower the community and bolster public trust.    Rhonda Victor Sibilia, Communications Director, Miami-Dade Commission on Ethics & Public Trust,19 West Flagler, Suite 820,Miami, Florida 33130,305-350-0631 rhonda@miamidade.gov, ethics.miamidade.gov, www.facebook.com/MiamiDadeEthics

KITTEN SEASON IS HERE! MIAMI-DADE ANIMAL SERVICES OFFERS RECOMMENDATIONS TO ENSURE THE BEST CHANCES OF SURVIVAL FOR KITTENS TOO YOUNG TO FEED THEMSELVES
Press release: Spring is near and as the weather gets warmer unaltered stray cats begin to reproduce prolifically. As a result, it is not uncommon to find nests of what appear to be unattended or abandoned newborn kittens. Before jumping to the rescue, Miami-Dade County Animal Services (Animal Services) advises residents to consider the following recommendations to ensure the best chances of survival for the kittens.
WHAT TO DO SHOULD YOU FIND A LITTER OF KITTENS
Resist the urge to immediately touch them or move them. Instead, observe the kittens quietly from a distance for 12 to 24 hours as the mother may simply be out looking for food or a better place to move them to and is likely to return to care for them. Very young kittens cannot fully feed themselves and need their mother's milk to survive until they are fully able to eat on their own or weaned off the mother.
You can put out cat food for the mom and a box that the mother could use to keep her kittens in (don't put the kittens inside it, just put it near them). Don't disturb the kittens as this may discourage the mother from returning to them, or she may move them away from you.
If you sense the kittens are in immediate danger or a dangerous area, such as underneath a car, in an area that is flooding due to rain, etc., look for the nearest safe area to which you can move them—close enough to the original spot— that will still allow the mother to find them. Place them in a sheltered area, away from direct sun, rain or traffic and continue to watch for the mother.
Only take them in if you have observed the kittens for 12 to 24 hours and are SURE the mother is not likely to return. Get tips on how to care for them at home by visiting www.alleycat.org or www.peggyadams.org
OTHER WAYS TO HELP
The best way to reduce the overwhelming number of unwanted cats is to spay or neuter your cats starting at 4 months old. Miami-Dade Animal Service offers low cost spay/neuter surgeries as well as free a Trap-Neuter-Return (TNR) program for community cats. For information on low-cost spay/neuter surgeries or free TNR call 3-1-1 or visit animals.miamidade.gov. Become a foster parent or volunteer at Animal Services. Volunteers and foster parents receive training and supplies and the joy that comes from saving a precious little animal's life. For information on becoming a pet foster parent or volunteer email: pets@miamidade.gov
For more information click here or visit: http://www.brucesilverstein.com/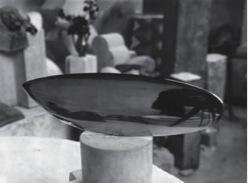 Constantin Brancusi (1876-1957), The Fish, c. 1924, gelatin silver print, printed c. 1924, 7 1/8 x 9 1/4 inches
Auxiliary gallery at the warehousePhotographs by Miami artist Annette BonnierIndia's ElephantsThe photographs of South Florida artist Annette Bonnier capture the many facets of elephant's lives and their interaction with humanity. This collection of photographs is a cultural documentation of elephants in Indian society. The elephant's role is changing as wildlife conservation and concerns for the health and safety of domesticated elephants are growing. This complex and majestic animal, with its intelligence, intricate social hierarchy, and highly evolved communication skills, is caught in a changing world between the past and the future.For more information visit: http://www.annettebonnier.com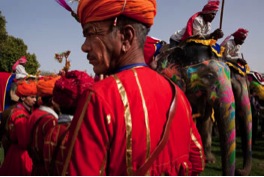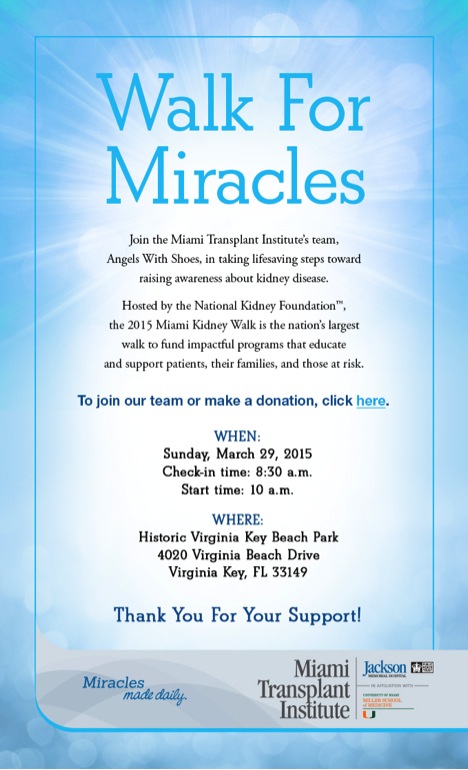 EDITORIAL
What is the tradeoff for "loyalty" with public servants?
A municipal attorney said one of the qualities of being a good public servant was "loyalty," and while I think a certain amount of loyalty may be OK it cannot become the overriding foundation of someone's character and can lead to government jumping the tracks and not serving the residents but perhaps a special club of individuals that get special treatment by their local government and over the decades and Miami has been the poster child of who do you know government that reached its peak years ago when Cesar Odio was the Miami manager back in 1996 or so and the city was about to hit the fiscal rocks and the bonds were considered "junk" back then  and it took a governor appointed fiscal oversight board made up of executives who did not live in the City and these people were able to override the commissioners decisions and the board in particular was not appreciated by them. Commissioner Wilfredo Gort was at the center of some tense sessions while the city slowly began to heal itself where for example this year there will be a $18.6 million surplus in the city's budget and with the building boom the coffers are expected to swell more which also produces political patronage and people doing the bare minimum and commissioners should keep a cool head and continue to bank some of this new money.
Government leaders must work together on big projects if chaos on the roads is not to occur
At a get to know the candidates event running for Miami District 2 event recently one person asked why government doesn't work in a more holistic way giving the major Development of Watson Island passed by Miami voters in 2001 and the Flagstone Garden Island project was picked by the Financial Emergency Oversight board created by the governor when Miami hit the fiscal rocks and originally separate proposals were on the ballot and the final Oversight Board Selection Committee was chaired by the Oversight's Board's Chair Adolfo Henriques and here we are years later and lawsuits are flying between Miami Beach that notes the large project will make MacArthur Causeway useless with the attendant  traffic. Here is more on the oversight board http://articles.sun-sentinel.com/1998-03-19/news/9803190052_1_mayor-joe-carollo-oversight-board-board-members
And government leaders need to learn that things change and on Watson Island there will not just be a Mega hotel and mega Marina but Helicopters will also be landing at a base in the years to come and governments that don't factor in change are living on a wing and a prayer and this lack of institutional collaboration is one of the reasons we are trapped in traffic grid lock because issues are not addressed holistically like no parking at the Arsht Center
LETTERS
Publisher's Statement on the mission of the Watchdog Report and the special people and organizations that make it possible:  Government Subscribers/Corporate Subscribers/Sustaining Sponsors/Supporting Sponsors
***** LIFETIME FOUNDING MEMBERS & Initial sponsors since 2000
ANGEL ESPINOSA – (Deceased) owner COCONUT GROVE DRY CLEANER'S HUGH CULVERHOUSE, Jr.THE MIAMI HERALD     www.miamiherald.com  ARTHUR HERTZ WILLIAM HUGGETT, Seamen Attorney (Deceased)ALFRED NOVAKLINDA E. RICKER (Deceased)JOHN S. and JAMES L. KNIGHT FOUNDATION  www.knightfdn.orgTHE HONORABLE STANLEY G. TATE
***** Watchdog Report supporters – $2,000 or more a year
BADIA SPICES WWW.BADIASPICIES. COM Richard A. Berkowitz, J.D., C.P.A | Chief Executive OfficerBerkowitz Pollack Brant Advisors and Accountants Email: berkowitz@bpbcpa.com | Web: www.bpbcpa.com   FLORIDA POWER & LIGHT www.fpl.com RONALD HALL MIAMI-DADE COUNTY  www.miamidade.govUNITED WAY OF MIAMI-DADE COUNTY www.unitedwaymiamidade.org
***** Watchdog Report supporters – $1,000 a year
ABELE REALTY GROUP, LLC — Mr. CHARLES R. ABELE, Jr.BARRETO * MAY & ASSOCIATES (Not current)BEACON COUNCIL   www.beaconcouncil.com BILTMORE HOTEL    www.biltmorehotel.com
>>> Readers who would like to read the complete University of North Carolina, Chapel Hill Southeast United States Media Report go to view the complete report or download
********************************************************************************************************************************************Watchdog Report Supporters Invoice-Form
NOTE: Invoice is for Yearly supporter/sponsorship Rates: Thank you.Supporting Sponsors $5,000 Sustaining Sponsors $2,000 Corporate Sponsors $1,000 (All levels above will be listed in the report with web-site link if desired)
Large Business Supporters $500 Small Business Supporters $250  Individual Supporter $150 Student Supporter $ 75Any amount $Name & Address
Please make checks payable to: Daniel A. RickerSend to
Daniel A. Ricker3109 Grand Ave., #125 Miami, Fl 33133