CONTENTS
Argus Report: Lt. Gen. Tovo is often asked overseas what is the "secret" to America's armed forces is given they're "professionalism and compassion," he tells Miami Chamber quests at 27th Annual Military Salute Luncheon
Florida: Crist and Rich amp up their personal attacks in race to be Democrats champion against Gov. Scott, expected to have $100 million war chest for the General Election in November, in what is expected to be a brutal race – Check out elected leaders financial disclosures on line at www.ethics.state.fl.us, sea change for transparency of elected official's finances
Miami-Dade County: With The Miami Herald detailing a story on possible further budget cuts from the Mayor Carlos Gimenez administration, especially, in regard to the Miami-Dade Police Department, let the budget battle begin in the commission chambers
Miami-Dade Public Schools: MORE M-DCPS SCHOOLS RECEIVE A PERFORMANCE GRADE OF 'A' COMPARED TO STATE, OTHER LARGE DISTRICTS
Public Health Trust: For GOB $830 million oversight board, only four people apply, Has Commission chilled the pool of applicants after good ones in past have been overlooked
City of Miami: U.S. DOJ allows Miami to hire any laid off Miami-Dade Police Officers, city has been short on officers, Miami manager waiting to see how budget hearings go
City of Miami Beach: Will location of maintenance facility be issue with Baylink project? Miami nor Beach is said to want the depot
City of Coral Gables: Gov. Scott Appoints Two, one person Uguccioni from Gables, to the Florida Historical Commission
City of South Miami: Complaint against former South Miami Police Department employee dismissed because Not Legally Sufficient
Town of Miami Lakes: Mayor Pizzi duking it out with federal prosecutors on corruption charges in federal court, high flying mayor used to love publicity, but things change
City of Miami Springs: No Probable Cause was found to a complaint (C 14-28) filed against city leaders in Miami Springs, accused of acting unethically by failing to enforce the city's noise ordinance.
>>> Other stories around Florida
Broward County: IG Scott issues new report on lobbyist's registrations in Broward County and 31 municipalities
HALLANDALE BEACH: South Florida Couple Plead Guilty to Money Laundering Involving Third-Party Payments to Mexico
Palm Beach County: Residents can review they're top County Officials financial disclosure forms on line at http://public.ethics.state.fl.us/results.cfmo
City of Del Ray Beach: Former Delray Beach Resident Convicted In Third Case Involving Identity Theft
Monroe County: PAST WDR MAY 2007: Small but colorful county has its share of colorful and erstwhile political leaders, but with only 85,000 residents not a big player. – To read all Monroe County constitutional officers' financial disclosure forms go to http://public.ethics.state.fl.us/results.cfm
Community Events: Florida League of Women Voters reminds voters' primary elections only 100 days away
Editorials: Miami –Dade County Commission must ask itself why only four people applied to be on $830 million bond JHS oversight board. Could the body be the problem?
With the arrival of Jul. 1, elected leaders and many others on public boards need to get in their required financial disclosure forms in on time – Check out the past 2003 national story in the Tribune papers: Paperwork Tiger By Maya Bell, Miami Bureau, Orlando Sun-Sentinel January 20, 2003 >>> And a 2004 UNC Chapel Hill study of the Southeast United States 15 states media outlet study where the Watchdog Report is listed as writing a "influential" column in Florida with over 100,000 readers: http://www.unc.edu/~davismt/SouthNow.pdf
Sponsors: Publisher's mission statement & Subscription & support information is at the bottom of this issue — Scroll down for all the headline stories text.
>>> Just because you do not take an interest in politics does not mean politics will not take an interest in you. –Pericles (430 B.C.)

>>> The Watchdog Report publisher would like to thank the John S. and James L. Knight Foundation www.knightfoundation.org for funding by the Knight Foundation with technical support from the Knight Center for International Media http://knight.miami.edu within the University of Miami's School of Communication www.miami.edu to maintain my webpage. The Watchdog Report webpage is free, has no pops-up and is just the news in a mainstream reporting manner.
On another note, I Had a mild Stroke Wednesday AND I Went to Baptist Health South Miami HOSPITAL For TREATMENT AND after four days I am happy to say I am home after their fine physicians got me back on my feet, I AM not YET UP TO Par and am FEEELIHNG MY Way back into the reporting world but it was definitely a personal hit and I hope my supporters will stay with me while I work though this medical condition that can strike so suddenly with such devastating effects and I plan to be back in the Future and hope my readers and supporters will understand given the circumstances.

ARGUS REPORT – Heard, Seen on the Streets
>>>> Lt. Gen. Tovo is often asked overseas what is the "secret" to America's armed forces given they're "professionalism and compassion," he tells Miami Chamber quests at 27th Annual Military Salute Luncheon
The Greater Miami Chamber of Commerce on Wednesday held its 27th Annual Salute to the Military and former Coral Gables Mayor Don Slesnick, II, a retired Lt. Col in the U.S Army did the introductory honors for the speaker Lt. Gen Kenneth Tovo, a West Point graduate, Airborne Ranger and also the special forces, and he has served five tours in Afghanistan and Iraq and is a "real fighting man," said Slesnick about the general.
And Deputy Commander of SOUTHCOM Lt. Gen. Kenneth E. Tovo was the featured speaker at the Jul. 9 Greater Miami Chamber of Commerce Luncheon honoring the military and all its branches. And the Command has a wide swath of responsibilities and countries in the Southern Hemisphere under its military portfolio and is a critical economic generator and historically has received widespread congressional support over the years. Since SOUTHCOM moved to Miami from the previous Panama Canal location.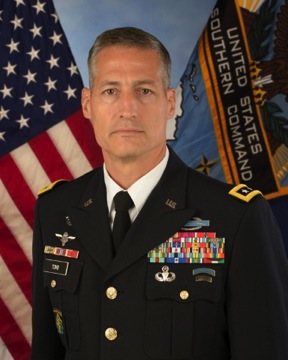 Lt.Gen. Tovo Bio: http://www.southcom.mil/aboutus/Pages/Lieutenant-General-Kenneth-E–Tovo.aspx
Tovo in his remarks said the nation has been at war and the nation is in its "14th" year in the war to "combat terrorism," and the troops are a "purely a volunteer force," He said. The general noted these "brave men and women," were people of "fortitude," who set aside they're "personal dreams," to defend the nation and these soldiers represent around "one percent" of the nation's population. Tovo during his tours in Iraq and Afghanistan said local government leaders would ask what was the "secret to America's fighting forces given "their high regard of professionalism and compassion," and he believed it came from the American people and "families" who teach their children "patriotism and hard work," and these brave men and women will "lend a hand to the less fortunate, "while doing their duty."
Tovo said the military locally is involved in many "partnerships" and there is a "robust exchange of ideas," locally when it comes to the areas under SouthCom's responsibility and involves locally working for example with authorities concerning "illicit smuggling," and he said there is "good civic military cooperation," with Florida International University and the University of Miami and it not only involves warfare but SOUTHCOM has also done other duties such as "airlifts," after a natural disaster, that "includes medical supplies," often in South America he said and he believed a "individuals service to community" was important if these command headquarters were to "bloom where they were planted," in all the "local communities across the country," and this "healthy civil military cooperation," creates "numerous avenues for partnerships," and includes "assisting "Gold Star families," around the state where there are more families than you think, in Florida that have lost a loved one in the service to the nation. He further thought one of the reasons for the nation's military professionalism was "the strength of the bond the military has with the private sector. He also noted that that while the nation has now an all-volunteer military, it was not the first time. Since the first volunteer Army was formed during the Revolutionary War and that tradition has continued throughout the Centuries be it the Philippines, Europe, the Pacific or Granada or the Middle East.
What about County Commissioner Jose "Pepe" Diaz?
Commissioner Diaz a veteran Marine also got a shout out as well for all his work as a commission liaison with SouthCom and on the dais Diaz is a strong supporter of veteran's affairs and working with issues involving SouthCom.
>>> Press release: CHAMBER ANNOUNCES RECIPIENTS OF ANNUAL MILITARY SERVICE PERSON OF THE YEAR AWARDS
Just yesterday, the Greater Miami Chamber celebrated the accomplishments of outstanding local military personnel at its monthly Trustee Luncheon where Lieutenant General Kenneth Tovo, Military Deputy Commander of the United States Southern Command served as the keynote speaker, the Joint Service Color Guard and 313th Army Band from Birmingham, Alabama added to the pageantry and fanfare of the program, and Captain Robert C. Grant, United States Coast Guard (Retired) was lauded for his Lifetime Contribution to Military Service. The recipients of the 2014 Military Service Person of the Year Awards were honored not only for their service to our country but also in our community while they call South Florida home:
* Staff Sergeant Derek Auguste, United States Army, Special Operations Command South
* Technical Sergeant Eleanor Bravo, 482 Mission Support Group, 482d Fighter Wing, Homestead Air Reserve Base
* Intelligence Specialist 2nd Class Terrance L. Kirkland Jr., United States Navy, United States Southern Command
* Maritime Enforcement Specialist 3rd Class Adam T. Lien, United States Coast Guard, Tactical Law Enforcement Team South
* Sergeant Jesus M. Magallanes III, United States Marine Corps, United States Southern Command
* Staff Sergeant Kirk C. Watson, 525th Signal Company, 56th Signal Battalion, 21st Signal Brigade, United States Southern
* Technical Sergeant Derek Zarnesky, Intelligence Directorate, United States Southern Command
The 2014 Military Service Person of the Year Awards were made possible through the generous support of presenting sponsor: Chase; recipient sponsors: Baptist Health South Florida; The Beacon Council/Miami-Dade Defense Alliance; The Conroy Martinez Group; IOS Health Systems; Morrison Brown Argiz & Farra, LLC; Miami-Dade County Commissioner Jose "Pepe" Diaz, District 12; and supporting sponsor: Richman Greer P.A.
>>> Former U.S. Rep David Rivera, R-Miami has announced he is suspending his campaign to regain his congressional seat and it seems to be the end of his political career that has him under investigation by federal authorities. http://www.miamiherald.com/2014/07/11/4231634/rivera-suspends-congressional.html
He claims the decision comes because of the court ruling challenging the validity of the redistricting done by the Florida Legislature of his former congressional seat that has a host of GOP candidates vying for the seat now being held by Congressman Joe Garcia, D-Miami. Garcia and Rivera in 2012 each ran a brutal campaign against one another that had the two men working the polls nonstop out at a precinct site in West Dade and with his departure the incumbent Garcia will also be fighting for his political life given the high voter turnout in that previous election that had President Barack Obama on the ballot, but is unlikely this election cycle. Below is Rivera's press release on the matter:
Dear Friends and Supporters,
As you may have already heard, yesterday a Florida court outrageously invalidated the state's congressional district map which had been drawn by the Florida Legislature in 2012. This decision has created great uncertainty as to the final composition of all of Florida's congressional districts, including CD 26 in South Florida, for which I am a candidate. In essence, liberal activist judges are hijacking the reapportionment process and holding congressional candidates like myself hostage until the appeals process concludes at the liberal Democrat-dominated Florida Supreme Court (see Bush v. Gore 2000). As a congressional candidate affected by this decision, I will not be held hostage by Florida's liberal activist judges. After consulting with state legislative leaders and reapportionment attorneys, and pending further clarification of this court decision, I have decided to suspend campaigning for CD 26 and will launch my candidacy to the Florida State House of Representatives for the 2016 election cycle. There are just too many issues to solve in Florida, Common Core, Medicaid, economic development and others, to sit by and wait for unelected judges to decide the fate of congressional districts. As always, I am humbled and grateful for your support of my candidacy. However, while Florida's liberal activist judges may cast uncertainty by hijacking the congressional reapportionment process, I simply will not allow myself to be one of their hostages.
David
>>>> Lawmakers want safety caps on liquid nicotine for e-cigarettes – Legislation proposed after spike in poisoning reports
U.S. Sen Bill Nelson press release: The stuff is called Cotton Candy, Fruity Loops and even Gummi Bear.
But this particular stuff is not a pack of bubble gum or bag of fruit chews you might see as you check out at your local convenience store.
It is, in fact, a highly toxic and still-unregulated form of concentrated liquid nicotine for use in vapor devices including so-called e-cigarettes. And it's hitting the marketplace nationwide in easy-to-open vials and small eye-dropper bottles available for purchase in stores and online. "There's enough nicotine in some of these bottles to kill small children, and even if a small amount spilled on a child's skin it could make them extremely ill," said U.S. Sen. Bill Nelson (D-FL), a senior member of the Senate Commerce Committee who's filing legislation to child-proof the containers.
Ingestion of liquid nicotine can cause vomiting and seizures and even death, a leading pediatricians' group says. And a recent New York Times report stated that a teaspoon of highly diluted liquid nicotine, whether ingested or absorbed through the skin, could kill a small child.
It's already contributing to a surge in the number of reports of liquid-nicotine-related child poisonings.Nationwide, according to the American Association of Poison Control Centers, there have been more than 1,500 calls regarding liquid nicotine exposure so far this year – a pace that will double last year's total. And the 1,351 cases reported last year represented a 300 percent increase from 2012.
In response, a group of lawmakers Thursday filed legislation aimed at child-proofing the small bottles. The legislation is a simple but significant step toward assuring children's and product safety, the lawmakers said. Specifically, the Child Nicotine Poisoning Prevention Act of 2014 would direct the Consumer Product Safety Commission to issue rules requiring safer, child-resistant packaging for any liquid nicotine sold to consumers. The bill already has drawn a number of cosponsors and here's what some of them said:
"We require child-proof packaging for items like Tylenol, Drano, and mouthwash, but not liquid nicotine," said Sen. Mark Pryor (D-AR), a former state attorney general. "I have been working with industry on solutions, and was hopeful they would step up on their own. However, we are seeing more and more children poisoned and even sent to the emergency room as a result of liquid nicotine. We can't afford to keep waiting. Requiring child-proof packaging for these products is a common-sense solution to keep our kids safe." Said Sen. Dick Durbin (D-IL), who is the number-two ranking Democrat in the U.S. Senate, "There is a word for the toxic candy-flavored liquids found in electronic cigarettes: poison. Protecting our nation's children from exposure to poison is basic common sense, especially when it can have dangerous and fatal consequences like liquid nicotine."
Added Sen. Tom Harkin (D-IA), chairman of HELP, or the Senate Health, Education, Labor and Pensions Committee, "A recent report from the Centers for Disease Control and Prevention showed a recent, alarming spike in e-cigarette poisonings – more than half of which affected young children. This comes as no surprise given the growing popularity of e-cigarettes and candy- and fruit-flavored liquid nicotine that is enticing to children. We have child-proof containers on everything from vitamins to ibuprofen, so it's just plain common sense that we place child-proof mechanisms on highly-toxic and poisonous liquid nicotine. Robust FDA regulation of e-cigarettes is absolutely essential to protect our children from these products. In the meantime, however, this simple step would give peace of mind to parents and help protect our children from accidental ingestion or a fatal poisoning." And Sen. Barbara Boxer (D-CA), chairman of the Senate Environment and Public Works Committee, said, "Our important child-proofing bill deals with the alarming increase in poisonings involving e-cigarette liquids, since children are drawn to brightly colored packaging and flavorings that smell like candy."
The bill's other initial co-sponsors are: Sens. Richard Blumenthal (D-CT), Sherrod Brown (D-OH), Edward Markey (D-MA), Jeff Merkley (D-OR), Charles Schumer (D-NY) and Michael Bennet (D-CO).
"For any parent, the process of child-proofing your home to make sure your kids don't get into anything that can harm them can be a big project," said Bennet, who is a member of the HELP Committee. "Thankfully, many household products are manufactured with child-resistant packaging to help make things a little easier.
"With the popularity of e-cigarettes on the rise, this commonsense bill will ensure that liquid nicotine is among the products sold with child-resistant packaging to keep our kids safe," he said. Besides the lawmakers, others, including the president of the American Academy of Pediatrics, are advocating for quick passage of the legislation.
"Liquid nicotine containers are not required to have the same child-proof packaging standards that pediatricians and parents depend on to keep children safe from products like household cleaners and prescription drugs," said Dr. James M. Perrin, head of the pediatrics group. "We cannot afford to wait any longer to protect children from potentially deadly nicotine ingestions," Perrin said.
>>>>Defendant Pleads Guilty to Conspiring to Provide Material Support
to Al-Qa'ida, Al-Qa'ida in Iraq/Al-Nusrah Front, and Al-Shabaab
Wifredo A. Ferrer, United States Attorney for the Southern District of Florida, John P. Carlin, Assistant Attorney General for National Security, George L. Piro, Special Agent in Charge, Federal Bureau of Investigation (FBI), Miami Field Office, and the members of the South Florida Joint Terrorism Task Force (JTTF), announce that Gufran Ahmed Kauser Mohammed, 31, a naturalized United States citizen and resident of Dammam, Saudi Arabia, pled guilty to one count of conspiring to provide material support to designated Foreign Terrorist Organizations al-Qa'ida, al-Qa'ida in Iraq/al-Nusrah Front ("AQI/al-Nusrah Front"), and al-Shabaab. Sentencing for Mohammed is scheduled for October 24, 2014, before U.S. District Judge Ursula Ungaro.
Mohammed was charged along with Mohamed Hussein Said in a fifteen-count indictment with conspiring to provide, and attempting to provide, material support to three separately designated Foreign Terrorist Organizations, al-Qa'ida, AQI/al-Nusrah Front, and al-Shabaab. Mohammed faces a possible statutory maximum sentence of up to 15 years in prison.
The indictment alleges that Mohammed and Said conspired to provide money and recruits to al-Qa'ida, AQI/al-Nusrah Front in Syria, and al-Shabaab in Somalia. The charges allege that Mohammed sent a series of wire transfers to Said for the purpose of supporting al-Shabaab, and to an individual whom he believed was a fundraiser, recruiter, and supplier for al-Qa'ida and AQI/al-Nusrah Front for the purpose of supporting al-Qa'ida and AQI/al-Nusrah Front. In addition, Mohammed and Said agreed to support al-Qa'ida and AQI/al-Nusrah Front by recruiting and moving experienced al-Shabaab fighters to the conflict in Syria. Mr. Ferrer commended the investigative efforts of the FBI and the South Florida Joint Terrorism Task Force. The case is being prosecuted by Assistant U.S. Attorneys Brian Frazier and Ricardo Del Toro and Trial Attorney Jolie Zimmerman from the Counterterrorism Section of the Justice Department's National Security Division.A copy of this press release may be found on the website of the United States Attorney's Office for the Southern District of Florida at www.usdoj.gov/usao/fls. Related court documents and information may be found on the website of the District Court for the Southern District of Florida at www.flsd.uscourts.gov or on http://pacer.flsd.uscourts.gov.
>>> U.S. Rep. Diaz-Balart Remarks on Immigration Reform
Press release: Congressman Mario Diaz-Balart (R-FL) made the following remarks during a press conference on immigration reform.
"From 2009-2010, I had been working with a group of bipartisan colleagues to draft immigration reform legislation. Unfortunately, Democratic Leadership refused to consider the bill when they had the majority. During the last year and a half, I have been working non-stop with colleagues on both sides of the aisle to draft legislation that would obtain a majority of the Republicans and a number of the Democrats who are willing to put politics aside and get immigration reform done.
"In particular, I want to thank Luis Gutierrez for all his help, for his willingness, when necessary, to take on Republicans, Democrats, and the President.
"After lots of work and revisions, we finally drafted legislation that could garner the necessary bipartisan support. We learned our lessons from the 1986 amnesty bill and last year's Senate bill, and did not repeat their mistakes. Due to the extraordinary lack of trust in this President, I worked to ensure that the legislation would independently verify and hold this and future presidents accountable for finally securing the borders. The bill is a commonsense solution to illegal immigration that recognizes we are not going to spend tens of billions of dollars to roundup and deport millions of undocumented workers who have been here for many years. My solution would require those who came here illegally to earn legal status, earn their right to remain here, and demonstrate their commitment to the United States. It is an efficient and effective approach that is good for the American economy and fair to the people who came here legally.
"I am grateful for the cooperation, advice, and trust I received from so many of my colleagues, specifically Speaker Boehner and his staff. I also want to thank Paul Ryan for his guidance, leadership, and friendship, and countless other House Republicans, like my legislative sister Ileana Ros-Lehtinen, for their constructive input on this issue.
"Despite our best efforts, today I was informed by the Republican leadership that they have no intention to bring this bill to the floor this year. It is disappointing and highly unfortunate, because we have a unique opportunity to secure the borders, fix our broken immigration system, and strengthen our economy.
"This system is not going to fix itself, and delaying a commonsense solution is only going to make matters worse as is evident by what is going on today with the crisis on the southern border. "It is highly irresponsible not to deal with the issue. I know it is difficult, especially when you have a President that failed to build the trust of the American people or the U.S. Congress, and who has done little to enforce current law despite his assertions to the contrary. But we were sent here by the American people precisely to tackle difficult issues and not to take the easy way out.
"By blocking reform, whether it was when Nancy Pelosi was Speaker or now, we are in effect abdicating our duty. Particularly when we have a President that is willing to unilaterally act through executive action, that he himself has said is legally circumspect, will not provide a long-term solution to our immigration system, and I believe could even make it worse. "I hope that in the near future leadership will reconsider and allow my legislation to come to the floor. I for one am not willing to give up and will continue to work until we can finally fix a broken immigration system that everyone recognizes is dysfunctional. "I want to make it clear that I am ready to proceed at any time."
Ros-Lehtinen Meets with Israeli Ambassador Ron Dermer, Denounces Hamas' Continued Assault on Israel and it's Use of Human Shields
(WASHGINTON, D.C.) – U.S. Rep. Ileana Ros-Lehtinen (R-FL), Chairman of the Middle East and North Africa Subcommittee, issued the following statement following a House Foreign Affairs Committee meeting with Israel's Ambassador to the United States, Ron Dermer. Statement by Ros-Lehtinen:
"These are critical times for Israel, and I reiterated to Ambassador Dermer my firm support for Israel's right to defend itself against ongoing attacks by the terrorist group Hamas. No other country in the world would allow these terrorist attacks to continue without taking action. It is appalling that Abu Mazen would accuse Israel of committing genocide when it is Hamas that is using Palestinian women and children as human shields and when it is Israel that is taking every precaution in its response, out of self-defense, to limit civilian casualties. I call on the international community to unilaterally condemn the gross violation of human rights being committed by Hamas.
"Abu Mazen is not interested in peace or else he would demand that Hamas stop firing rockets targeting innocent civilians in Israel and endangering the lives of Palestinian women and children. Abu Mazen's inability to stop these horrid tactics demonstrates that he is either incapable of leading the Palestinian people or that he supports such tactics. Abu Mazen is no partner for peace, and he must completely cut off the unity government with Hamas. The Congress stands firmly in support of Israel as it defends itself and I hope the Obama Administration will take a clear stance in defense of our ally, the democratic Jewish State of Israel, at this crucial time."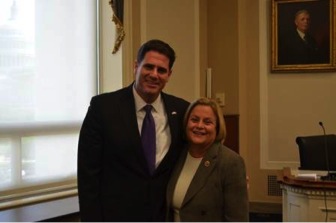 Pictured (L – R): Israel's Ambassador to the United States Ron Dermer and U.S. Rep. Ileana Ros-Lehtinen (R-FL), Chairman of the Middle East and North Africa Subcommittee.
>>> National profile of the publisher in The Tribune papers Jan. 2003 & UNCCH 2004 media study that cites Watchdog Report having 100,000 readers weekly
To read a national story run in the Tribune papers on my life and how this all began done by Orlando Sentinel featured reporter Maya Bell go to: To read the section's large front page story, but without the photos and smart box graphics, go to: `I Go When You Cannot' – Sun Sentinel 20 Jan 2003 … Sometimes Dan Ricker lives in the dark so others may live in the light. … to his weekly Watchdog Report have finally mailed their checks. … http://articles.sun-sentinel.com/2003-01-20/news/0301190341_1_ricker-school-board-president-miami-s-first-cuban-american >>> And to read a University of North Carolina Chapel Hill study on the media in the Southeast United States that mentions the Watchdog Report with 100,000 readers weekly, done back in 2004 and to read the Southern Media Study go to: Daniel Ricker of the Miami Herald also writes an "influential column," as well as an email newsletter called the Watchdog Report that goes out to more than … – – Cached.
>>> All photos in the Watchdog Report are taken from public government sites, and the Report goes on line at www.watchdogreport.net on Monday sometime during the day usually. >>> If you believe it is important to have someone watching your public institutions consider supporting the Watchdog Report for I am a low cost news service yet I do have to live, thank you! Further, I have been honored over the years by being named a WFOR-4 Hometown Hero in 2000, being profiled in a major way by The Miami New Times, twice in The Miami Herald, and the Orlando Sentinel which ran as a nationwide story on me in the Tribune papers on Jan. 2003 and UNC Chapel Hill naming me one of the top columnists in Florida in a multi-state study of the media back in 2004. I also thank Joseph Cooper for the opportunity to be on the WLRN/NPR showTopical Currents on www.wlrn.org since 2000, including yearly election coverage since then, and also numerous times over the past decade. Further, I am a frequent guest on WWW.WPBT2.ORG on Helen Ferre's show Issues, and have also appeared on Eliott Rodriguez's show News & Views.
FLORIDA
>>>> Crist and Rich amp up their personal attacks in race to be Democrats champion against Gov. Scott, expected to have $100 million war chest for the General Election in November, in what is expected to be a brutal race
While Gov. Charlie Crist is talking with the media and editorial boards (In comparison to Gov. Scott who spoke to none of the state's paper's editorial boards in 2010 when he first ran) http://www.miamiherald.com/2014/07/10/4229357/crist-speaks-to-florida-press.html around the state Crist's Democratic Party Challenger Nan Rich, D-Weston is firing back and attacking Crist's bonafides as a Democrat, After he changed political parties from the GOP to Independent over the past few years, but Crist is leading in the polls when it comes to name recognition in the race and fundraising where Rich has about $500,000 in her campaign war chest to Crist with some $10 million. They will ultimately face Gov. Rick Scott in the November General Election. Scott is anticipated raising some $100 million for his reelection campaign and that is why Crist is saying he will not debate Rich, since he is focused on Scott in what is considered to be a brutal campaign. http://www.miamiherald.com/2014/07/11/4231062/nan-rich-defends-viability-as.html
And Scott released a IG report last week challenging how some state money to create new jobs was spent and the former healthcare executive will likely be using similar attacks to go after the former governor's performance while in office before he ran for the U.S. Senate losing to Sen Marco Rubio back in 2010 in a three candidate race.
And Crist has released his first campaign ad this past week touting business paying a living wage, to employees, restoring education funding among the issues he is proposing to support if elected, but Crist is no shoe in and Scott with his considerable resources is expected to continues to hammer at Crist's past policies while in office and his considerable flip flops on issues that Rich is making political hay with in her stump speeches.
On July 9, 2014, in News Releases, by Staff
Today, Governor Scott's General Counsel Peter Antonacci announced that outside legal counsel has been retained by the Department of Economic Opportunity to file suit against Digital Domain and related parties.
General Counsel Peter Antonacci said, "The IG investigation into the 2009 Digital Domain deal revealed that the usual state regulatory processes were circumvented to give Digital Domain tens of millions of dollars in taxpayer funds. The collapse of the Digital Domain project, which was promoted by the previous Administration, then left Florida taxpayers on the hook. The state has hired outside counsel to identify any and all legal action available against the company and any other individuals involved in wrongdoing related to this bad deal. We expect to announce specific legal action in the coming weeks."
In March 2013 the Florida Chief Inspector General issued a report on the 2009 incident where Florida improperly provided $20 million in incentive funding to Digital Domain under the premise that 500 jobs would be created in St. Lucie County. Digital Domain ultimately created zero jobs and filed for bankruptcy in September 2012. For the full Inspector General report click HERE.
>>> Florida League of Women Voters press release: Late yesterday afternoon Leon County Circuit Judge Terry Lewis released his opinion in the redistricting trial, declaring that the congressional map drawn by the Florida legislature and adopted in 2012 is invalid and unconstitutional. In response to Judge Lewis' ruling, League of Women Voters of Florida President Deirdre Macnab released the following statement.
For the first time, a group of citizens has shown that with commitment and perseverance, they can take on the might and unlimited resources of the Florida Legislature and win by exposing what the judge calls 'the secret, organized campaign to subvert the supposedly open and transparent redistricting process.' "
Judge Lewis' ruling puts real teeth in the Fair Districts amendments that were passed so overwhelmingly by Florida voters. With many other states grappling with the cancer of gerrymandering, this nationally precedent-setting decision sends a clear message that triumphs in the name of fair and transparent government are possible. This is a thrilling victory for the people of Florida and for the open, fair and accountable government that for decades the League has worked tirelessly to promote.
To read Judge Terry Lewis' opinion in full, please click here.
The League of Women Voters of Florida, a nonpartisan political organization, encourages informed and active participation in government, works to increase understanding of major public policy issues, and influences public policy through education and advocacy. For more information, please visit the League's website at: www.TheFloridaVoter.org.
>>> Sen. Nan Rich is in, will face Crist in Democratic Party primary, prior to Gov. Scott general election showdown
Well they're off with state Sen. Nan Rich D- Weston, qualifying as a Democratic gubernatorial candidate and her primary opponent is former GOP Gov. Charlie Crist, now running as a Democrat and Crist will likely be facing GOP Gov. Rick Scott and Crist is leading Rich in fundraising and statewide polls while she has been running a insurgent campaign and she has a strong base of volunteers including major support of the state's nurses. A large and motivated voting block and Crist has declined to debate Rich, (Which may hurt him in Broward, the largest Democratic Party block of voters in the state) and that could become more of an issue as the Aug.28 primary closes in for the "people's" governor, who historically has never shied away from a debate. http://www.miamiherald.com/2014/06/21/4193124/chasing-charlie-crist.html
>>> And it's good to be an incumbent legislator and 43 percent of the unopposed incumbents were reelected Friday ay at noon, www.miamiherlad.com to another term and some local senators have been reelected including Rene Garcia, R-Hialeah and incumbent state Sen. Miguel Diaz de la Portilla, R-Miami has another four year years in the upper legislative body.
What about write-in candidates?
While write in candidates this election cycle were less than in some past years like in the early 20000 time frame, that had hundreds of voters disenfranchised since their was a write in candidate in the party primary, and back then I checked on some of these candidates and one candidates address did not exist, another had their phone disconnected. After I contacted them concerning a story on the matter and how they were disenfranchising hundreds of thousands of county voters since if it was a Republican write in candidate, Democratic Party voters could not participate and GOP party officials defended this by saying it was the GOP's primary and why should they be swayed by none party voters in their own primary. But over the decades write in candidates have become a double edged sword for some races but their names on the ballots given the current rules do deprive thousands of voters across the state to vote on many of their elected state official's that will represent them in their state capital..
http://www.miamiherald.com/2014/04/30/4088964/crist-leads-gov-scott-by-10-points.html
>>> Below is the latest campaign reports for candidates running for Circuit Court judicial seats in Miami-Dade County and are on the August primary ballot. Judges when they run often don't get the scrutiny they deserve and voters should learn as much as they can about the candidates before they cast their vote and in the months ahead I will profile some of the candidates in future WDRs.
| | | | | | | | |
| --- | --- | --- | --- | --- | --- | --- | --- |
| Group | Incumbent | Challenger | Contributions | Loans | In-Kinds | Expenditures | Balance |
| 16 | | Steve Millan | 27,980.00 | 50,000 | 0.00 | 56,160.35 | 21,819.65 |
| | | Thomas A. Cobitz | 19,940.00 | 500,000.00 | 1,051.06 | 101,323.42 | 418,616.58 |
| | | | | | | | |
| 26 | Rodney "Rod" Smith | | 107,094.34 | 100.00 | 2,375.31 | 57,283.06 | 49,911.28 |
| | | Christian Carrazana | 19,100.00 | 7,000.00 | 134.92 | 13,715.05 | 12,384.95 |
| | | | | | | | |
| 27 | | Mary C. Gomez | 14,615.00 | 0.00 | 1,135.85 | 13,004.44 | 1,610.56 |
| | | Alberto Milian | 59,728.00 | 100,000.00 | 1,060.82 | 7,335.20 | 152,392.80 |
| | | | | | | | |
| 58 | | Martin Zilber | 142,558.00 | 100,000.00 | 7,964.98 | 38,811.06 | 203,746.94 |
| | | Oscar Rodriguez Fonts | 72,079.00 | 0.00 | 833.86 | 26,566.39 | 45,512.61 |
| | | | | | | | |
| 67 | Fleur J. Lobree | | 35,645.81 | 100,000.00 | 2,416.20 | 12,700.58 | 122,945.23 |
| | | Mavel Ruiz | 20,902.00 | 0.00 | 4,918.94 | 14,713.90 | 6,188.10 |
| | | | | | | | |
| 70 | | Veronica Diaz | 44,410.01 | 40,000.00 | 8,509.82 | 12,606.59 | 71,803.42 |
| | | R. Diaz de la Portilla | 60,992.67 | 200.00 | 128.87 | 32,684.26 | 28,508.41 |
| | | | | | | | |
>>> Children's Movement of Florida Voices of Florida – We all have a story, a story that defines us. It is our collective story, our challenges and our triumphs that inspire a movement. Floridians from all walks of life have joined together with an understanding that the future of our state rests on the well-being of our children. Visit The Children's Movement website to read their stories and share your own. >>> I find it unacceptable, as all of us should, that at least a half-million children in Florida – all citizens — have no health insurance. How could this be in our beloved country that seeks to be a beacon to the world? Health insurance for all children is one of the five major planks of The Children's Movement. With the support of Florida Covering Kids and Families, The Children's Movement is working with dozens of local partners to help build a meaningful signing-up initiative in more than a dozen Florida communities. Already we have: Completed 18 KidCare trainings around the state. Signed up, trained and deployed more than a hundred volunteers. Begun to build a growing collaboration between local school districts and KidCare outreach coalitions. It's a good start, but only the start. If you'd like to become a volunteer, just click here. Another way to help is to make a contribution – of any size – to help support this work. It is easy. Just click here. A real movement isn't possible without your helping in some meaningful way. Dave Lawrence, Jr., Chair The Children's Movement. >>> Update: Two encouraging meetings… The first, a visit from the Governor to the Rainbow Intergenerational Child Care center in Little Havana where he discussed his early learning priorities. That includes his support for "Help Me Grow," a statewide parent resource system where parents would be able — via phone and online — to get answers to questions about their child's development and connected with the proper resources. The second, a meeting with future House Speaker, Rep. Jose Oliva from Hialeah. He's a father of three, a real reader of history and student of policy, and committed to better understanding early learning. Dave Lawrence, Chair The Children's Movement
MIAMI-DADE COUNTY
>>> Crunch time at commission with looming budget hearings
With the clock ticking until the Sept public budget hearing at county hall Mayor Carlos Gimenez (Net worth $1.024 million) is facing blow back not only from Library supporters but also the police unions where some 450 police officers may receive pink slips and law enforcement officials are claiming crime will spike at an alarming rate with the reduction of police in the community but county commissioner are holding firm and have no appetite for raising taxes at this moment.
However, on Tuesday the Miami-Dade County Commission of the Whole will be holding a discussion and the mayor will get a better feel concerning what commissioners are thinking going into the public budget hearings in September and packed commission chambers are expected for this meeting with proponents from all areas of county government looking for a stay in the cuts that Gimenez believes will result in a "sustainable," county budget that is coming in at $6.19 billion with another $1.68 billion for the proposed capital budget, and a $4.54 billion operating budget for the year.
What about the mayor's budget press conference?
Mayor Carlos Gimenez on Tuesday held his budget press conference in his 29th Floor conference room, filled with plaques and awards but this year it seemed to be a much more scripted affair and Gimenez as would be normal did not take reporters' questions after his presentation, and instead had interviews with the media on an individual basis and the names were selected by lottery said the mayor's press person Michael Hernandez. Further, the mayor is going through staff at a good clip and last week his chief of staff Lisa Martinez announced she was leaving after only a few months on the job and Martinez was credited with creating structure to the office that includes numerous deputy mayors and ancillary staff and the high pay of some of these employees has been a hot topic with county commissioners in the past. And below is the announcement of Martinez leaving the office. Further Gimenez who can come off as thin skinned later during the presentation and he later had an odd exchange with Jim DeFede, a CBS 4 reporter. And the man who was once asked if he could take the heat on the dais when he was manager of the City of Miami?, back then he remarked as the previous Fire Chief where he had to run into burning buildings, and the grilling he was getting from Miami Commissioners at the time was nothing he suggested back then in 2003. But the county is a much bigger operation than Miami and as the strong mayor the duties are much greater and larger in scale. And it will take all his leadership in the weeks ahead to get through this upcoming budget cycle.
>>>> Press release re the chief of staff leaving: From the start of my Administration, Lisa has been a valuable member of my senior executive team and a trusted adviser whose counsel will be missed. Her accomplishments as Senior Advisor and Chief of Staff are numerous, especially in putting forth our initiatives on children, parks and green spaces, and cultural affairs. I want to especially highlight her role in transforming our Head Start program where we now serve hundreds of additional children without reliance on the general fund.
Lisa's solid professional background and success at the Miami-Dade County School Board and City of Miami made her a respected addition to Miami-Dade County. I know that her passion for children and families has never waned, from her start as an elementary school teacher until today, and I commend her desire to return to serve those two populations that are so important to all of us. I am confident that Lisa will continue to serve our community with the upmost integrity and focused energy and I wish her only the best in her future professional and personal endeavors.
Effective August 4th, Alex Ferro will assume the position of my Chief of Staff. Alex has been a part of my team since the beginning of my Administration as Deputy Chief of Staff. He currently serves as Director of External Affairs where he is responsible for intergovernmental affairs and community outreach for my office. Alex has a long record of public service in both state and local government, having been the Chief of Staff to former Lieutenant Governor Jeff Kottkamp and Executive Director of the Florida Hispanic Legislative Caucus. His experience will ensure a smooth transition as my Administration continues to seek ways to transform government and improve our community.
Please join me in thanking Lisa Martinez for her service to the people of Miami-Dade County, and in congratulating Alex Ferro on his new role in my Administration. For more gotto:http://www.miamiherald.com/2014/06/19/4189565/miami-dade-budget-cuts-could-eliminate.html
What about Suarez?
County Commissioner Xavier Suarez at a meeting to discuss Baylink mass transit going to Miami Beach from the City of Miami. The former Miami Mayor who represents Commission District 7 made a frank statement about his job as commissioner and he told attendees he was "just a part time commissioner" after he arrived just a few minutes late since he was attending a Commission Committee meeting in the chamber's that he is on. Suarez along with a number of other commissioners is still having a hard time living on the $6,000 salary he is paid for being on the body and while voters have been asked almost a dozen times to raise that salary. Voters have persistently said no way at the ballot box over the years and shot down any pay raise for commissioners. However Suarez is a persistent critic of the administration and there is speculation that he might run for county mayor (that pays $150,000) in 2016 and Suarez continues to be critical and snipe at the mayor's staff during commission meetings, but his armchair quarterbacking many times after the fact is not playing well with his 13 peers on the dais and it is unknown if his son Francis a Miami Commissioner will seek the seat in the future if his dad does run for mayor. After Suarez lost past bids for the office in the City of Miami after a past bid back in 2001. And he clearly cherishes the role of being a mayor.
| | | | |
| --- | --- | --- | --- |
| Suarez | Bovo | Heyman | Gimenez |
>>> With The Miami Herald detailing a story on possible further budget cuts from the Mayor Carlos Gimenez administration, especially, in regard to the Miami-Dade Police Department, let the budget battle begin in the commission chambers
\http://www.miamiherald.com/2014/06/19/4189565/miami-dade-budget-cuts-could-eliminate.html# The game of budget chicken is heating up as the county commission begins reviewing the mayor's final, yet to be submitted budget, that is still evolving through July, but it is clear some hard decisions will have to be made in the future months, that also include some commission races and it is unlikely any incumbent is going to raise taxes or campaign on higher taxes and while property taxes have increased, it is insufficient to cover rising expenses in a host of departments but the 13 member commission will have to grapple with this funding dilemma in the weeks ahead to the final fiscal document.
>>>>What about the Sea Level Rise Task Force recent findings? Below are the links to the comprehensive report and the Task Force was headed up by County Clerk Harvey Ruvin, a long time environmental advocate
The Miami-Dade SLRTF, sponsored by Chairwomen Rebeca Sosa, and unanimously established by the BCC;for nearly one year the SLRTF has been conducting hearings, studying reports/expert testimony and carefully deliberating this critical issue. The Report is now final and scheduled to be presented to the BCC on July 1st. The Report (l3 pages) and the Appendix l80 pages) can be downloaded at the following two links: http://www.miamidade.gov/planning/library/reports/sea-level-rise-final-report.pdf http://www.miamidade.gov/planning/library/reports/sea-level-rise-appendices.pdf
>>>> PAST WDR: Is conflict developing over 2.9 billion GOB funds going to other commission districts
Ramifications of redistricting of the 13 commission districts in 2012 are rippling through the county's 2.9 billion GOB program passed by county voters in 2004 . The problem is some approved projects in one District are now in another commissioner's and Commissioner Javier Souto bristled because of the ramifications and the money he considered solely for his district use. However, the discussion on the matter got heated and the problem will likely raise its head on the dais in the future.
>>> PAST WDR: Finance Committee Chair Bovo wishes more commissioners would attend budget hearings with the clock ticking running up to the public budget hearings in Sept. and Mayor Gimenez is facing a $75 million hole in the upcoming budget that must be filled. And Bovo and Commissioner Juan Zapata had extensive discussions on how Convention and Development Tourist (CDT) taxes are used and how these monies get allocated and will ultimately be paying for the debt on the new Florida Marlins Stadium that after financing could cost around $2.3 billion with the bulk of the bond payments in the later years and why Zapata does not want to drop this fiscal nightmare on future commissioners and wants a better plan in place of how these CDT funds are spent and future obligations for the funds, and could also be used for such projects as Baylink, a proposed mass transit project from Miami to Miami Beach.
County Commissioner Estephan Bovo has been holding budget hearings for months since he is chair of the Finance Committee and there is a $200 million gap in next year's budget that begins Oct. 1 and the lack of funding has segments of the community in a uproar when it comes to cuts in the library District, or the animal Services budgets and in cultural programs.
Bovo is going through all the 25 county department budgets and he wished his other 12 commissioners attended the meetings so they could give they're input early to the administration of Mayor Carlos Gimenez what the body's budget priorities are and what other commissioners think, he said Monday.
What about the Miami Science Museum?
Further, when it comes to the new Miami Science Museum being constructed in Museum Park and its management contractor being dismissed recently. No one was talking at Miami-Dade County about the new wrinkle in the project that got a $275 million slug of public GOP money from the county and the Watchdog Report asked County Mayor Carlos Gimenez and Cultural Affairs Director Michael Spring and both said they were aware of some issues, but "no more money" was coming from the county they both suggested, Further Spring last week said the museum was working through the issues and said the reason no further details have become public is because there "will likely be lawsuits," in the future and since the County has a $200 million budget hole to plug when it comes to finding spare money as in many past years, "there is no more magic," in the county's budget since some $4 billion has been cut out of the county budget since around 2008, said one long time experienced budget expert at the county. And the reason the Watchdog Report is so interested in what is going on over at the Frost Museum of Science and if there will be a need for money to finish the impressive, but complex facility. It is because there is now no more money and while the Museum has raised some $80 million on its own. It is unknown if the organization can fill in any fiscal gap for the final construction. And here is the Museum's website that talks about a new management company being selected and Spring told the Watchdog Report that the "project will not become a PACT II ," he assured me. He said last week the "Miami Science Museum is just getting re-organized and they have not asked for any money," said Spring, the County's Cultural Affairs Director. http://www.frostscience.org/blog/ http://www.miamiherald.com/2014/05/16/4121231/new-contractor-named-for-frost.html http://www.huffingtonpost.com/2012/02/24/miami-science-museum-breaks-ground_n_1298730.html
>>> Absentee ballots are doing a brisk business and as of last week some 188,256 such ballots have been requested by Miami-Dade County voters for the Aug. 26 primary election that has judicial candidates on the ballot including a host of judges, some county commissioners and a some school board members and county commissioners up for reelection and on the ballot.
>>>> County Advisory Board members put on notice
M-DC ETHICS Commission Press release: Citizens who serve on advisory boards, quasi-judicial agencies, task forces, committees and other organizations created by the Miami-Dade Board of County Commissioners will be removed from their positions if they fail to provide financial disclosure as required by their appointments. The Miami-Dade Commission on Ethics and Public Trust today expressed support for the ordinance passed by the County Commission last week. It establishes procedures to remove delinquent individuals who do not submit the forms as required by July 1 after each year of board service. The Ethics Commission will notify the offenders six months after that. If they fail to comply within 31 days after receiving notice, they will be removed from the board. The delinquent member would also be subject to fines and other penalties.
No Probable Cause was found to a complaint (C 14-28) filed against city leaders in Miami Springs, accused of acting unethically by failing to enforce the city's noise ordinance. Margaret Rivas-Amaya lived near Woody's Tavern and had complained several times about its loud music. The investigation found that the venue is located in a business district and is in compliance with the City Code, and that neither the mayor, city manager nor city council members exploited their positions through any association with the owner of Woody's, so the complaint was dismissed.
Ethics Commissioners agreed to change the schedule of its regular meetings to the second Wednesday of each month. The next meeting will be Wednesday, August 13, 2014, at 10 a.m.
Also today, Executive Director Joseph Centorino announced that the third annual Ethical Governance Day will be held in mid-October, prior to the general election, on a date to be confirmed by officials of Miami-Dade Public Schools. On that day, volunteers will be placed in 12th grade government and economics classes throughout the district to discuss the importance of civic engagement with the teenagers, many of whom will be voting for the first time just a few weeks later. Those wishing to take part can contact the Ethics Commission at 305-579-2594 or email ethics@miamidade.gov.The Ethics Commission was created in 1996 as an independent agency with advisory and quasi-judicial powers. It is composed of five members, serving staggered terms of four years each. Through a program of education, outreach and enforcement, the Commission seeks to empower the community and bolster public trust.
>>> Press release: MIAMI-DADE COUNTY ANIMAL SERVICES IS GOING ON THE ROAD WITH ITS FIRST MOBILE PET ADOPTION AND TRANSPORT UNIT
Miami-Dade County Mayor Carlos A. Gimenez along with Commissioner Jose "Pepe" Diaz Will Kick-Off the Mobile Unit's Unveiling with a Pet Adoption Event on Wednesday, July 9, 2014, at The Plaza on Beacon Shopping Center in Doral
(MIAMI- July 8, 2014) – Miami-Dade County Animal Services (Animal Services) will unveil and launch its first ever mobile pet adoption unit named the "Helping Our Pets Everyday" (HOPE) Express. To celebrate this milestone, Miami-Dade County Mayor Carlos A. Gimenez and Miami-Dade County Commissioner Jose "Pepe" Diaz will join the HOPE Express and its precious furry passengers for its inaugural pet adoption
event on Wednesday, July 9, 2014, from 2 p.m. to 6 p.m. at the Plaza on Beacon Shopping Center 8695 NW 13 Terrace, Doral, FL 33126.
The HOPE Express will offer the Animal Services' July, Red White and Woof per adoption specials as follows:
• Red – 50 percent off adoption fees
• White – Waived adoption fees for cats over 4 months old.
• Blue (Woof) – Waived adoption fees for dogs over 35 lbs. or over 5-years old.*
| | |
| --- | --- |
| All pets adopted are spayed/neutered, dewormed, are given age appropriate vaccinations, and microchip. The 28 feet by 8 feet, air-conditioned HOPE Express features 24 animal compartments with removable dividers that comfortably expand to 56 compartments. Awnings on both sides allow easy viewing of pets through a plexiglass wall. The colorful trailer, made possible, in part, by a grant from the ASPCA®, will travel throughout Miami-Dade County to hold pet adoption events. Additionally, it will serve to transport pets to out-of-state partner organizations. Community pet adoptions events and pet relocation and transport programs are an integral part of Animal Services' efforts make Miami-Dade County a No Kill community. "The Animal Services new HOPE Express is a great way to promote all the wonderful shelter pets available for adoption. We are excited about our new mobile adoption trailer and hope to use it to bring happiness to both the shelter pets and new pet owners," said Mayor Gimenez. "The HOPE Express is yet another way we can bring the adorable animals from the shelter into our communities and closer to their new permanent homes," said Commissioner Diaz. | |
>>>A poll done on to see what the community supports when it comes to the County's Library District shows a large majority of residents oppose significant cuts to the services. Below is the Miami Chamber of Commerce press release on the poll results:
SURVEY Shows Overwhelming Support for Solution that Preserves Library Funding
A comprehensive survey of likely voters in Miami-Dade County commissioned by the Greater Miami Chamber of Commerce with support from the John S. and James L. Knight Foundation showed that 80% oppose a significant cut to the library budget, while 13% support it. Even when told that the budget deficit could be up to $20 million and presented with funding options, 67% percent of respondents wanted the county to find a solution that preserved library funding, either by increasing the library portion of the property tax (34%) or cutting spending for other county services (33%), while 22% favored cutting library services to cover the deficit and 11% offered no opinion. Miami-Dade commissioners are readying to set a preliminary property-tax rate on July 15.
The survey, conducted by Bendixen Amandi International, comprised 5,200 likely registered voters — 400 in each of the commission districts — in English, Spanish and Haitian-Creole, for a comprehensive survey with a margin of error of just 1.36%. Opposition to budget cuts in individual districts ranged from 69% to 85%.
A presentation of the full survey results and major findings, as well as an interview where Fernand Amandi of Bendixen-Amandi explains the findings, may be viewed at the following links: * Major findings * Full survey results * Interview (English)
* Interview (Spanish)
Press release: Preparing for a Storm A Guide for Your Business from FPL
At FPL, they know the impact that a major storm can have on your business. They have a plan and urge you to prepare as well so you and your employees can get back to business as safely and quickly as possible. Below is a guide to help get you started:
Plan ahead:
* Ensure your employees' contact information is up-to- date and that you have a plan in place to communicate after the storm passes
* Determine if your business is in a flood and/or evacuation zone and review evacuation routes; identify an emergency temporary site
* Identify what you need to secure your building or office
* Review your insurance coverage, photograph or videotape your building or office – inside and out
Before a storm:
* Gather supplies to secure the exterior of your office and protect interior furniture
* Fully charge all portable electronics
* Make multiple back-ups of computer files and data, and store records off premises
* Record a special voice message informing employees and customers the status of company operations
* Close your offices with sufficient time to allow employees to secure their own homes; inform clients that you're closing early and when you plan to reopen
After a storm:
* Watch for downed power lines. Call 911 or FPL at 1-800-4OUTAGE to report fallen power lines that present a clear and imminent danger to you or others. Do not attempt to touch any electrical power lines, always assume that every power line is energized.
* Stay connected with FPL, report an outage and get updates at www.fpl.com, which is also accessible with mobile devices.
* In case of interior water damage, immediately turn off your circuit breakers, disconnect all electrical appliances and turn off all wall switches. Remember, never stand in water while operating switches or unplugging any electrical device
* If you use a portable generator, read and follow all the manufacturer's instructions and safety guidelines. For more storm and safety tips, visit www.FPL.com/storm.
GMCVB press release: In the month of May, 2014, Miami-Dade County reported record collections for the 3% Convention Development Tax (CDT) which increased 17.9% compared to the same time in 2013. The 2% Hotel Food and Beverage Tax collections from hotels in Miami-Dade (excluding Miami Beach, Bal Harbour and Surfside) increased 15.4% compared to the same time in 2013. The 2% Tourist Development Tax (TDT) collections for Greater Miami (excluding Miami Beach, Bal Harbour and Surfside) increased 15.0% compared to the same time in 2013.
Record Miami-Dade County Tax Collections
3% Convention Development Tax
May 2014
May 2013
% Change vs. 2013
$5,744,652
$4,873,192
+17.9%
2% Hotel Food & Beverage Tax
May 2014
May 2014
% Change vs. 2013
$710,855
$616,027
+15.4%
2% Tourist Development Tax
May 2014
May 2013
% Change vs. 2013
$1,926,527
$1,675,815
+15.0%
MIAMI-DADE COUNTY PUBLIC SCHOOLS
>>>>>MORE M-DCPS SCHOOLS RECEIVE A PERFORMANCE GRADE OF 'A' COMPARED TO STATE, OTHER LARGE DISTRICTS
Press release: Schools Superintendent Alberto M. Carvalho announced today that 43 percent of Miami-Dade County Public Schools (M-DCPS) elementary, K-8 and middle schools received a School Performance Grade of "A," while only five percent received an "F," according to information released by the Florida Department of Education (FLDOE) today.
The report also showed higher percentages of M-DCPS schools received School Performance Grades of "A" in comparison to the state and other large districts.
The percentage of schools receiving School Performance Grades of "A" increased in the M-DCPS by eight percentage points in M-DCPS, outpacing the state and large districts, including Broward, Duval and Palm Beach. These improvements were achieved despite the disproportionately high number of English Language Learners and concentration of disadvantaged students in M-DCPS.
PUBLIC HEALTH TRUST
>>>> For GOB oversight board, only four people apply, Has Commission chilled the pool of applicants after good ones in past have been overlooked,
As of the June 26 deadline, only four people applied to be on the new JHS Bond Oversight board created by the County Commission to provide oversight of how an $830 million in bond proceeds are spent to update the infrastructure at the Jackson Health Systems facilities and is long overdue. The low number of applications will likely result in the Nominating Council requesting to re run the advertisement that asked for people to apply to be on the advisory board and below is the link to the past request for applicants. And the qualifications the applicants are suggested tohavehttp://www.miamidade.gov/info/pht-application.asp
However, this lack of applications could be symptomatic of past county commission votes where nominated candidates did not make the cut and I hear from many top notch potential board members. Why should they apply since the board is also ultimately under the thumb of county commissioners, and not truly independent. Though recently JHS CEO Carlos Migoya has been given the benefit of the doubt now that the Health Trust is now in the black and not hemorrhaging hundreds of millions in losses, while also giving some $600 million in charity and uncompensated care but that could also change anytime in the future depending on the political winds blow down at county hall. But this lack of applicants applying for this important oversight board is disturbing and if a trend county commissioners should discuss why this lack of civic engagement is occurring for this important community jewel that apparently few people want to serve on.
CITY OF MIAMI
>>>> DOJ allows Miami to hire any laid off Miami-Dade Police Officers, city has been short on officers, Miami manager waiting to see how budget hearings go
The Department of Justice (DOJ) has notified Miami-Dade County that the City of Miami will be allowed to hire any county police officer's that might be laid off because of the budget cuts and this is a big deal since the DOJ had to sign off on any new cop hires by the City of Miami and depending on the discussion on the budget by the county commission Tuesday Miami City Manager Daniel J. Alfonso is holding off running any ads until that meeting is over and commissioners have a better feel of what the new proposed budget will be and how many sworn officers might get laid off, said Alfonso to the Watchdog Report on Thursday at Miami City Hall and Mayor Tomas Regalado confirmed the DOJ communication after having a phone discussion with County Commission Chair Rebeca Sosa, he also told the Watchdog Report.
>>>> Four Patient Recruiters Plead Guilty in Miami for Roles in $20 Million Health Care Fraud Scheme
Press release: Four patient recruiters pleaded guilty in connection with a $20 million health care fraud scheme involving Trust Care Health Services Inc. (Trust Care), a defunct home health care company.
U.S. Attorney Wifredo A. Ferrer of the Southern District of Florida, Assistant Attorney General Leslie R. Caldwell of the Justice Department's Criminal Division, Special Agent in Charge George L. Piro of the FBI's Miami Field Office and Acting Special Agent in Charge Ryan Lynch of the U.S. Department of Health and Human Services Office of Inspector General (HHS-OIG), Office of Investigations Miami office made the announcement.
At a hearing today before U.S. District Judge Darrin P. Gayles of the Southern District of Florida, Estrella Perez, 57, and Solchys Perez, 34, both pleaded guilty to conspiracy to commit health care fraud, and Abigail Aguila, 40, pleaded guilty to conspiracy to defraud the United States and receive health care kickbacks. Sentencing for all three defendants is set for Sept. 18, 2014 in front of Judge Gayles. On June 17, 2014, another co-defendant, Monica Macias, 52, pleaded guilty to conspiracy to defraud the United States and receive health care kickbacks before U.S. Magistrate Judge Chris M. McAliley of the Southern District of Florida. Sentencing for Macias is set for Sept. 10, 2014 before Judge Gayles.
According to court documents, the defendants worked as patient recruiters for the owners and operators of Trust Care, a Miami home health care agency that purported to provide home health and physical therapy services to Medicare beneficiaries. Trust Care was operated for the purpose of billing the Medicare Program for, among other things, expensive physical therapy and home health care services that were not medically necessary and/or were not provided.
The defendants recruited patients for Trust Care and solicited and received kickbacks and bribes from the owners and operators of Trust Care in return for allowing the agency to bill the Medicare program on behalf of the recruited Medicare patients. These Medicare beneficiaries were billed for home health care and therapy services that were not medically necessary and/or were not provided.
Estrella Perez and Solchys Perez also paid kickbacks and bribes to co-conspirators in doctors' offices and clinics in exchange for providing home health and therapy prescriptions, plans of care, and medical certifications for their recruited patients. Co-conspirators at Trust Care then used these prescriptions, plans of care and medical certifications to fraudulently bill the Medicare program for home health care services.
From approximately March 2007 through at least January 2010, Trust Care submitted more than $20 million in claims for home health services. Medicare paid Trust Care more than $15 million for these fraudulent claims.
The case was investigated by the FBI and HHS-OIG and was brought as part of the Medicare Fraud Strike Force, under the supervision of the Criminal Division's Fraud Section and the U.S. Attorney's Office for the Southern District of Florida. This case is being prosecuted by Trial Attorneys A. Brendan Stewart and Anne P. McNamara of the Criminal Division's Fraud Section.
Since its inception in March 2007, the Medicare Fraud Strike Force, now operating in nine cities across the country, has charged nearly 1,900 defendants who have collectively billed the Medicare program for more than $6 billion. In addition, the HHS Centers for Medicare and Medicaid Services, working in conjunction with the HHS-OIG, are taking steps to increase accountability and decrease the presence of fraudulent providers.To learn more about the Health Care Fraud Prevention and Enforcement Action Team (HEAT), go to: www.stopmedicarefraud.gov.
A copy of this press release may be found on the website of the United States Attorney's Office for the Southern District of Florida at www.usdoj.gov/usao/fls. Related court documents and information may be found on the website of the District Court for the Southern District of Florida at www.flsd.uscourts.gov or on http://pacer.flsd.uscourts.gov.
>>>PASTWDR: Sarnoff has top net worth on five-member commission, net worth surges to $2.3 million; Mayor Regalado comes in at $50,700, up from $28,321, last year
The Watchdog Report last week got copies of the Miami commissioner's and mayor's yearly financial disclosure reports due Jul.1., from the City Clerk and Commissioner Willy Gort who had a net worth of $241,000 last year and this year he is reporting $329,000. Mayor Tomas Regalado through July 1, 2013 had a $28,321 net worth last year, (Up from $18,801 the year before) and this year Regalado's net worth in 2014 is $50,700. Commissioner Frank Carollo has a $783,600 net worth, (Up from $748,000) and this year it is $856,770, Commissioner Marc Sarnoff for the year is worth $2.1 million, (Up from $1.98 million the year before) and this year he is at $2.3 million ,Commissioner Keon Hardeman is reporting a negative $148,000 net worth and Commissioner Francis Suarez comes in at negative $13,018 this year, (Down from a negative $99,542 the previous year) state they're on file financial disclosures for the year. Suarez told the Watchdog Report the change in his net worth this year was because some rental properties values had risen over the past years and was why he was in the red a few years ago.
CITY OF MIAMI BEACH
>>>> Will location of maintenance facility be issue with BayLink project? Miami nor Beach is said to want the depot
With a Miami-Dade transportation panel studying the feasibility of a mass transit system to Miami Beach and how to finance it. Besides the $532 million cost another hurdle may be where to put the maintenance facilities. Miami Mayor Tomas Regalado told the Watchdog Report last week after a meeting at the county. Consultants studying the issue and who made a presentation Tuesday said the "preferred location" for the facility was Miami Beach but they are not interested and the other location in Overtown in Miami's urban core given the areas demographics could be an issue. Since the city got embroiled in a controversy after a similar trolley depot was built next to homes at a Coconut Grove site to be used to service Coral Gables trolleys and created a major controversy in the surrounding area with law suits flying, and that kind of situation is something the mayor does not want to repeat he said.
>>>> Press release: Tuesday Morning Breakfast Club Meeting Date: Tuesday July 15th -Meeting Time: 8:30 AM Meeting Place: Abuela's Cuban Kitchen, 1654 Meridian Ave., South Beach
Jorge Luis Lopez, representing LYFT, a transportation alternative, will be the guest speaker at the July 15th meeting of the Tuesday Morning Breakfast Club. LYFT is a ridesharing alternative to taxis and buses, much like carpooling, that is fast gaining popularity in Miami and across the country, where it is now operating in 70 cities. Currently the City of Miami is working on a code amendment to classify ridesharing as a form of for hire separate from taxis. There is no charge for attending and everyone is welcome. David Kelsey, Moderator
CITY OF CORAL GABLES
>>>> Governor Rick Scott Appoints Two, one person Uguccioni from Gables, to the Florida Historical Commission
Press release Gov. Scott: Today, Governor Rick Scott announced the appointment of Dr. Clifford Smith and the reappointment of Ellen Uguccioni to the Florida Historical Commission.
Smith, 58, of Venice, is a senior planner for the City of Sarasota. He succeeds William Lees and is appointed for a term beginning July 11, 2014, and ending December 31, 2016.
Uguccioni, 63, of Miami, is a retired preservation officer for the City of Coral Gables and an adjunct professor for the University of Miami. She is reappointed for a term beginning July 11, 2014, and ending December 31, 2015.
>>>>FairChild Tropical Botanical Gardens is having a major festival and the Garden is one of Miami-Dade's true treasures that is augmented with an army of volunteers that keep the garden's in pristine shape at no cost to the taxpayers and if you and your family want a special treat checkout this story on the Garden's http://www.miamiherald.com/2014/07/08/4224318/colombian-mangoes-will-be-the.html
City of MIAMI SPRINGS
>>> M-DC Ethics Commission press release: No Probable Cause was found to a complaint (C 14-28) filed against city leaders in Miami Springs, accused of acting unethically by failing to enforce the city's noise ordinance. Margaret Rivas-Amaya lived near Woody's Tavern and had complained several times about its loud music. The investigation found that the venue is located in a business district and is in compliance with the City Code, and that neither the mayor, city manager nor city council members exploited their positions through any association with the owner of Woody's, so the complaint was dismissed.
CITY OF SOUTH MIAMI
>>> Complaint against former South Miami Police Department employee dismissed because Not Legally Sufficient
A complaint (C 14-29) of retaliation by a former South Miami Police Department employee was found Not Legally Sufficient because of the time differences involved. Michael Weissberg had filed grievances against the department command staff between 2011 and August 2013, when he left the agency. In April of this year, he was notified that he is the subject of an internal affairs investigation for events that occurred during his employment. He claims the investigation is in retaliation for filing the grievances, but because an investigation is not included in the definition of "adverse personnel action," and the complaint was not filed within the required 60-day time period, it was dismissed.
TOWN OF MIAMI LAKES
>>>> Mayor Pizzi dukeing it out with federal prosecutors on corruption charges, high flying mayor used to love publicity, but things change
The federal corruption trial of former Mayor Miami Lakes Mayor Michael PIzzi is going on after he was charged with political corruption for taking bribes from FBI agents for federal grants, which he says he is innocent of and the high profile mayor has always had a brash side to his personality and historically loved the media spotlight as he described himself as a populist that fought against injustice.
http://www.miamiherald.com/2014/07/09/4226304/opening-statements-will-present.html
However, in Miami Lakes he also has the reputation as being demanding when he would go to restaurants and would remind the staff he was the mayor and would like a good table and perhaps some extras but this attitude appears to have caught up with him in the federal sting operation that his defense team plans to poke holes into. Further, back in 2004 he once toyed with the idea of running as a candidate for the Miami-Dade State Attorney's office held by Katherine Fernandez-Rundle. But he changed his mind back then.
>>> OTHER STORIES AROUND FLORIDA
BROWARD COUNTY
>>> IG Scott issues new report on lobbyist's registrations in Broward County and 31 municipalities
John Scott the Broward Inspector General has issued a report on lobbyist logs for the County and the 31 municipalities in Broward and is just another example of county and municipal leaders keeping tabs on who is lobbying them and on what issue. To read the report go to http://www.broward.org/InspectorGeneral/PublicationsPress/Documents/OIG13023LobbyingLogsComplianceReview.pdf
>>> Thank you for using the Broward County Commission Agenda E-mail Notification System. A new Broward County Commission Agenda is available. Point your browser to http://www.broward.org/commission/welcome.htm to view
The new agenda.
HALLANDALE BEACH
>>> South Florida Couple Plead Guilty to Money Laundering Involving Third-Party Payments to Mexico
Press release: Wifredo A. Ferrer, United States Attorney for the Southern District of Florida, and Alysa D. Erichs, Special Agent in Charge, U.S. Immigration and Customs Enforcement's Homeland Security Investigations (ICE-HSI), announce that Natalie Ladin, 62, and Jed Ladin, 66, both of Lauderdale by the Sea, and their company Natalie Jewelry, doing business as Golden Opportunities, located in Hallandale Beach, each pled guilty to one count of conspiracy to commit money laundering, in violation of Title 18, United States Code, Section 1956(h). Sentencing is scheduled for October 31, 2014, at 1:00 p.m. before U.S. District Judge Beth Bloom. At sentencing, the defendants each face up to 20 years in prison.
According to court documents, the defendants committed money laundering by conducting wire transfers from Natalie Jewelry to third parties in Mexico. Operating an unlicensed money transmitter business is a specified unlawful activity for money laundering, and neither Natalie Jewelry nor any of its owners or employees had such a license from the State of Florida or the Department of the Treasury. From October 2013 through January 2014, the defendants exchanged coded text messages with two co-conspirators who would drop off bags of cash at different South Florida locations and provide the defendants with a list of people who should receive wire transfers from that money. In exchange for a commission, the defendants sent money via wire transfer to approximately 21 individuals in Mexico for a total of $2,023,950.00.
Mr. Ferrer commended the investigative efforts of ICE-HSI. This case is being prosecuted by Assistant U.S. Attorney Michael Thakur.
A copy of this press release may be found on the website of the United States Attorney's Office for the Southern District of Florida at www.usdoj.gov/usao/fls. Related court documents and information may be found on the website of the District Court for the Southern District of Florida at www.flsd.uscourts.gov or on http://pacer.flsd.uscourts.gov.
PALM BEACH COUNTY
>>> PALM BEACH AREA SCHOOLS EARN "A" GRADES AS STATE PREPARES FOR NEW GRADING SYSTEM WITH FOCUS ON STUDENT SUCCESS FACTORS
Gov. Scott press release: The number of elementary and middle schools earning a preliminary "A" grade increased by 195 (7 percentage points) over last year in the final year of the current grading system, according to preliminary data released today by the Department of Education. Overall, 962 elementary and middle schools statewide earned the top grade.
The number of schools earning a preliminary "F" grade this year also increased. The Department is focused on ensuring all low performing schools are provided the necessary assistance and support they need to help their students achieve.
"The increase in the number of schools earning an 'A' this year is great news for students and teachers who have worked hard for this success," said Commissioner of Education Pam Stewart. "I appreciate the work by the educators, students and their families in the Big Bend and know they will continue to improve in the future."
Highlights in the Palm Beach area include: "The new grading system that will start next year will continue to be crafted with input from parents, teachers and educators," added Stewart. "Its focus on student achievement and gains will help ensure a fair accountability system that helps measure student knowledge of the new Florida Standards." More information can be found at School Grades. For more information about the Florida Department of Education, visit www.fldoe.org.
DEL RAY BEACH
>>> Former Delray Beach Resident Convicted In Third Case Involving Identity Theft
Press release: Wifredo A. Ferrer, United States Attorney for the Southern District of Florida, and Jose A. Gonzalez, Special Agent in Charge, Internal Revenue Service, Criminal Investigation (IRS-CI), announce that Jeffrey Emil Groover, 53, formerly of Delray Beach, was convicted by a jury of all six counts with which he was charged. Specifically, Groover was convicted of one count of conspiracy to commit bank fraud, in violation of Title 18, United States Code, Section 1349, three counts of bank fraud, in violation of Title 18, United States Code, Section 1344, and two counts of aggravated identity theft, in violation of Title 18, United States Code, Section 1028A.
Sentencing is scheduled for September 3, 2014, before U.S. District Judge Dimitrouleas. At sentencing, Groover faces a maximum sentence of 20 years in prison for conspiracy to commit bank fraud, 20 years in prison for each count of bank fraud, and a mandatory term of two years in prison, consecutive to any other term in prison, for the aggravated identity theft charges.
According to evidence presented at trial and court documents, Groover used the personal identifying information (PII) of an individual without her knowledge or consent to open a checking account and obtain a debit/VISA card at TD Bank. The defendant forged the name on the signature card for the account and, when asked for identification, produced a fraudulent, photo-switched Florida Driver's License with the individual's correct information, but the defendant's photograph. Approximately one week after opening the account at TD Bank, the defendant again used the individual's PII to open a checking account at PNC Bank. When asked to provide two forms of identification for the account, the defendant used the fraudulent debit/VISA card obtained from TD Bank, and the fraudulent, photo-switched Florida Driver's License. Groover directed the PNC banker to set up overdraft protection for the fraudulent checking account using the individual's existing home equity line of credit. Between September 27, 2013 and September 30, 2013, the defendant and his co-conspirators withdrew and attempted to withdraw approximately $170,000 from the individual's home equity line of credit by cashing a $20,000 check drawn directly on the line of credit.
In a separate case involving an identity theft tax refund fraud scheme, Groover was sentenced on April 18, 2014, before U.S. District Judge Robin Rosenbaum to 60 months in prison, followed by three years of supervised release, and was ordered to pay $350,373.86 in restitution. Groover previously pled guilty to the indictment in this case, which charged him with making and presenting false claims to the Internal Revenue Service, in violation of Title 18, United States Code, Section 287. In sentencing the defendant to a sentence significantly above the sentencing guideline range in this previous case, the judge noted the defendant's extensive criminal history, his arrest for a new identity theft crime while on bond awaiting sentencing, and the large number of victims who suffered, some for years, as a result of his repeated commission of identity theft crimes. The judge also noted that while serving a 46 month sentence for identity theft in 2004, the defendant provided testimony to the Senate Special Committee on Aging, in which he explained how easy it was to commit identity theft using the internet and how his 46 month sentence would cause him to never commit such crimes again. Since the 46 month sentence had not deterred Groover from committing new crimes, the judge imposed a 60 month sentence. Mr. Ferrer commended the investigative efforts of IRS-CI. This case is being prosecuted by Assistant U.S. Attorneys Adrienne Rabinowitz and Alexandra Hui. A copy of this press release may be found on the website of the United States Attorney's Office for the Southern District of Florida at www.usdoj.gov/usao/fls.
>> And to read all the Palm Beach elected leader's financial disclosure reports go to http://public.ethics.state.fl.us/results.cfm
MONROE COUNTY
>>> PAST WDR MAY 2007: Small but colorful county has its share of colorful and erstwhile political leaders, but with only 85,000 residents not a big player
What can you say about a county with a tourist tag line of the Conch Republic and also includes the eclectic city of Key West? The Watchdog Report would never have reported on anything that went on in the small county with 85,000 residents but they came to my attention because of their lack of taking care of the Homeless population there and not providing a shelter for their domestic violence victims. Since then the elected leaders have moved to resolve some of their social issues rather than to just send them to the larger county to the north Miami-Dade for these services. And to review her financial disclosure form go to >>> Elected leaders financial disclosures on line at , www.ethics.state.fl.us
COMMUNITY EVENTS
>>>> As part of its ongoing efforts to get out the vote, the League of Women Voters of Florida wants to remind Florida voters that Sunday, May 18 marks 100 days until Florida's August 26 primary election. Many important local races are decided at the primary level, where turnout is traditionally light and votes cast can weigh more heavily in deciding outcomes. This makes voting during the primary an issue of utmost importance.
"There will be something for everyone on the August ballot", says Deirdre Macnab, League of Women Voters of Florida President. "Even voters registered as independents can cast a vote in local non-partisan races as well as an array of judicial races at the county and circuit levels. In many ways, your vote in the primary can have a greater impact than in November." Most Supervisors will post sample ballots on their websites in early July. Candidate qualifying ends in late June.
The League urges all Florida residents to register to vote by the July 28 deadline. For information on how to register and step by step instructions for registration, visit the League's website at www.BeReadyToVote.org. If you are already registered, make sure to check your voter status and get ready! Florida makes voting easy and convenient by offering three different ways to vote: by mail, early, and on Election Day. Early voting will November elections, then relax!" IMPORTANT DATES TO REMEMBER: Primary election: Tuesday, August 26 Deadline to register to vote: Monday, July 28 Absentee Ballots will be mailed: Between July 22 and 29 be available for the August primary. The League would like to remind voters who will be unable to vote on-site that any registered Florida voter can request an absentee ballot by contacting their local Supervisor of Elections. It is also important to check that your voting information, including your address and signature, are up-to-date. "Early summer is the perfect time to get your voting house in order," said Charley Williams, LWVF Voter Services Chair. "Call your local Supervisor of Elections office and make sure your voter file is accurate. This is particularly important if you have moved recently or if you haven't voted in past elections. With one call, you can cover details for both the August and
>>>> Thursday, July 17 – Sunday, August 31ZIFF BALLET OPERA HOUSE
AA From the creators of De la Guarda comes the biggest event of summer 2014 – H2OMBRE! Heart-pumping electronic music, aerial acrobatics, extravagant visuals, and water (more than 6,000 gallons a show!) transform the Center into an alternate universe where the audiences step onto the stage and are engulfed in a 360 degree experience!
With state-of-the-art three-dimensional projection screens and monstrous inflatables, H2OMBRE is a wild follow up to the Arsht Center's success with Fuerza Bruta. You'll join the adventure as our heroes have epic battles with mythical beasts and brave the elements!
The Jerusalem Post called the
H2OMBRE production "A MULTI-MEDIA EXTRAVAGANZA!" and the Argentina Independent declared "The soaked audience swayed and screamed with enthusiasm!"
Limited VIP tickets available! Group tickets available!
Presented and co-produced by the Arsht Center in collaboration with Ojalá Entertainment.
>>> The Margulies Collection will be closed for the summer and will reopen in the fall.
EDITORIAL
>>> Miami –Dade County Commission must ask itself why only four people applied to be on $830 million bond oversight board for JHS. Could the body be the problem?
The Miami-Dade County Commission needs to be very careful with how they treat community board's and the people that apply for they are doing a disservice to the community and when only four people apply to be on the oversight board to watch over how $830 million in bond proceeds are spent something is wrong given all the public notices for the positions and the application period and while they will likely reopen the process. This is taking a large amount of people's time in the process and commissioners should regard this board as an important symbol of their ability to follow through on what they promise in this case the electorate that overwhelmingly passed the bond, for this is a one shot chance to get it right and competent people must be found and selected for Jackson Health System is too important to the community as a whole and while this is probable seen as just a detail or hick-up in the process. IT also is symptomatic of a process that is not working as it should des[ite getting recommendations from a Nominating Council that many times are ignored by the commission and perhaps one solution would be to take that body out of the process, for it is clear commissioners are either too busy to make informed decisions about some of the people and if that is the case the 13 member body after budget hearings needs to discuss the matter for this lack of community service by residents needs to
Be resolved. For JHS needs the bond money now and it will be becoming available in the near future? And if taxpayers are to be served this new money and how it is spent must be watched like a hawk.
LETTERS
>>> LIFETIME FOUNDING MEMBERS & INITIAL SPONSORS IN 2000
ANGEL ESPINOSA – (Deceased) owner COCONUT GROVE DRY CLEANER'S
HUGH CULVERHOUSE, Jr
FLORIDA POWER & LIGHT www.fpl.com .
THE MIAMI HERALD www.miamiherald.com (2000-2008)
ARTHUR HERTZ
WILLIAM HUGGETT, Seamen Attorney (Deceased)
ALFRED NOVAK
LINDA E. RICKER (Deceased)
JOHN S. and JAMES L. KNIGHT FOUNDATION www.knightfoundation.org
THE HONORABLE STANLEY G. TATE
>>> Watchdog Report supporters – $2,000 a year
BADIA SPICES www.badiaspices.com
RONALD HALL
MIAMI-DADE COUNTY www.miamidade.gov
UNITED WAY OF MIAMI-DADE COUNTY www.unitedwaymiamidade.org
>>> Watchdog Report supporters – $1,000 a year
AKERMAN SENTERFITT www.akerman.com
BERKOWITZ POLLACK BRANT Advisors and Accountants www.bpbcpa.com
JEFFREY L. BERKOWITZ TRUST
RON BOOK
LINDA MURPHY: Gave a new laptop in Oct. 2001 to keep me going.
WILLIAM PALMER www.shutts.com
Rbb PUBLIC RELATIONS www.rbbpr.com
ROYAL MEDIA PARTNERS www.royalmp.com
SHUBIN & BASS www.shubinbass.com
WILLIAMSOM AUTOMOTIVE GROUP http://williamsonautomotivegroup.com/
>>> Public, Educational & Social institutions – subscribers at $1,000 or less
CAMILLUS HOUSE, INC. www.camillushouse.org
CITY OF MIAMI www.miamigov.com.
CITY OF CORAL GABLES www.coralgables.com
CITY OF MIAMI BEACH www.miamibeachfl.gov
CHAPMAN PARTNERSHIP FOR HOMELESS www.chapmanpartnership.org
FLORIDA INTERNATIONAL UNIVERSITY www.fiu.edu
THE STATE OF FLORIDA www.myflorida.gov
GREATER MIAMI CHAMBER OF COMMERCE www.miamichamber.com
GREATER MIAMI CONVENTION & VISITORS BUREAU www.miamiandbeaches.com
HEALTH FOUNDATION OF SOUTH FLORIDA www.hfsf.org
MIAMI-DADE COUNTY COMMISSION www.miamidade.gov
MIAMI-DADE COMMISSION OFFICE OF THE CHAIR www.miamidade.gov
MIAMI-DADE COUNTY ETHICS & PUBLIC TRUST COMMISSION
MIAMI-DADE COUNTY HOMELESS TRUST: www.miamidade.gov/homeless/
MIAMI-DADE COLLEGE www.mdc.edu
MIAMI-DADE COUNTY INSPECTOR GENERAL www.miamidade.gov/ig
MIAMI-DADE PUBLIC SCHOOLS BOARD www.dadeschools.net
MIAMI-DADE PUBLIC SCHOOLS SUPT. http://superintendent.dadeschools.net/
MIAMI DOWNTOWN DEVELOPMENT AUTHORITY www.miamidda.com
PUBLIC HEALTH TRUST & JACKSON HEALTH SYSTEM www.jhsmiami.org
THE BEACON COUNCIL www.beaconcouncil.com
THE CHILDREN'S TRUST www.thechildrenstrust.org
THE GOOD GOVERNMENT INITIATIVE http://goodgov.net/
THE MIAMI-DADE COUNTY LEAGUE OF CITIES www.mdclc.org
THE MIAMI FOUNDATION www.miamifoundation.org
UNITED STATES OF AMERICA http://www.firstgov.gov/
UNIVERSITY OF MIAMI www.miami.edu
The Watchdog Report covers a few of the meetings attended weekly. It remains my belief that an informed public will make better decisions. Therefore, I go to meetings, make the presence of an informed citizen known, and bring the information to you. The Watchdog Report is in the 14th year of publication and it has been an honor to be able to send this information to you. It is sent to readers in Miami-Dade, Florida, the U.S. and the world. The Watchdog Report is sent to thousands free and while readers have been prodded to subscribe the results have been mixed. Over 800 reports and Extras have been sent since May 5, 2000 and over two million words have been written on our community's governments and events. The report is an original work based on information gathered at public meetings, interviews and from documents in the public domain.
LETTER POLICY
I welcome letters via e-mail, fax, or snail mail. Letters may be edited for length or clarity and must refer to material published in the Watchdog Report. Please see address and contact information. Please send any additions and corrections by e-mail, fax or snail mail. All corrections will be published in the next Watchdog Report. If you or your organization would like to publish the contents of this newsletter, please contact me. Please send your request to watchdogreport1@earthlink.net
Daniel A. Ricker
Publisher & Editor
Watchdog Report www.watchdogreport.net
Est. 05.05.00
Copyright © of original material, 2014, Daniel A. Ricker
>>> The Watchdog Report are now available to television stations web pages, and all the newspapers and other media in South Florida if the publishers have an interest to run part or all of the stories. Further, in 2000, I used to have some paper's running the report in the Spanish press, that option is available again, and publishers should contact me. The news content will not be free, but you can pick and choose the stories of interest, edit them if necessary but you must still keep the general story intact. If you are a news outlet and would like to learn more about, the Watchdog Report and this offer contact me at watchdogreport1@earthlink.net for further information. >>> Here is what past newspapers have written about the Watchdog Report publisher including a survey and regional study done by the U. North Carolina at Chapel Hill on the media in the southeast United States.
>>> The Miami Herald and Orlando Sentinel & Sun-Sentinel articles on the Watchdog Report publisher over the years. >>> Published on September 9, 1999, Page 1EA, Miami Herald, The (FL) CITIZEN ADVOCATE' KEEPS TABS ON POLITICIANS >>> Published on January 3, 2000, Page 1B, Miami Herald, The (FL) MIAMI-DADE WATCHDOG WILL BE MISSED >>> >>> To read the full section large two page front page story, but without the photos and smart box graphics, go to: `I Go When You Cannot' – Sun Sentinel 20 Jan 2003 … Sometimes Dan Ricker lives in the dark so others may live in the light. … to his weekly Watchdog Report have finally mailed their checks. … http://articles.sun-sentinel.com/2003-01-20/news/0301190341_1_ricker-school-board-president-miami-s-first-cuban-american >>>Watchdog Report publisher named 'Best Citizen' 2003 by the Miami New Times —The publisher would like to thank the weekly alternative paper Miami New Times for bestowing their 2003 Best of Miami, 'Best Citizen' award to me and I am honored. Thank you. To read the full story go to http://www.miaminewtimes.com/issues/2003-05-15/citylife2.html/1/index.html
From the spring of 2003: U. North Carolina, Chapel Hill: Southeast U.S. Media Report lists Watchdog Report publisher as leading Florida commentator >>> Selected excerpts from the report on Florida's media sources. Those who do read the newspaper in Florida have a bevy of options for state government and political coverage. The dominant newspapers in the state are Knight-Ridder's The Miami Herald (Acquired by The McClatchy Company in 2006) and the Poynter Institute's St. Petersburg Times. Both papers endorsed Gore in 2000 but split on the 2002 gubernatorial race, with the Herald endorsing Republican incumbent Jeb Bush and the Times backing Democratic challenger Bill McBride. Daniel Ricker of The Miami Herald also writes an influential column as well as an email newsletter called the Watchdog Report that goes out to more than 100,000 subscribers. FEBRUARY 2004 – Florida: Columnists in Abundance –ERIC GAUTSCHI, graduate student, School of Journalism & Mass Communication, UNC-Chapel Hill – D) LEADING COMMENTATORS – Resource Commentator Organization Type Web site –Steve Bousquet St. Petersburg Times Column www.sptimes.com/columns/bousquet.shtml -"First Friday" WPBT TV (Miami) TV Show www.channel2.org/firstfriday/issues.html –Lucy Morgan St. Petersburg Times Column www.sptimes.com/columns/morgan.shtml –Daniel Ricker Miami Herald/Watchdog Report Newsletter >>> Readers who would like to read the complete University of North Carolina, Chapel Hill Southeast United States Media Report go to view the complete report or download all the data used in this study. >>> Watchdog Report Editor's note to the NCU/CH study: The subscriber number referenced is incorrect and applies to readership.
General subscriber's names will not be published in the Report. To subscribe to the Watchdog Report please use the form below as a subscription invoice.
********************************************************************
Watchdog Report Supporters Invoice-Form
NOTE: Invoice is for Yearly supporter/sponsorship Rates: Thank you.
Corporate Sponsors $1,000 (All levels above will be listed in the report with web-site link if desired)
Large Business Supporters $500
Small Business Supporters $250
Please make checks payable to: Daniel A. Ricker
Send to: 3109 Grand Avenue, #125
Miami, FL 33133 To contact the Publisher please e-mail watchdogreport1@earthlink.net