CONTENTS
Argus Report: U.S. Dist 13 Congressional race down to the wire, neck and neck, with Sink and Jolly going at it, how low will they go, Mar.11 election has national implications in fall for both parties
Florida: Gov. Scott inserts himself into Venezuelan cause, which has large block of the country's nationals in South Florida — State and county leaders' financial disclosures will be on line, some are there now, www.ethics.state.fl.us, sea change for transparency of elected official's finances
Miami-Dade County: Mayor Gimenez, says "The County is strong," but he is bedeviled with lesser issues, from commission veto overrides, to keeping morale and employee and services up
Public Health Trust: PHT management and trustees huddle in closed session strategic retreat, setting course of Jackson Health System for years to come, let's hope they get it right in competitive, changing healthcare environment under federal ACA Law
City of Miami: Commission confirms Alfonso as new manager; Commissioner Sarnoff sets the ground rules, with "full-contact-sport," reference of the job, and dealing with commissioners
Village of Coconut Grove: Grovite and Businessman Bunnell Sentenced for Violating the Federal Rivers and Harbors Act
City of Miami Beach: Jack Johnson, Chairman of the Miami Beach Community Development Corp. is the featured speaker at the TUESDAY MORNING BREAKFAST CLUB
City of Coral Gables: Gables residents get to hear from Miami Today publisher Lewis Mar.3, should be a real treat at business luncheon group
City of Opa Locka: Defendant Sentenced in Identity Theft Tax Fraud Scheme
Village of Key Biscayne: Traffic updates on Key Causeway
>>> Other stories around Florida
Broward County: Gov. Scott taps Heather Brinkworth as a School Board Member of Broward County Public Schools. — Check out your elected leaders financial disclosure forms
City of Deerfield Beach: Two Defendants Sentenced in Identity Theft Tax Refund Fraud Scheme Involving Thousands of Patients' Personal Identity Information
Palm Beach County: Residents can review they're top County Officials financial disclosure forms on line at http://public.ethics.state.fl.us/results.cfm
West Palm Beach: Two Men Arrested on Charges of Participating in a Cargo Theft Ring
Putnam County: Gov. Scott taps Lawrence Harvey as a County Commissioner
Pinellas County: Gov. Scott names Kenneth "Ken" Burke to the Higher Education Coordinating Council. Burke, 54, of Seminole, is the Pinellas County Clerk of the Circuit Court.
Monroe County: – To read all Monroe County constitutional officers' financial disclosure forms go to http://public.ethics.state.fl.us/results.cfm
Community Events: MIAMI-DADE COUNTY PARKS AND THE KNIGHT FOUNDATION PRESENT A FREE Caribbean-Reggae concert at Goulds Park on Friday, March 7 Wyle Fyah  Band — Join the Epilepsy Foundation of Florida at Walk the Talk for Epilepsy and support Floridians living with epilepsy! Early Learning Coalition golf fundraiser at Trump Doral course – Margulies Art Collection show
Editorials: Miami-Dade delegation must cajole other state lawmakers to change federal healthcare distribution formula, JHS hit with new $140 million funding loss, and impact could ripple through all health systems in South Florida to the detriment of all 2.6 million residents when it comes to their healthcare choices — Check out the past 2003 national story in the Tribune papers:  Paperwork Tiger By Maya Bell, Miami Bureau, Orlando Sun-Sentinel January 20, 2003 >>> And a 2004 UNC Chapel Hill study of the Southeast United States 15 states media outlet study where the Watchdog Report is listed as writing a "influential" column in Florida with over 100,000 readers: http://www.unc.edu/~davismt/SouthNow.pdf
Sponsors: Publisher's mission statement & Subscription information is at the bottom of this issue — Scroll down for all the headline stories text.
>>> Just because you do not take an interest in politics does not mean politics will not take an interest in you. –Pericles (430 B.C.)
>>> If you wish to be deleted, just e-mail me with that message and you are free to e-mail this on to friends.

>>> The Watchdog Report publisher would like to thank the John S. and James L. Knight Foundation www.knightfoundation.org for funding by the Knight Foundation with technical support from the Knight Center for International Media http://knight.miami.edu within the University of Miami's School of Communication www.miami.edu to maintain my webpage. The Watchdog Report webpage is free, has no ads, pops-up and is just the news in a mainstream reporting manner.
>>> The Watchdog Report publisher Monday Mar.3, will be on WLRN/NPR 91.3 FM at 1:00 to 2:00 p.m. on the show Topical Currents , hosted by Joseph Cooper and Bonnie Berman www.wlrn.org/topicalcurrents and the discussion will also include former Miami Herald reporters Dan Christensen, of www.browardbulldog.org and Elaine De Valle of www.politicalcortadito.com and the overall program  will be on the Florida Legislature's upcoming session that starts on Tuesday. Readers should listen in if you get a chance.
>>> Correction: In last week's WDR, I misspelled the new Miami Managers name. It is Danial J. Alfonso, I apologize for the error.
ARGUS REPORT – Heard, Seen on the Street
>>> Dist 13 Congressional race down to the wire, neck and neck, with Sink and Jolly going at it, how low will they go, race has national implications in fall
With polls tightening up the candidates in the Special Election for Congressional District 13 that has tea party and GOP candidate David Jolly facing off against former Florida CFO Alex Sink for the open seat in the Republican controlled House. The race, where early voting has started, has drawn national attention and money from Super PACS is flowing in. Sink, in 2010 has raised some $1.3 million for her campaign and Jolly was lagging behind but he has yet to report what he raised in the proceeding months and he is getting help from a number of GOP political mavens including Karl Rove. http://www.washingtonpost.com/blogs/post-politics/wp/2014/02/27/alex-sink-raises-1-3-million-more-for-florida-special-election/ and for more go to    http://www.politico.com/story/2014/02/florida-special-election-alex-sink-david-jolly-103983.html
>>> PAST WDR: Clock ticking before Mar. 11 House District 13 election, Sink and Jolly go head to head with national money pouring into the bell weather race for both parties
The stage is set for the candidates running for U.S. House seat 13, which became vacated after long term Republican Congressman C.W.  Bill Young, R-St. Petersburg passed last year. The candidates vying for seat in the GOP controlled House are Republican David Jolly and former Florida CFO and failed 2010 Democratic gubernatorial candidate Alex Sink. Sink, a former banker is running a spirited campaign but the GOP is calling her a carpetbagger since she has had to move into Pinellas County, to be living in the congressional district that was redistricted, and the high profile race is now is considered almost a toss-up with either party's voters turnout potentially being the deciding factor for the victor.
Sink in emails has been asking for money to defend campaign attacks from the Republican "Karl Rove's Super PACs for their lobbyist friend Jolly," and in a recent poll, Jolly, a conservative, is trailing Sink. http://www.tampabay.com/news/politics/national/poll-may-show-alex-sink-ahead-but-the-congressional-district-13-race-is/2165333 However, voter turnout in the swing district could be the key, and Sink is raising eyebrows by rejecting doing a debate Feb. 25 hosted by veteran NBC White House Reporter Chuck Todd, and when it comes to past media buys running up to the March 11 General Election. She has spent $3.7 million to his $2.5 million during the time period and Sink is looking to amp up her campaign war chest that included a top tier fundraiser last week in Coral Gables that included Vice President Joe Biden.
The event held at the home of Judy and Michael Adler last week was expected to bump up her campaign cash on hand in the nationally watched race. An election that could be a bell weather indicator for the 2014 elections, and what the level of voter disapproval is of the President Barack Obama administration, and the popularity of The Affordable Care Act that has kicked in, and voters are now having to enroll in health insurance programs that are surprisingly expensive. http://www.politico.com/story/2014/02/alex-sink-chuck-todd-nbc-florida-103545.html
| | |
| --- | --- |
| Jolly | Sink |
>>> Michigan: The Anatomy of Disenchantment ~ By: John Zogby Forbes.com Contributor
Michigan's hard luck story has been told and retold. Detroit, once the Motor City of the World and fifth largest city in the US, today boasts the same population as Nashville, Tennessee and a 14% unemployment rate. The state's unemployment rate is 8.8% — 2.3 points higher than the nation. And, sadly, so on.
Zogby Analytics just completed a poll of 500 Michigan voters and found that President Barack Obama's popularity has suffered dramatically. The poll, conducted online February 26, shows the President's job approval as upside down – 43% approve, 54% disapprove. This in a state that first elected him in 2008 with 57% of their vote, and then followed by re-electing him in 2012 with 54%. Perhaps most ominous for the President – and the Democrats he supports – is that only 32% of independent voters approval of his job performance. And only 25% of Michigan voters believe the country is headed in the right direction.
Please click on the link below to view the full release:
http://zogbyanalytics.com/news/416-michigan-the-anatomy-of-disenchantment
>>> Frost Museum at FIU has tinning exhibit of Pulitzer Prize photographs over the decades, a must see collection
The Frost Museum at Florida International University is holding a unique exhibit of photos from past Pulitzer Prize winners and some of the photographs will rip your heart out, when the visual tragedy is brought to life in a photo. Here is the information on the exhibit: Capture the Moment: The Pulitzer Prize Photographs February 12, 2014 – April 20, 2014 -Capture the Moment consists of photographs from every Pulitzer Prize photographer, from the year of the first prize, 1942, to the present. Presently, there are 166 photographs included. The exhibit includes dramatic and poignant news and feature photographs, including Joe Rosenthal's World War II photo of the raising of the flag by U.S. Marines on Iwo Jima (1945 Pulitzer); the aftermath of Hurricane Katrina (2006 Pulitzer); Robert H. Jackson's 1963 photo of Jack Ruby shooting Lee Harvey Oswald and Nathaniel Fein's shot of Babe Ruth watching his number being retired at Yankee Stadium (1949 Pulitzer). >>> Capture the Moment: The Pulitzer Prize Photographs was developed by Business of Entertainment, Inc. NYC (www.bizzent.com), Cyma Rubin, Curator, in association with the Newseum (www.newseum.org) in Washington, D.C. and for more go to http://thefrost.fiu.edu/exhibitions.htm
>>> With the Watchdog Report closing in on 15 years, I thank all of you that have supported the effort, not for the faint of heart in many ways, including financially surviving
When I started the Watchdog Report on May 5, 2000, I never imagined that almost 15 years later. I would still be at it, and I want to thank all of you and the organizations that have financially supported me over those years. Since I essentially am funded by the community and my readers. Moreover, to say it has been a strange fork in the road for someone, who came from the corporate world, to have started this effort is an understatement, and only in South Florida could I have pulled off a mainstream news service like the WDR. However, given the colorful nature of our community and how so many of us love and create the drama, that would be good entertainment. If we were not overall such a poor community, with pockets of great wealth, yet other areas in major poverty, and why our limited public tax dollars should be spent wisely and with proper oversight and media attention.
In addition, it is my belief that government works more effectively when reported on, and why I have kept at this, for over the past almost 18 years. In addition, the WDR or myself, has affected and easily saved some $100 million in public tax dollars over those years in some way. And it is the preventing of waste, fraud, and abuse and public corruption that has kept me out in the field and reporting back in a variety of venues, from the internet, The Miami Herald, to WLRN, and WPBT Channel 2 over the years.
FLORIDA
>>> Gov. Scott inserts himself into Venezuelan cause that has large block of the country's nationals in South Florida
Gov. Rick Scott came to Miami Friday to attend a rally in Doral in solidarity with local Venezuelans protesting the nation's repressive regime. Scott up for reelection in November brought along U.S. Marco Rubio, R-FL who is also urging the Obama administration to get more engaged, enact sanctions on ending the nation's turmoil. Doral Mayor Luigi Boria, the first local Venezuelan in South Florida elected to office, the mayor last week asked Scott what can be done for the people who want to overstay their tourist visas because of what is going on back home. Moreover, the governor said he would talk with federal administrators about the issue, but immigration is a solely a federal function and it remains to be seen if the local Venezuelans get the diplomatic relief they might be seeking. http://www.local10.com/news/rubio-on-venezuela-economic-sanctions-should-be-considered/24642874 >>>  http://www.local10.com/news/gov-rick-scott-urges-sanctions-against-venezuela/24733312 >>>  http://www.miamiherald.com/2014/02/28/3965867/gov-scott-obama-doing-the-wrong.html
What happened at the City of Miami on Saturday?
Further, another rally was held Saturday outside Miami City Hall and hundreds of Venezuelan's with they're nation's flag wrapped around them showed up to protest the oppressive regime of socialist Nicholas Maduro that has the country's residents protesting in the streets, resulting in violent clashes with the local police. And it looks like the turmoil in the country is bleeding into our local community's politics where there is a high concentration of Venezuelan, many of whom will be voting in November, in a race that will likely pit Scott against now Democrat, former Gov. Charlie Crist.
| | |
| --- | --- |
| Scott | Crist |
>>> Press release: Governor Rick Scott met with President Obama and urged him to use his pen and his phone this year to stop raiding Medicare to pay for Obamacare and undo the devastating National Florida Insurance Program rate hikes on Florida families.  Governor Scott also called on President Obama to stand with the people Venezuela by considering sanctions against Venezuela as long as they limit free speech.
"President Obama said he wants to use his pen and his phone this year so I brought three issues to him that are important to Florida families.  First, if the President cares about our seniors he needs to fix Obamacare immediately. We learned last week that Medicare is being raided to pay for Obamacare which is hurting our seniors who could lose access to the doctors they liked and were told they could keep. We need to give our seniors a voice and ask the President directly to not pay for Obamacare by raiding Medicare. He has stopped and delayed other broken parts of the healthcare law. He should do the same with this.
"We are also asking the President to stand with the people of Venezuela who are striving for freedom and liberty against the forces of tyranny.  President Obama should immediately announce that the US is considering sanctions against Venezuela as long as they keep limiting free speech. He should put sanctions on the table like freezing the banks accounts of Maduro and his gang and revoking the US visas of anyone involved in attacking peaceful demonstrators. The President must show that the US will stand up against oppression and support those yearning to be free. That is our duty and our calling as Americans.
"Finally, President Obama needs to undo the devastating National Flood Insurance Program rate hikes on Florida families. For too long, Florida has been a donor state to the National Flood Insurance Program by contributing $16 billion over the last three decades, which is nearly four times the amount Florida homeowners have received back in claims. Families are being hurt by outrageous increases in their flood insurance rate, all because of a bad bill the President signed into law. He can have FEMA undo these for Florida until fair rates can be established.  All the President needs is a pen and a phone to get it done."
>>> Floridians get to vote on Amendment Two on legalizing Medical Marijuana on the Nov. ballot, getting spirited debate at public forums
The issue of the legalization of medical marijuana on the November General Election Ballot this November 5 was the topic of the day Tuesday at The Good Government Initiative luncheon held at the University of Miami. The initiative created by former Miami-Dade County Comissioner Katy Sorenson to cultivate leaders of excellence had a panel of experts discussing the upcoming Constitutional Amendment Number 2 on the ballot.
The panel was made up of Ben Pollara, the pro marijuana campaign manager, state Rep. Holly Raschein, R- Key Largo, Margaret Prinzavalli Sotham, of the South Miami Drug-Free Coalition, and Kevin Sabet, Ph.D., the director of drug policy at the University of Florida and each of them had a different take on the issue.  Sorenson noted it was a timely topic, and the debate needed to get past the debate about "Reefer Madness: [or] Good Public Policy," was the event title and she noted the nation will find out the scope and impact of pot legalization and whether "is it a gateway drug," and America will find out after "whatever Colorado and Washington are experiencing," the former commissioner said.
Pollara said what the "amendment seeks to do," is make it a "national dialogue," whether marijuana should be available for medical purposes and his organization is fighting all the "distortion" and "hysteria." If Floridians had the availability "for certain medical marijuana" and these people are "real sick," and benefit by smoking marijuana, he said. He noted that multiple state polls are supportive of the measure with support running from 82 to 65 percent of statewide voters approving of the amendment that needs 60 percent of the electorate to approve it, for it to be added to the Florida Constiution.
Sabet said the issue "was proper science," and "not so much about the politics," and certainly "Marijuana certainly contains medical properties," and he is "not living in the "seventeen hundreds," but his beef is "there is no way to dose marijuana," and he was concerned there is no exact dosage of the drug when it is smoked. The man also noted, "That you don't smoke medicine," and the way the law is written, "there is no age limit and a 15-year old could get marijuana," he said without parental permission. And historically the demographics of people using pot. He said "the average user is a 32 year old white male," and his complaints are generally and the "vast majority are for lower back pain, and insomnia," he said.
Raschein, a Republican representing Monroe County suggested we "be way careful," and the state should "move forward in extreme caution," and to "start with a small population"  and while proponents are pushing the possible new "tax benefits," that argument "is not a surprise to anybody," but the lawmaker is concerned of the "major societal change," the Amendment would have on the state, and how when she was growing up, "you got grounded for pot," and believes the social impact will be felt by families. She also carped she "was always against changing the Constiution, a sacred document" and you are putting "something in concrete," and she would have liked it to "be a little bit tighter" and hopes "it will be regulated" in a clear fashion but at this point "voters will decide in November," she closed.
Sotham said "this is not hysteria," but her organizations concern is you "Don't need kids having one more challenge [if they have easy access to pot] and they will do poor academically," she said. Howard Simon, an attorney with the ACLU chimed in and he believed there was an overarching issue to the debate, and that was the unfair nature of the criminal justice system that has minorities disproportionately arrested for pot and "half the people in prison are there because of drugs," he said. In addition, he questioned what price the "status quo," had on state residents.  Moreover, the proponent said currently drugs are available at any school but it is being sold, "by the criminal world."
>>> Here is information on the Amendment on the upcoming ballot: http://ballotpedia.org/Florida_Right_to_Medical_Marijuana_Initiative,_Amendment_2_(2014) Here is the ballot language: "Allows the medical use of marijuana for individuals with debilitating diseases as determined by a licensed Florida physician. Allows caregivers to assist patients' medical use of marijuana. The Department of Health shall register and regulate centers that produce and distribute marijuana for medical purposes and shall issue identification cards to patients and caregivers. Applies only to Florida law. Does not authorize violations of federal law or any non-medical use, possession or production of marijuana." And for more on the impact of pot in California and Colorado check out http://www.cnbc.com/id/101412302
What does Gov. Scott and former Gov. Crist say about the medical marijuana?
Gov. Rick Scott has said he will not support the change in the Constiution, Crist is supporting the change, and some pundits have suggested the marijuana issue is on the ballot to gin up Democratic voter turnout in what is expected to be a tight gubernatorial race. However, proponents say if that was the case they would have pushed the matter on the presidential General Election in 2016 when statewide voter turnout is at its highest, they note.
>>> University Research Parks Vital to Jobs, STEM Industry Growth
TAXWATCH press release: Florida's nine-university research parks help create high-wage jobs, diversify the state economy and ensure Florida retains top graduates, according to a Report from Florida TaxWatch. The monthly Economic Commentary Report, authored by TaxWatch Chief Economist Jerry Parrish, Ph.D, highlights the importance of Florida's research parks to the creation and sustainability of STEM jobs in the state.
"Florida's university research parks help create jobs, and our state should continue to invest in and develop their resources to grow and diversify the state economy," said Dominic M. Calabro, president and CEO of Florida TaxWatch, the nonpartisan, nonprofit public policy research institute and government watchdog.
Florida has more university research parks than any other state, the largest of which is Central Florida Research Park. The research parks attract growing and established companies through their ability to link companies to recent research and superior facilities. Local incubators hosted by the parks also allow for researchers and entrepreneurs to connect with the marketplace.
The direct jobs from these facilities are usually in the Science, Technology, Engineering, and Mathematics (STEM) fields, which are high-wage, high-skill jobs that bring necessary investment to the state. Additionally, these jobs have a multiplier, which create indirect jobs in other categories.
Other unique services offered by university research parks include assistance with business growth planning and connecting businesses and researchers to investors. For example, the Technology Business Incubator at the Research Park at Florida Atlantic University hosts the New World Angels investor network.
The research parks also help sustain job and enterprise creation. Only 19 percent of companies created in university research parks nationwide are no longer in business. But the average startup company has a five-year survival rate of less than 50 percent.
"Florida's university research parks help companies partner with the resources of the state's top talent and research," said Parrish. "By matching our state's research capabilities with successful growing businesses, the research parks can foster continued STEM development in Florida." You can read the full Report here.
>>> And if you ever thought about adopting a child, check out the great kids on the Children's Trust's Heart Gallery page http://www.miamiheartgallery.org/#start looking for a home and great new parents.
>>> Children's Movement of Florida  Voices of Florida – We all have a story, a story that defines us. It is our collective story, our challenges and our triumphs that inspire a movement. Floridians from all walks of life have joined together with an understanding that the future of our state rests on the well-being of our children. Visit The Children's Movement website to read their stories and share your own. >>> I find it unacceptable, as all of us should, that at least a half-million children in Florida – all citizens — have no health insurance. How could this be in our beloved country that seeks to be a beacon to the world? Health insurance for all children is one of the five major planks of The Children's Movement. With the support of Florida Covering Kids and Families, The Children's Movement is working with dozens of local partners to help build a meaningful signing-up initiative in more than a dozen Florida communities. Already we have: Completed 18 KidCare trainings around the state. Signed up, trained and deployed more than a hundred volunteers. Begun to build a growing collaboration between local school districts and KidCare outreach coalitions. It's a good start, but only the start. If you'd like to become a volunteer, just click here. Another way to help is to make a contribution – of any size – to help support this work. It is easy. Just click here. A real movement isn't possible without your helping in some meaningful way. Dave Lawrence, Jr., Chair The Children's Movement.
MIAMI-DADE COUNTY
>>> Mayor Gimenez, says "The County is strong," but he is bedeviled with lesser issues, from commission veto overrides, to keeping morale and employee and services up
Mayor Carlos Gimenez, can't seem to catch a break, and his much publicized annual State of the County Speech in Hialeah on Wednesday was a technology disaster with wide spread drop outs of his live speech. The Watchdog Report contacted his press person and in an email, back last week he wrote. "We had a major tech problem with the internet connection from the Hialeah Milander Center.  During all the tests, we did up until just before starting, everything worked fine.  We even tested the network the day before at the same time to make sure of the broadband facilities being OK.  Crazy how these things happen," wrote Fernando Figueredo, Ph.D., Director – Communications and External Affairs, Miami-Dade County Office of the Mayor.
The mayor has suffered some setbacks since being reelected back in August 2012 and this high profile example was just one more foul up. Gimenez, a man that tries to make lemonade out of lemons or challenges, but has a prickly personality and does not take criticism well. He also is not a big smoozer and county commissioners have asked for more briefings on legislation and policies the mayor is pushing, and he shook up his staff recently, hoping to change that level of dialogue with the 13 county commissioners. But with a commitment to not raise property taxes, that caused a firestorm last year, and he backed off that idea. Gimenez has since had to navigate the political waters of the county with a $6.3 billion budget, and he has suffered two veto override setbacks when it came to the county's 11 unions and their demands to not have to continue to pay five percent of their salary into the self-insured county healthcare program.
Moreover, after the event Gimenez went with his family and some staff to Versailles Restaurant in Little Havana to enjoy a meal. However, two long time friends, but both also county lobbyists, Raphael Garcia-Toledo and his wife Vicky, a prominent land use attorney, also joined him. Moreover, the husband when he registered at the county last May as a lobbyist. He wrote he would lobby on "Any matters related to Miami-Dade County," he wrote on the disclosure form. In addition, political reporter Marc Caputo of www.miamiherald.com is reporting that the Garcia-Toledo's are holding a Mar. 6 fundraiser for Gov. Rick Scott at their home in Coral Gables and Gimenez is now supporting the incumbent governor's reelection at the minimum $3,000 contribution event hosted by the power couple. >>> To listen to the State of the County address go to http://www.miamidade.gov/stateofthecounty/

Gimenez
>>> New wrinkle in $1.6 billion County Water & Sewer contract, County IG asked to try to sort out validity of some company's expert's claims of past work
The $1. 6 billion Miami-Dade County Water and Sewer contract for the future decades of massive infrastructure improvements being pushed by the federal government, has hit another snag. And at a another meeting this week at County Hall Miriam Singer, the Director of Procurement said because of certain accusations and perhaps embellished statements, by one of the two companies vyeing for the contract's consultants. She is asking the Miami-Dade Office of the Inspector General to look into some of the perhaps embellishments of experience of one key person on the winning side. The person in question was David Haywood, who is the project manager and is part of the AECOM team that won the contract initially over CH2M, that has been challenging the competency and past work experience of the man and the winning company, that now the IG Office may have to sort out in the future. And readers should stay tuned and see how this ongoing county bid drama pans out in the future. Here is a past IG report on the matter months ago >>> lSD Project No. E13-WASD-01R, Program and Construction Management Services Related to the Wastewater System Priority Projects for the Miami-Dade Water and Sewer Department, November 1, 2013.
>>> And here is another just released IG report: Transmittal and Abstract of the OIG's Final Report Audit of WASD Contract No. 9681-01/17 for the Sale, Transportation and Disposal of Class AA Sludge and Contract No. 7122-2/13 OTR for the Hauling and Disposal of Class B Sludge; IG13-18, February 13, 2014.
>>> Vexing issue of annexation and incorporation brings heated passions to the debate at county hall.
The issue of annexation and incorporation was the discussion of the day Thursday at the Miami-Dade County Special Commission meeting and proponents of incorporation have been daunted since 2007, when the commission put a moratorium on the matter until more recently. The county with 2.6 million residents has struggled with the issue for years, and not allowing areas to "cherry pick," upscale tax bases has been a sticking point. The Unincorporated Municipal Service Area (UMSA) has roughly 1.1 million residents and the county's 34 municipalities surround the area but there are "holes in the donut," within UMSA that are difficult for the county to service.
Critics say incorporating an area will only raise taxes and create another level of government, while proponents argue it brings citizen's government closer to the people, and that local municipalities are more responsive to citizens needs, they argue. Former Miami Gardens Mayor Shirley Gibson told commissioners that when it came to affluent cities annexing some areas in the county.  "No one will pickup the marginal communities," and she urged the commission to "let them vote," on if they want to incorporate or not. Another speaker argued the way the county was divided up now was made up of affluent and poorer areas and was "economic apartheid." He also said, the commission should make some decisions after a discussion of a further study on the matter, that he said had been "studied to death," he considered.
In addition, while the commission ultimately agreed to do a further study. The issue is one of the most passionate and vexing challenges facing county commissioners, and residents are significantly divided on the matter and whether to create a new level of bureaucracy, that a new city would create, and whether the county commission was the more efficient route for many taxpayers who fear an increase in their taxes as a smaller service entity if their area become incorporated.  http://www.miamiherald.com/2014/02/27/3963330/potential-new-or-expanded-cities.html#storylink=misearch
What about the speaker's passions at the meeting?
A host of public speakers spoke for hours at the meeting, and for many of them, the tone they took was sharp and passionate for one side or the other, or for others, they just wanted to know what the options might be in the future. However, they all in some ways asked the county commissioners to keep them abreast of any future meetings, with plenty of public notice, with public announcements in English, Spanish and Creole were the language requests. If that was possible, they asked the elected body throughout much of the meeting. >>> And for more on the incorporation issue check out www.wpbt2.org/issues where Herald county reporter Patricia Mazzei is interviewed on the matter by show host Helen Ferre.
>>> PAST WDR:  Will state legislation "kill the cow," known as MDX, controls bulk of local freeways?
The Miami-Dade Expressway Authority (MDX) is under siege by state Rep. Jeanette Nuñez, R-Miami and state Sen. Rene Garcia, R-Hialeah who are sponsoring legislation that would modify how toll funds would be distributed, and essentially, "kill the cow" because you were upset with the milk said Maurice Ferre at Thursday's Miami-Dade County Metropolitan Planning Organization. Ferre considered a transportation maven, is the chair of the MDX board and the organization is lobbying quietly to kill the bill. He said MDX staff would be meeting with the state representative the next day and the organization hopes they will be able to convince the lawmaker her bill needs to be modified from its existing language, and its potential damage to the expressway authority, the former Miami mayor said.
However, County Commissioner Juan Zapata, a former state legislator on the MPO said he has been trying for seven years when he was a state representative to get MDX to be more fair in its tolling structure. A tolling structure he believes is paid by residents in the west end of the County and these drivers have the longest commute he said to other MPO members. He noted it is costing him over $1,000 a year to come to downtown, and challenged MDX to give him a breakdown of which drivers are paying tolls, because he believes it is on the backs of West Dade residents, he said. In addition, the Nuñez and the Garcia legislation is just an expression of these west Dade residents concerns. If the tolling system's costs was being fairly distributed among all drivers that use the local expressways and Zapata is asking for a breakdown of where the MDX toll funding is coming from. However, this is an ongoing issue now and it is clear, the role of MDX is going to be on the front burner of the upcoming legislative session, unless the lawmakers relent and readers should stay tuned.
Anything new on this?
Last week a MDX board member, Rick Rodriguez Pina told me that the bill could reduce the authority's revenues by "some $100 million," and that the bond rating agencies are getting spooked by the uncertainty the legislation is generating, he said. He noted a reduced bond rating would costs the MDX and local drivers in higher financing costs in the future and is one of the unexpected consequences of the proposed legislation, he said.

>> And to review all the Miami-Dade County Commissioners and other county officials financial disclosure forms for the year go to http://public.ethics.state.fl.us/results.cfm?org_id=214439&suborg_id=233972&Mode=By_SubOrg
>>> GMCVB press release: International passenger arrivals for the month of January 2014 at Miami International Airport (MIA) increased by 8.2% and domestic passenger arrivals increased by 4.2%. Total passenger arrivals at Miami International Airport (MIA) increased in the month of January 2014 by 6.2%.
MIA Passenger Arrivals
International Arrivals
January 2014
January 2013
% Change vs. 2013
959,251
886,905
+8.2%
Domestic Arrivals
January 2014
January 2013
% Change vs. 2013
878,444
842,919
+4.2%
Total Arrivals
January 2014
January 2013
% Change vs. 2013
1,837,695
1,729,824
+6.2%
PUBLIC HEALTH TRUST
>>> PHT management and trustees huddle in closed session strategic retreat, setting course of Jackson Health System for years to come, let's hope they get it right in competitive, changing healthcare environment under federal ACA Law
The PHT board held a strategic retreat Friday, and while part of the meeting was public, the Watchdog Report got there late and the seven-member board was just starting a closed session to discuss the hospital's future strategy in the changing healthcare market, that will be based on patient outcomes and satisfaction with the medical care. Some good news in the handout documents for the meeting was the increase of patient satisfaction to around 74 percent, up from the 60s and that is good news for the public hospital system that recently got a $830 million bond passed by county voters for infrastructure upgrades and other much needed technology, that had yet to be addressed over much of the past decade and was desperately needed.
The PHT has risen from the fiscal dead and while it gets some $350 million in public tax dollars, that number could not keep up with the some $500 million plus in charity and uncompensated care, the hospital gives annually. PHT President Carlos Migoya along with hospital and medical staff, who made major concessions over the past four years, around "400 million," in reduced salaries and benefits have kept the public hospital in the black recently, but that has been no easy task and will get harder as federal and state funding is reduced and will add a further fiscal strain to the health system with a $1.3 billion yearly budget, and with around 10,000 employees, and has academic affiliations with the medical schools at the University of Miami and Florida International University, that will be graduating its second class of 43 medical students this April, said the FIU Medical School Dean John Rock, M.D.
CITY OF MIAMI
>>> Commission confirms Alfonso as new manager; Commissioner Sarnoff sets the ground rules, with "full-contact-sport," reference of the job, and dealing with commissioners
Daniel J. Alfonso was confirmed Thursday as the new City of Miami Manager and the former Gulf War I veteran has his work cut out for him given the highly political nature of the five-member commission. Further, later in the day he faced a barrage from Miami Police union leaders demanding increased wages after the union members have given four years of cuts and pay cuts over the years while the city was in fiscal turmoil, but has more recently stabilized its fiscal out look and the city's reserves are much more robust than in past years.  http://www.miamiherald.com/2014/02/27/3963001/miami-city-commissioners-confirm.html#storylink=misearch
Since Alfonso had been the interim manager when past Manager Johnny Martinez was ill, the Miami commissioner's had worked with the man in this capacity in the past. However, it was Commissioner Marc Sarnoff who set the tone during the discussion of what the new manager faced. Sarnoff, said, the position is "a full contact-sport," and a "high pressure job," and the commissioner seemed to relish putting pressure on the manager in the future. Even though the manager is supposed to run the city and in many ways be, free of political interference, except for the setting of policy. Sarnoff who is termed out in 2015 has become a one man show in some ways on the commission and he has a habit of making fun of others at their expense, that has his critics questioning if he has any political future when he leaves office, and how he works with this manager may be what determines his political legacy in the years to come.
VILLAGE OF COCONUT GROVE
>>> Grovite and Businessman Bunnell Sentenced for Violating the Federal Rivers and Harbors Act
Press release: Wifredo A. Ferrer, United States Attorney for the Southern District of Florida, Maureen O'Mara, Special Agent in Charge, United States Environmental Protection Agency, Criminal Investigation Division, Atlanta Area Office, and Colonel Alan M. Dodd, U.S. Army, Corps of Engineers, announce that Richard A. Bunnell, 70, of Coconut Grove, was sentenced yesterday for violations of federal law involving the illegal construction of structures, including docks and piers, in the navigable waters of the United States in violation of the Rivers and Harbors Act. Bunnell was sentenced before U.S. District Judge K. Michael Moore on two counts of knowingly placing and erecting structures, docks, and piers within navigable waters of the United States, without, or in violation of, valid permits from the United States Army Corps of Engineers authorizing such conduct. Bunnell previously pled guilty to the charges before Judge Moore on December 26, 2013.
Bunnell was sentenced to six months home detention with electronic monitoring as well as concurrent probationary terms of five years on each of the counts of conviction. Bunnell was also ordered to pay a criminal fine of $175,000 and an additional payment of $50,000 to the South Florida National Parks Trust for management, restoration, and research. Finally, pursuant to the terms of the plea agreement in the case, Bunnell must file any necessary permit applications for six Miami-area installations involved in the case, and commence any corrective action required by the Army Corps of Engineers to modify or alter the installations to comply with Federal law, including the payment of mitigation for damage to natural resources. Mr. Ferrer commended the investigative efforts of the Environmental Protection Agency, Criminal Investigation Division, and the U.S. Army Corps of Engineers.  The case was prosecuted by Special Assistant U.S. Attorney Jodi A. Mazer and Assistant U.S. Attorney Thomas Watts-FitzGerald. A copy of this press release may be found on the website of the United States Attorney's Office for the Southern District of Florida at www.usdoj.gov/usao/fls.
CITY OF MIAMI BEACH
>>> Jack Johnson, Chairman of the Miami Beach Community Development Corp. is the featured speaker at the TUESDAY MORNING BREAKFAST CLUB Meeting Date: March 4th, 2014 Meeting Time: 8:30 AM Meeting Place: David's One, corner of Collins Avenue and 11th Street
Jack Johnson, Chairman of the Miami Beach Community Development Corp., and Dennis Russ, acting Executive Director, will be the guest speakers at the March 4th meeting of the Tuesday Morning Breakfast Club. Recently there has been some controversy over the operation and finances of the Miami Beach Development Corporation, especially with the resignation of the former Director Roberto Datore, and Mr. Johnson and Mr. Russ will answer questions and try to set the record straight. There is no charge for attending and everyone is welcome. David Kelsey, Moderator Visit our web site at www.MBTMBC.com (Miami Beach Tuesday Morning Breakfast Club).
CITY OF CORAL GABLES
>>> Gables residents get to hear from Miami Today publisher Lewis Mar.3, should be a real treat at business luncheon group
Coral Gables residents get a treat Monday when Michael Lewis, the publisher of the weekly The Miami Today is the featured speaker at the Ponce Business Association and here is the event announcement: PONCE BUSINESS ASSOCIATION www.poncebusiness.com  poncebusiness@gmail.com  "Keeping you abreast of the pressing issues affecting Coral Gables." We meet the first and third Mondays of the month at JohnMartins restaurant (253 Miracle Mile – 2nd floor) at noon.  Lunch is $20 for members and $25 for non-members
Next Meeting March 3rd, 2014, Speaker from The Miami Today, Michael Lewis
We will have Michael Lewis from the Miami Today speaking at our next luncheon March 3rd, 2014.  Michael Lewis is founder, publisher and editor of MIAMI TODAY, the award-winning newspaper he founded that is now in its 31st year.
MIAMI TODAY serves the civic and business communities, providing information vital to executives that is not readily available elsewhere. The focus is on persons, businesses and institutions that are building and uplifting the region, creating the community of tomorrow. The content is news that can be used and is needed. Its MiamiTodayNews.com broadens the newspaper's reach, as does its growing subscription-only digital edition. Miami Today also offers an annual Book of Leaders, acting as a Who's Who of Miami leaders. Miami Today's readership stretches from Aventura to South Dade, from Miami Beach to far West Dade. The circulation now totals nearly 28,000 and readership approaches 75,000 persons weekly in the print edition alone, far more when the digital edition and web site are included. Over the years, Miami Today has earned nearly 100 national and state awards for content. Miami Today is based at 2000 South Dixie Highway.
Michael Lewis was a senior editor with the now-defunct Miami News when he left in 1981 to found Miami Today. Prior, he had held senior positions with the Orlando Sentinel, the Charlotte Observer and the New York Post. He began his newspaper career in Michigan, where he founded his first newspaper in resort community Harbor Springs. He is a native of Chicago. He holds both bachelor's (magna cum laude) and master's degrees in Literature, Science and the Arts with a concentration in Journalism from the University of Michigan, where he was an academic honoree of Phi Beta Kappa. He is married to Carmen Betancourt-Lewis, vice president of Miami Today. They reside in Key Biscayne.
>>> City Is Looking For Volunteers To Serve On Green Initiatives – The City of Coral Gables is working on a Sustainability Master Plan that will help create a roadmap for environmental and sustainable best practices citywide. Working closely to advise Coral Gables officials on environmental issues that support a sustainable community is the mission of the City's Green Task Force. The City has received several nominations from residents interested to serve, but more nominations are needed, especially from residents who have a professional planner background. The 11-member Task Force will make recommendations regarding the environmental sustainability of City programs, services, equipment, and facilities, as well as assist in developing a plan for increasing environmental awareness and participation. The Task Force will be comprised of a landscape architect, a planner, a person interested in historic preservation, an engineer, an architect, a member from the University of Miami, one from the Coral Gables Chamber of Commerce and another from the Garden Club, as well as three city residents — two appointed by the City Commission and one by the City Manager. If you are interested in participating in this group, submit your résumé, along with a cover letter specifying in which capacity you wish to serve, to the Office of the City Clerk, 405 Biltmore Way, Coral Gables, FL 33134. The information received will then be forwarded to the City Commission and City Manager for consideration. You must be a resident of Coral Gables to serve on the Green Task Force.
CITY OF OPA LOCKA
>>> Defendant Sentenced in Identity Theft Tax Fraud Scheme
Press release: Wifredo A. Ferrer, United States Attorney for the Southern District of Florida, and José A. Gonzalez, Special Agent in Charge, Internal Revenue Service, Criminal Investigation (IRS-CI), announce that defendant Wendy Sands, 42, of Opa-Locka, was sentenced today to 26 months in prison, to be followed by three years of supervised release. Sands previously pled guilty to one count of possessing fifteen or more unauthorized access devices with the intent to defraud, in violation of Title 18, United States Code, Section 1029(a)(3), and to one count of aggravated identity theft, in violation of Title 18, United States Code, Section 1028A. According to court documents, on January 16, 2013, Sands met with a confidential source (CS) and Sands was unaware the CS was working for the government. During the meeting, Sands provided the CS with documents that contained personal identifying information — including names, dates of birth, and social security numbers — for approximately 64 stolen identities. Sands knew that these 64 stolen identities belonged to real people and that the 64 victims did not authorize her to possess their personal information. Sands also knew that the stolen personal identifying information would be used to file fraudulent tax returns. Mr. Ferrer commended the investigative efforts IRS-CI. The case is being prosecuted by Assistant U.S. Attorney Vanessa Snyder. A copy of this press release may be found on the website of the United States Attorney's Office for the Southern District of Florida at www.usdoj.gov/usao/fls.
VILLAGE OF KEY BISCAYNE
>>> TRAFFIC ADVISORY: RICKENBACKER CAUSEWAY TOLL LANE SCHEDULE
Press release: Toll lanes on the Rickenbacker Causeway will observe the following schedule beginning Tuesday, February 18, 2014:
6:00 a.m. to 8:00 p.m. Lanes 7 and 8 (the two far right lanes) will be closed.  Traffic will be managed through use of all or some of Lanes 1 through 6 depending on the volume of traffic.
8:00 p.m. to 6:00 a.m. Lanes 1 through 6 will be closed. Traffic will be managed using Lanes 7 and 8 (the two far right lanes). This schedule change will remain in place until further notice.
>>> OTHER STORIES AROUND FLORIDA
BROWARD COUNTY
>>> Gov. Scott taps Heather Brinkworth as a School Board Member of Broward County Public Schools.
Press release: Brinkworth, 45, of Fort Lauderdale, is a regional program manager for the Barbara Bush Foundation for Family Literacy. She was previously a reading teacher at Stranahan High School and Lauderhill Middle Community School. Brinkworth has served as the chair of the City of Fort Lauderdale Education Advisory Board. She received her bachelor's degree from Florida Atlantic University. Brinkworth is appointed to fill a vacancy created by the resignation of Katie Leach for a term beginning February 28, 2014 and ending November 18, 2014.
Governor Rick Scott said, "Heather's dedication to serving students makes her a great choice to serve on the Broward County School Board. I am confident that she will continue her work to provide the students of Broward County with a great education."
>>> Residents can review they're county commissioners financial disclosure forms on line — Residents of Broward County can now review they're county commissioners financial disclosure forms on line and to see the inner financial workings of these elected officials go to  http://public.ethics.state.fl.us/results.cfm
>>> Thank you for using the Broward County Commission Agenda E-mail Notification System. A new Broward County Commission Agenda is available. Point your browser to http://www.broward.org/commission/welcome.htm to view the new agenda.
DEERFIELD BEACH
>>> Two Defendants Sentenced in Identity Theft Tax Refund Fraud Scheme
Involving Thousands of Patients' Personal Identity Information
Press release: Wifredo A. Ferrer, United States Attorney for the Southern District of Florida, Michael B. Steinbach, Special Agent in Charge, Federal Bureau of Investigation (FBI), Miami Field Office, and Jose A. Gonzalez, Special Agent in Charge, Internal Revenue Service, Criminal Investigation (IRS-CI), announce that defendants Tiffany Shenae Cooper, 33, of Deerfield Beach, and Angela Dione Rosier, 41, of Coral Springs, were sentenced today for their participation in a stolen identity tax refund scheme. Cooper was sentenced to 57 months in prison, to be followed by three years of supervised release. Rosier was sentenced to 49 months in prison, to be followed by three years of supervised release. The court also ordered both defendants to pay $129,390.06 in restitution to the IRS and the medical services provider whose database had been breached.
Cooper previously pled guilty to one count of possession of fifteen or more unauthorized access devices, in violation of Title 18, United States Code, Section 1029(a)(3), and one count of aggravated identity theft, in violation of Title 18, United States Code, Section 1028A. Rosier previously pled guilty to one count of conspiracy to commit access device fraud, in violation of Title 18, United States Code, Section 1029(b)(2).
Co-defendants Michael Ali Bryant, Sr., 41, of Lauderdale Lakes, and Marquis Onigirin Moye, 24, of Pompano Beach, each previously pled guilty to one count of possession of fifteen or more unauthorized access devices, in violation of Title 18, United States Code, Section 1029(a)(3), and one count of aggravated identity theft, in violation of Title 18, United States Code, Section 1028A. Bryant's sentencing is scheduled for April 11, 2014. Moye is scheduled to be sentenced on March 28, 2014. At sentencing, each of the defendants face a maximum of ten years in prison for the possession of unauthorized access devices charge, and a mandatory term of two years in prison, consecutive to any other term in prison, for the aggravated identity theft charge.
Michael Bryant's wife and co-defendant Latina Rashawn Bryant, 43, of Lauderdale Lakes, previously pled guilty to one count of using an unauthorized access device, in violation of Title 18, United States Code, Section 1029(a)(2), and one count of aggravated identity theft, in violation of Title 18, United States Code, Section 1028A. Sentencing is scheduled for March 28, 2014.
According to court documents, a confidential source (CS) initially approached Michael Bryant and inquired about purchasing narcotics. Bryant told the CS that he did not have any narcotics but that he did have personal identity information (PII) that he was willing to sell to the CS. The CS made a controlled purchase of ten pages (each page containing approximately 20 to 25 names) of PII. Bryant instructed the CS on how to commit tax fraud using the PII, and provided the CS with specific instructions on what information to enter into the web pages of the internet-based tax services to obtain a tax refund. An examination of the PII revealed that it was from a medical services provider.
Co-defendant Rosier was an employee of the medical services provider. Co-defendant Cooper spoke to Rosier to obtain user names and passwords for current employees of the medical services provider. Cooper admitted to illegally logging on to the medical services provider's computer network and downloading PII for the purpose of committing various types of fraud. She was assisted in her activities by Rosier and co-defendant Moye. Mr. Ferrer commended the investigative efforts of the FBI and IRS-CI. The case is being prosecuted by Assistant U.S. Attorney Cynthia R. Wood. A copy of this press release may be found on the website of the United States Attorney's Office for the Southern District of Florida at www.usdoj.gov/usao/fls.
PALM BEACH COUNTY
>>> And reader's can check out they're leaders financial disclosure forms on line at http://public.ethics.state.fl.us/results.cfm
WEST PALM BEACH
>>> Two Men Arrested on Charges of Participating in a Cargo Theft Ring
Press release: Wifredo A. Ferrer, United States Attorney for the Southern District of Florida, Michael B. Steinbach, Special Agent in Charge, Federal Bureau of Investigation (FBI), Miami Field Office, and Ric L. Bradshaw, Sheriff, Palm Beach County Sheriff's Office, announce the arrests of Eliesky Sanchez, 31, and Reinaldo Garcia Suarez, 39, both of West Palm Beach. The defendants were charged by criminal complaint with conspiracy to receive goods stolen from an interstate or foreign shipment, in violation of Title 18, United States Code, Section 659, and sale or receipt of stolen property, in violation of Title 18, United States Code, Section 2315, all in violation of Title 18, United States Code, Section 371.
The defendants made their initial appearances today at 10:00 a.m. before U.S. Magistrate Judge Dave Lee Brannon. A pre-trial detention hearing for Sanchez has been scheduled for March 5, 2014.  A pre-trial detention hearing for Garcia Suarez has been scheduled for March 7, 2014. According to the criminal complaint, the investigation revealed that Eliesky Sanchez and Reinaldo Garcia Suarez were actively selling and providing as samples property which bore identifying numbers that matched the identifying numbers on the products stolen from different tractor trailer thefts. Items sold and/or provided as samples included, but were not limited to, Liquid Crystal Display vehicle monitors, Invicta wrist watches, Ralph Lauren clothing items, Proctor & Gamble products, and Nestle brand products.
According to the criminal complaint, on February 25, 2014, a confidential informant (CI) met with the defendants at the Extra Space Storage facility located in Palm Springs. During their meeting, the defendants opened the storage units and showed the CI pallets of merchandise inside of each unit. During this time, the CI had an empty trailer dropped off at this location as part of his undercover role. The CI discussed with the defendants filling the trailer with merchandise which the CI would purchase on February 27, 2014, and then ship to Brazil. As part of these arrangements, the CI agreed to purchase approximately three 53' trailer loads of merchandise from the defendants over the course of a few days.
If convicted, the defendants face a maximum of five years in prison on the conspiracy charge.Mr. Ferrer commended investigative efforts of the FBI and the Palm Beach County Sheriff's Office. This case is being handled by Assistant U.S. Attorney William T. Zloch. A criminal complaint is merely an accusation and a defendant is presumed innocent unless and until proven guilty. A copy of this press release may be found on the website of the United States Attorney's Office for the Southern District of Florida at www.usdoj.gov/usao/fls.
>>> And to read all the Palm Beach elected leader's financial disclosure reports go to http://public.ethics.state.fl.us/results.cfm
PUTNAM COUNTY

>>> Gov. Scott taps Lawrence Harvey as a County Commissioner
Harvey, 52, of Interlachen, is the former chief executive officer of Harvey Insurance Agency Inc. He has served on the board of Communities in Schools of Putnam County and on the board of directors for the Putnam County Chamber of Commerce. Harvey fills a vacancy created by the death of Ed Taylor and is appointed for a term beginning February 27, 2014, and ending November 18, 2014.
PINELLAS COUNTY
>>> Press release: Gov. Scott names Kenneth "Ken" Burke to the Higher Education Coordinating Council. Burke, 54, of Seminole, is the Pinellas County Clerk of the Circuit Court. He is appointed for a term beginning February 18, 2014, and ending June 30, 2015.
COMMUNITY EVENTS
>>> MIAMI-DADE COUNTY PARKS AND THE KNIGHT FOUNDATION PRESENT A FREE caribbean-Reggae concert at Goulds Park on Friday, March 7 Wyle Fyah  Band
Press release: Enjoy a free Caribbean-Reggae concert under the stars by Wyle Fyah on Friday, March 7, 2014 at Goulds Park, 21805 SW 114 Ave., Miami.  This family-style concert is part of the season's expanded Noches Tropicales/Tropical Nights free concert series presented by the Miami-Dade County Parks, Recreation and Open Spaces Department and sponsored by the Knight Foundation. Showtime is 7:30 p.m. and admission and parking are free. Clifford Mayers, aka "Socaman Cliff", formed the band Wyle Fyah in 1998. The group performs a diverse repertoire of Reggae, Soca, Calypso, Rock, Blues, Top 40's, and Louis Armstrong classics. They have opened concerts for such musical superstars as Jimmy Buffet, Third World, Inner Circle, and Shaggy. Cliff has also performed at the world famous Apollo Theater in New York City.
Concert goers are encouraged to bring along a blanket, chairs and snacks to better enjoy the festivities.  In the event of rain, concerts may be cancelled. Concert performers are subject to change. For more information on Noches Tropicales/Tropical Nights concerts, call Vivian Greer Digon at 305-271-0812 or visit Miami-Dade County Parks on the web at www.miamidade.gov/parks.
Mark your calendar for April 4 – the season's finale will feature a live concert by Tony Swing at Tropical Park.  To stay up to date on all future events, like us on Facebook www.facebook.com/miamidadeparks; and follow us on Twitter @miamidadeparks. You can also see past events on our YouTube channel at www.youtube.com/user/miamidadeparks.
Miami-Dade County Parks kicked off its free Noches Tropicales/Tropical Nights 2013/2014 concert season with a star-studded Latin Jazz Gala concert at the Miami-Dade County Auditorium (MDCA) on September 20.  The Gala concert was led by 10-time Grammy Award-winning percussionist Edwin Bonilla and his Latin Jazz All-Star Ensemble, and included musical performances by five-time Grammy winning violinist Federico Britos, legendary Cuban flutist Gustavo Cruz and vocalist Lucy Grau. These concerts were made possible by a $100,000 Knight Foundation grant to expand the Noches Tropicales concert series from its home base at Tropical Park to other venues throughout the County and taking on the name of "Tropical Nights".   The Noches Tropicales concerts at Tropical Park are made possible by a $75,000 grant from Target.
Noches Tropicales and Tropical Nights are produced each year by Miami-Dade Parks to bring communities closer together through the presentation of culturally diverse entertainment that is free and enjoyable for families.  Now in its eighth year, Noches Tropicales, inaugurated by Miami-Dade County Commissioner, Senator Javier D. Souto, has showcased more than  30 evening concerts at Tropical Park that have included traditional Cuban contemporary music and zarzuelas, Argentinean tango, Brazilian Jazz, and a Spanish-language version of Shakespeare's Romeo and Juliet.  More than 45,000 patrons have attended Noches Tropicales concerts over the years.
About the Miami-Dade County Parks, Recreation and Open Spaces Department:
Nationally accredited, a three-time winner of the NRPA National Gold Medal Award, winner of the 2013 Florida Governor's Sustained Excellence Award and the 2009 Florida Governor's Sterling Award for excellence in management and operations, Miami-Dade County Parks is the third largest county park system in the United States, consisting of 260 parks and 12,825 acres of land.  It is one of the most unique park and recreation systems in the world.  Made up of more than just playgrounds and athletic fields, it also comprises out-of-school, sports-development, and summer-camp programs; programs for seniors and people with disabilities; educational nature centers and nature preserves; environmental restoration efforts; arts and culture programs and events; the renowned Zoo Miami and the Deering Estate at Cutler; the Crandon Tennis Center, home of the Sony Open; golf courses; beaches; marinas; campgrounds; pools; and more.  For information about Miami-Dade County Parks call 3-1-1, or visit www.miamidade.gov/parks/.
>>> Join the Epilepsy Foundation of Florida at Walk the Talk for Epilepsy and support Floridians living with epilepsy!
For seven years, EFOF has hosted walks throughout the state each spring to raise awareness and funds for this common condition. Did you know one in 26 people will be diagnosed with epilepsy in their lifetime? Walk the Talk for Epilepsy 2014 is almost here! Register today to help make a difference in 375,000 Floridian's lives and enjoy a day of family fun. Miami, March 22, Tropical Park, 7900 SW 40th Street, Miami, FL 33155 Click here register to walk and purchase tickets Click here to start a fundraising team or join one! Can't attend the walk, but want to make a donation? Click here! Tickets are $25. Your support and collaboration helps the foundation provide medical and social services and continue to lead the fight to stop seizures, find a cure and overcome the challenges created by epilepsy. For details contact your local Epilepsy Foundation of Florida Office at 305-670-4949
>>> Join the Early Learning Coalition of Miami-Dade/Monroe as we raise funds through TICKETS fore CHARITY!
TICKETS fore CHARITY is a unique fundraising initiative designed to raise funds for local nonprofit organizations where PGA TOUR events are held. By buying tickets to this golf event, you will be directly impacting the quality of education for children in Miami-Dade and Monroe counties. All funds raised (that's 100%!) through our unique promotional code CHIP14 come directly back to our organization.  The Cadillac Championship continues to bring together the worlds of fashion, music and entertainment at one of the most elite and exciting tournaments on golf's calendar during this year's event at the Trump National Doral on March 5-9, 2014. There's something for everyone in the family, and children 18 and under get in FREE with a ticketed adult!

>>> The Margulies Collection is open to the public Wednesday through Saturday 11am to 4pm Feature Exhibitions: Song Dong | The Wisdom of the Poor: A Communal Courtyard Arte Povera | Calzolari, Kounellis, Pistoletto Anselm Kiefer | Paintings and Sculpture 1986 – 2006 New Painting: Anna Betbeze, Aaron Bobrow, Jessica Jackson Hutchins, Astrid Svangren,Tam Van Tran New Photography: Olafur Eliasson, Jan Hoek, Nina Katchadourian, Domenico Mangano, Zwelethu Mthethwa, Hank Willis Thomas New Sculpture: Ai Weiwei, Nathalie Djurberg, Masao Gozu, Kenny Scharf, Paolo Ventura
New Video: Kota Ezawa, Amar Kanwar We look forward to welcoming you to the Warehouse soon!
Jannis Kounellis,Senza Titolo,1999, plates, iron shelves, bags, plaster, 142 x 79″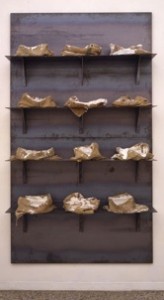 EDITORIAL
>>> Miami-Dade delegation must cajole other state lawmakers to change federal healthcare distribution formula, JHS hit with new $140 million funding loss, and impact could ripple through all health systems in South Florida to the detriment of all 2.6 million residents when it comes to their healthcare choices
With the Florida Legislature meeting March 4, and starting the body's 60 day session, the Miami-Dade Legislation Delegation must push and cajole their peers to correct the state's 2011 Medicaid reform law and the formula that distributes the draw down of federal dollars that get divided up among safety net hospitals. And in the case of Jackson Health System (JHS), it is a $140 million hit. http://www.miamiherald.com/2014/03/01/3968161/jackson-expected-to-lose-140-million.html
JHS over the past few years has changed and is no longer the poster child of what was perceived by state legislators around Florida as a hub of waste and mismanagement and political meddling by the local County Commission. Moreover, the PHT Carlos Migoya administration has made remarkable improvements in the fiscal management, while also providing "cutting edge medicine," and patient satisfaction has risen in the process, but this new financial hit must be mitigated. For the public hospital system, is also the anchor hospital in any WMD event or some other natural catastrophe and of course, there is the world-renowned JHS/UM Ryder Trauma Center (That most communities would love to have and trains the bulk of trauma surgeons around the globe, as well as all Army physicians before they rotate to their combat assignments).
Further, JHS sends the bulk of the seed money to Tallahassee necessary to draw down this federal funding. That under the new formula will now be distributed to other hospitals around the state, some of which do not contribute to this drawdown, or are private for profit health systems. And even the not-for-profits, such as Baptist Health South Florida, will feel the fiscal pain to the tune of $16.3 million, Miami Children's Hospital is losing some $12.8 million, and the University of Miami gets hit with a $26.6 million funding reduction, and these across the board cuts in the coming year starting July 1, must not be instituted as is.
For not only is the formula unfair to South Florida's 2.6 million residents, who provide some 30 percent of the state's overall revenue. We also have the highest number of indigent and charity care patients and has JHS doing some $500 million in such care, Baptist does around $290 million and a host of other hospitals have to provide such uncompensated care. Moreover, local state lawmakers must get the job done and change this funding formula this session for if JHS gets pushed over the fiscal edge; it will cascade through all of our health systems and has the potential to cripple the state of the art healthcare being delivered here in South Florida. In addition, once that capability is threatened, it will affect each of us and must be changed if we are to continue being a state of the art medical destination, with top-notch physicians and facilities to match that claim, that once that reputation is gone is very hard to replace.
>>> LIFETIME FOUNDING MEMBERS & INITIAL SPONSORS IN 2000
ANGEL ESPINOSA – (Deceased) owner COCONUT GROVE DRY CLEANER'S
HUGH CULVERHOUSE, Jr
FLORIDA POWER & LIGHT www.fpl.com .
THE MIAMI HERALD     www.miamiherald.com (2000-2008)
ARTHUR HERTZ
WILLIAM HUGGETT, Seamen Attorney (Deceased)
ALFRED NOVAK
LINDA E. RICKER (Deceased)
JOHN S. and JAMES L. KNIGHT FOUNDATION  www.knightfoundation.org
THE HONORABLE STANLEY G. TATE
>>> Watchdog Report supporters – $2,000 a year
BADIA SPICES    www.badiaspices.com
RONALD HALL
MIAMI-DADE COUNTY www.miamidade.gov
UNITED WAY OF MIAMI-DADE COUNTY www.unitedwaymiamidade.org
>>> Watchdog Report supporters – $1,000 a year
AKERMAN SENTERFITT   www.akerman.com
BERKOWITZ POLLACK BRANT Advisors and Accountants www.bpbcpa.com
JEFFREY L. BERKOWITZ TRUST
RON BOOK
LINDA MURPHY: Gave a new laptop in Oct. 2001 to keep me going.
WILLIAM PALMER www.shutts.com
SHUBIN & BASS     www.shubinbass.com
WILLIAMSOM AUTOMOTIVE GROUP http://williamsonautomotivegroup.com/
>>> Public, Educational & Social institutions – subscribers at $1,000 or less
CAMILLUS HOUSE, INC.   www.camillushouse.org
CITY OF MIAMI www.miamigov.com.
CITY OF CORAL GABLES www.coralgables.com
CITY OF MIAMI BEACH www.miamibeachfl.gov
CHAPMAN PARTNERSHIP FOR HOMELESS www.chapmanpartnership.org
FLORIDA INTERNATIONAL UNIVERSITY  www.fiu.edu
THE STATE OF FLORIDA    www.myflorida.gov
GREATER MIAMI CHAMBER OF COMMERCE www.miamichamber.com
GREATER MIAMI CONVENTION & VISITORS BUREAU www.miamiandbeaches.com
HEALTH FOUNDATION OF SOUTH FLORIDA  www.hfsf.org
MIAMI-DADE COUNTY COMMISSION   www.miamidade.gov
MIAMI-DADE COMMISSION OFFICE OF THE CHAIR www.miamidade.gov
MIAMI-DADE COUNTY ETHICS & PUBLIC TRUST COMMISSION
MIAMI-DADE COUNTY HOMELESS TRUST: www.miamidade.gov/homeless/
MIAMI-DADE COLLEGE www.mdc.edu
MIAMI-DADE COUNTY INSPECTOR GENERAL www.miamidade.gov/ig
MIAMI-DADE PUBLIC SCHOOLS BOARD www.dadeschools.net
MIAMI-DADE PUBLIC SCHOOLS www.dadeschools.net
MIAMI DOWNTOWN DEVELOPMENT AUTHORITY www.miamidda.com
PUBLIC HEALTH TRUST & JACKSON HEALTH SYSTEM www.jhsmiami.org
THE BEACON COUNCIL   www.beaconcouncil.com
THE CHILDREN'S TRUST www.thechildrenstrust.org
THE GOOD GOVERNMENT INITIATIVE http://goodgov.net/
THE MIAMI-DADE COUNTY LEAGUE OF CITIES www.mdclc.org
THE MIAMI FOUNDATION  www.miamifoundation.org
UNITED STATES OF AMERICA    http://www.firstgov.gov/
UNIVERSITY OF MIAMI             www.miami.edu
The Watchdog Report covers a few of the meetings attended weekly. It remains my belief that an informed public will make better decisions. Therefore, I go to meetings, make the presence of an informed citizen known, and bring the information to you.   The Watchdog Report is in the 14th year of publication and it has been an honor to be able to send this information to you. It is sent to readers in Miami-Dade, Florida, the U.S. and the world. The Watchdog Report is sent to thousands free and while readers have been prodded to subscribe the results have been mixed. Over 800 reports and Extra's have been sent since May 5, 2000 and over two million words have been written on our community's governments and events.  The report is an original work based on information gathered at public meetings, interviews and from documents in the public domain.
LETTER POLICY
I welcome letters via e-mail, fax, or snail mail. Letters may be edited for length or clarity and must refer to material published in the Watchdog Report.  Please see address and contact information. Please send any additions and corrections by e-mail, fax or snail mail. All corrections will be published in the next Watchdog Report. If you or your organization would like to publish the contents of this newsletter, please contact me. Please send your request to watchdogreport1@earthlink.net
Daniel A. Ricker
Publisher & Editor
Watchdog Report www.watchdogreport.net
Est. 05.05.00
Copyright © of original material, 2014, Daniel A. Ricker
>>> The Watchdog Report are now available to television stations web pages, and all the newspapers and other media in South Florida if the publishers have an interest to run part or all of the stories. Further, in 2000, I used to have some paper's running the report in the Spanish press, that option is available again, and publishers should contact me.  The news content will not be free, but you can pick and chose the stories of interest, edit them if necessary but you must still keep the general story intact.  If you are a news outlet and would like to learn more about, the Watchdog Report and this offer contact me at watchdogreport1@earthlink.net for further information.  >>> Here is what past newspapers have written about the Watchdog Report publisher including a survey and regional study done by the U. North Carolina at Chapel Hill on the media in the southeast United States.
>>> The Miami Herald and Orlando Sentinel & Sun-Sentinel articles on the Watchdog Report publisher over the years. >>> Published on September 9, 1999, Page 1EA, Miami Herald, The (FL) CITIZEN ADVOCATE' KEEPS TABS ON POLITICIANS >>> Published on January 3, 2000, Page 1B, Miami Herald, The (FL) MIAMI-DADE WATCHDOG WILL BE MISSED >>> >>> To read the full section large two page front page story, but without the photos and smart box graphics, go to: `I Go When You Cannot' – Sun Sentinel 20 Jan 2003 … Sometimes Dan Ricker lives in the dark so others may live in the light. … to his weekly Watchdog Report have finally mailed their checks. … http://articles.sun-sentinel.com/2003-01-20/news/0301190341_1_ricker-school-board-president-miami-s-first-cuban-american >>>Watchdog Report publisher named 'Best Citizen' 2003 by the Miami New Times  —The publisher would like to thank the weekly alternative paper Miami New Times for bestowing their 2003 Best of Miami, 'Best Citizen' award to me and I am honored.  Thank you. To read the full story go to http://www.miaminewtimes.com/issues/2003-05-15/citylife2.html/1/index.html
From the spring of 2003:  U. North Carolina, Chapel Hill:  Southeast U.S. Media Report lists Watchdog Report publisher as leading Florida commentator >>> Selected excerpts from the report on Florida's media sources. Those who do read the newspaper in Florida have a bevy of options for state government and political coverage. The dominant newspapers in the state are Knight-Ridder's The Miami Herald (Acquired by The McClatchy Company in 2006) and the Poynter Institute's St. Petersburg Times. Both papers endorsed Gore in 2000 but split on the 2002 gubernatorial race, with the Herald endorsing Republican incumbent Jeb Bush and the Times backing Democratic challenger Bill McBride. Daniel Ricker of The Miami Herald also writes an influential column as well as an email newsletter called the Watchdog Report that goes out to more than 100,000 subscribers. FEBRUARY 2004 – Florida: Columnists in Abundance –ERIC GAUTSCHI, graduate student, School of Journalism & Mass Communication, UNC-Chapel Hill – D) LEADING COMMENTATORS – Resource Commentator Organization Type Web site –Steve Bousquet St. Petersburg Times Column www.sptimes.com/columns/bousquet.shtml -"First Friday" WPBT TV (Miami) TV Show www.channel2.org/firstfriday/issues.html –Lucy Morgan St. Petersburg Times Column www.sptimes.com/columns/morgan.shtml –Daniel Ricker Miami Herald/Watchdog Report Newsletter >>> Readers who would like to read the complete University of North Carolina, Chapel Hill Southeast United States Media Report go to view the complete report or download all the data used in this study. >>> Watchdog Report Editor's note to the NCU/CH study: The subscriber number referenced is incorrect and applies to readership.
General subscriber's names will not be published in the Report. To subscribe to the Watchdog Report please use the form below as a subscription invoice.
********************************************************************
Watchdog Report Supporters Invoice-Form
NOTE: Invoice is for Yearly supporter/sponsorship Rates: Thank you.
Corporate Sponsors $1,000 (All levels above will be listed in the report with web-site link if desired)
Large Business Supporters $500
Small Business Supporters $250
Please make checks payable to: Daniel A. Ricker
Send to: 3109 Grand Avenue, #125
Miami, FL 33133 To contact the Publisher please e-mail watchdogreport1@earthlink.net
Tags: