CONTENTS
Argus Report: U.S. Rep. Wasserman Schultz makes key lime pie, with a dash of politics at Joe's Stone Crab, says "Florida #2 in nation" in ACA enrollment of healthcare plans for state's uninsured
Florida: How damaging will relationship by Gov. Scott staffer in Orlando deal, be in the upcoming gubernatorial race? — State and county leaders' financial disclosures will be on line, some are there now, www.ethics.state.fl.us, sea change for transparency of elected official's finances
Miami-Dade County: HIV epidemic makes M-DC #1 in nation for infection, Health officials and state Sen. Garcia call for massive education push, "get tested, and know your status"
Miami-Dade Public Schools: Will discussions of new charter school locations with Supt. Carvalho, help fill in choice gaps for district that spends $300 million for charters?
Public Health Trust: Compensation bump to keep top medical personnel irks Arriola, but CEO Migoya says is necessary, and projected future savings will be on his shoulders
City of Miami: Mayor Regalado goes for the Gold with CFO Alphonso choice as new manager, has helped put the city's fiscal house in order
City of Miami Gardens: Mayor Gilbert being late to M-DC MPO suggests more needs to be done about local traffic congestion on I-95
City of Miami Beach: Taxpayers get to see their government in high def, televised committee meetings are where the real action happens
Village of Key Biscayne: Traffic updates on Key Causeway
>>> Other stories around Florida
Broward County: Check out your elected leaders financial disclosure forms
City of Ft. Lauderdale: Gov. Scott names Kathie Brown and Wendy Hayes and the reappointment of William Edelstein to the Department of Elder Affairs Advisory Council.
City of Parkland: Attorney Pleads Guilty in Connection with Rothstein Ponzi Scheme
Palm Beach County: Residents can review they're top County Officials financial disclosure forms on line at http://public.ethics.state.fl.us/results.cfm
Pinellas County: Scott taps Kenneth "Ken" Burke to the Higher Education Coordinating Council.
Monroe County: – To read all Monroe County constitutional officers' financial disclosure forms go to http://public.ethics.state.fl.us/results.cfm
Community Events: Join the Epilepsy Foundation of Florida at Walk the Talk for Epilepsy and support Floridians living with epilepsy! Early Learning Coalition golf fundraiser at Trump Doral course – Margulies Art Collection show
Editorials: South Florida leaders should add rooting out fraud as a major initiative, it is costing everyone in a host of ways, including getting affordable healthcare insurance — Check out the past 2003 national story in the Tribune papers:  Paperwork Tiger By Maya Bell, Miami Bureau, Orlando Sun-Sentinel January 20, 2003 >>> And a 2004 UNC Chapel Hill study of the Southeast United States 15 states media outlet study where the Watchdog Report is listed as writing a "influential" column in Florida with over 100,000 readers: http://www.unc.edu/~davismt/SouthNow.pdf
Letters: "Birthplace of Miami" Archeological Site: Miami Preservation Board Rejects Developer's Plan – Reader and Preservationist on issue
Sponsors: Publisher's mission statement & Subscription information is at the bottom of this issue — Scroll down for all the headline stories text.
>>> Just because you do not take an interest in politics does not mean politics will not take an interest in you. –Pericles (430 B.C.)
>>> If you wish to be deleted, just e-mail me with that message and you are free to e-mail this on to friends.

>>> The Watchdog Report publisher would like to thank the John S. and James L. Knight Foundation www.knightfoundation.org for funding by the Knight Foundation with technical support from the Knight Center for International Media http://knight.miami.edu within the University of Miami's School of Communication www.miami.edu to maintain my webpage. The Watchdog Report webpage is free, has no ads, pops-up and is just the news in a mainstream reporting manner.
ARGUS REPORT – Heard, Seen on the Street
>>> U.S. Rep. Wasserman Schultz makes key lime pie, with a dash of politics at Joe's Stone Crab, says "Florida #2 in nation" in enrollment of ACA healthcare plans for state's uninsured
U.S. Rep. Debbie Wasserman Schultz taped a television show Friday at Joe's Stone Crab that was based on her making a Key Lime Pie, a signature dish at the iconic restaurant on South Beach, with a substantial dash of political dialogue on the side. Wasserman-Shultz, the Chair of the Democratic National Party through 2016 talked to Chef Lori and later viewers about the Affordable Care Act and the fact that Florida, "has the second highest enrollment in the nation," in the new federal health insurance program. She said the beauty of ACA is a person cannot be excluded from getting health insurance "because of a preexisting medical condition," which could apply to her since she "is a breast cancer survivor." In addition, the woman is either loved or hated in political circles depending on ones political persuasion and she is a frequent spokeswoman for the party on national television.
Moreover, historically she used to verbally duke it out on the airwaves and in Congress with former conservative U.S. Rep. Allen West, R-Broward during a past election cycle. However, he is no longer in the House, and the dislike they have for each other cannot be overstated. Further, Wasserman Schultz, when she first ran for the state house in 1992 and was first elected. She became the youngest women in the legislature in the state's history and she would later serve in the Flroida senate before running for Congress in 2002. For more on her go to http://en.wikipedia.org/wiki/Debbie_Wasserman_Schultz

Wasserman Schultz
Who is challenging her this November?
Wasserman Schultz is facing GOP challengers Juan Eliel Garcia, a businessman, talk show host and challenged the congresswoman in 2012 and the other Republican candidate in the primary is Joe Kaufman, a conservative party activist, and Stephanie Anderson, a independent, rounds out the field of candidates running in the Congressional District 23 race in November.
What about the TV show?
The food show Wasserman Schultz was taping and will be shown April 30 will also feature other political quests including U.S. Sen. Marco Rubio, R-Fla. and GOP Gov. Rick Scott is also on the future schedule said Jason Steele, the show's executive producer to the Watchdog Report on Friday. >>> Press release: Live with Lori Films Today on South Beach – Unique Live show at Joe's Stone Crab features Congresswoman Debbie Wasserman Schultz. With foodies from around the world congregating in South Beach this weekend, Live with Lori takes on a new twist, filming live in one of the country's top seafood restaurants, Joe's Stone Crab, in front of a live audience.
The show features one of the top women in politics nationwide, Congresswoman Debbie Wasserman Schultz (D-Fla.), who is the chairwoman for the Democratic National Committee. "We're planning an extra special show focused on the incredible dining experience of Joe's Stone Crab and their key lime pie," show host Lori Halbert says. "To have someone with Congresswoman Wasserman Schultz's experience and leadership will make this show one to remember." On the show, Rep. Wasserman Schultz and Halbert will prepare a key lime pie. The show is scheduled to air throughout Florida onSunSports on April 30.
About Live with Lori: After experiencing firsthand negative campaigning during her run for the Florida Legislature, Lori Halbert decided she would create a non-confrontational television program bringing statewide elected officials together in the kitchen. After three seasons, the show is watched by more than 150,000 people throughout the state at 7:30 a.m. every Wednesday on Sun Sports. Past guests have included Congressmen Alan Grayson, Dan Webster and Bill Posey; Florida Chief Financial Officer Jeff Atwater; Agriculture Commissioner Adam Putnam; Senate President Don Gaetz; Senate President-elect Andy Gardiner, Speaker-elect Steve Crisafulli and many more. You can find out more information and watch past episodes at www.livewithlori.com
>>> U.S. Rep. Ileana Ros- Lehtinen press release: I am deeply saddened by the tragic deaths of students who participated in protests in Venezuela to demand fundamental human rights and respect for democratic principles. The repressive tactics used by Venezuela's autocratic leader Nicolas Maduro have undermined the rights and dignity of the Venezuelan people, and now some of the nation's brave youth have fallen victim to his dictatorial rule. These deaths could have been avoided if this regime had not pursued disastrous economic policies and curtailed democratic institutions such as the independent press. This along with the intimidation and persecution of journalists and independent voices led to a consolidation of powers and the creation of a dictatorship.
But with the Venezuelan constitution and democracy under siege, the people wish to speak out against efforts to acquire complete control of the country. Recent events have demonstrated that the Venezuelan people still have a voice – and they won't be silenced. Those who work with the press have joined the students in protest. They all fear the direction the country is heading in and the lack of economic opportunities for the Venezuelan people. These students are the future leaders of Venezuela and they are tired of Maduro. We must support them during this critical time and help them restore their democracy. I urge responsible nations everywhere to stand in solidarity with those in Venezuela who bravely express their opposition to this regime and seek to protect their democratic liberties. In the struggle for freedom where the state uses violence to harm its people, neutrality is not an option.
This is why I have introduced with my colleague from New Jersey, Albio Sires, HR 1687 – the Countering ALBA Act of 2013. This bill urges the President to sanction officials from ALBA (Bolivarian Alliance for the Americas) countries or anyone acting on behalf of an ALBA country that the President has determined to be responsible for or complicit in ordering, controlling, or otherwise directing, the commission of serious human rights abuses against citizens of ALBA countries.
The appalling actions by the Maduro regime are an example of the human rights violations being committed by the antidemocratic leaders of these nations. We must come together and unite with other governments in the region to fight against the anti-democratic forces in Venezuela, Nicaragua, Ecuador, and Bolivia and the direction that they are heading in.
>>> Press release: Zogby Report Card: On Ukraine, is Obama making promises he can't keep — again?
John Zogby's Obama Weekly Report Card is Featured in Paul Bedard's "Washington Secrets" Published weekly in The Washington Examiner
Pollster John Zogby reports in our weekly White House report card that President Obama is walking down the "red line" road again, this time in Ukraine, but hasn't made clear what he will do if the situation unravels. "The Obama administration concedes that Obamacare will not reach 7 million enrollees by March 31, proving the dangers of setting numerical goals. Please click on the link below to view this week's grade: http://zogbyanalytics.com/news/415-zogby-report-card-on-ukraine-is-obama-making-promises-he-can-t-keep-again
>>> Frost Museum at FIU has tinning exhibit of Pulitzer Prize photographs over the decades, a must see collection
The Frost Museum at Florida International University is holding a unique exhibit of photos from past Pulitzer Prize winners and some of the photographs will rip your heart out, when the visual tragedy is brought to life in a photo. Here is the information on the exhibit: Capture the Moment: The Pulitzer Prize Photographs February 12, 2014 – April 20, 2014 -Capture the Moment consists of photographs from every Pulitzer Prize photographer, from the year of the first prize, 1942, to the present. Presently, there are 166 photographs included. The exhibit includes dramatic and poignant news and feature photographs, including Joe Rosenthal's World War II photo of the raising of the flag by U.S. Marines on Iwo Jima (1945 Pulitzer); the aftermath of Hurricane Katrina (2006 Pulitzer); Robert H. Jackson's 1963 photo of Jack Ruby shooting Lee Harvey Oswald and Nathaniel Fein's shot of Babe Ruth watching his number being retired at Yankee Stadium (1949 Pulitzer). >>> Capture the Moment: The Pulitzer Prize Photographs was developed by Business of Entertainment, Inc. NYC (www.bizzent.com), Cyma Rubin, Curator, in association with the Newseum (www.newseum.org) in Washington, D.C. and for more go to http://thefrost.fiu.edu/exhibitions.htm
>>> With the Watchdog Report closing in on 15 years, I thank all of you that have supported the effort, not for the faint of heart in many ways, including financially surviving
When I started the Watchdog Report on May 5, 2000, I never imagined that almost 15 years later. I would still be at it, and I want to thank all of you and the organizations that have financially supported me over those years. Since I essentially am funded by the community and my readers. Moreover, to say it has been a strange fork in the road for someone, who came from the corporate world, to have started this effort is an understatement, and only in South Florida could I have pulled off a mainstream news service like the WDR. However, given the colorful nature of our community and how so many of us love and create the drama, that would be good entertainment. If we were not overall such a poor community, with pockets of great wealth, yet other areas in major poverty, and why our limited public tax dollars should be spent wisely and with proper oversight and media attention.
In addition, it is my belief that government works more effectively when reported on, and why I have kept at this, for over the past almost 18 years. In addition, the WDR or myself, has affected and easily saved some $100 million in public tax dollars over those years in some way. And it is the preventing of waste, fraud, and abuse and public corruption that has kept me out in the field and reporting back in a variety of venues, from the internet, The Miami Herald, to WLRN, and WPBT Channel 2 over the years.
FLORIDA
>>> How damaging will Orlando deal relationship by Gov. Scott staffer, be in the upcoming gubernatorial race?
Gov. Rick Scott, up for reelection in November got some ink because of a staffer's relationship with a company that got a large state contract in Orlando
http://www.miamiherald.com/2014/02/21/3951531/gov-scott-backs-project-with-ties.html and while the governor says there was no impropriety in the deal. The controversy could not come out at a worst time since the legislature is about to consider his $74 billion plus budget in early March as well as the upcoming reelection campaign in November. Scott among Republicans is getting high marks for his lets get to work philosophy, but these people also point out that the former healthcare executive is not the greatest campaigner and seems wooden in front of the cameras. They are also concerned about his ability to answer out of the box questions asked by the press and these spontaneous questions will be more frequent as the campaign goes forward to Election Day.
Scott is likely to face former Gov. Charlie Crist, a former Republican now a Democrat if Crist beats state Sen. Nan Rich, D-Weston in the primary, which is expected given his fundraising capabilities and name recognition with voters throughout the state that Rich cannot claim. However, Crist has a long public record and while he has significantly moderated his political stances and positions. He is highly vulnerable to the charge that he has no principles and essentially goes with the prevailing political winds. Though Crist responds, the GOP in Florida left him and not the other way around, because the GOP took up many extreme positions he could not support, the former governor has said in the past. And his campaign has its own skeleton's that include a previous GOP state Party Chairman Jim Greer, a Crist supporter going to jail for irregularities, and also the past testimony of convicted Ponzi scheme Scott Rothstein's testimony at federal trials and his relationship with the past governor and was a major fundraiser for the long time politician.
| | |
| --- | --- |
| Scott | Crist |
>>> Press release: Gov. Scott names one appointment and three reappointments to the Florida Violent Crime and Drug Control Council.
Raymond Martinez, 55, of Miami, is the police chief of the Miami Beach Police Department. He fills a vacant seat and is appointed for a term beginning February 19, 2014, and ending June 30, 2015.
Jeffrey Chudnow, 62, of Oviedo, is the police chief of the Oviedo Police Department. He is reappointed for a term beginning February 19, 2014, and ending June 30, 2015.
Dr. Stephen Nelson, 56, of Lakeland, is the chief medical examiner for District Ten. He is reappointed for a term beginning February 19, 2014, and ending June 30, 2015.
Bernie McCabe, 66, of Largo, is the state attorney for the Sixth Judicial Circuit. He is reappointed for a term beginning February 19, 2014, and ending June 30, 2015.
>>> Gov. Scott taps William "Bill" Wertman to the Alzheimer's Disease Advisory Committee.
Press release: Wertman, 55, of Tallahassee, is the CEO of the Alzheimer's Project Inc and an adjunct professor at Florida State University. He fills a vacant seat and is appointed for a term beginning February 20, 2014, and ending February 13, 2018.
>>> And if you ever thought about adopting a child, check out the great kids on the Children's Trust's Heart Gallery page http://www.miamiheartgallery.org/#start looking for a home and great new parents.
>>> Children's Movement of Florida  Voices of Florida – We all have a story, a story that defines us. It is our collective story, our challenges and our triumphs that inspire a movement. Floridians from all walks of life have joined together with an understanding that the future of our state rests on the well-being of our children. Visit The Children's Movement website to read their stories and share your own. >>> I find it unacceptable, as all of us should, that at least a half-million children in Florida – all citizens — have no health insurance. How could this be in our beloved country that seeks to be a beacon to the world? Health insurance for all children is one of the five major planks of The Children's Movement. With the support of Florida Covering Kids and Families, The Children's Movement is working with dozens of local partners to help build a meaningful signing-up initiative in more than a dozen Florida communities. Already we have: Completed 18 KidCare trainings around the state. Signed up, trained and deployed more than a hundred volunteers. Begun to build a growing collaboration between local school districts and KidCare outreach coalitions. It's a good start, but only the start. If you'd like to become a volunteer, just click here. Another way to help is to make a contribution – of any size – to help support this work. It is easy. Just click here. A real movement isn't possible without your helping in some meaningful way. Dave Lawrence, Jr., Chair The Children's Movement.
MIAMI-DADE COUNTY
>>> HIV epidemic makes M-DC #1 in nation for infection, Health officials and Sen. Garcia call for massive education push, "get tested, and know your status"
State Sen. Rene Garcia, R-Hialeah gave some grim news to Miami-Dade Commissioners Wednesday at the commission meeting regarding the HIV/AIDS epidemic in the county that makes the number of patients here "#1 in the nation," states a health department document. The state senator and healthcare administrative professional said people think HIV is not such a big deal anymore, and this "complacency" is having devastating effects. Since roughly one quarter of the states residents infected with the virus live in Dade. He said the "community's silence is unacceptable, and [residents] should get tested," and "know your status," when it comes to HIV. He told county commissioners it is "their sons and daughters," that are being infected since "20 to 30 year olds," are the second highest group infected behind the 40 to 49 year age group, he said. Garcia urged a massive public relations strategy and campaign to get the word out "to be tested," and "know your status," and while the disease can be managed with new medicines. Prevention is the way to go and the education of the population is the key to end this scourge that has 28,847 people infected in Dade and that is roughly a quarter of the 98,698 patients with HIV in Florida in 2011, and the disease "disproportionately affects minority populations… especially in Miami-Dade County," state health department documents.
Garcia said in a Catholic Community like Miami, this is a sensitive subject, but people must be cognoscente this is a sexually transmitted disease and "the stigma has to be eliminated," and people must know their status and "be tested." A representative of the Florida Department of Health said "educating the family," is one critical issue and "we don't talk about it," and if we aren't more engaged with our community, "AIDS will not stop," the health professional said. She noted Washington D.C. once had the number one status for HIV infections in the nation, but through a massive education, campaign it has dropped considerably in the infection rankings and that has to be instituted here. If the infection rate is ever going to begin dropping. She also believed working with the public schools district was important to stimulate this discussion in the community and among families, which past studies show help bring down the new rate of infections of the potentially fatal disease.
County Commissioner Dennis Moss said when it came to the issue, it seems "the lights are turned off, and no one is talking about it," he said. Moreover, he said HIV is devastating the African American community since there are 11,968 residents in Miami-Dade dealing with the disease, Hispanics account for 10,312 infected people, and White's account for another 3,206 people dealing with the chronic disease, where 18,425 with HIV are male and 7,422 are female states the data on Miami-Dade County infection rates.
| | |
| --- | --- |
| Garcia | Moss |
>>> Controversial exchange on who made Miami what it is today, shows simmering ethnic tensions still an "undercurrent" in Miami-Dade society, says Commissioner Moss
A controversial exchange by County Commissioners Javier Souto and Dennis Moss on who helped make Miami-Dade what it is today on the dais Wednesday, highlighted that when it comes to racial and ethnic tensions in the state's largest county. There is still a long way to go to reach ethnic harmony and the belief all residents in the county will get a fair shake from jobs to being in leadership positions. Souto said it was the Cuban Community, coming to Miami decades ago that changed the region's nexus, and with the county 63 percent Hispanic such a discussion is a "very sensitive issue," for these different peoples, the long serving commissioner said. However, Moss objected to that characterization of Miami believing it left out the contributions of African Americans over the past Century. "Black folks built this community," they "pay taxes," and "I resent it [the characterization] and comments such as this helps explain why there is "this undercurrent," in some parts of the county's diverse population.
Moreover, Commission Chair Rebeca Sosa had her hands full keeping the discussion from becoming more heated on the 13-member dais, but she did prevail. And to hear two local Black Leaders take on the issue of South Florida's rich diverse history, listen to this week's show of Issues on www.wpbt2.org/issues hosted by Helen Ferre over the weekend, and she speaks with Historian Dr. Enid C. Pinkney and attorney and former state Public Defender H.T. Smith on the issue.
What about in 2000 after young Elian was taken by federal authorities?
Back in 2000, after the young boy Elian Gonzalez was extracted from his home in Little Havana by federal authorities and the rescued child was sent back to Cuba with his father, the Cuban Community erupted in protests and flames. Moreover, the child's removal was such a passionate and charged event for the Cuban Exile Community that angry Anglos with Confederate Flags along with Black protestors in Homestead were both protesting the Cuban Community in a derogatory manner. Yet had the Black protestors looking warily at the Civil War flag and all that it represented at the time and a Miami Herald photographer caught the bizarre act and given the flag's overtones. The photograph highlighted how inflamed the community was to the whole protracted debate in the community that went on from Nov. to April 2000 when over the Easter Holiday, the boy was taken from his relatives home in Little Havana.
And all of South Florida reacted to the event, as the boy's removal inflamed ethnic tensions to a new high, and only ended months later after then Miami-Dade Mayor Alex Penelas created the Mosaic Program, that brought together community leaders from all ethnic groups, to help work through these community tensions, that since have fallen to the back burner in many ways. However, the issue is still a hot button with certain segments of South Florida and this exchange between Moss and Souto shows we still have work to do on the lingering matter, in a community where people come from some 180 nations from around the world, and English as a second language is taught in 19 other languages in the nation's fourth largest public schools district.
>>> Will state legislation "kill the cow," known as MDX, controls bulk of local freeways?
The Miami-Dade Expressway Authority (MDX) is under siege by state Rep. Jeanette Nuñez, R-Miami and state Sen. Rene Garcia, R-Hialeah who are sponsoring legislation that would modify how toll funds would be distributed, and essentially, "kill the cow" because you were upset with the milk said Maurice Ferre at Thursday's Miami-Dade County Metropolitan Planning Organization. Ferre considered a transportation maven, is the chair of the MDX board and the organization is lobbying quietly to kill the bill. He said MDX staff would be meeting with the state representative the next day and the organization hopes they will be able to convince the lawmaker her bill needs to be modified from its existing language, and its potential damage to the expressway authority, the former Miami mayor said.
However, County Commissioner Juan Zapata, a former state legislator on the MPO said he has been trying for seven years when he was a state representative to get MDX to be more fair in its tolling structure. A tolling structure he believes is paid by residents in the west end of the County and these drivers have the longest commute he said to other MPO members. He noted it is costing him over $1,000 a year to come to downtown, and challenged MDX to give him a breakdown of which drivers are paying tolls, because he believes it is on the backs of West Dade residents, he said. In addition, the Nuñez and the Garcia legislation is just an expression of these west Dade residents concerns. If the tolling system's costs was being fairly distributed among all drivers that use the local expressways and Zapata is asking for a breakdown of where the MDX toll funding is coming from. However, this is an ongoing issue now and it is clear, the role of MDX is going to be on the front burner of the upcoming legislative session, unless the lawmakers relent and readers should stay tuned.
>>> CITT honors former Chair Zilber for her many years of watching over public tax dollars
The Citizens Independent Transportation Trust (CITT) honored former municipal mayor and past Trust Chair Linda Zilber for her service to the community last week, and she was credited on making sure the new Orange Line of the Metro Rail expansion, "was on time and on budget," said the CITT chairman. Further, the Trust held a Transportation Summit on Saturday and the Watchdog Report contacted Zilber asking how it went and she wrote back. "[The Summitt] was very well attended. Over 100 people came and they had some wonderful comments. Some were complaints and they were put in touch with people from transit that also attended. Some made excellent suggestions, that we on the Trust will follow up with in committee. It was a productive day and we will seek the public's input more often, if they are not able to attend our scheduled meetings," wrote the long serving Trust member.
>> And to review all the Miami-Dade County Commissioners and other county officials financial disclosure forms for the year go to http://public.ethics.state.fl.us/results.cfm?org_id=214439&suborg_id=233972&Mode=By_SubOrg
>>> GMCVB press release: DEMAND FOR TRAVEL TO GREATER MIAMI & THE BEACHES REMAINS STRONG IN JANUARY 2014 RANKING #2 IN AVERAGE DAILY ROOM RATE (ADR), #2 IN REVENUE PER AVAILABLE ROOM (REVPAR) AND #2 IN HOTEL ROOM OCCUPANCY AMONG THE TOP 25 U.S. MARKETS
Note: In January 2013, Greater Miami hosted the BCS National Championship, which featured two of the top traveling college teams in the nation – Notre Dame and University of Alabama. Despite not hosting the BCS National Championship this year, Greater Miami and The Beaches continued to achieve the #2 ranking for Hotel Room Occupancy among the Top 25 U.S. Markets for the month of January 2014.
January 2014 Average Daily Room Rate (ADR)
Market
Rate
% Change vs. 2013
1. Oahu Island
$228.24
8.6%
2. Miami
$221.42
+5.5%
3. New York
$208.30
5.3%
4. San Francisco
$187.12
11.9%
5. New Orleans
$117.23
2.3%
Average Revenue Per Available Room (RevPAR)
Market
Rate
% Change vs. 2013
1. Oahu Island
$192.33
6.3%
2. Miami
$180.99
+ 3.7%
3. New York
$148.78
1.0%
4. San Francisco
$133.55
19.3%
5. Los Angeles
$107.53
15.2%
Average Daily Occupancy
Market
% Occupancy
% Change vs. 2013
1. Oahu Island
83.7%
-2.1%
2. Miami
79.3%
-1.7%
3. Los Angeles
78.2%
5.0%
4. Orlando
72.0%
4.3%
5. Los Angeles/ New York
71.2%
-4.0%
MIAMI-DADE COUNTY PUBLIC SCHOOLS
>>> Will discussions of new charter school locations with Supt. Carvalho, help fill in choice gaps for district that spends $300 million for charters?
Superintendent Alberto Carvalho at past public meetings has said he is inviting charter school administrators to discuss where schools might be needed within the sprawling district with 400 public schools, in an attempt to right size any new schools locations in the future to where there is a need. The respected school administrator's school district will be funding the just over 100 charter schools to the tune of $300 million this year, and that funding has put a crimp on school maintenance funding. Since state capital funding dollars have dried up, though the District did get $1.2 billion in new bond money approved last November for school rehabilitation and IT upgrades, and previously written about in past Watchdog Report's. However, past bond debt payments are eating up the bulk of any money for capital improvements and Carvalho has to also deal with a $40 to $60 million swing in property tax receipts coming into the district in the months ahead. And that is why Carvalho is looking for any collaboration with charter schools, and the activity if successful could be a critical new wrinkle in how the public schools system locates future schools, now that Dade has 2.6 million residents and roughly 352,000 students in public schools.
PUBLIC HEALTH TRUST
>>> Compensation bump to keep top medical personnel irks Arriola, but CEO Migoya says are necessary, and projected future savings will be on his shoulders
While the seven-member Public Health Trust board voted four to one to grant workers a one-time bonus last week. The vote had board Chair Daryl Sharpton, CPA saying, "I struggled with this," and while he was concerned with the financial ramifications of the incentive pay bump, "my biggest concern was the process" that he actually objected too. However, long serving Trust member Joe Arriola lit into the other board members saying the profit sharing was ludicrous given the 28 days cash on hand, versus the preferred 175 days of cash, noting the Trust "is really far away from that," and is "still 150 days short," he said. Arriola, a millionaire tore into the administration and other board members saying the health system had lost hundreds of millions over the past years and only this past year was it in the black. He also carped that when community leaders reached out to county voters last November to approve an $830 million bond, that was approved. He said there was no mention of this gain sharing with employees in that community discussion he said.
Moreover, while the Trust gives some $500 to $600 million in uncompensated charity care yearly, and receives some $350 million in public tax dollars, that also includes a countywide half-cent sales tax. This sales tax revenue is not keeping up, though it generates over $200 million yearly, with the healthcare costs of the 600,000 roughly uninsured residents in Miami-Dade that JHS has to deal with. And for more on the discussion last week go to:  http://www.miamiherald.com/2014/02/20/3949502/jackson-health-trust-tentatively.html#storylink=misearch
However, Jackson Hospital System President Carlos Migoya who has overseen this transformation of the health system into the black argued the profit sharing plan, after four years of employees giving major concessions was necessary in the competitive healthcare world, where top physicians and nurses can find employment elsewhere with better compensation. Further, Migoya will be held accountable if the planned efficiencies and savings are not achieved and Arriola did not seem to understand the raiding that is going on with hospital staff.
Migoya and other trustees said, JHS can only make money by attracting "private patients," and because we have "cutting edge medicine," and we are competing with other healthcare systems and doing "what other hospitals are doing," and the "concept of gain sharing," is a "right step" and "good faith effort," with regard to the highly specialized medical staff, said past PHT board Chair Marcos Lapciuc.
However, Arriola, the PHT board vice chair argued when he took a job, he didn't expect any extra compensation by doing his job, and that the other PHT trustees and administration were willing to agree to this "because it's not their money," he insisted. However, Migoya responded this was about "investing in human capital, and these kind of carrots help you lead in the future." He also noted, "But we also provide $500 million in care that we don't get compensation for which is for the greater good of the community," and yes the Trust is "indebted to the community," as well, but this current incentive "was the right thing to do," said the former banker who took over in May 2010. Moreover, at a PHT retreat on Feb. 28, this issue of the "process" that resulted in the agreement with the organization's unions will be discussed further.
What about Arriola?
Arriola is known to have mercurial personality, and he was on the PHT board back in 2003, but he left when he became manager of the city of Miami. Arriola before he left also generated controversy when the then PHT Chair Michael Kosnitzky had the grim duty of having to fire past PHT CEO and community icon Ira Clark. After it was clear that the healthcare executive was failing in health and had difficulty remembering things including Gov. Jeb Bush, who Clark referred to at a $37 million check presentation repeatedly, as "the governor of New York." However, back then Arriola called Kosnitzky a "cancer" on the organization and businessman helped set up a major racial incident in the community that had The Miami Times leading with a headline that essentially said healthcare for the poor was ending with Clark gone, though that would not be the case.
Further, Arriola as Manager of City of Miami was known for his bluster and inappropriate comments and even though Miami Mayor Manuel Diaz appointed him to the slot back in 2003.  Arriola, who does not have a college degree, is not mentioned in a book Diaz did on his time as mayor until 2009, when he was termed out. Moreover, that fallout with Diaz is just another example of Arriola's lack of ability to work with others, which also included him being passed over when he applied to be back on the Trust in 2005, after an incident with the Watchdog Report at the public PHT Nominating Council Committee meeting at the time.
CITY OF MIAMI
>>> Miami Mayor Regalado goes for the Gold with CFO Alphonso choice as new manager, has put the city's fiscal house in order
Miami Mayor Tomas Regalado has named Daniel J. Alphonso as the new Miami City Manager and his selection is expected to be confirmed by the five-member Miami commission Feb. 28. Alphonso will replace Manager Johnny Martinez in the pressure cooker job that has seen a host of past managers over the decades with a number of them going to jail, but the chief financial officer has held the job before, when Martinez took a medical leave for a few months, and he did a yeoman's job. The commission only approves the mayor's selection of the manager who runs the city administration and the position is a blend of running a big city and being a diplomat with the commissioners and their priorities, while providing critical services to the city's residents.
Alphonso came from Miami-Dade County prior to joining the city and he was in the highly respected budget office, and the family man was also in the military, and he has a low key, yet professional approach in his manners and discussions. Moreover, he is considered an astute choice, especially with the next year's budget formulation in the months ahead as Miami begins a new budget year starting Oct.
| | |
| --- | --- |
| Regalado | Martinez |
>>> Could MLS new stadium be next to Miami Marlins stadium in Little Havana?
With David Beckham, the Major League Soccer super star still looking for a site for a new stadium, Miami Manager Johnny Martinez noted to the Watchdog Report last week. He said there was once a study done that included a companion soccer stadium next to the new Miami Marlins Stadium in Little Havana and he was looking for that past study.
Further, while Beckham and his investors are considering other sites, another site suddenly popped up on the radar in Coconut Grove. After some people realized the site of the now destroyed Convention Center, could possible be an alternative site for a stadium. Since it has significant environmental issues to resolve, but is currently planned to be a passive park, and readers should keep their eye on whether this site on the waterfront gets any traction in the future.
>>> Miami Physician Pleads Guilty in Medicare Fraud Scheme
Press release: Wifredo A. Ferrer, United States Attorney for the Southern District of Florida, Christopher B. Dennis, Special Agent in Charge, U.S. Department of Health and Human Services, Office of Inspector General (HHS-OIG), Michael B. Steinbach, Special Agent in Charge, Federal Bureau of Investigation (FBI), Miami Field Office, and Mark R. Trouville, Special Agent in Charge, U.S. Drug Enforcement Administration (DEA), Miami Field Division, announce today that Christopher Gregory Wayne, an osteopathic physician residing in Miami, pled guilty before U.S. District Judge Robert N. Scola, Jr., to a criminal information that charges him with health care fraud and conspiracy to violate the narcotics laws of the United States. Sentencing has been scheduled for May 16, 2014.
At sentencing, Wayne faces a maximum sentence of ten years in prison and a $250,000 fine on the health care fraud charge. The narcotics charge carries a maximum sentence of five years in prison and a $250,000 fine. In his plea, Wayne admitted to executing a scheme to defraud the Medicare program and attempting to cause a loss in excess of $2,500,000 to Medicare. Wayne agreed to the entry of a forfeiture judgment in the amount of $1,649,042, and the forfeiture of real property and a car, representing proceeds traceable to the health care fraud offense. Wayne also agreed to entry of a money judgment in the amount of $428,300 as proceeds of the narcotics distribution. Mr. Ferrer commended the investigative efforts of HHS-OIG, FBI and DEA. The case is being prosecuted by Assistant U.S. Attorneys Eric Morales and Brent Tantillo. A copy of this press release may be found on the website of the United States Attorney's Office for the Southern District of Florida at www.usdoj.gov/usao/fls
>>> Former Miami Securities Professional Sentenced to 37 Months for Securities Fraud in Connection with Multi-State Investment Scheme
Press release: Wifredo A. Ferrer, United States Attorney for the Southern District of Florida, and Michael B. Steinbach, Special Agent in Charge, Federal Bureau of Investigation (FBI), Miami Field Office, and Drew J. Breakspear, Commissioner, State of Florida, Office of Financial Regulation, Bureau of Financial Investigations, announce that Daniel Paez, 42, of Miami, was sentenced today before U.S. District Judge William P. Dimitrouleas to 37 months in prison in connection with a scheme to defraud investors in Florida and several states. According to court documents, Paez was the President of Fly High Investments, Inc., a Miami-Dade investment fund. From in or around September 2010, through in or around April 2012, Paez obtained more than $500,000 in funds from investors via telephone solicitations and through the Internet. Paez told investors that Fly High Investments was a hedge fund that managed more than $50 million, and he promised investors that their money would be invested in safe and secure investments. Paez also promised a fixed rate of return and that investors could withdraw their money whenever they wished. Instead, according to the Information, Paez spent the bulk of the money raised from investors at casinos, and also withdrew large amounts of cash for his personal benefit. Paez did invest certain investor monies in stocks and other securities, but often in high risk investments or penny stocks that were materially different than the specific investments promised to investors during their sales pitch.
When investors contacted Fly High Investments and Paez to inquire about the status of their funds, Paez misled investors into believing their money was safe and had been invested profitably. Paez ultimately stopped returning calls and ignored requests for the return of investor funds. According to the Information, there were approximately 17 victim investors who were located in Florida and other states, including California, South Dakota, New Jersey and Minnesota. None of these investors received any return on their investment and they lost all of the money they invested with Fly High Investments and Paez. Mr. Ferrer commended the investigative efforts of the FBI and the State of Florida, Office of Financial Regulation, Bureau of Financial Investigations. The matter is being prosecuted by Assistant U.S. Attorney Jerrob Duffy. A copy of this press release may be found on the website of the United States Attorney's Office for the Southern District of Florida at www.usdoj.gov/usao/fls.
CITY OF MIAMI GARDENS
>>> Mayor Gilbert being late to M-DC MPO suggests more needs to be done about local traffic congestion
Mayor Oliver Gilbert wanted to make one thing clear last week at the Miami-Dade County Metropolitan Planning Organization meeting on why he was late. He said the traffic on I-95 was so backed up from Miami Gardens, it was impossible to get there on time, especially since that included the express lanes, where drivers are charged a toll. Moreover, he said that shows him transportation officials like the MPO and FDOT still have a long way to go on relieving traffic congestion on the county's highways.
Gilbert
>>> Two Defendants Sentenced in Stolen Identity Tax Refund Scheme Relating to a Health Care Provider
Press release: Wifredo A. Ferrer, United States Attorney for the Southern District of Florida, and José A. Gonzalez, Special Agent in Charge, Internal Revenue Service, Criminal Investigation (IRS-CI), announce that Angelo Ponds, 32, of Miami Gardens, and Sean Guillaume, 31, of Miramar, were sentenced today for their participation in a stolen identity tax refund scheme relating to a health care provider. Ponds was sentenced to 48 months in prison, to be followed by three years of supervised release. Guillaume was sentenced to 94 months in prison, to be followed by three years of supervised release. Both defendants previously pled guilty to one count of conspiracy to defraud the government, in violation of Title 18, United Stated Code, Section 286, and one count of aggravated identity theft in violation of Title 18, United States Code, Section 1028A.
According to court documents, Guillaume worked for a company that performed medical laboratory tests where he had access to medical records with names, dates of birth, and Social Security numbers (personal identity information or "PII") of individuals in the course of his employment with that company. During the conspiracy, Guillaume stole PII from the company and sold five thousand individuals' PII to Ponds. Guillaume knew that Ponds would use the PII for the filing of fraudulent and unauthorized tax returns. Ponds caused other individuals to file false and fraudulent tax returns with the Internal Revenue Service (IRS) seeking refunds using the PII provided by Guillaume. Mr. Ferrer commended the investigative efforts of IRS-CI. The case is being prosecuted by Assistant U.S. Attorney Michael N. Berger. A copy of this press release may be found on the website of the United States Attorney's Office for the Southern District of Florida at www.usdoj.gov/usao/fls.
CITY OF MIAMI BEACH
>>> Taxpayers get to see their government in high def, televised committee meetings are where the real action is at
On Friday, the City's Commission Finance Committee met in the Miami Beach Commission Chambers and the committee Chair Deede Weithorn, CPA, ran an efficient meeting that the Watchdog Report got to late and the meeting was over. The Miami Beach Commission and Mayor Philip Levine agreed to have the meetings, where many issues are hashed out in detail, in the Chambers and for these to be televised, in January, and given today's technology it was the right thing to do.
And one of the most interesting new committee's created at the same time and residents should be watching in the future. It is the commission committee created to deal with the issue of Global Warming, that is currently affecting the island municipality, and the flooding is expected to get worse in the coming decades.
CITY OF CORAL GABLES
>>> Gables residents get to hear from Miami Today publisher Lewis Mar.3, should be a real treat at business luncheon group
Coral Gables residents get a treat in early March when Michael Lewis, the publisher of the weekly The Miami Today is the featured speaker at the Ponce Business Association and here is the event announcement: PONCE BUSINESS ASSOCIATION www.poncebusiness.com  poncebusiness@gmail.com  "Keeping you abreast of the pressing issues affecting Coral Gables." We meet the first and third Mondays of the month at JohnMartins restaurant (253 Miracle Mile – 2nd floor) at noon.  Lunch is $20 for members and $25 for non-members
Next Meeting March 3rd, 2014, Speaker from The Miami Today, Michael Lewis
We will have Michael Lewis from the Miami Today speaking at our next luncheon March 3rd, 2014.  Michael Lewis is founder, publisher and editor of MIAMI TODAY, the award-winning newspaper he founded that is now in its 31st year.
MIAMI TODAY serves the civic and business communities, providing information vital to executives that is not readily available elsewhere. The focus is on persons, businesses and institutions that are building and uplifting the region, creating the community of tomorrow. The content is news that can be used and is needed. Its MiamiTodayNews.com broadens the newspaper's reach, as does its growing subscription-only digital edition. Miami Today also offers an annual Book of Leaders, acting as a Who's Who of Miami leaders. Miami Today's readership stretches from Aventura to South Dade, from Miami Beach to far West Dade. The circulation now totals nearly 28,000 and readership approaches 75,000 persons weekly in the print edition alone, far more when the digital edition and web site are included. Over the years, Miami Today has earned nearly 100 national and state awards for content. Miami Today is based at 2000 South Dixie Highway.
Michael Lewis was a senior editor with the now-defunct Miami News when he left in 1981 to found Miami Today. Prior, he had held senior positions with the Orlando Sentinel, the Charlotte Observer and the New York Post. He began his newspaper career in Michigan, where he founded his first newspaper in resort community Harbor Springs. He is a native of Chicago. He holds both bachelor's (magna cum laude) and master's degrees in Literature, Science and the Arts with a concentration in Journalism from the University of Michigan, where he was an academic honoree of Phi Beta Kappa. He is married to Carmen Betancourt-Lewis, vice president of Miami Today. They reside in Key Biscayne.
>>> Press release: Tickets Are Available for Hillary Rodham Clinton Event at UM
The University of Miami will welcome Hillary Rodham Clinton, former Secretary of State and former U.S. Senator from New York, to deliver remarks at a special event to be held on Wednesday, February 26, at 8:30 p.m. at the BankUnited Center on the UM Coral Gables campus. A limit of 200 tickets are available for Coral Gables residents beginning this Saturday, February 15 at 8 a.m. Tickets are limited to two per household and will be distributed in person at the War Memorial Youth Center, 405 University Drive, on a first-come, first-served basis. Hillary Rodham Clinton was First Lady of the United States from 1993 to 2001. She represented New York in the United States Senate from 2001 to 2009, and later served as Secretary of State from 2009 to 2013. For more information on ticket distribution for residents, contact the Youth Center at 305-460-5600.
>>> City Is Looking For Volunteers To Serve On Green Initiatives – The City of Coral Gables is working on a Sustainability Master Plan that will help create a roadmap for environmental and sustainable best practices citywide. Working closely to advise Coral Gables officials on environmental issues that support a sustainable community is the mission of the City's Green Task Force. The City has received several nominations from residents interested to serve, but more nominations are needed, especially from residents who have a professional planner background. The 11-member Task Force will make recommendations regarding the environmental sustainability of City programs, services, equipment, and facilities, as well as assist in developing a plan for increasing environmental awareness and participation. The Task Force will be comprised of a landscape architect, a planner, a person interested in historic preservation, an engineer, an architect, a member from the University of Miami, one from the Coral Gables Chamber of Commerce and another from the Garden Club, as well as three city residents — two appointed by the City Commission and one by the City Manager. If you are interested in participating in this group, submit your résumé, along with a cover letter specifying in which capacity you wish to serve, to the Office of the City Clerk, 405 Biltmore Way, Coral Gables, FL 33134. The information received will then be forwarded to the City Commission and City Manager for consideration. You must be a resident of Coral Gables to serve on the Green Task Force.
VILLAGE OF KEY BISCAYNE
>>> TRAFFIC ADVISORY: RICKENBACKER CAUSEWAY TOLL LANE SCHEDULE
Press release: Toll lanes on the Rickenbacker Causeway will observe the following schedule beginning Tuesday, February 18, 2014:
6:00 a.m. to 8:00 p.m. Lanes 7 and 8 (the two far right lanes) will be closed.  Traffic will be managed through use of all or some of Lanes 1 through 6 depending on the volume of traffic.
8:00 p.m. to 6:00 a.m. Lanes 1 through 6 will be closed. Traffic will be managed using Lanes 7 and 8 (the two far right lanes). This schedule change will remain in place until further notice.
>>> OTHER STORIES AROUND FLORIDA
BROWARD COUNTY
>>> Residents can review they're county commissioners financial disclosure forms on line — Residents of Broward County can now review they're county commissioners financial disclosure forms on line and to see the inner financial workings of these elected officials go to  http://public.ethics.state.fl.us/results.cfm
>>> Thank you for using the Broward County Commission Agenda E-mail Notification System. A new Broward County Commission Agenda is available. Point your browser to http://www.broward.org/commission/welcome.htm to view the new agenda.
CITY OF FORT LAUDERDALE
>>> Press release: Gov. Scott names Kathie Brown and Wendy Hayes and the reappointment of William Edelstein to the Department of Elder Affairs Advisory Council.
Brown, 62, of Panacea, is the director of ReNu U Medical Spa. She succeeds Dorothy Bless and is appointed for a term beginning February 19, 2014, and ending September 30, 2014.
Hayes, 46, of Fort Myers, is a geriatric care manager with Aging and Family Solutions. She succeeds Kathleen Houseweart and is appointed for a term beginning February 19, 2014, and ending September 30, 2016.
Edelstein, 61, of Fort Lauderdale, is a nursing home administrator at Memorial Manor. He is reappointed for a term beginning February 19, 2014, and ending September 30, 2016.
CITY OF PARKLAND
>>> Attorney Pleads Guilty in Connection with Rothstein Ponzi Scheme
Press release: Wifredo A. Ferrer, United States Attorney for the Southern District of Florida, Jose A. Gonzalez, Special Agent in Charge, Internal Revenue Service, Criminal Investigation (IRS-CI), and Michael B. Steinbach, Special Agent in Charge, Federal Bureau of Investigation (FBI), Miami Field Office, announce that Douglas L. Bates, 55, of Parkland, pled guilty today in U.S. District Court in West Palm Beach to a Superseding Information charging conspiracy to commit wire fraud, in violation of Title 18, United States Code, Section 371. At sentencing, Bates faces up to five years in prison. The acts set forth in the charging document were all in furtherance of a "Ponzi" scheme involving the sale of purported confidential settlement agreements in sexual harassment and/or whistle blower cases which were purportedly handled by attorneys at the former Ft. Lauderdale law firm of Rothstein, Rosenfeldt and Adler, P.A. (RRA).
According to the factual stipulation filed in support of the guilty plea, while Bates was a partner in the Law Offices of Koppel and Bates located at 817 South University Drive, Suite 100, Plantation, Florida, he assisted Scott W. Rothstein in defrauding certain clients of RRA by drafting false and fraudulent opinion letters claiming to represent an investment group which had a business plan to invest in the confidential settlements which formed the basis for the Ponzi scheme when, in fact, he did not, and claiming that he represented a plaintiff who had entered into one of the confidential settlement agreements when, in fact, he did not. The Superseding Information further alleges that Bates assisted Rothstein by arranging to have representatives of an investment group falsely informed that numerous legal cases were referred by Koppel & Bates to RRA when, in fact, they were not. Sentencing for Bates is scheduled for May 1, 2014 at 11:00 a.m. in West Palm Beach before U.S. District Judge Donald M. Middlebrooks.
U.S. Attorney Wifredo A. Ferrer stated, "It is unconscionable and unacceptable when attorneys violate the oath of office they swear to uphold. Bates, an attorney, violated the oath of office he swore to uphold by participating in the furtherance of Rothstein's Ponzi scheme. As I have previously stated, the tentacles of Rothstein's billion dollar Ponzi scheme reached far and wide. One by one, Rothstein's criminal associates are being held accountable for their crimes. Today, Bates' criminal actions make him the sixth attorney – and the 16th accomplice – to be held accountable." José A. Gonzalez stated, "Today's guilty plea should send a message to those who violate their ethical obligations by participating in a massive fraud – no matter who you are or the fraudulent means employed, you will be held accountable for your actions. This investigation is not over. Together with our law enforcement partners we will continue to aggressively pursue those who assisted Rothstein in perpetrating this complex financial fraud."
"Scott Rothstein needed accomplices who were willing to gamble away their ethical obligations in exchange for the promise of financial gain," said Michael B. Steinbach, Special Agent in Charge, FBI Miami. "Douglas Bates took that gamble and lost. Regardless of one's role, the FBI and its partners are committed to investigate those who swindle investors." Mr. Ferrer commended the investigative efforts of IRS-CI and FBI. This case is being prosecuted by Assistant U.S. Attorneys Lawrence D. LaVecchio, Paul F. Schwartz, Jeffrey N. Kaplan and Evelyn B. Sheehan. A copy of this press release may be found on the website of the United States Attorney's Office for the Southern District of Florida at www.usdoj.gov/usao/fls.
PALM BEACH COUNTY
>>> And to read all the Palm Beach elected leader's financial disclosure reports go to http://public.ethics.state.fl.us/results.cfm
PINELLAS COUNTY
>>> Press release: Gov. Scott taps Kenneth "Ken" Burke to the Higher Education Coordinating Council. Burke, 54, of Seminole, is the Pinellas County Clerk of the Circuit Court. He is appointed for a term beginning February 18, 2014, and ending June 30, 2015.
COMMUNITY EVENTS
>>> Join the Epilepsy Foundation of Florida at Walk the Talk for Epilepsy and support Floridians living with epilepsy!
For seven years, EFOF has hosted walks throughout the state each spring to raise awareness and funds for this common condition. Did you know one in 26 people will be diagnosed with epilepsy in their lifetime? Walk the Talk for Epilepsy 2014 is almost here! Register today to help make a difference in 375,000 Floridian's lives and enjoy a day of family fun. Miami, March 22, Tropical Park, 7900 SW 40th Street, Miami, FL 33155 Click here register to walk and purchase tickets Click here to start a fundraising team or join one! Can't attend the walk, but want to make a donation? Click here! Tickets are $25. Your support and collaboration helps the foundation provide medical and social services and continue to lead the fight to stop seizures, find a cure and overcome the challenges created by epilepsy. For details contact your local Epilepsy Foundation of Florida Office at 305-670-4949
>>> Join the Early Learning Coalition of Miami-Dade/Monroe as we raise funds through TICKETS fore CHARITY!
TICKETS fore CHARITY is a unique fundraising initiative designed to raise funds for local nonprofit organizations where PGA TOUR events are held. By buying tickets to this golf event, you will be directly impacting the quality of education for children in Miami-Dade and Monroe counties. All funds raised (that's 100%!) through our unique promotional code CHIP14 come directly back to our organization.  The Cadillac Championship continues to bring together the worlds of fashion, music and entertainment at one of the most elite and exciting tournaments on golf's calendar during this year's event at the Trump National Doral on March 5-9, 2014. There's something for everyone in the family, and children 18 and under get in FREE with a ticketed adult!

>>> The Margulies Collection is open to the public Wednesday through Saturday 11am to 4pm Feature Exhibitions: Song Dong | The Wisdom of the Poor: A Communal Courtyard Arte Povera | Calzolari, Kounellis, Pistoletto Anselm Kiefer | Paintings and Sculpture 1986 – 2006 New Painting: Anna Betbeze, Aaron Bobrow, Jessica Jackson Hutchins, Astrid Svangren,Tam Van Tran New Photography: Olafur Eliasson, Jan Hoek, Nina Katchadourian, Domenico Mangano, Zwelethu Mthethwa, Hank Willis Thomas New Sculpture: Ai Weiwei, Nathalie Djurberg, Masao Gozu, Kenny Scharf, Paolo Ventura
New Video: Kota Ezawa, Amar Kanwar We look forward to welcoming you to the Warehouse soon!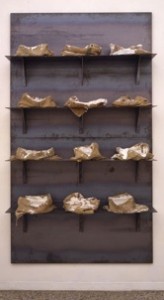 Jannis Kounellis,Senza Titolo,1999, plates, iron shelves, bags, plaster, 142 x 79″
EDITORIAL
>>> South Florida leaders should add rooting out fraud as a major initiative; it is costing everyone in a host of ways, including getting affordable healthcare insurance
"Why do you write so much about fraud? Everyone is doing it," I am asked fairly often, and it is because each of us pays the price of fraud in inflated costs from our health insurance to our automobiles, to name just a few of the areas where fraud gins up the cost for everyday consumers. Moreover, this abuse is not acceptable behavior, and people should rise up and not participate in the get rich schemes, that seem so easy and lucrative, but yet, have such a corrosive affect on South Florida at incredible cost.
Moreover, when it comes to Medicare and Medicaid Fraud, we are the champs of the nation and federal authorities have saved billions of dollars since a federal task force was set up in 2008, and while that is impressive. It is costing consumers down here big bucks in higher healthcare insurance costs, as well as chilling the nation's leaders willingness to send any major federal money for such projects like the Comprehensive Everglades Restoration Project. For example, where billions of dollars are being requested, but some 20 percent of that money might go to waste, fraud, abuse and administration given South Florida's past reputation.
Moreover, community and business leaders talk about the need for an educated and healthy population for the economy of the future, but we should also push to eradicate the widespread fraud that exists in our community. For it is as destructive to the soul of us collectively as the lack of education is, and when it comes to health. We all pay the higher costs in a host of ways, and while healthcare is expensive. The local health systems would not lead the nation, to a great extent in these high costs, without that fraud and of course the mounting charity care given. That the new federal Affordable Care Act is trying to mitigate, but even with the federal program. The individual costs for healthcare insurance, given this environment, are still through the roof, and here in South Florida.  ACA should be dubbed the Access to Care Act, because for many people. The program down here is not affordable because of this distortion of our insurance programs, after years of systematic waste fraud and abuse, that each of us pays for daily, as we go about our business of living in Miami-Dade.
LETTERS
>>> Press release: "Birthplace of Miami" Archeological Site: Miami Preservation Board Rejects Developer's Plan
After an all-day, contentious meeting, the City of Miami Historic and Environmental Preservation Board voted to reject the plan submitted by the developer of MetSquare as providing inadequate protection for the important archeological discoveries made there. (Voting to reject the plan: Jorge Kuperman, William Hopper, Hugh Ryan, Gerald Marston, Lynn Lewis, Todd Tragash, Robert Graboski. David Freeman opposed the motion to reject.)
Bob Carr and other archeologists digging at the site over the last few months have discovered the remains of a Tequesta village, a well from the Seminole-War era Ft. Dallas, and the steps of the 1897 Royal Palm Hotel. On so many levels, the site is indeed the spot where Miami began. The Biscayne Boulevard site is part of four city blocks being developed by MDM Group, which plans to build a movie theater, shops and restaurant on this parcel. The other three blocks have been completed, including the complex housing the Marriott Marquis. MDM Group purchased the property in 2003 knowing the area was an archeologically sensitive site. As required by law, the developer has paid archeologists to do surveys and digs and developed a plan to address the findings. The Miami Preservation Board also voted unanimously to ask the developer to come back with a revised plan that would better protect and showcase the archeology.
This was a stand Dade Heritage Trust's Board had supported. DHT Vice President Brian Alonso, DHT CEO Becky Roper Matkov, and DHT Advisor Arva Moore Parks spoke on the historic importance of the site and how the archeological features should be preserved, enhancing the uniqueness of the project and enriching Miami's historic attractions. A third motion, also made by Preservation Board member Jorge Kuperman, called for the City Preservation staff to prepare a preliminary historic designation report on the site. The motion passed, 7-1, with Lynn Lewis opposing. Preservation Officer Megan McLaughlin said she would present the report at the March HEP Board meeting.
DHT's Board-approved statement read as follows: We are fortunate to have laws in place, which Dade Heritage Trust helped formulate four decades ago, that provide for appropriate action to be taken when dealing with sites of major archeological and historical importance. In the case of Met Square, the law has been followed and we are now provided with the opportunity to find a solution for the needs of the property owner and the needs of the community. In this case, significance is not just at the local level, but also national, and arguably, international. Dade Heritage Trust urges the preservation of the site, and its incorporation into the proposed development. This can be done in such a way as to enhance the financial viability and marketing uniqueness of the site, at the same time providing an opportunity to showcase the "Birthplace of Miami" and over two thousand years of human habitation. We pledge our expertise and goodwill to make this happen.
>>> Only in Miami would a restaurant lease top our earliest habitation site.  I am sure the developer would not be allowed to destroy antiquity in his home country.  Our past matters too! I love reading your report.
Arva
>>> LIFETIME FOUNDING MEMBERS & INITIAL SPONSORS IN 2000
ANGEL ESPINOSA – (Deceased) owner COCONUT GROVE DRY CLEANER'S
HUGH CULVERHOUSE, Jr
FLORIDA POWER & LIGHT www.fpl.com .
THE MIAMI HERALD     www.miamiherald.com (2000-2008)
ARTHUR HERTZ
WILLIAM HUGGETT, Seamen Attorney (Deceased)
ALFRED NOVAK
LINDA E. RICKER (Deceased)
JOHN S. and JAMES L. KNIGHT FOUNDATION  www.knightfoundation.org
THE HONORABLE STANLEY G. TATE
>>> Watchdog Report supporters – $2,000 a year
BADIA SPICES    www.badiaspices.com
RONALD HALL
MIAMI-DADE COUNTY www.miamidade.gov
UNITED WAY OF MIAMI-DADE COUNTY www.unitedwaymiamidade.org
>>> Watchdog Report supporters – $1,000 a year
AKERMAN SENTERFITT   www.akerman.com
BERKOWITZ POLLACK BRANT Advisors and Accountants www.bpbcpa.com
JEFFREY L. BERKOWITZ TRUST
RON BOOK
LINDA MURPHY: Gave a new laptop in Oct. 2001 to keep me going.
WILLIAM PALMER www.shutts.com
SHUBIN & BASS     www.shubinbass.com
WILLIAMSOM AUTOMOTIVE GROUP http://williamsonautomotivegroup.com/
>>> Public, Educational & Social institutions – subscribers at $1,000 or less
CAMILLUS HOUSE, INC.   www.camillushouse.org
CITY OF MIAMI www.miamigov.com.
CITY OF CORAL GABLES www.coralgables.com
CITY OF MIAMI BEACH www.miamibeachfl.gov
CHAPMAN PARTNERSHIP FOR HOMELESS www.chapmanpartnership.org
FLORIDA INTERNATIONAL UNIVERSITY  www.fiu.edu
THE STATE OF FLORIDA    www.myflorida.gov
GREATER MIAMI CHAMBER OF COMMERCE www.miamichamber.com
GREATER MIAMI CONVENTION & VISITORS BUREAU www.miamiandbeaches.com
HEALTH FOUNDATION OF SOUTH FLORIDA  www.hfsf.org
MIAMI-DADE COUNTY COMMISSION   www.miamidade.gov
MIAMI-DADE COMMISSION OFFICE OF THE CHAIR www.miamidade.gov
MIAMI-DADE COUNTY ETHICS & PUBLIC TRUST COMMISSION
MIAMI-DADE COLLEGE www.mdc.edu
MIAMI-DADE COUNTY INSPECTOR GENERAL www.miamidade.gov/ig
MIAMI-DADE PUBLIC SCHOOLS BOARD www.dadeschools.net
MIAMI-DADE PUBLIC SCHOOLS www.dadeschools.net
MIAMI DOWNTOWN DEVELOPMENT AUTHORITY www.miamidda.com
PUBLIC HEALTH TRUST & JACKSON HEALTH SYSTEM www.jhsmiami.org
THE BEACON COUNCIL   www.beaconcouncil.com
THE CHILDREN'S TRUST www.thechildrenstrust.org
THE GOOD GOVERNMENT INITIATIVE http://goodgov.net/
THE MIAMI-DADE COUNTY LEAGUE OF CITIES www.mdclc.org
THE MIAMI FOUNDATION  www.miamifoundation.org
UNITED STATES OF AMERICA    http://www.firstgov.gov/
UNIVERSITY OF MIAMI             www.miami.edu
The Watchdog Report covers a few of the meetings attended weekly. It remains my belief that an informed public will make better decisions. Therefore, I go to meetings, make the presence of an informed citizen known, and bring the information to you.   The Watchdog Report is in the 14th year of publication and it has been an honor to be able to send this information to you. It is sent to readers in Miami-Dade, Florida, the U.S. and the world. The Watchdog Report is sent to thousands free and while readers have been prodded to subscribe the results have been mixed. Over 800 reports and Extra's have been sent since May 5, 2000 and over two million words have been written on our community's governments and events.  The report is an original work based on information gathered at public meetings, interviews and from documents in the public domain.
LETTER POLICY
I welcome letters via e-mail, fax, or snail mail. Letters may be edited for length or clarity and must refer to material published in the Watchdog Report.  Please see address and contact information. Please send any additions and corrections by e-mail, fax or snail mail. All corrections will be published in the next Watchdog Report. If you or your organization would like to publish the contents of this newsletter, please contact me. Please send your request to watchdogreport1@earthlink.net
Daniel A. Ricker
Publisher & Editor
Watchdog Report www.watchdogreport.net
Est. 05.05.00
Copyright © of original material, 2014, Daniel A. Ricker
>>> The Watchdog Report are now available to television stations web pages, and all the newspapers and other media in South Florida if the publishers have an interest to run part or all of the stories. Further, in 2000, I used to have some paper's running the report in the Spanish press, that option is available again, and publishers should contact me.  The news content will not be free, but you can pick and chose the stories of interest, edit them if necessary but you must still keep the general story intact.  If you are a news outlet and would like to learn more about, the Watchdog Report and this offer contact me at watchdogreport1@earthlink.net for further information.  >>> Here is what past newspapers have written about the Watchdog Report publisher including a survey and regional study done by the U. North Carolina at Chapel Hill on the media in the southeast United States.
>>> The Miami Herald and Orlando Sentinel & Sun-Sentinel articles on the Watchdog Report publisher over the years. >>> Published on September 9, 1999, Page 1EA, Miami Herald, The (FL) CITIZEN ADVOCATE' KEEPS TABS ON POLITICIANS >>> Published on January 3, 2000, Page 1B, Miami Herald, The (FL) MIAMI-DADE WATCHDOG WILL BE MISSED >>> >>> To read the full section large two page front page story, but without the photos and smart box graphics, go to: `I Go When You Cannot' – Sun Sentinel 20 Jan 2003 … Sometimes Dan Ricker lives in the dark so others may live in the light. … to his weekly Watchdog Report have finally mailed their checks. … http://articles.sun-sentinel.com/2003-01-20/news/0301190341_1_ricker-school-board-president-miami-s-first-cuban-american >>>Watchdog Report publisher named 'Best Citizen' 2003 by the Miami New Times  —The publisher would like to thank the weekly alternative paper Miami New Times for bestowing their 2003 Best of Miami, 'Best Citizen' award to me and I am honored.  Thank you. To read the full story go to http://www.miaminewtimes.com/issues/2003-05-15/citylife2.html/1/index.html
From the spring of 2003:  U. North Carolina, Chapel Hill:  Southeast U.S. Media Report lists Watchdog Report publisher as leading Florida commentator >>> Selected excerpts from the report on Florida's media sources. Those who do read the newspaper in Florida have a bevy of options for state government and political coverage. The dominant newspapers in the state are Knight-Ridder's The Miami Herald (Acquired by The McClatchy Company in 2006) and the Poynter Institute's St. Petersburg Times. Both papers endorsed Gore in 2000 but split on the 2002 gubernatorial race, with the Herald endorsing Republican incumbent Jeb Bush and the Times backing Democratic challenger Bill McBride. Daniel Ricker of The Miami Herald also writes an influential column as well as an email newsletter called the Watchdog Report that goes out to more than 100,000 subscribers. FEBRUARY 2004 – Florida: Columnists in Abundance –ERIC GAUTSCHI, graduate student, School of Journalism & Mass Communication, UNC-Chapel Hill – D) LEADING COMMENTATORS – Resource Commentator Organization Type Web site –Steve Bousquet St. Petersburg Times Column www.sptimes.com/columns/bousquet.shtml -"First Friday" WPBT TV (Miami) TV Show www.channel2.org/firstfriday/issues.html –Lucy Morgan St. Petersburg Times Column www.sptimes.com/columns/morgan.shtml –Daniel Ricker Miami Herald/Watchdog Report Newsletter >>> Readers who would like to read the complete University of North Carolina, Chapel Hill Southeast United States Media Report go to view the complete report or download all the data used in this study. >>> Watchdog Report Editor's note to the NCU/CH study: The subscriber number referenced is incorrect and applies to readership.
General subscriber's names will not be published in the Report. To subscribe to the Watchdog Report please use the form below as a subscription invoice.
********************************************************************
Watchdog Report Supporters Invoice-Form
NOTE: Invoice is for Yearly supporter/sponsorship Rates: Thank you.
Corporate Sponsors $1,000 (All levels above will be listed in the report with web-site link if desired)
Large Business Supporters $500
Small Business Supporters $250
Please make checks payable to: Daniel A. Ricker
Send to: 3109 Grand Avenue, #125
Miami, FL 33133 To contact the Publisher please e-mail watchdogreport1@earthlink.net
Tags: