CONTENTS
Argus Report: With Nation's $16.96 trillion debt deadline looming Oct.17, both party's politicians feeling the heat, will budget compromise emerge as the sands of time run out?
Florida: FIU cheerleader and President Mark Rosenberg says public university has "Community's back," but main campus built out and needs more land, despite global presence — LAST WK WDR: In a few weeks all state and county leaders' financial disclosures will be on line, some are there now, www.ethics.state.fl.us, sea change for transparency of elected official's finances
Miami-Dade County: Homestead Exemption Fraud task force finds some $5 million in new revenue in first few months, says M-DC PA Lopez-Cantera
Miami-Dade Public Schools: Board member Dr. Perez adds Atty. to her resume, first elected in 1998
Public Health Trust: Migoya says JHS is a "elite Academic Hospital," that "need to look as elite as it is," to BCC and why $830 million GOB for the public hospital is so important to the community
City of Miami: Dye is set, Mayor Regalado faces three challengers, Carollo gets one, and four candidates vie to replace Spence-Jones in Dist. 5 vacated set
Village of Coconut Grove: Toxic ash from incinerator causing stir in Grove, property on water in South Grove, found to have contaminates, owner then challenged tax assessment
City of Miami Beach: Mayoral race explodes with ethnic dark side at breakfast club debate, campaign pieces getting uglier, as two candidates Gongora & Levine verbally duke it out
City of Doral: Mayor Boria tries to jettison Mgr. Carollo, says outbursts by man were not known to him, when he chose the former Miami mayor
Village of Key Biscayne: PUBLIC WORKS AND WASTE MANAGEMENT DEPARTMENT ANNOUNCES CLOSURE OF THE RICKENBACKER CAUSEWAY CUSTOMER SERVICE OFFICE AND PARKING FACILITY
>>> Other stories around Florida
Broward County: Local resident indicted in $4 Million Ponzi Scheme — Residents can review they're county commissioners financial disclosure forms on line
City of Tamarac: SEC CHARGES SOUTH FLORIDA WOMAN BEHIND PONZI SCHEME TARGETING COLOMBIAN-AMERICAN COMMUNITY
Palm Beach County: — Residents can review they're top County Officials financial disclosure forms on line at http://public.ethics.state.fl.us/results.cfm
Hillsborough County: Gov. Scott names Gary Harrod and reappoints Martin Garcia to the Hillsborough County Aviation Authority.
Liberty County: Gov. Scott names Anthony Anderson as the Interim Liberty County Superintendent of Schools.
Putnam County: Gov. Scott taps David M. Buckles as Putnam County School Board Member, district two.
Monroe County: Update on Dade/Monroe Early Learning funding and federal government shutdown — to read all Monroe County constitutional officers' financial disclosure forms go to http://public.ethics.state.fl.us/results.cfm
Community Events: Good Government Initiative and panel to discuss public corruption – FIU/ Chapman honor's Ibargüen — Green Apple is a global movement to put all children in schools where they have clean and healthy air to breathe, where energy and resources are — TedX Miami event at Arsht Center
Editorials: Grovites protesting Grove Harbor development, should focus on getting citywide voters not supporting the proposed large scale project — Check out the past 2003 national story in the Tribune papers:  Paperwork Tiger By Maya Bell, Miami Bureau, Orlando Sun-Sentinel January 20, 2003 >>> And a 2004 UNC Chapel Hill study of the Southeast United States 15 states media outlet study where the Watchdog Report is listed as writing a "influential" column in Florida with over 100,000 readers: http://www.unc.edu/~davismt/SouthNow.pdf
Letters: Organization is fighting corruption in Florida, DOJ says between 2000-2010; 781 officials have been arrested in the state, #1 in the nation
Sponsors: Publisher's mission statement & Subscription information is at the bottom of this issue — Scroll down for all the headline stories text.
>>> Just because you do not take an interest in politics does not mean politics will not take an interest in you. –Pericles (430 B.C.)
>>> If you wish to be deleted, just e-mail me with that message and you are free to e-mail this on to friends.
>>> The Watchdog Report publisher would like to thank the John S. and James L. Knight Foundation www.knightfoundation.org for funding by the Knight Foundation with technical support from the Knight Center for International Media http://knight.miami.edu within the University of Miami's School of Communication www.miami.edu to maintain my webpage. The Watchdog Report webpage is free, has no ads, pops-up and is just the news in a mainstream reporting manner.
>>> Red Alert To All: If you think it is important to have an alternative mainstream news service, I hope you will consider becoming a financial supporter for I do have to live and pay my rent. I also want to thank again all those people and organizations that have supported me and I have been honored by that trust and support of my efforts over the past almost 14 years trying to keep the community, state, nation and world informed of the political and governmental happenings in South Florida. How to support and contribute to the WDR is at the bottom of the report. Thank You
ARGUS REPORT – Heard, Seen on the Street
>>> With Nation's $16.96 trillion debt deadline looming Oct.17, with both party's politicians feeling the heat, will budget compromise emerge as the sands of time run out?
At Midnight Monday, the federal government shut down except for some essential jobs, and the nation's government is in day six of dormancy. As Republicans and Democrats grapple for a solution that President Barack Obama will support to not only reopen the government, but also to also deal with the looming national debt deadline Oct. 17 and both sides for the moment are "intransient." The public in polls are disgusted that both parities cannot work together, during the shutdown that is becoming more mitigated, and is now allowing federal defense contractors to come back to work. However, a host of federal agencies are still hobbled by the situation, and the trap door facing the nation's politicians is the debt deadline that is looming, that will test the nation's credit worthiness, and this fiscal instability is riling not only the stock market, but main street America as well. http://abcnews.go.com/blogs/politics/2013/10/obama-doesnt-rule-out-using-14th-amendment-to-raise-the-debt-limit/
The Watchdog Report had thought the federal shutdown would go on no longer than 10 ten days, but with the clock ticking it appears it could take significantly longer and there lies the rub when it comes to the economy and politicians fighting at the edge of this fiscal cliff, that could punish both political parties in the months leading up to the 2014 Congressional elections. Moreover, the stakes are high given the U.S. Debt being $16.96 trillion and climbing http://www.usdebtclock.org/ and for many Americans, some that are deeply divided over political party ideology on the size of government and all the entitlement programs and special breaks for special interests.
Overall people are looking to Congress and its members to roll up their sleeves and get the job done, for many in the nation are hurting in a host of ways from the elderly to the children, who have seen Head Start programs be slashed, but a way out of this log jam must be found. For the nations, 315 million residents deserve a working government and Republic, if only our lawmakers get the message.
>>> Press release: I want to apologize for the partisan gridlock over the budget that a handful of irresponsible and reckless right-wing members of the U.S. House of Representatives have instigated. They have managed to shut down many of the federal government's services and programs simply because they couldn't get their own way and get rid of the country's health care law. This disruption may end up doing a lot of damage to a lot of people, and many believe they are putting the U.S. economy at risk to advance their own agenda. Consider: More than 70 percent of our intelligence community has been furloughed, despite the ongoing threats that terrorists pose to our country; many of the workers in our nation's space program have been sent home; and the National Institutes of Health Clinical Center has had to stop seeing hundreds of patients.
We need Americans to speak out and tell this small group of right-wing extremists to stop! Can you add your voice to such an effort?
Sign on to my open letter now — and urge these House extremists to drop their outrageous demands and reopen the government.  Thanks for joining me in speaking out, wrote U.S. Sen. Bill Nelson, D-Fla.
>>> Press release: Congress Should Work Together and Pass Legislation to Reopen Government, Including Relief Measures that Help Americans During Shutdown, Says Ros-Lehtinen
U.S. Rep. Ileana Ros-Lehtinen (R-FL) made the following statement regarding the ongoing government shutdown and three pieces of legislation passed by the House of Representatives today. If passed by the Senate and signed by the President, the measures would provide funding for critical government operations. They are the: Research for Lifesaving Cures Act, which funds the National Institutes of Health for critical research and clinical trials; Open Our National Parks and Museums Act, which funds National Park Service Operations, the Smithsonian, the National Gallery of Art, and the United States Holocaust Museum; and the Provide Local Funding for the District of Columbia Act, which funds local government operations for the District of Columbia.
Statement by Ros-Lehtinen: "While our focus must remain on getting the entire government up and running, my colleagues in the House and the Senate should be able to agree on these noncontroversial funding measures that help Americans during this crisis. Allowing the National Institutes of Health to continue critical research and clinical trials, opening our national parks and museums, and providing the District with basic operational funds are common sense actions. All three of these measures are contained within the larger appropriations bill which we all agree on and should be an easy lift for a Senate otherwise plagued by inaction." "I continue to urge my colleagues to come together in an adult, bipartisan manner and get the government going again. Let's use the three bills today as stepping stones to a larger agreement, and put an end to the shutdown that continues to hurt our communities."
FLORIDA
>>> FIU cheerleader and President Mark Rosenberg says public university has "Community's back," but main campus is running out of land, parking a nightmare
Mark Rosenberg, Ph.D., the fifth President of Florida International University (FIU) gave a rousing speech on Wednesday as the keynote speaker at the Greater Miami Chamber of Commerce monthly luncheon. Rosenberg, a scholar of politics in South America, and fluent in Spanish noted that since its inception in 1970. FIU has almost grown exponentially in size and scope with a $1.15 billion yearly budget, and the university now has a law school, medical school and a host of other colleges and some 52,500 students enrolled at the West Dade campus and at the other FIU satellite facilities, including one in northeast Dade, Brickell and Miami Beach. Moreover, some 100,000 students are expected to graduate from FIU in the next decade and there are some 125,000 alumni in South Florida. Moreover, some 25 percent of all teachers in the county's public schools district are graduates, Rosenberg said. And the president noted the institution of higher learning teaches some 13,000 different classes, and when it comes to financial aid for the "nation's largest minority majority university," some $400 million last year was given out to needy students. The university has 180 Bachelor's, Master's and doctoral programs and 96 percent of the professors hold doctorial degrees or higher degrees in their respective fields of study and includes 12 Colleges and schools. And when it comes to sports, there are 18 Division IA sports teams including football.
In addition, when it comes to dual enrollment of County Public Schools Students taking FIU classes for free, many times at their own schools. Rosenberg said the collaboration years ago with Miami-Dade Public Schools Supt. Alberto Carvalho has been a rousing success and in 2009 alone. There were 6,000 students in these 127 dual enrollment college courses and the program is saving these students some "$3.6 million in savings," said the president. Moreover, the college courses are being offered in some 38 public schools around the county including Miami Northwestern where the high school graduation rate jumped from 64 to 83 percent after intensive specialized teaching that included members of City Year and FIU professors as well working with students.
However, Rosenberg said FIU needs more land at its anchor campus and out of the other established 12 public universities in Florida. He said FIU had the "least amount of land on the main campus," to expand on, and he wants to figure out a way to acquire the "86 acres directly adjacent" land historically used for the Youth Fair, a yearly event that draws tens of thousands of people to the location. However, the Fair would have to relocate to a new site, if FIU was to be able to acquire that property. Further, FIU has a global reach and the university has a School of Hospitality & Tourism Management at the Tianjin Center in Tianjin China, and the expansive facility with now some 1,000 students opened in 2006.  For more on FIU go to www.fiu.edu
What about County Commissioner Souto & FIU?
County Commissioner Javier Souto had a Sunshine meeting Friday afternoon with representatives of FIU, and a university trustee and the commissioner was there to hear they're issues and to see if the county can come up with any solution. To the lack of land, that has FIU at the edge of the commissioner's own district, and the former state senator has been a long time supporter of FIU and the importance of public education for all in the community.
| | |
| --- | --- |
| Rosenberg | Carvalho |
>>> Press release: Following a briefing with Bryan Koon, the Director of the Florida Division of Emergency Management, Governor Rick Scott called FEMA Administrator Craig Fugate to request that all needed federal resources would be available for Tropical Storm Karen.  The storm poses a threat to the Florida Panhandle and could strengthen into a Category 1 Hurricane.  A hurricane watch has already been issued for Escambia, Okaloosa, Santa Rosa, Walton, Bay, and Gulf Counties. Governor Rick Scott said, "Our number one priority is the safety of our citizens. We will not let the government shutdown in Washington in any way hurt our emergency response efforts in Florida. I spoke to FEMA Administrator Craig Fugate this evening and got his personal assurance that no federal resource would be denied in response to Tropical Storm Karen, despite the ongoing federal shutdown.
"I have directed the Department of Emergency Management to continuously assess whether federal resources are being withheld because of the shutdown, and the state stands ready to step in to provide any emergency support needed.
"The National Guard has activated 20 guardsmen who will be directing the pre-positioning of equipment and personnel in order to respond to the storm.  As we prepare for the potential impact of Tropical Storm Karen, it is imperative that all Florida residents and visitors be prepared.  Those in the path of the storm should follow instructions from local officials to ensure safety." Tropical Storm Karen is currently located in the Gulf of Mexico near the Yucatan Peninsula.  The National Hurricane Center has advised that Tropical Storm Karen has maximum sustained winds of 65 miles per hour and is moving north-northwest at 12 miles per hour.
Earlier today, the State Emergency Operations Center upgraded operations to a Level Two activation and Governor Scott declared a state of emergency in 18 Florida counties to allow for the potential deployment of resources as needs develop. The state of emergency is currently in effect for the following counties: Escambia, Santa Rosa, Okaloosa, Walton, Holmes, Washington, Bay, Gulf, Calhoun, Jackson, Franklin, Liberty, Gadsden, Wakulla, Leon, Jefferson, Madison, and Taylor Counties.  Earlier today, the National Hurricane Center issued a Hurricane Watch for Escambia, Okaloosa, Santa Rosa, Walton, Bay, and Gulf Counties. Click here to read the Executive Order Governor Rick Scott issued declaring Tropical Storm Karen as a threat to the State of Florida with a major disaster.
>>> Press release: Gov. Scott taps reappointments to the Department of Elder Affairs Advisory Council.
Dr. Mohammad Choudhry, 47, of Leesburg, is self-employed Neurophysician. He is reappointed for a term beginning October 1, 2013, and ending September 30, 2016.
Olga Connor, 67, of Miami, is the director of the office of communication and legislative affairs with the Department of Health Miami-Dade. She is reappointed for a term beginning October 1, 2013, and ending September 30, 2016.
Mary "Mari" Terbrueggen, 74, of Jacksonville, is chairman and CEO of the Senior Life Foundation, Inc. She is reappointed for a term beginning October 1, 2013, and ending September 30, 2016.
>>> AG Bondi press release: Governor Scott Kicks off Florida's Second Statewide Human Trafficking Summit
Governor Rick Scott kicked off the second statewide human trafficking summit. Governor Scott addressed a crowd of more than 700 law enforcement officials, members of the legal community, service providers, health care professionals, educators and other first responders at the University of South Florida to start the summit, which focuses on labor and sex trafficking of both children and adults.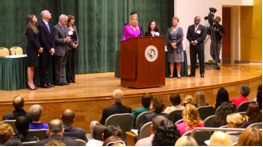 >>> And if you ever thought about adopting a child, check out the great kids on the Children's Trust's Heart Gallery page http://www.miamiheartgallery.org/#start looking for a home and great new parents.
>>> Children's Movement of Florida  Voices of Florida – We all have a story, a story that defines us. It is our collective story, our challenges and our triumphs that inspire a movement. Floridians from all walks of life have joined together with an understanding that the future of our state rests on the well-being of our children. Visit The Children's Movement website to read their stories and share your own. >>> I find it unacceptable, as all of us should, that at least a half-million children in Florida – all citizens — have no health insurance. How could this be in our beloved country that seeks to be a beacon to the world? Health insurance for all children is one of the five major planks of The Children's Movement. With the support of Florida Covering Kids and Families, The Children's Movement is working with dozens of local partners to help build a meaningful signing-up initiative in more than a dozen Florida communities. Already we have: Completed 18 KidCare trainings around the state. Signed up, trained and deployed more than a hundred volunteers. Begun to build a growing collaboration between local school districts and KidCare outreach coalitions. It's a good start, but only the start. If you'd like to become a volunteer, just click here. Another way to help is to make a contribution – of any size – to help support this work. It is easy. Just click here. A real movement isn't possible without your helping in some meaningful way. Dave Lawrence, Jr., Chair The Children's Movement.
MIAMI-DADE COUNTY
>>> Homestead Exemption Fraud task force finds some $5 million in new revenue in first few months, says M-DC PA Lopez-Cantera
After just over two months of a Miami-Dade County Property Appraiser Task Force focused on rooting out Homestead Fraud, Property Appraiser Carlos Lopez-Cantera said millions of dollars are starting to come in because of the combined efforts with ten municipalities and the public schools district where police are trained in mortgage fraud and assigned to investigate the rampant countywide problem. The County PA linked up with the public schools Superintendent Alberto Carvalho on the fraud issue that costs the nation's fourth largest schools district millions in lost revenue. At a time, budgets are tight and to make sure all taxpayers are paying their fair share, not cheating on their tax obligation, that other taxpayers are complying with and paying for the good of the community.
Lopez-Cantera, a former GOP majority leader in the Florida House won the Home Rule Charter Office in Aug. of 2012 but did not settle into office until late November when he was sworn in. He had made property Homestead Exemption fraud a major campaign issue and this task force has already brought "in some $5 million in extra" revenue, including the cities which have collected some $1.7 million and in the city of Miami. Some $740,000 in new revenue has been identified by these fraudulent exemptions investigations, that are just getting started.
However, Lopez-Cantera is also suing Miami-Dade County in court challenging the independence of the office that is not a Constitutional Office like most of the 63 or so in the state. He is arguing that voters would have thought that kind of office would be what they are getting when they voted to create an elected property appraiser, versus what the voters got which was essentially a department head that just happens to be elected. The real estate developer also notes the county attorney, is the PA office's attorney, also the commission and mayor's attorney, and when the County Attorney's Office ruled the legal suit was baseless, under the Miami-Dade County Home Rule Charter. Lopez-Cantera says a conflict of interest exists in the office and why he is taking it to the courts and the case is expected to be heard at the end of October.

Lopez-Cantera
>>> Three IG candidates interview with Selection Committee, Raftery, Cagle, Murawski, but federal employee DeMarco can't because of federal shutdown
The Inspector General Selection Committee met Friday and interviewed three of the 13 finalist candidates, but one candidate could not be there because of the federal shutdown, and the closing of government could hamper the interview process of any federal employees that were chosen to interviewed during this first round. The Committee chaired by Miami-Dade State Attorney Katherine Fernandez Rundle interviewed Thomas Raftery, III, a former senior FBI Special Agent, now with the Delaware River Port Authority, Mary Cagle, a senior former state attorney now with Department of Children's and Families, Michael Murawski, the Advocate with the County's Ethics Commission and Joseph DeMarco who had to cancel the interview because of the federal shutdown affecting some 1 million federal employees.
Fernandez Rundle
>>> Who are the other finalists?
The next round of candidates to be interviewed are Christopher Clark, Teresa Gulotta Powers, Timothy Donavan, Donald Oswald and Neftai Carrasquillo are scheduled on Oct. 7, and Richard Lober, Jody Weis, Carter Olson and James Wright will be interviewed on Oct. 16. However, a number of these applicants are federal employees and it remains to be seen if they will be able to be interviewed, or will have to be rescheduled to a later date that the selection committee discussed, and the panel agreed to interview these people when the government shutdown was over.
>>> Commissioner Monestime draws two challengers in 2014, former Commissioner Rolle jumping back into the political fray in the race
County Commissioner Jean Monestime who represents the Commission District 2 seat and he was first elected in 2010 has two challengers for his reelection in 2014. Antwane Dwayne Lenoir and former county Commissioner Dorrin Rolle are challenging him. Monestime has $108,000 in his campaign war chest, Rolle has raised nothing so far, and Lenoir has $3,000 for the campaign. Monestime beat Rolle in their last face off in 2010, after Rolle was hammered in the press and the district residents for his role in the bankruptcy of the James E. Scott Community Agency (JESCA) founded in 1925, where he was the executive director of the organization. However, this second effort by Rolle could make this a spirited race, but Rolle will once again be weighed down by some of his past decisions and controversy's since he was first appointed to the commission by then Gov. Lawton Chiles in 1997, after ex Commissioner James Burke was suspended and convicted for corruption in office by federal prosecutors. To look at their campaign documents got o http://www.voterfocus.com/ws/mdccand/candidate_pr.php?c=miamidade&el=17
>>> And to review all the Miami-Dade County Commissioners financial disclosure forms for the year go to http://public.ethics.state.fl.us/results.cfm?org_id=214439&suborg_id=233972&Mode=By_SubOrg
>>> THE MIAMI-DADE COUNTY HOMELESS TRUST BOARD APPROVES A PLAN TO CREATE ANOTHER 250 BEDS FOR THE CHRONICALLY HOMELESS ~ ALSO APPROVES FUNDING FOR NEW EMERGENCY AND HOUSING-FIRST BEDS
Press release: The Miami-Dade County Homeless Trust's Board of Directors approved a new plan to create another 250-plus beds for the area's chronically homeless.  The recommendation, approved at the September 27th board meeting, requires all Trust-funded permanent housing providers who do not already do so, to set aside units within their programs specifically for the chronically homeless.  The Board also approved funding to programs selected through a competitive process to provide 134 new emergency housing beds for individuals, including the chronic, and families, and a "Housing First" program.
By requiring the set-aside as a condition of funding renewal, the Trust is assured at least 250 additional beds will be available to meet the needs of this hard-to-serve population. Providers who set aside more beds for the chronically homeless will increase their scoring when they compete for renewal of their contract. USHUD defines a chronic homeless person as someone who is disabled and has been homeless for more than a year, or four or more times in the past three years. An estimated 43-49% of the current unsheltered (street homeless) population is considered chronic.
"USHUD has set an objective to end chronic homelessness by 2015, and we have our own goal to increase the availability of permanent supportive housing beds to be able to do that," said Ronald L. Book, Chairman of the Miami-Dade County Homeless Trust.  "In order to meet both this objective and goal, we have to be creative and aggressive in our thinking.  This is among ten initiatives that the Trust has had underway for some time, and moves us another step forward in offering more options to care for the hardest to reach men and women."
The goal is to use this process to add an additional 200 beds for chronically homeless single adults and another 50 beds for chronically homeless families to the current inventory of almost 750 beds already set aside specifically for this population. Another 3,366 permanent housing beds are available in the local homeless continuum of care. The new emergency beds funded will increase the inventory of emergency housing beds with case management services to assist individuals coming off the streets in stabilizing and preparing them to move to permanent housing. This includes additional, new, low-demand chronic homeless emergency beds.  The beds will be provided by three different agencies, and is added to the current pool of more than 1,600 emergency beds that serve our community's homeless, including victims of domestic violence.  The new Housing First permanent housing units will serve the chronically homeless in a model that research has determined to be one of the most effective at serving the chronic.  The Trust currently funds six other Housing First programs. >>> About The Miami-Dade County Homeless Trust:  Founded in 1993, The Miami-Dade County Homeless Trust is a county agency headed by a board of 27 volunteers which serves in an advisory capacity to the Miami-Dade County Commission charged with the responsibility of implementing the Miami-Dade County Community Homeless Plan. These volunteers represent the business, religious, educational, provider and political communities, along with formerly homeless individuals. For more information regarding The Homeless Trust, visit www.homelesstrust.org.
>>> Press release: Miami-Dade County Animal SERVICES is celebrating NATIONAL adopt-a-shelter dog the entire month of October
October has been designated by the ASPCA (American Society for the Prevention of Cruelty to Animals) as National Adopt-A -Shelter Dog Month. During this month, Miami-Dade County Animal Services Department (ASD) hopes to raise awareness about shelter pets, promote involvement within the community, by spreading the word for adoption, and bring a Fur-ever pet into your home. The observation of Adopt-A Shelter Dog Month brings attention to the problem of homeless pets in every community. Visit ASD and save a life, adopt a shelter pet today!
"So many dogs and cats are abandoned at our shelter on a daily basis, it is so rewarding to be able to save a life and give one of our shelter pets a loving home,"  said Animal Services Director Alex Muñoz.  "Please help us in our mission of saving lives and adopt a shelter pet today." The price of adoption for dogs at $65.00 ($75.00 for 4 months and under) is a true bargain and includes the following: sterilization, microchipping, age appropriate vaccines and heartworm testing, deworming and flea/tick prevention. >>> About Miami-Dade County Animal Services: Miami-Dade Animal Services Department is an open admission public shelter.  Over 27,000 pets are abandoned each year at the shelter where staff and volunteers work diligently to reunite, re-home or find a Rescue Partner for the animals.  The Department is also responsible for enforcing Chapter 5 of the Miami-Dade County Code and Florida State Statutes pertaining to animal cruelty and neglect.  For more information, please call 311 or visit our website at www.miamidade.gov/animals.
>>> New Beacon Council CEO Williams gets introduced to community on Oct. 24 at Annual Meeting on the Beach
The Beacon Council is having its Annual Meeting on Thursday Oct. 24 at the Loews Miami Beach Hotel starting at 11:30 and for more information go to
http://www.beaconcouncil.com/web/Events.aspx?Page=events at the meeting, that features a number of prominent business leaders. The public for the first time will meet incoming Beacon Council President & CEO Larry K. Williams and the Watchdog Report wishes him luck in this challenging position of leadership in the years ahead.
>>> GMCVB press release: International passenger arrivals for the month of August 2013 at Miami International Airport (MIA) increased by 8.6% and domestic passenger arrivals increased by 5.4%. Total passenger arrivals at Miami International Airport (MIA) increased in the month of August 2013 by 7.1%.
MIA Passenger Arrivals
International Arrivals
August 2013
August 2012
% Change vs. 2012
962,457
886,392
+8.6%
Domestic Arrivals
August 2013
August 2012
% Change vs. 2012
842,608
799,387
+5.4%
Total Arrivals
August 2013
August 2012
% Change vs. 2012
1,805,065
1,685,779
+7.1%
MIAMI-DADE PUBLIC SCHOOLS
>>> Board member Dr. Perez adds Atty. to her resume, first elected in 1998
Well there is a new attorney on the Miami-Dade Public Schools Board with long serving board Member Marta Perez, Ph.D., Esq. passing the Florida Bar recently and being sworn in as a attorney. Perez elected to the nine-member school board back in 1998 to the District 8 seat has been a persistent advocate of the judicial and responsible use of public money over the years, and she has been reelected multiple times with no challenger or a weak opponent, and she has added this new achievement to her resume.  Further, for the upcoming 2014 race for her seat, she has no challengers to date and the board member has raised $102,700 for the upcoming campaign. However, It is unknown if she is planning on opening a law practice and giving up her teaching career, but the Watchdog Report gives her a Tip of the Hat for this recent legal milestone achievement.

Perez
>>> Press release: Miami-Dade County School Board Chair Perla Tabares Hantman will lead students, teachers, parents, concerned citizens, and community leaders in "Walk Our Children to School Day" activities beginning at 9 a.m. on Tuesday, October 8 at Ernest R Graham K-8 Center, 7330 W 32nd Avenue, Hialeah, 33018. "During this special event, we will be joining forces with millions of students, parents, teachers and community leaders from around the globe, working in unison to learn and practice safe walking and bicycling skills," said Hantman.  "These skills will be reinforced throughout the entire school year."
The International Walk to School Day event increases the awareness of safe walking skills, safe routes to school for students and parents, as well as walking as an exercise that promotes good health and physical fitness. In addition, walking helps the environment by reducing school-related traffic and pollution and reinforces the importance of reducing traffic speed and obeying the school speed zone limits.  Over the past 17 years, the event has grown from a one-day program to a month-long celebration, with over 4 million participants in approximately 40 countries.
In conjunction with this event, Ms. Hantman also encourages participation in the "WalkSafe Program" at the elementary school level.  This program was developed by the University of Miami/Miller School of Medicine to teach safe walking skills. The Metropolitan Planning Organization (MPO) and the Bicycle Pedestrian Advisory Committee have endorsed "Walk Our Children to School Day," which is sponsored by Safe Kids Worldwide and locally promoted by Miami Children's Hospital.  For more information about this event, please contact Ms. Vivian Villaamil at 305-995-7287.
>>> Press release: M-DCPS CLASSROOM PROJECTS ELIGIBLE FOR FUNDING THROUGH FUEL YOUR SCHOOL PROGRAM DURING THE MONTH OF OCTOBER
Miami-Dade County Public Schools (M-DCPS) classroom projects may be eligible for funding through the Fuel Your School program. Chevron will donate $1, up to $500,000, for local public K-12 schools when customers purchase eight or more gallons of fuel at participating Chevron and Texaco stations in Miami-Dade County, during the month of October. The Fuel Your School Program will fund eligible classroom projects submitted by Miami-Dade public school teachers Sept. 1 through Nov. 30 at DonorsChoose.org for student supplies and materials, up to $2,000.* In addition to Miami-Dade County, the Chevron and DonorsChoose.org collaboration is introducing the Fuel Your School Program in more than a dozen other U.S. metropolitan areas. >>> For a list of Miami-Dade participating gas stations and to follow the progress of funded classroom projects, visit www.FuelYourSchool.com. * According to DonorsChoose.org requirements, teachers with more than 4 points on DonorsChoose.org can request materials up to $2,000 and all other teachers can request a maximum of $800. See DonorsChoose.org for details.
PUBLIC HEALTH TRUST
>>> Migoya says JHS is a "elite Academic Hospital," that "need to look as elite as it is, to BCC and why $830 million GOB for the public hospital is so important to the community
The Miami-Dade County Commission held a Commission of the Whole meeting on Thursday and the talk of the day was the upcoming $830 million GOB for the public health facility on the Nov. 5 countywide ballot. PHT Chair Darryl Sharpton was also at the dais, and other PHT trustees were in the audience. As President and CEO Carlos Migoya made his presentation of where this new money would be going if voters give it a thumbs up, at the Jackson Health System facilities, that are badly in need of infrastructure and technology improvements that have been delayed for over a decade. Migoya noted that even after this money, the health trust would need to invest yearly at least "$50 to $100 million" more in the years ahead to be able to compete with other hospital systems in South Flroida that have much more modern facilities.
"We are an elite Academic hospital," and the hospital facilities "need to look as elite as it is," and with this new money the health system will be "completely digitalized," and that will improve patient care. Since doctors and nurses will be able to give "a much faster diagnosis," of patients the CEO said. In addition, Sharpton noted these infrastructure upgrades were critical because JHS "needs to do things that attract doctors [and private paying patients]" especially since some $113 million in Medicaid and Medicare payments are to "drop," he said.
Commission Chair Rebeca Sosa when the body was discussing the public media campaign being paid for by donations, not with any public money. She said while county commissioners may want to participate in the promotional spots, that could be a double-edged sword with the voters and she suggested instead to use past patients and to "bring these real normal people to tell voters" the importance of JHS to them and these medical "success stories," she thought. In addition, she understood if JHS "doesn't become competitive, there is no way paying patients would be going to Jackson," she said.
And Commissioner Dennis Moss, at the UM Sylvester Cancer Clinic prior to getting to the meeting. He said he thought it was important "to pump the campaign up," and get the public to understand what an "opportunity," we have to keep this public medical jewel competitive, said the long serving former PHT trustee in the past. Further, Commissioner Audrey Edmonson noted when she views the main hospital's facilities, some parts reminds her more "of the 50's and 60's in some areas of the campus,"  that used to have West Wing executive bathrooms with ashtrays in them, and why these upgrades are so badly needed because "this is our hospital," she said.
What about the nurses and doctors over the weekend?
Martha Baker who represents the nurses union at Jackson spoke to commissioners and told then to look to the sky while the University of Miami and Dolphins play on Saturday and Sunday. For a plane will fly over the stadium asking voters to Vote Yes for the Jackson bond and she said the community campaign is being fully supported by the union's membership and doctors.
What kind of community campaign would the WDR run?
I would focus on the many medical miracles JHS does everyday by asking some of the patients, if they would be spokespeople for the campaign pieces and how Jackson Hospital saved them. People such as the woman who got the very first liver transplant at UM/JHS years ago as a child, and she just graduated from FIU's Herbert Wertheim College of Medicine this spring and she now wants to study and go into transplant surgery, or the injured Miami Police Officer. Manny Gomez, who was thrown from his police horse, and was only saved and able to walk again after the physicians at the University of Miami Project to Cure Paralysis, and JHS, treated the officer, but since then. The man has carped in front of county officials at commission meetings how terrible the JHS rehabilitation facilities were at the hospital. In addition, a host of other patients over the decades should be asked to speak if they would.
For this bond will not be an easy sell to county voters, and it will take a good public relations campaign, but the effort has to include a voter grass roots ground swell as well. If the bond is to pass and JHS is to continue being the public medical jewel, when it comes to world-class medical care for all, regardless of the patient's financial means.
What do critics say about the bond?
Critics are concerned this new money might in some way get diverted by the county commission, like when it shifted some now $100 million in unfunded mandates to JHS back in 2000, and that shift has contributed to this need for funding for new infrastructure. Further, people question the governance model of the health trust, under now county commission control, and that it might be better as a not for profit entity, but that governance model has never gained traction on the commission. In addition, while there will be a separate oversight board modeled after the 2004 County GOB $2.9 billion bond sale, there is also concern there will be the creation of a new bureaucracy within the health trust.  
| | | | | |
| --- | --- | --- | --- | --- |
| Sosa | Moss | Edmonson | Migoya | Sharpton |
CITY OF MIAMI
>>> Dye is set, Mayor Regalado faces three challengers, Carollo gets one, and four candidates vie to replace Spence-Jones in Dist. 5 vacated set
The dye is set, with candidate filings closed with the Miami Clerk Sept. 21 for the candidates for the Nov. 5 citywide elections and with Miami Commissioner Francis Suarez dropping out of the mayoral race last month. Mayor Tomas Regalado is expected to win without a runoff while he faces three relatively unknown challengers. The challengers to Regalado's final term in office are Jeffrey Anthony Benjamin, Williams Armbrister and Tom Bauman and around the city, you can see some of these candidates' campaign signs, but they are lacking in the fundraising department.
In the Commission District 3 race, incumbent Miami Commissioner Frank Carollo is facing Alex Dominguez and in the District 5 race to replace termed out Miami Commissioner Michelle Spence-Jones. The candidates are Richard Dunn, II, Robert Malone, Jr., Keon Hardeman and Jacquetta "Jacqui" Colyer rounds out the field of hopefuls running for the vacated office. And it is expected that in both commission races the negative charges will fly and the only question for the respective campaigns is how low will they go running up to the general election where 50 percent plus one will catapult the candidate into office. http://www.miamigov.com/City_Clerk/Pages/Elections/candidates.asp
| | | | |
| --- | --- | --- | --- |
| Regalado | Carollo | Suarez | Spence-Jones |
VILLAGE OF COCONUT GROVE
>>> Toxic ash from incinerator causing stir in Grove, property on water in South Grove, found to have contaminates, owner then challenged tax assessment
The front-page story in The Miami Herald today about some contaminated parks in Coconut Grove and in the city of Miami has set the tony village residents on edge. http://www.miamiherald.com/2013/10/06/3671910/questions-raised-about-toxic-substances.html Further, while local and county government has looked at the parks and a few other sites for the dumped toxins left over from the Old Smokey incinerator shut down in 1970 in the Village West of the Grove. The Watchdog Report is also aware of a home on 3500 Saint Gaudens Rd., http://www.zillow.com/homedetails/3500-Saint-Gaudens-Ct-Miami-FL-33133/43863585_zpid/ that has some contamination, and the owners of the property challenged their property tax assessment of the sprawling mansion and got a tax break. After the property owner received a letter from the county's environmental department about the findings, and given the earthmovers on the site. The issue appears to being mitigated to the property valued at $18.2 million.
In addition, for Grovites living in the South Grove, these random hot spots are causing homeowners to wonder if they should get their own properties tested for heavy metal contaminants as well. In addition, while officials are trying to get a handle on how wide spread the issue of the old ash is on land in Coconut Grove. The waiting has local parents with kids on edge, since the little ones have been playing in the suspect parks for years, and what affect any exposure to the materials will have on these little people in the years ahead.
CITY OF MIAMI BEACH
>>> Mayoral race explodes with ugly ethnic dark side at breakfast debate, campaign pieces getting uglier, as two candidates Gongora & Levine verbally duke it out
The Watchdog Report last week with the clock running down to the Nov. 5 election for mayor thought things might start to get heated when it came to the candidates, and at a Tuesday Morning Breakfast Club, what I thought would be a rumble, turned "nuts," wrote one attendee last week. And it turned into a verbal ethnic mud-slinging affair until one of the attendees was able to silence some of the out bursts by supposedly political supporters of competing candidates. And the Watchdog Report has also become aware of a campaign mailer hitting Beach mailboxes that has mayoral candidate Philip Levine in a photo between Fidel and Raul Castro, suggesting something "common," and that the candidate is involved in some way with the Castro brothers. Which is a lightning rod issue here in South Florida, and Levine denies any connection, but it has hit the electorate and is now part of the race. And Miami New Times www.miaminewtimes.com did a story mayoral candidate Commissioner Michael Gongora's campaign and the role his mother may be having by funding a PAC supporting her son. Therefore, the proverbial gloves are off in this race and with only a couple of weeks before early voting starts Oct. 21, expect the low turnout Beach race to get even nastier.
Further, the Beach while a great vacation spot has a history of getting ethnically ugly and Mayor Matti Herrera Bower's first mayoral race in 2007 against Simone Cruz turned into such an ugly affair. When Cruz, who was doing very well in the polls with a political television ad, that had then Commissioner Bower saying. "I don't understand," over and over again at commission meetings in the campaign clip, suggesting she was out of her depth as mayor. But then the Cruz campaign came out with a campaign brochure that depicted the Holocaust Memorial in the front cover with a headline above essentially suggesting that if Bower was elected, it could occur again. However, Jewish leaders on Miami Beach went ballistic at the appalling reference and Cruz ultimately lost the election to Bower. >>> Here is a longer story on the mayoral debate last week and the fireworks and another story on the provocative Castro brother's campaign brochure.   http://www.miamiherald.com/2013/10/01/3663422/miami-beach-mayoral-debate-falls.html and for another take go to http://miamisunpost.com/wicked-game/ >>>
And the candidates for mayor are Michael Gongora, Raphael Herman, David P. Hundley, Philip Levine and Steve Berke.
>>> Press release: SENATOR GWEN MARGOLIS AND REPRESENTATIVE DAVID RICHARDSON TO HOST PROPERTY INSURANCE WORKSHOP ON TUESDAY, OCTOBER 15
In response to constituents' requests, Senator Gwen Margolis and Representative David Richardson are pleased to announce that they will be hosting a Property Insurance Workshop on Tuesday, October 15, 2013 from 6 to 8 PM at the City of Miami Beach Commission Chambers.  The Commission Chambers are located on the third floor of Miami Beach City Hall, 1700 Convention Center Drive, Miami Beach, FL, 33139. The purpose of this workshop is to provide the public with information regarding the current status of property insurance in Miami-Dade County.  This is an opportunity to meet the people from Tallahassee who make important decisions regarding insurance issues.
If you are concerned about your property insurance rates, this is your opportunity to make your voice heard! Confirmed Speakers and Attendees Include: Robin Westcott, Department of Financial Services, Insurance Consumer Advocate
Steve Bitar, Vice-President of Consumer and Agent Services, Citizens Property Insurance Corporation Candace Bunker, Legislative Affairs Liaison, Citizens Property Insurance Corporation Jay Neal, President and CEO, Florida Association of Insurance Reform Paul Handerhan, President of the Florida Association of Public Insurance Adjusters (FAPIA) Bill Tejeda, Regional Program Administrator of the Department of Business and Professional Regulation
Each speaker will make a presentation and then the public will be able to ask questions, make comments, and get information from the speakers and attendees.  Senator Margolis and Representative Richardson hope to see you there; it promises to be an informative event! If you need additional information, please contact David Lancz in the office of Senator Gwen Margolis at (305) 571-5777. Miami Physician Indicted in Medicare Fraud Scheme
>>> Press release: Wifredo A. Ferrer, United States Attorney for the Southern District of Florida, Christopher B. Dennis, Special Agent in Charge, U.S. Department of Health and Human Services, Office of Inspector General, and Michael B. Steinbach, Special Agent in Charge, Federal Bureau of Investigation (FBI), Miami Field Office, announce that a federal grand jury indicted defendant Christopher Gregory Wayne, 53, of Miami Beach, an osteopathic physician residing in Miami, for health care fraud. Wayne was arrested today and made his initial appearance at 2:00 p.m. before U.S. Magistrate Judge Barry L. Garber.
The indictment charges Wayne with twelve counts of health care fraud by executing a scheme to defraud the Medicare program, in violation of Title 18, United States Code, Section 1347. The case has been assigned to U.S. District Judge Robert N. Scola, Jr. If convicted, Wayne faces a maximum statutory sentence of up to ten years in prison and a $250,000 fine. Mr. Ferrer commended the investigative efforts of HHS-OIG and the FBI. The case is being prosecuted by Assistant U.S. Attorney Eric Morales. The Indictment is only an accusation and is not evidence of guilt. A defendant is presumed innocent unless and until he is proven guilty. A copy of this press release may be found on the website of the United States Attorney's Office for the Southern District of Florida at www.usdoj.gov/usao/fls.
CITY OF DORAL
>>> Mayor Boria tries to jettison Mgr. Carollo, says outbursts by man were not known to him, when he chose the former Miami mayor
Doral Mayor Luigi Boria is having buyer's remorse when he selected mercurial former Miami Mayor Joe Carollo to be his new city manager months ago after his November election to the office. Boria, a Venezuelan American has had some conflicts of his own and the county's ethics commission has ruled the mayor has to recluse himself from a land deal in the city, that also at one time involved his children. However, in selecting Carollo for the top city spot Boria thought he had a soul mate who had helped him transition into office. But apparently the relationship deteriorated and now has Carollo saying he would do nothing illegal and the mayor responding he did not know the former municipal mayor had such a temper, after a few different outbursts. http://miami.cbslocal.com/2013/10/04/doral-mayor-says-city-manager-hire-was-mistake/
Moreover, while the Watchdog Report does not know Boria, I do know Carollo and have watched him in action since 1997, and had always questioned his temperament to serve in public office, and his flare for the dramatic that escalated to new heights during the emotionally charged Elian Gonzalez affair back in 2000. The story led national news for over six months, and Carollo was on the airwaves locally and nationally railing against the federal government and then Attorney General Janet Reno. The mayor also almost got into a fight when he insulted then Commissioner Tomas Regalado's wife on the dais, and now deceased Commissioner Arthur E. Teele, Jr. rose to her defense and the two men faced off briefly. While the stunned audience was frozen in place at what they were seeing of their elected officials about to potentially duke it out on the dais, but was defused after a security guard for the mayor stepped into the fray.
And since he lost a reelection bid in 2001, Carollo has kept a low-key profile until the past year, and insiders were skeptical about how he would do in this new capacity in Doral, with a strong manager form of government. And the mayor and council will be meeting Oct.9 at 6:00 p.m. in the Council Chambers to possible decide Carollo's ultimate fate as the manager in the future.
VILLAGE OF KEY BISCAYNE
>>> PUBLIC WORKS AND WASTE MANAGEMENT DEPARTMENT ANNOUNCES CLOSURE OF THE RICKENBACKER CAUSEWAY CUSTOMER SERVICE OFFICE AND PARKING FACILITY
Press release: In preparation for demolition and construction work on the West Bridge of the Rickenbacker Causeway, the toll plaza customer service office and parking facility will close on Wednesday, October 2, 2013 until completion of the work on the West Bridge. Motorists and cyclists will no longer be able to access the toll plaza parking lot from either direction, as this area will be used for equipment staging associated with the West Bridge rehabilitation project.
All toll plaza business will be conducted at the new Rickenbacker Causeway Customer Service Center which will be housed in the Causeway Maintenance Facility located on Arthur Lamb Jr. Road (also known as Sewer Beach Road).  The facility sits directly across the street from the Miami Seaquarium.   The Customer Service Center will be open Monday through Friday from
8 a.m. to 5 p.m. except County-observed holidays. For more information on the Customer Service Center, please contact PWWM's Causeways Division at 305-854-2468, Monday through Friday from 8 a.m. to 5 p.m.
>>> OTHER STORIES AROUND FLORIDA
BROWARD COUNTY
>>> Local resident Indicted in $4 Million Ponzi Scheme
Press release: Wifredo A. Ferrer, United States Attorney for the Southern District of Florida, Michael B. Steinbach, Special Agent in Charge, Federal Bureau of Investigation (FBI), Miami Field Office, and Eric I. Bustillo, Regional Director, Securities and Exchange Commission (SEC), announce the filing of an indictment charging defendant Jenny Coplan, 54, of Lauderhill, with three counts of wire fraud, in violation of Title 18, United States Code, Section 1343. In a parallel action, the SEC announced civil charges against Coplan. According to the indictment filed in this matter, Coplan was the president of Immigration General Services, LLC (IGS) and solicited investors for purported investments in federal bail and immigration bonds. Coplan promised investors interest rates exceeding sixty percent a year on their investments.
According to the indictment filed in this matter, to induce investors to invest money with IGS, Coplan made material oral misrepresentations, which included, among others, promises that the investments were insured by the Federal Deposit Insurance Company, that the investments were secure and had little risk, and that Coplan had the experience and licenses to invest in these bonds. Further, to induce investors to invest money with IGS and to keep their investment with IGS, Coplan made material written misrepresentations to investors, including, among others, providing investors fraudulent and fictitious financial statements and fraudulent and fictitious e-mails from the bond corporation in which investors were purportedly investing.
Induced by Coplan's misrepresentations, the indictment alleges, investors invested approximately $4 million with Coplan by wiring money, writing checks, or providing cash to Coplan. Rather than investing the money in the bonds as promised, Coplan used the monies from new investors to pay old investors and used the money for her personal use and benefit. If convicted, the defendant faces a possible maximum statutory sentence of 20 years in prison for each count of wire fraud. Mr. Ferrer thanked the FBI and SEC for their work on this case. The case is being prosecuted by Assistant U.S. Attorney Michael N. Berger. An indictment is only an accusation and the defendant is presumed innocent until proven guilty. A copy of this press release may be found on the website of the United States Attorney's Office for the Southern District of Florida at www.usdoj.gov/usao/fls.
>>> Residents can review they're county commissioners financial disclosure forms on line — Residents of Broward County can now review they're county commissioners financial disclosure forms on line and to see the inner financial workings of these elected officials go to  http://public.ethics.state.fl.us/results.cfm
>>> Thank you for using the Broward County Commission Agenda E-mail Notification System. A new Broward County Commission Agenda is available. Point your browser to http://www.broward.org/commission/welcome.htm to view the new agenda.
CITY OF TAMARAC
>>> SEC CHARGES SOUTH FLORIDA WOMAN BEHIND PONZI SCHEME TARGETING COLOMBIAN-AMERICAN COMMUNITY
Press release: The Securities and Exchange Commission today charged a woman living in South Florida with defrauding investors in a Ponzi scheme and affinity fraud that targeted the local Colombian-American community and involved purported investments in immigration bail bonds.
The SEC alleges that Jenny E. Coplan told investors that her company Immigration General Services operated through an investment broker that would invest the funds she raised in immigration bail bonds and turn a profit.  Coplan promised interest payments ranging from 60 to 108 percent annually.  She also assured investors that their money was safe because it was insured by the Federal Deposit Insurance Corporation (FDIC).  However, Coplan never placed investor funds with any investment broker, and their money was never FDIC insured.  Instead, she paid supposed profits to earlier investors using funds from newer investors in classic Ponzi fashion, and she stole approximately $878,000 of investor money for her own personal use.
"Coplan deliberately misled investors into believing their investments were safe and secure when in reality she was lining her own pockets," said Eric I. Bustillo, Director of the SEC's Miami Regional Office.  "Her predatory scheme exploited the trust and friendship of members of her own community by using empty promises to convince them to trust her with their hard-earned savings." In a parallel action, the U.S. Attorney's Office for the Southern District of Florida today announced criminal charges against Coplan. According to the SEC's complaint filed in federal court in Miami, Coplan solicited investors through personal conversations over the phone and in person, and many of her targets were Colombian-Americans and Colombians living in Florida.  She raised approximately $4 million from more than 90 investors in Florida, California, Georgia, Texas, Canada, and Colombia.
The SEC alleges that Coplan created fictitious investor statements that she disseminated to hide her misuse of the money and lead investors to believe their investments were growing.  Furthermore, Coplan e-mailed one investor two purported FDIC statements reflecting insured balances of $107,000 and $250,000, lulling the investor to think the investment was particularly safe.  When her scheme began to unravel in 2011, Coplan blamed the purported investment broker for the delay in interest payments to investors, telling them the broker held the investors' funds to cover deficiencies because Coplan had failed to meet certain monthly investment quotas.  Even though Immigration General Services had virtually no funds in its bank accounts and was unable to honor investors' increasing redemption requests, Coplan tried in late 2011 to create a false appearance that the company was back to business as usual.  She issued non-sufficient fund checks to investors purporting to be their monthly profits.  Through her continued misstatements, Coplan was able to raise another $578,000 from new investors before the scheme collapsed entirely.
The SEC's complaint against Coplan, who lives in Tamarac, Fla., seeks disgorgement of ill-gotten gains, financial penalties, and permanent injunctions. The SEC's investigation was conducted by Jorge L. Riera and Karaz S. Zaki in the Miami office and supervised by Elisha L. Frank.  The SEC's litigation will be led by Amie Riggle Berlin.  The SEC appreciates the assistance of the U.S. Attorney's Office for the Southern District of Florida and the Federal Bureau of Investigation.
HILLSBOROUGH COUNTY
>>> Press release: Gov. Scott names Gary Harrod and reappoints Martin Garcia to the Hillsborough County Aviation Authority.
Harrod, 64, of Tampa, is the CEO of Harrod Properties Inc. Harrod has served on the Board of Directors for the Bank of Tampa and on the Board of Trustees for the University of Tampa. He received his bachelor's degree in business administration from Texas Tech University. Harrod succeeds Joseph Diaco and is appointed for a term beginning October 3, 2013, and ending July 1, 2017.
Garcia, 57, of Tampa, is the managing director of Pinehill Capital Partners Inc. Garcia has served on the Board of Trustees for Wake Forest University and on the Board of Governors of the Florida Bar Association. He received his bachelor's degree in accounting from the University of South Florida and his law degree from Wake Forest University School of Law. Garcia is reappointed for a term beginning October 3, 2013, and ending July 1, 2017.
LIBERTY COUNTY
>>> Gov. Scott names Anthony Anderson as the Interim Liberty County Superintendent of Schools.
Press release: Anderson, 60, of Bristol, is a retired educator. Anderson has nearly 30 years of experience as a teacher, principal and superintendant in Liberty County, having served as Liberty County Superintendent from 2000-2004. From 2004-2011, he worked at the Panhandle Area Educational Consortium.  Anderson received his bachelor's degree from the University of Florida and his master's degree from Florida A&M University. Anderson temporarily replaces the suspended Liberty County Superintendent of Schools and is appointed for a term beginning October 3, 2013.
PUTNAM COUNTY
>>> Press release: Gov. Scott taps David M. Buckles as Putnam County School Board Member, district two.
Buckles, 61, of Palatka, is an adjunct professor for St. Leo University. He has previously served as the Putnam County Schools Superintendent and as a chairman of the North East Florida Educational Consortium. Buckles received his bachelor's degree from the University of Florida and his master's degree from the University of North Florida. He fills a vacant seat created by the resignation of Lisa Parsons and is appointed for a term beginning October 1, 2013, and ending November 11, 2014.
MONROE COUNTY
>>> Update on Dade/Monroe Early Learning funding and federal government shutdown — Dear Early Care and Education Partner, Please see the message below from Shan Goff, Executive Director of the Florida Office of Early Learning.
Thank you. Early Learning Coalition of Miami-Dade/Monroe www.elcmdm.org Miami-Dade Office, 2555 Ponce de Leon Boulevard, Coral Gables, FL 33134
305-646-7220 — Monroe Office, 1111 12th Street, Suite 206, Key West, FL 33040  305-296-5557
>>> And to read all the other Monroe County constitutional officers' financial disclosure forms go to http://public.ethics.state.fl.us/results.cfm
COMMUNITY EVENTS
>>> King Mango Strut begins to plan for the 32nd Annual Parade in Coconut Grove, with kickoff party on Oct. 15
I am excited to inform you that we have been invited and the KMP BOD have excepted an invitation to "Strut" in the Jr. Orange Bowl Parade.  They have asked us to be a Group and to advertise our 32nd King Mango Parade.
The JOBP is on Sunday, December 1, 2013 and starts at 6:30 pm.  Their theme is "Illumination Spectacular" and we can incorporate our themes past, present & future.  So if you would like to dress up, interact with about 25,000 to 30,000 people, be on local TV, walk or ride for about 40 minutes (much less than our Strut) and help promote and advertise the Best Parade Ever, our King Mango Strut, then please contact me and be at our "Kick Off" Party at Greenstreet's Café on October 15th at 7 pm. See You There & Bring Your Friends!!!   By the way, Regina & AJ have already signed up to Strut with us! For more go to http://www.kingmangostrut.org/
>>> The Good Government Initiative at the University of Miami Invites you to a A Special Community Conversation – Public Corruption — When Will It Stop? Thursday, October 17, 2013, Northern Trust, 700 Brickell Ave, Miami, FL 33131 -11:30 a.m. Registration, 12 noon Lunch 12:30 p.m. Conversation. In light of recent events in Miami-Dade County, join us as we discuss public corruption and the roles of the enforcing agencies. With Wifredo Ferrer,  U.S. Attorney for the Southern District of Florida;  Joseph Centorino, Executive Director, Miami-Dade County Commission on Ethics and Public Trust; Michael Putney, Senior Political Reporter, WPLG TV; and Howard Rosen, Deputy Chief, Public Corruption Unit, State Attorney's Office.  Moderated by Katy Sorenson, President and CEO, The Good Government Initiative. >>> Ticket Prices: $35 Individual Ticket, $30 GGI Member* $50 GGI Contributor (Individual Ticket + $15 donation) $500 Table of 10 (Sponsor Table) $20 Concerned Citizen *made a donation of at least $100 this year Register Now!  Don't wait — space is limited! Your payment via PayPal in advance is your confirmation to attend the event. Please click on "register now" button above for registration and payment through PayPal (no account necessary to use PayPal). To pay by check please send to: 1320 South Dixie Highway, Suite 911,  Coral Gables, FL 33146 no later than Wednesday, Oct. 9th.
>>> TEDxMiami Thursday, October 24 @ 7pm, Knight Concert Hall — For four years, TEDxMiami has been a hub of diverse creativity, innovative ideas, and progressive thought leadership that has been a cornerstone of Miami's creative, intellectual, and entrepreneurial audiences. The main event in the fall will feature live speakers giving unique, locally relevant talks. TED is an international nonprofit organization and its mission is to share ideas worth spreading. TEDx is a program of local, self-organized events that bring people together to share a TED-like experience. At a TEDx event, TEDTalks video and live speakers combine to spark deep discussion and connection in a small group. Follow #TEDxMiami2013 for event updates and keep up with TedxMiami throughout the year on Facebook and Twitter. Member Pre-Sale: NOW! Public On Sale: Tuesday, July 30 CLICK HERE FOR TICKETS Or call 305-949-6722 today!
EDITORIAL
>>> Grovites protesting Grove Harbor project, should focus on getting citywide voters not supporting the proposed large scale project
While the train leaving Miami City Hall has left in many respects to the possible seven acre waterfront development of Coconut Grove's Scotty's Landing, the Chart House and the Marina in the back of the restaurants that Miami Commissioner Marc Sarnoff says is a good deal for the city and local residents. There has been a ground swell of Grove and Miami-Dade residents against the development on the Coconut Grove Waterfront property that essentially had one bidder propose on the project. Moreover, this local anti development group is gaining strength as far as the Watchdog Report can see, when it comes to email traffic on the matter. Further, a reliable source says there is a mention in the lease that gambling would be permitted, if it were necessary, to keep the facilities profitable, and the approval to allow gambling would only need the commission to vote for it without a second public vote on the matter.
However, this outrage and criticism now is essentially too little to late, and since it is a citywide vote. The Grove voters are too small in number to turn the tide and, without a massive citywide effort, they should expect the matter on the Nov. 5 ballot will pass and the only way for this project to be mitigated is to hound Sarnoff and his fellow Commissioners with their concerns about the sprawling complex. For if, history is any example. The project is on autopilot to pass muster with the city's voters, expected to be a low turnout vote, and has the commissioners and Mayor Tomas Regalado calling the development a new major destination for local residents and tourists on the waterfront and bringing a host of new jobs.
One local resident Steve Kneabler, the owner of Monty's Restaurant is challenging the City of Miami selection process in court and that legal action may have a bearing on the matter, but only time will tell in the future. However, for now, local Grovites and Miamians overall should express they're concerns to the Miami Commission who seem all for the Grove Harbor project and Mayor Tomas Regalado who is also running for mayor, and he is calling the project "spectacular." For if the dissenters don't object now, the proposed plan is what they will get, for the clock is running with the election only weeks away.
And only a massive turnout of voters citywide against the development might blunt the size and scope of the proposed project, but the ballot language will likely pass 85 percent to 15 percent on Election Day. Moreover, while for some that will be hard to stomach, it was a year or so ago that critics should have jumped into this fray, and unless some miracle happens, which is unlikely. Local Grove residents should be prepared to lose one of its true local destinations. For when it comes to Miami and money going into the general funds from any new development. The city administration and leaders are like a crack addict when it comes to new revenues, and it's all about the money, and the Grove will become more commercial with another blow to its low-key charm by losing the iconic Scotty's Landing in the process.
LETTERS
>>> Reader upset with Scotty's Landing redevelopment deal, and there is a petition opposing the massive project in the Grove
The City of Miami Commission has approved a "Lease" that gives away our Publicly Owned Bayfront land in Coconut Grove to private developers for the construction of 100,000 SF of Retail / Commercial Shopping Center and a massive Quarter of a Million square foot Parking Garage. If you believe as I do that this grossly inappropriate taking and proposed use of our Scenic and Publicly Owned Bayfront Land for private purposes, is ill conceived and should not move forward Please Join Us in signing this petition. That's why I signed a petition to City of Miami Mayor Thomas Regalado, City of Miami Commissioner Frank Carollo, and 7 others. Will you sign this petition? Click here:
http://petitions.moveon.org/sign/stop-grove-harbor?source=s.icn.em.mt&r_by=9100306
>>> It's so disturbing that every week you have another welfare fraud to report.
A. S.
>>> LIFETIME FOUNDING MEMBERS & INITIAL SPONSORS IN 2000
ANGEL ESPINOSA – (Deceased) owner COCONUT GROVE DRY CLEANER'S
HUGH CULVERHOUSE, Jr
FLORIDA POWER & LIGHT www.fpl.com .
THE MIAMI HERALD     www.miamiherald.com (2000-2008)
ARTHUR HERTZ
WILLIAM HUGGETT, Seamen Attorney (Deceased)
ALFRED NOVAK
LINDA E. RICKER (Deceased)
JOHN S. and JAMES L. KNIGHT FOUNDATION  www.knightfoundation.org
THE HONORABLE STANLEY G. TATE
>>> Watchdog Report supporters – $2,000 a year
BADIA SPICES    www.badiaspices.com
RONALD HALL
MIAMI-DADE COUNTY www.miamidade.gov
UNITED WAY OF MIAMI-DADE COUNTY www.unitedwaymiamidade.org
>>> Watchdog Report supporters – $1,000 a year
AKERMAN SENTERFITT   www.akerman.com
BERKOWITZ POLLACK BRANT Advisors and Accountants www.bpbcpa.com
RON BOOK
LINDA MURPHY: Gave a new laptop in Oct. 2001 to keep me going.
WILLIAM PALMER www.shutts.com
SHUBIN & BASS     www.shubinbass.com
WILLIAMSOM AUTOMOTIVE GROUP http://williamsonautomotivegroup.com/
>>> Public, Educational & Social institutions – subscribers at $1,000 or less
CAMILLUS HOUSE, INC.   www.camillushouse.org
CITY OF MIAMI www.miamigov.com.
CITY OF CORAL GABLES www.coralgables.com
CITY OF MIAMI BEACH www.miamibeachfl.gov
COMMUNITY PARTNERSHIP FOR HOMELESS www.cph.org
THE STATE OF FLORIDA    www.myflorida.gov
GREATER MIAMI CHAMBER OF COMMERCE www.miamichamber.com
GREATER MIAMI CONVENTION & VISITORS BUREAU www.miamiandbeaches.com
HEALTH FOUNDATION OF SOUTH FLORIDA  www.hfsf.org
MIAMI-DADE COUNTY COMMISSION   www.miamidade.gov
MIAMI-DADE COMMISSION OFFICE OF THE CHAIR www.miamidade.gov
MIAMI-DADE COUNTY ETHICS & PUBLIC TRUST COMMISSION www.miamidade.gov/ethics
MIAMI-DADE COUNTY INSPECTOR GENERAL www.miamidade.gov/ig
MIAMI-DADE PUBLIC SCHOOLS BOARD www.dadeschools.net
MIAMI-DADE PUBLIC SCHOOLS www.dadeschools.net
PUBLIC HEALTH TRUST & JACKSON HEALTH SYSTEM www.jhsmiami.org
THE BEACON COUNCIL   www.beaconcouncil.com
THE CHILDREN'S TRUST www.thechildrenstrust.org
THE GOOD GOVERNMENT INITIATIVE http://goodgov.net/
THE MIAMI-DADE COUNTY LEAGUE OF CITIES www.mdclc.org
THE MIAMI FOUNDATION  www.miamifoundation.org
UNITED STATES OF AMERICA    http://www.firstgov.gov/
UNIVERSITY OF MIAMI             www.miami.edu
The Watchdog Report covers a few of the meetings attended weekly. It remains my belief that an informed public will make better decisions. Therefore, I go to meetings, make the presence of an informed citizen known, and bring the information to you.   The Watchdog Report is in the 13th year of publication and it has been an honor to be able to send this information to you. It is sent to readers in Miami-Dade, Florida, the U.S. and the world. The Watchdog Report is sent to thousands free and while readers have been prodded to subscribe the results have been mixed. Over 600 reports and Extra's have been sent since May 5, 2000 and over one million words have been written on our community's governments and events.  The report is an original work based on information gathered at public meetings, interviews and from documents in the public domain.
LETTER POLICY
I welcome letters via e-mail, fax, or snail mail. Letters may be edited for length or clarity and must refer to material published in the Watchdog Report.  Please see address and contact information. Please send any additions and corrections by e-mail, fax or snail mail. All corrections will be published in the next Watchdog Report. If you or your organization would like to publish the contents of this newsletter, please contact me. Please send your request to watchdogreport1@earthlink.net
Daniel A. Ricker
Publisher & Editor
Watchdog Report www.watchdogreport.net
Est. 05.05.00
Copyright © of original material, 2013, Daniel A. Ricker
>>> The Watchdog Report are now available to television stations web pages, and all the newspapers and other media in South Florida if the publishers have an interest to run part or all of the stories. Further, in 2000, I used to have some paper's running the report in the Spanish press, that option is available again, and publishers should contact me.  The news content will not be free, but you can pick and chose the stories of interest, edit them if necessary but you must still keep the general story intact.  If you are a news outlet and would like to learn more about, the Watchdog Report and this offer contact me at watchdogreport1@earthlink.net for further information.  >>> Here is what past newspapers have written about the Watchdog Report publisher including a survey and regional study done by the U. North Carolina at Chapel Hill on the media in the southeast United States.
>>> The Miami Herald and Orlando Sentinel & Sun-Sentinel articles on the Watchdog Report publisher over the years. >>> Published on September 9, 1999, Page 1EA, Miami Herald, The (FL) CITIZEN ADVOCATE' KEEPS TABS ON POLITICIANS >>> Published on January 3, 2000, Page 1B, Miami Herald, The (FL) MIAMI-DADE WATCHDOG WILL BE MISSED >>> >>> To read the full section large two page front page story, but without the photos and smart box graphics, go to: `I Go When You Cannot' – Sun Sentinel 20 Jan 2003 … Sometimes Dan Ricker lives in the dark so others may live in the light. … to his weekly Watchdog Report have finally mailed their checks. … http://articles.sun-sentinel.com/2003-01-20/news/0301190341_1_ricker-school-board-president-miami-s-first-cuban-american >>>Watchdog Report publisher named 'Best Citizen' 2003 by the Miami New Times  —The publisher would like to thank the weekly alternative paper Miami New Times for bestowing their 2003 Best of Miami, 'Best Citizen' award to me and I am honored.  Thank you. To read the full story go to http://www.miaminewtimes.com/issues/2003-05-15/citylife2.html/1/index.html
From the spring of 2003:  U. North Carolina, Chapel Hill:  Southeast U.S. Media Report lists Watchdog Report publisher as leading Florida commentator >>> Selected excerpts from the report on Florida's media sources. Those who do read the newspaper in Florida have a bevy of options for state government and political coverage. The dominant newspapers in the state are Knight-Ridder's The Miami Herald (Acquired by The McClatchy Company in 2006) and the Poynter Institute's St. Petersburg Times. Both papers endorsed Gore in 2000 but split on the 2002 gubernatorial race, with the Herald endorsing Republican incumbent Jeb Bush and the Times backing Democratic challenger Bill McBride. Daniel Ricker of The Miami Herald also writes an influential column as well as an email newsletter called the Watchdog Report that goes out to more than 100,000 subscribers. FEBRUARY 2004 – Florida: Columnists in Abundance –ERIC GAUTSCHI, graduate student, School of Journalism & Mass Communication, UNC-Chapel Hill – D) LEADING COMMENTATORS – Resource Commentator Organization Type Web site –Steve Bousquet St. Petersburg Times Column www.sptimes.com/columns/bousquet.shtml -"First Friday" WPBT TV (Miami) TV Show www.channel2.org/firstfriday/issues.html –Lucy Morgan St. Petersburg Times Column www.sptimes.com/columns/morgan.shtml –Daniel Ricker Miami Herald/Watchdog Report Newsletter >>> Readers who would like to read the complete University of North Carolina, Chapel Hill Southeast United States Media Report go to view the complete report or download all the data used in this study. >>> Watchdog Report Editor's note to the NCU/CH study: The subscriber number referenced is incorrect and applies to readership.
General subscriber's names will not be published in the Report. To subscribe to the Watchdog Report please use the form below as a subscription invoice.
********************************************************************
Watchdog Report Supporters Invoice-Form
NOTE: Invoice is for Yearly supporter/sponsorship Rates: Thank you.
Corporate Sponsors $1,000 (All levels above will be listed in the report with web-site link if desired)
Large Business Supporters $500
Small Business Supporters $250
Please make checks payable to: Daniel A. Ricker
Send to: 3109 Grand Avenue, #125
Miami, FL 33133 To contact the Publisher please e-mail watchdogreport1@earthlink.net
Tags: