CONTENTS
Argus Report: President Obama taps former federal prosecutor Comey as FBI director, will find South Florida is "the graduate school of fraud," said former U.S. Atty. Acosta in 2006
Florida: Party faithful from both political parties' hold local gala fundraising events, GOP holding Lincoln Day dinner, Keynote speakers House Speaker Weatherford & Gov. Scott
Miami-Dade County: PA Lopez –Cantera trying to become independent office, asks public schools police for help with Homestead Exemption fraud cases
Miami-Dade Public Schools: District Audit of (Project MPACT) funding to keep kids out of gangs finds widespread abuse and lack of records
Public Health Trust: During joint PHT meeting with BCC, will the discussion of $700 million GOB for JHS on November ballot be the topic of the day?
City of Miami: Mayors Regalado, Hernandez and Gimenez concerned new school grading system by state will dampen economic activity in Miami, Hialeah and Miami-Dade
City of Miami Beach: City Atty. Boksner in hot seat with Judge Sigler, city could be paying legal fees for plaintiff attorney's in two-year police shooting case
City of Coral Gables: Mgr. Salerno has taken a licking but still ticking since coming to Gables in spring of 2009
City of Miami Springs: ATR to locate American headquarters to Springs, expected to bring 40 direct jobs
>>> Other stories around Florida
Broward County: Commission agenda on line
City of Hollywood: Miami-Dade Department of Public Works Employee Charged with Accepting Bribes from Contractor
Palm Beach County: County Resident Pleads Guilty to Enticement of A Minor to Engage in Unlawful Sexual Activity
Citrus County: Gov. Scott taps Dr. Christopher Mark Fallows, and the reappointment of Robert J. Priselac to the Citrus County Hospital Board.
Community Events: Downtown Bay Forum June Meeting — Topic: "Black Miami, Any Progress?" Date: June 26, 2013 noon – Miami Beach candidate's ethics training course
Editorials: PAST WDR MAY 2012:  Feds continue war on Medicare fraud, FBI SAC Gillies calls for stringent requirements for providers, and even a "carpenter" opened a clinic — Check out the past national story in the Tribune papers:  Paperwork Tiger By Maya Bell, Miami Bureau, Orlando Sun-Sentinel January 20, 2003 >>> And a 2004 UNC Chapel Hill study of the Southeast United States 15 states media outlet study where the Watchdog Report is listed as writing a "influential" column in Florida with over 100,000 readers: http://www.unc.edu/~davismt/SouthNow.pdf
Letters: Studies show a child that cannot read by 3rd grade generally headed for failure – Reader on The Hope Foundation http://www.hopeforbangladesh.org/ —  Readers on WDR Anniversary and Father's Day message
Sponsors: Publisher's mission statement & Subscription information is at the bottom of this issue — Scroll down for all the headline stories text.
>>> Just because you do not take an interest in politics does not mean politics will not take an interest in you. –Pericles (430 B.C.)
>>> If you wish to be deleted, just e-mail me with that message and you are free to e-mail this on to friends.

>>> The Watchdog Report publisher would like to thank the John S. and James L. Knight Foundation www.knightfoundation.org for funding by the Knight Foundation with technical support from the Knight Center for International Media http://knight.miami.edu within the University of Miami's School of Communication www.miami.edu to maintain my webpage. The Watchdog Report webpage is free, has no ads, pops-up and is just the news in a mainstream reporting manner.
>>> Red Alert: If you think it is important to have an alternative mainstream news service, I hope you will consider becoming a financial supporter for I do have to live and pay my rent. I also want to thank again all those people and organizations that have supported me and I have been honored by that trust and support of my efforts over the past almost 14 years trying to keep the community, state, nation and world informed of the political and governmental happenings in South Florida. How to support and contribute to the WDR is at the bottom of the report. Thank You
>>> I will be on WLRN'S The Florida Roundup this Friday at noon to 1:00 p.m. on www.wlrn.org 91.3 FM and if you can, listen to the show that will be hosted by Kelly Mitchell, because the usual host of the show Phil Latzman will be off.
ARGUS REPORT – Heard, Seen on the Street
>>> President Obama taps former federal prosecutor Comey as FBI director, will find South Florida is "the graduate school of fraud," said former U.S. Atty. Acosta in 2006
President Barack Obama's nomination this week of former federal prosecutor James Comey to head the FBI is getting high marks from both sides of the political aisle and whoever serves in the office is important to South Florida, where past FBI directors have essentially called South Florida Fraud Central. Comey has prosecuted over the years high profile cases such as Martha Steward and the attorney bulked in 2004 authorizing a wiretap without a warrant law being pushed by the President George W. Bush White House at the time.
http://www.usnews.com/news/newsgram/articles/2013/05/30/james-comey-fbi-pick-took-on-martha-stewart-and-dick-cheney He will be replacing Robert Mueller who has headed up the FBI for over a decade and his continued service in the super sensitive position in 2011 had to be approved by Congress. >>> Below is a past Watchdog Report when Mueller came to Miami last year and his remarks highlights why there are over 450 FBI special agents assigned to the federal Southern District of Florida.
>>> PAST APRIL 2012 WDR:  FBI Dir. Mueller asks business community to rise up and help fight fraud and public corruption across S. FL
Robert S. Mueller III, the Director of the FBI since September 4, 2001 when he was appointed to the post by President George W. Bush a week before 9/11 took a road trip to Miami Wednesday and asked the local business community to rise up in arms and help federal authorities tamp down the rampant fraud and abuse of public taxpayer dollars that has Florida ranking number one or two around the nation when it comes to all types of fraud. Mueller, a veteran Vietnam Marine officer with a host of medals including the Bronze Star and Purple Heart, went to Princeton, before going to Southeast Asia, later got a Masters from New York University and his law degree is from the University of Virginia. He has served in a number of federal positions under a number of different president's administrations and prior to being tapped for this top FBI post. He was the U.S. Attorney in San Francisco.
Mueller, attending the Greater Miami Chamber of Commerce luncheon at Jungle Island joked at first he was "intrigued" by the location that featured animals that were predators. He said half jokingly that when he testifies in front of Congress he is in a similar environment and "predators are not just here," but the man then shifted his talk to the War on Terrorism and the "economic predators" in our nation's midst. He said some "of the most prominent frauds" the FBI is investigating have been spawned in South Florida, which had the first FBI Healthcare Task Force detail established in the nation in 2002-2003. And since Medicare represents 18 percent of America's budget going to healthcare, these frauds cost "tens of billions of dollars a year," he said. The man cited a case of healthcare fraud that involved a company called American Therapeutic Corp where they "preyed on people with mental disorders" and a host of people getting "Kickbacks" helped perpetuate the fraudulent acts. He said one person got 50-years and another person is "serving 35 years in prison."
Mueller said the FBI is beefing up the fraud and intelligence staff involved with healthcare, mortgage, identity theft, or cyber-terrorism and in the case of Medicare fraud. "All of us are victims and the money is to be used to care for the sick, not line someone's pocket," he said. He also noted there were 2,600 active mortgage fraud cases each over $1 million, where buyers lied about their income, or the "appraiser inflated the homes price." He also said people running "rescue services for people in mortgage default or underwater with their properties" are being scammed as well and "charged thousands of dollars in fees" and it is a "false hope" and the federal bureau "recognizes the impact [vacant homes] have on a family and community." And when it came to SEC fraud and "self dealing insider trading," they are committed too root it out and he cited the fact Raj Rajaratnam the CEO of the Galleon Group is now serving 11 years for $17 million in insider trading and the sentence is "the longest time in SEC history," said the long serving director.
The Director set to retire in Sept. 2011 was asked by President Barack Obama in May 2011 to stay on for another two-years and the U.S. Senate approved that request on July 2011 since the office has a mandatory ten-year retirement clause that in this case was overridden. He said here in South Flroida we had are own poster child of fraud in the Scott Rothstein's $1.6 billion Ponzi scheme with the former Broward attorney now serving 50-years in the federal Big House. The case had Rothstein and a host of associates "forging federal judge's signatures" and it is these types of cases that had the FBI adding "250 forensic accountants," that he likened to "SWAT teams of accountants" with their calculators and computers "but without the body armor," he said.
The attorney also said the FBI has "special agents imbedded within the SEC that helps the organization "identify fraud early on" before these scams "bilk investors of their lifetime savings." He carped in the movies like The Sting, with Paul Newman and Robert Redford. The con artists are portrayed as good guys and charming. However, "in real life these people are not so charming" and when people are "putting trust in others like buying a home and healthcare" and when they are scammed it impacts "are whole way of life since it [the American economy] is built on trust." And when we find these "Big cons" we all lose and why he said to the business community "your help is so vital" and that includes "protecting yourself and your company because it really is a jungle out there," he closed before taking a variety of questions from the 350 people or so attending the affair. Bio: http://www.fbi.gov/about-us/history/directors Mueller below
>>> PAST 2012 WDR: What about Special Interest Aliens (SIA), known terrorists using drug lanes to get into America?
John V. Gillies, the Special-Agent-In-Charge of the U.S. Southern District of Florida for the Bureau in South Florida, who arrived in South Florida the fall of 2009, gave the Watchdog Report an exclusive interview Wednesday on the issue of SIAs. These people and the countries they come from are known terrorists committed to doing harm in anyway they can to the United States of America and its friends and allies. Gillies with over 450 other special agents under his charge alone with support staff has a huge area to cover that includes Mexico, Caribbean, and Central and South America as well as South Florida from Fort Pierce to Key West. The veteran agent when I asked him about terrorists using the drug trafficking lanes to get into the nation or to bring in material for bombs or deadly Weapons of Mass Destruction (WMD). He said it was a real problem and when it comes to these drug lords. It's all about the money and if the terrorists will pay up, nothing is a logistical problem for the drug cartels. "Certainly the potential exists for those routes being used by the drug trafficors could be used for other nefarious means, i.e., bringing in terrorists and the drug dealers will do anything for a dollar, they don't care," said the federal agent.
When I asked about the large territory his office is in charge of, he said, "it was a huge area we have to cover and we are very busy dealing with kidnapping and murder of U.S. citizens because of the drug trade." He said that also includes being in the top tier for healthcare fraud in the nation and we are in the "top two in mortgage and security fraud." He said about the volume of cases and prosecutions being handled in this office, one of 56 FBI Field offices. The veteran FBI agent at the end concluded by saying, "If this was a business venture today, unfortunately, business is very good for us," he closed.
>>> Press release: Today's 'List Of Shame' Reminds Us That Much Work Still Awaits Us to Eradicate Human Trafficking, Says Ros-Lehtinen "While human trafficking is viewed more as an international problem, we must also take a closer look in what is going on in our country"
U.S. Rep. Ileana Ros-Lehtinen (R-FL), Chairman of the Middle East and North Africa Subcommittee, issued the following statement today on the release of the State Department's 2013 Trafficking in Persons (TIP) Report. Statement by Ros-Lehtinen: "Human trafficking is one of today's worst and most alarming tragedies, as it deprives millions around the world of their most basic dignity as human beings. While I'm relieved that major human trafficking violators such as Russia and China have finally been lowered to the Tier 3 List, many countries under oppressive regimes such as Vietnam, Venezuela, and Cambodia were not downgraded, despite their human trafficking violations. I'm not surprised that Cuba again received the worst designation, Tier 3, on the TIP Report.
The Castro regime continues to brutally oppress its own people, and as a result, many girls and women are still victims of sex trafficking. Cuba has become one of the world's hot spots for sexual predators looking for little girls and boys and are doing this horrid act while Cuba is peddled on websites as a sex destination.
"Unfortunately, 16 percent of countries have never recorded a single conviction for human trafficking leaving millions of people under this modern-day slavery. While we tend to look at the issue of human trafficking as an international problem, we need to take a closer look on what is going on here at home. Between 17,000 to 20,000 victims are trafficked into our country every year, with a large number being migrant workers from Mexico and Central America.
Unaccompanied alien children have also become an easy target for smuggler. This is why I have joined my colleague Rep. Lucille Roybal-Allard in legislation that will ensure that the children who have been victims of trafficking are treated humanely and screened by social workers with child welfare expertise. As a longtime advocate for human rights, I look forward to continuing to work with like-minded colleagues on both sides of the aisle, as well as with the community so we can be a voice for those with no voice."
>>> Press release: Zogby Report Card: Obama is on The Verge of Failure
John Zogby's Obama Weekly Report Card is Featured in Paul Bedard's "Washington Secrets" Published weekly in The Washington Examiner
This week's grade: D-  President Obama has coined the term 'leading from behind'. Your humble pollster suggests that he is "falling behind in leading from behind" as things are getting out of control. After months of dithering, the U.S. has decided to arm the rebels in Syria, but this comes at a time when the Assad regime is in the ascendancy. (Sort of like Paul Revere screaming, 'The British were here. The British were here.') Multiple reports suggest that HHS is not ready for Obamacare and the administration is not out there making its case. Kaiser reports that support for Obamacare is now only 35 percent. The G-20 Summit was a bust. And while the president tried to recapture the world stage and some of his 2008 magic with a speech at the Brandenberg Gate, it was a rehash and the crowd was small. And then there were more of the NSA leaks as the leaders were gathering. Bad week.
>>> All photos in the Watchdog Report are taken from public government sites, and the Report goes on line at www.watchdogreport.net on Monday sometime during the day usually. >>> If you believe it is important to have someone watching your public institutions consider supporting the Watchdog Report for I am a low cost news service, yet I do have to live, thank you! Further, I have been honored over the years by being named a WFOR-4 Hometown Hero in 2000, being profiled in a major way by The Miami New Times and was Best Citizen in the 2003 Best of Miami of The Miami New Times, profiled twice in The Miami Herald, and the Orlando Sentinel ran a nationwide story on me in the Tribune papers on Jan. 2003, and UNC Chapel Hill named me one of the top columnists in Florida in a  multi-state study of the media back in 2004. I also thank Joseph Cooper for the opportunity to be on the WLRN/NPR showTopical Currents on www.wlrn.org 91.3 FM since 2000, including yearly election coverage since then, and also numerous times over the past decade. Further, I am a frequent guest on WWW.WPBT2.ORG on Helen Ferre's show Issues, and have also appeared on  Eliott Rodriguez's show News & Views on www.CBS4.com and The Florida Roundup on www.wlrn.org
FLORIDA
>>> Party faithful from both political party's hold gala fundraising events, GOP holding Lincoln Day dinner, Keynote speakers House Speaker Weatherford & Gov. Scott
The Republican Party of Miami-Dade is holding its Annual Lincoln Day Dinner on June 28, and the featured speakers for the gala are Gov. Rick Scott and state Rep. Will Weatherford, R- Wesley Chapel, and keynote speaker Weatherford is best known in South Florida as a savoir, or the devil incarnate. Since as House Speaker, he blocked the Florida House from taking up the Miami Dolphins tax break legislation before the Session was over May 3, and this lack of action killed the possibility for a public private deal to renovate the ageing professional Sun Life football stadium. And local GOP Party chair Nelson Diaz is looking to amp up the enthusiasm among the party faithful, with this lineup and he knows the political climate in Miami-Dade, and around the state, is different from 2010 when both Scott and U.S. Sen. Marco Rubio were both swept into office. Partly with the strong support of tea party voters around the state who were probable at their zenith of influence when it came to the state none presidential elections, that traditionally favor the GOP with lower voter turnout, that in this case was 49 percent back then versus 72 percent statewide voter turnout in 2012.
The Democratic Party held their big gala in mid June,  the Jefferson Jackson Annual Dinner in Hollywood and a tiff among the party faithful developed because the party leadership would not let gubernatorial candidate, former state Sen. Nan Rich, D- Weston speak. And former GOP Gov. Charlie Crist, now a Democrat worked the event hall and he is getting political cover from former Florida House Majority Leader and former state Sen. Dan Gelber, D-Miami Beach in Crist's quest to get the party's nod to be their champion in the 2014 gubernatorial race. Where he would face off against Scott looking for another four-year term.
And the political big guns at the event were Sen. Bill Nelson, D-FL, a possible gubernatorial candidate (but the Watchdog Report believes he will stay in the senate, though an email today asking for contributions for the upcoming 2014 gubernatorial campaign for the party was sent by Nelson), U.S. Rep. Debbie Wasserman-Schultz, D-Broward, the new state party Chairwoman Allison Tant and the keynote speech was given by San Antonio Mayor Julian Castro, a upcoming star in the party. The Democrats sold some 1,300 tickets, are said to have raised $850,000 at the event, that had attendees pumped that Scott is vulnerable in 2014, and they believe he can be beaten.
However, Republicans counter the state unemployment rate has dropped to now 7.1 percent in May; and Scott is expected to have over $100 million for his campaign in the future. After he spent $74 million of his own money to mount the insurgent campaign back in 2010 beating the Democratic Party champion, former Florida CFO Alex Sink. For more on the dinner go to:   http://miami.cbslocal.com/2013/06/16/dems-criticize-gov-scott-during-annual-dinner/ and for more on the Democratic Party go to https://www.floridadems.org/newsroom/blog/fl-dems-announce-mayor-julian-castro-2013-jefferson-jackson-keynote-speaker
What about the GOP dinner special tribute to Miller?
Republicans will be honoring one of their own by holding a Special Tribute to Mary Ellen Miller, a former long time Miami-Dade GOP Chair who passed earlier in the year and was a mentor, fair, honest and kind woman for many of the future party's leaders in the decades to come years ago. For more on the GOP event go to www.miamidadegop.org
>>> White House press release: Florida families receive an average of $132 in insurance rebates Health care law is saving Floridians money and bringing transparency to the market
Today, Health and Human Services (HHS) Secretary Kathleen Sebelius announced that 614,245 Florida residents will benefit from $54,380,139 in rebates from insurance companies this summer, averaging $132 per family, thanks to the Affordable Care Act.  Nationwide, 77.8 million consumers saved $3.4 billion up front on their premiums as insurance companies operated more efficiently.  Additionally, consumers nationwide will save $500 million in rebates, with 8.5 million enrollees due to receive an average rebate of around $100 per family.
Created under the Affordable Care Act, the Medical Loss Ratio standard (also known as the "80/20 rule") requires insurers to spend at least 80 cents of every premium dollar on patient care and quality improvement.  If they spend an excessive amount on profits and red tape, they owe rebates back for the difference no later than August 1, 2013. "This new standard is increasing transparency and accountability, promoting better business practices and competition among insurance companies, and ensuring consumers receive value for their premium dollars," said Secretary Sebelius.  "Today's announcement shows that more Floridians are benefiting from the tools created under the Affordable Care Act to keep consumer costs down."
The law has motivated many plans to lower prices or improve their coverage to meet the standard. Other Floridians will see their value reflected through rebates later this summer. Floridians owed a rebate will see their value reflected in one of the following: a rebate check in the mail, a lump-sum reimbursement to the same account that they used to pay the premium if by credit card or debit card, a reduction in their premiums, their employer using rebates to improve their health coverage. Insurance companies that do not meet the standard will send consumers a notice informing them of the rule  The notice will also let consumers know how much the insurer did or did not spend on patient care or quality improvement, and how much of that difference will be returned as a rebate.
The 80/20 rule works, along with the required review of proposed double-digit premium increases, to stabilize and moderate premium rates.  And, with new market reforms, including the guaranteed availability protections and prohibition of the use of factors such as health status, medical history, gender and industry of employment to set premiums rates, this policy helps ensure every American has access to quality, affordable health insurance. For an overview of insurers' MLR data in 2012, please visit:  http://www.cms.gov/cciio/Resources/Forms-Reports-and-Other-Resources/index.html#Medical Loss Ratio For more information on the MLR provision in the Affordable Care Act: http://www.healthcare.gov/news/factsheets/2010/11/medical-loss-ratio.html
>>> Press release: Gov. Scott makes five appointments to Early Learning Coalitions across the state.
Early Learning Coalition of Alachua County
Christopher Coner, 51, of Gainesville, is the managing director of North Florida Wealth Advisors. He fills a vacant seat and is appointed for a term beginning June 21, 2013, and ending April 30, 2016.
Remzey Paul Sammarai, 55, of Gainesville, is the manager of GreenScapes Property Management. He succeeds Deborah Knopf and is appointed as chair for a term beginning June 21, 2013, and ending April 30, 2017.
Early Learning Coalition of Florida's Gateway
Connie Anderson, 43, of Lake City, is the assistant vice president of Columbia Bank. She succeeds John Burns and is appointed as chair for a term beginning June 21, 2013, and ending April 30, 2017.
Early Learning Coalition of Pinellas County
Julie Daniels, 48, of Palm Harbor, is the president and owner of Handyman Matters. She is reappointed as chair for a term beginning June 21, 2013, and ending April 30, 2017.
Early Learning Coalition of Volusia and Flagler Counties
David Batten, 55, of Ormond Beach, is a managing member of BMJ, CPA, PLC. He is reappointed as chair for a term beginning June 21, 2013, and ending April 30, 2017.
>>> Press release: Gov. Scott reappointments Edward Bailey and Marlen "Rick" Hager to the State College of Florida, Manatee-Sarasota District Board of Trustees.
Bailey, 37, of Palmetto, is the finance manager for Sarasota Ford. He is reappointed for a term beginning June 20, 2013, and ending May 31, 2017.
Hager, 67, of Bradenton, is the president of Goodwood and Stone Builders LLC. He is reappointed for a term beginning June 20, 2013, and ending May 31, 2017. >>The appointments are subject to confirmation by the Florida Senate.
>>> Children's Movement of Florida  Voices of Florida – We all have a story, a story that defines us. It is our collective story, our challenges and our triumphs that inspire a movement. Floridians from all walks of life have joined together with an understanding that the future of our state rests on the well-being of our children. Visit The Children's Movement website to read their stories and share your own. >>> I find it unacceptable, as all of us should, that at least a half-million children in Florida – all citizens — have no health insurance. How could this be in our beloved country that seeks to be a beacon to the world? Health insurance for all children is one of the five major planks of The Children's Movement. With the support of Florida Covering Kids and Families, The Children's Movement is working with dozens of local partners to help build a meaningful signing-up initiative in more than a dozen Florida communities. Already we have: Completed 18 KidCare trainings around the state. Signed up, trained and deployed more than a hundred volunteers. Begun to build a growing collaboration between local school districts and KidCare outreach coalitions. It's a good start, but only the start. If you'd like to become a volunteer, just click here. Another way to help is to make a contribution – of any size – to help support this work. It is easy. Just click here. A real movement isn't possible without your helping in some meaningful way. Dave Lawrence, Chair The Children's Movement.
MIAMI-DADE COUNTY
>>> PA Lopez –Cantera trying to become independent office, asks public schools  police for help with Homestead Exemption fraud cases
Miami-Dade County Property Appraiser Carlos Lopez-Cantera has pulled the trigger and is trying to take the county to court to challenge the current creation of his countywide elected office that is a Miami-Dade County Charter Office, to one that is a Constitutional Office, like the county clerk's office for example. Lopez-Cantera notes he does not hire or fire his employees because they are county employees and under it's labor agreements. But the former state legislator believes this kind of office is not what voters thought they were creating a few years ago, when the issue passed, and he believes that the PA should be a Constitutional Office, like the overwhelmingly majority of property appraisers around the state's 66 other counties. http://www.miamiherald.com/2013/06/19/3459956/miami-dade-property-appraiser.html
The Watchdog Report first reported on this issue years ago and more recently just a few weeks ago that the property appraiser would try to pull this legal trigger and the issue has been percolating behind the scenes for the past few years. Since the county commission created the office and Pedro Garcia became the first PA. Garcia told the Watchdog Report back then that he would not challenge the way the office was created in the court's, and that he believed he could do the job that was required under the current circumstances he said back then. However, Lopez-Cantera has focused on customer service, cracking down on Homestead Exemption fraud, and making the office more independent of county influence, since that is where the office's $30 million in funding gets authorized after the state signs off on the proposed budget.
What is the PA's office doing with the school district?
The property appraiser is also reaching out to the public schools district for help in tracking down these wayward Homestead Exemption property owners who also are defrauding the public school district as well when they get a phony exemption. Moreover, Lopez Cantera spoke Wednesday at the school board about how the district will benefit "by dedicating resources" of the school police by "training them to spot Homestead Fraud." The district, after the school board unanimously passed legislation sponsored by school Board Member Carlos Curbelo is going to "dedicate one or two officers to investigate Homestead Exemption fraud" and they will become a part of the PA's Task Force focused on rooting out the problem. And Lopez-Cantera said it was his office's "duty to ensure homeowners are not cheating," on their property tax payments he said.   And those comments had Superintendent Alberto Carvalho saying "What is fair is fair" and it is a "function of some not paying their full share," and there is a "amount of fraud out there" and he thought the district will "receive long term benefits with this collaboration to stop fraud," said Carvalho.
| | | |
| --- | --- | --- |
| Lopez-Cantera   | Curbelo | Carvalho |
>>> M-DC Delegation Chair Gonzalez says by "working together we were able to accomplish a lot,"
The Miami-Dade County Legislative Delegation chaired by state Rep. Eddy Gonzalez, R-Hialeah took a road trip to the county commission and school board chambers last week where the delegation's legislators were honored and congratulated for the group's work during the 60 day Legislative Session ending May 3, in either helping the county get funding for projects, or for protecting Miami-Dade's unique status as a Home Rule Charter County from possible state lawmaker legislation. Gonzalez, accepting the warm compliments from the different boards at the events said it "was stressful in Tallahassee but we were working together and able to accomplish a lot," said the Republican lawmaker. Moreover, while there were disappointments he believed that overall the delegation was "able to work together for the betterment of Miami-Dade County," he closed his remarks at the school board.
>>> Miami HEAT Championship Parade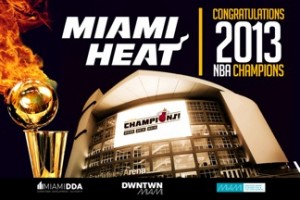 >>> Miami DDA Press release: Our Miami HEAT have won Back-to-Back NBA Championships and Now it is time to Celebrate!
On Monday, June 24th, the Miami HEAT will host a championship parade.
The parade's one-way route starts at SW 8 St @ SW 2 Ave in Brickell at 11am. The parade caravan will then head north on Brickell Avenue, across the bridge, curve right onto Biscayne Boulevard and continue North. The parade route will end at the AmericanAirlines Arena (NE 8 St) by approximately 12:30pm. Parade-goers are encouraged to spread out along the entire route. *Upon conclusion of the parade, the HEAT players will NOT be coming out to the west side of the arena; there will NOT be any viewing on the exterior of the celebration event taking place inside.* Expect traffic delays and road closures along the route between 9am and 3pm. For more information, click here.  See the parade route map below: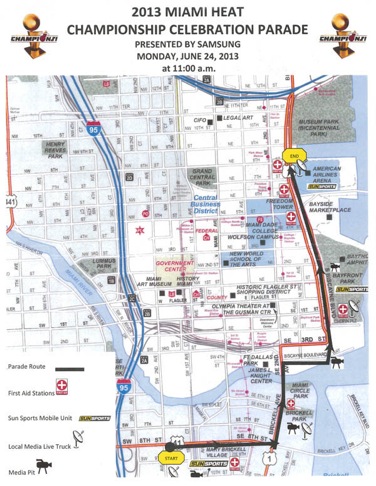 Note: Due to road closures in the downtown Miami and Brickell areas, the City of Miami Trolley and several Metrobus routes will be detoured, including routes 3, 6, 8, 11, 24, 48, 77, 207, 208, C and S.
>>> White House press release: Readout of the President's Call with the Miami Heat
This afternoon, the President called head coach Erik Spoelstra to congratulate the Miami Heat on their second consecutive NBA championship.  On the call, the President noted the Heat's relentless determination in what was an historic season for the team and their MVP, LeBron James.  The President told Coach Spoelstra that he looks forward to congratulating the team once again at the White House.
>>> Chairwoman Rebeca Sosa's statement on the Miami HEAT's championship
Press release: On behalf of the Board of County Commissioners, and as proud HEAT fans, we want to offer our enthusiastic congratulations to the Miami HEAT for winning its second consecutive NBA championship.
Last night's game was certainly one for the history books. The HEAT played brilliantly against one of the top teams in the NBA and finished off another stunning season by earning its third overall title in the NBA Finals. Miami-Dade County residents and HEAT fans everywhere should be proud to have such an outstanding team representing our community to the rest of the country and the world. I commend the team's coaches, leaders, and all the players, especially LeBron James for earning the NBA Finals MVP for the second year in a row. I'm sure fans will be celebrating in full force this weekend, so let's celebrate proudly and safely and show the world how much we love our home team. GO HEAT!

Sosa
>>> State Rep. Nuñez opposes MDX toll increase
Press release: On Tuesday, June 19th, Representative Jeanette M. Nuñez (R-Miami), along with some of her colleagues from the Dade Delegation publicly condemned a toll increase at a Miami-Dade Expressway Authority (MDX) board meeting. The motion for $0.60 tolls instead of the proposed $0.70 failed on a 7 – 5 vote, and despite widespread public comments against the increase, the MDX board passed their resolution, increasing tolls to $0.70 per mainline gantry. This decision means all commuters who use the expressway will see an increase in the amount spent on tolls when the new charges commence next summer.
Representative Nuñez believes that MDX has vastly overreached its boundaries as a quasi-governmental body and she hopes to legislatively remedy the situation for her constituents before the charges come into effect. "I believe that this decision portrays MDX as having little concern for the economic well-being of its citizenry," stated Rep. Nuñez, who remains adamant in supporting her constituency on this controversial issue.
>>> GMCVB press release: RECORD ACCOMMODATIONS AND FOOD SERVICE JOBS IN GREATER MIAMI AND THE BEACHES REPORTED FOR MAY 2013 MARKING 3 YEARS AND 5 MONTHS OF CONSECUTIVE JOB INCREASES
Greater Miami's Accommodations and Food Service jobs increased +4.7% in May 2013 compared to the same period in 2012. This marks 3 years and 5 months of consecutive increased employment in Greater Miami's Accommodations and Food Service Industry. In May 2013, 112,500 people were employed in Greater Miami's Accommodations and Food Service sector compared to 107,500 in May 2012, a +4.7% increase.
GREATER MIAMI LEISURE AND HOSPITALITY INDUSTRY JOBS
May 2013
May 2012
% Change
112,500
107,500
+4.7%
MIAMI-DADE PUBLIC SCHOOLS
>>> District Audit of (Project MPACT) funding to keep kids out of gangs finds widespread abuse and lack of records
A critical internal audit initiated by the public schools district auditor's office has found numerous examples of poor record keeping and how money was used and accounted for concerning the Miami Partnership for Action in Communities Task Force (Project MPACT) trying to keep kids out of gangs and to read the audit go to http://mca.dadeschools.net/auditCommittee/AC_June_25_2013/item9.pdf The report will be a topic of discussion at the school board Audit and Budget Advisory Committee meeting on Tuesday and given the sweeping findings in the report. The citizen based taxpayer firewall body is expected to have an animated debate on the matter, that was first flagged by senior district executives and the audit was then requested to do done.
>>> New Public Schools IG report and analysis on the selection of the management team Parsons Brinckerhoff to be used for the $1.2 billion GOB bond program passed by voters in Nov. http://www.miamidadeig.org/MDCPS2013/SB12.13.1002PMSSfinalmemo.pdf
PUBLIC HEALTH TRUST
>>> During joint PHT meeting with BCC, will the discussion of $700 million GOB for JHS on November ballot be the topic of the day?
The Miami-Dade County Board of Commissioners have picked July 18 after the planned zoning meeting to hold the joint meeting with the newly configured Public Health Trust seven member oversight board. These joint meetings began around 2004 after the board's Nominating Committee was put into abeyance for over 18 months while the county commission under the direction of Commissioner Dennis Moss, reconfigured and changed the board composition of voting members, that now included two voting commissioners on the 17 member board.
Since then the Jackson Health System's management and the board have been scrutinized by the county commission at some of these joint events. But past meetings back then, also had in 2008 then President and CEO Marvin O' Quinn showing a graph that was green, yellow and then red in 2011 when the health trust would be unable to make it's roughly $4.8 million biweekly payroll at the time because of massive losses due to the over $500 million in charity and uncompensated care the public institution gives yearly. However, just over two years ago, the county commission created a smaller more management nimble seven member Financial Recovery Board that sunsetted Jun. 1, the old board, and its six members (since one member resigned recently) are now known as the PHT board again.
What about a $700 million GOB question on the Nov. Ballot?
Carlos Migoya, the President and CEO of Jackson Health System is expected to discuss at the joint meeting with the body the possibility of the county commission putting a question on the November ballot asking voters to approve, the issuance of a $700 million bond to repair and replace and modernize the facilities hospitals where infrastructure needs are in excess of $1 billion. However, since there is no countywide election, there will be around a $3 million cost to have the matter on the ballot and who pays to hold that countywide election could be a point of discussion, since JHS wants the county to pay for it. And that could be a sticking point if the county commission and the mayor subsequently approve the ballot question being put on the ballot in the future.
CITY OF MIAMI
>>> Mayors Regalado, Hernandez and Gimenez concerned new school grading system by state will dampen economic activity in Miami, Hialeah and Miami-Dade
Three separate letters from Mayor Tomas Regalado, Hialeah Mayor Carlos Hernandez and Miami-Dade Mayor Carlos Gimenez were sent to state education officials protesting the economic impact the new Florida Department Of Education school grading formula that public schools District Superintendent Alberto Carvalho has objected to and is the most vocal dissenter when it comes to a large urban public school district and the changes lower grading impact. http://www.miamiherald.com/2013/06/18/3457546/state-to-review-tougher-school.html The Watchdog Report caught up with Regalado on Friday and he acknowledged he had sent the letter because these new school grades, likely to be dramatically lowered, would have a chilling effect when it came to business development in the city. Moreover, these three local elected leaders are trying to highlight the flaws in the state's new grading system and its impact on the local economy and jobs. And the Department of Education after hearing the arguments is considering modifying the process since these grade changes were not just local, but could be felt economically statewide since companies look at the education system where they might locate to and multiple F or D schools in a public schools district are not seen as a inducement for companies to make investments and move into the county.
| | | |
| --- | --- | --- |
| Regalado | Gimenez | Hernandez |
>>> STATE BOARD OF EDUCATION CONVENES ADVISORY TASK FORCE TO THE COMMISSIONER OF EDUCATION ~ Review to examine affect of assessments on school grades ~
Press release: June 18, 2013 – At today's State Board of Education meeting in Tampa, Chairman Gary Chartrand convened an advisory task force to the commissioner to review FCAT 2.0 and End-of-Course assessment results prior to school grades being calculated. The task force will consist of school superintendents and education, data and research experts who will dig into the impact of this year's assessment results and determine the validity and accuracy of the calculations.
"Florida's schools have become the envy of the nation due to our cohesive insistence on high standards. We need to make sure Florida's accountability system is credible and accurately measures student learning," said Chair Chartrand. "Parents, educators and the public deserve to have a clear message of what is happening in their child's school and I am sure the task force will take a very careful, considerate and thoughtful approach in examining the issues."
Changes that affect this year's school grades include new achievement levels for FCAT 2.0 Science and End-of-Course assessments in Biology 1 and Geometry, raising the writing standard used in school grades up to 3.5 from 3.0 last year, expiration of the provision that school grades not drop more than one letter grade, requiring that schools must show that the lowest-performing students are making progress in both reading and math, and including test performance and learning gains of students who attend alternative schools. "I want to thank the superintendents for their support of our accountability system and their problem-solving approach," said Commissioner of Education Dr. Tony Bennett. "I look forward to working closely with them to find answers to their concerns."
The task force's membership will be assembled within a week.
In other action today, board members heard an update on the transition to the Common Core State Standards, including readiness for computer-based assessments, bandwidth testing and funding plans. The board also approved amendments to the rule governing supplemental educational services and the state's differentiated accountability system, Voluntary Prekindergarten provider good cause exemptions, and turnaround plans for struggling schools. In preparation for the 2014 legislative session, board members began the process of identifying priorities for the legislative budget request and approved the Florida College System institutional goals on performance metrics. The board also voted in favor of the Palm Beach School District's decision regarding Palm Beach Collegiate Charter School appeal.
The board also approved four Florida college baccalaureate degree proposals, two of which are in response to Governor Scott's challenge to create degrees for $10,000 or less. Approvals were for a bachelor of applied science degree in management and supervision from Northwest Florida State College, a bachelor of science in cardiopulmonary sciences from Valencia College, and a bachelor of applied science in supervision and management and a bachelor of science in nursing from Pasco-Hernando Community College.
CITY OF MIAMI BEACH
>>> City Atty. Boksner in hot seat with Judge Sigler, city could be paying legal fees for plaintiff attorney's in two-year police shooting case
The Miami Beach's City Attorney's office ignoring a court order to turnover documents and photos to local Circuit Court Judge Victoria Sigler (Net worth $4.7 million) concerning the Memorial Day shooting two years ago of a black man, has the jurist outraged and she is ordering the municipality to pay the plaintiff's attorney's fees http://www.miamiherald.com/2013/06/18/3458269/miami-beach-must-pay-attorneys.html and the case has put the city's legal team headed up by Commission Attorney Jose Smith in the hot seat. After requested documents requested by Sigler were not provided to the court including crime scene photos of the man shot multiple times by the city's police during the holiday. And the fact the city's attorney was claiming there were no crime scene photos has left the judge, defense attorney and others dumbfounded. The attorney getting all this legal grief from the judge is Senior Assistant City Attorney Aleksander Boksner and he is a long serving lawyer with the tony tourist city.
Smith a former city commissioner before his past peers hired him as the city's top legal advisor a few years ago has in the past taken an aggressive legal position and argued passionately to the point of almost crossing the line in front of the county's ethics commission. When it came to the issue of free tickets being given to elected and city officials and a policy the ethics commission was considering at the time. And with this new wrinkle between the attorney's office and the judge. It remains to be seen if Smith will continue to have the body's support in the future depending on how this current case plays out, especially with city elections looming in November.
| | |
| --- | --- |
| Smith | Boksner |
>>> Miami Beach Celebrates Independence Day with "Coca-Cola Presents Fire on the Fourth Miami Beach" Coca-Cola is the sponsor of annual free family-friendly event with live music, fireworks
Press release: Things are heating up this Fourth of July in South Florida as The Coca-Cola Company serves as the presenting sponsor of Miami Beach's Independence Day celebration.
The festivities on Thursday, July 4, begin at 7 p.m. and conclude with fireworks at 9 p.m. The Fire on the Fourth celebration on Ocean Drive includes a free live concert by Nicole Henry. Henry has captivated audiences while establishing herself as one of the jazz world's most acclaimed vocalists. Her expressive, soulful voice and uplifting energy has earned her three top 10 albums along with international accolades from Moscow to Madrid.
Free shuttles from North Beach to South Beach begin at 5:00 p.m. and run continuously until 8:30 p.m. The buses leave from 72 Street and Collins Avenue and 81 Street and Collins Avenue and disembark and 11 Street and Washington Avenue to the North Beach stops between 10 p.m. to 11 p.m. The public is encouraged to bring a beach chair or towel. Glass containers and alcoholic beverages are not permitted.  "This free event offers Miami Beach residents and South Florida visitors an opportunity to enjoy our beautiful beach and live music while spending time with loved ones," said Miami Beach Mayor Matti Herrera Bower. "We thank Coca-Cola for their collaboration as we celebrate Independence Day." Last year, the City of Miami Beach announced a 10-year sponsorship agreement with Coca-Cola to serve as the city's exclusive beverage provider. The agreement also secures Coca-Cola's support for recycling initiatives in Miami Beach. New recycling bins will be installed along Lincoln Road this summer as part of the partnership… Classical South Florida, a major sponsor, will simulcast the event on 89.7 FM. Other partners at the event include Zico Water, Honest Tea, Car2Go, and MB Coalition.
CITY OF CORAL GABLES
>>> Mgr. Salerno has taken a licking but still ticking since coming to Gables in spring of 2009
Patrick Salerno, the Coral Gables Manager took a road trip a few weeks ago to Coconut Grove and he was spotted at Coco Walk looking out at the traffic going through the interchange in front of the tony mall. Further, Salerno has survived years of being verbally pounded on the commission dais by past Commissioners Ralph Cabrera, Jr., and Maria Anderson for his management style and the commissioners actually called for a vote to fire him last year, but they lost that effort 3 to 2 back then. Since then Salerno has kept the support of Mayor Jim Cason and the commissioners on the dais and the city's reserves are at an all time high of $21 million, but the manager is rarely described as being warm and fuzzy.
And some Gables residents describe him much like former county Manager George Burgess. Who always thought he was right, despite the criticism of the new Miami Marlins Baseball stadium that finances out to have cost $2.5 billion and he was the point of the spear in pushing that financing package. However, Salerno has survived since the spring of 2009 and excluding his personality. He is getting decent marks for the job he has done, and how the tony Gables looks by city residents, despite a small rash of burglaries and thefts, Here is his bio: http://coralgables.com/index.aspx?recordid=444&page=30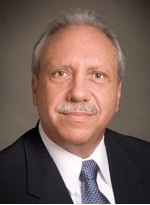 Salerno
CITY OF MIAMI SPRINGS
>>> ATR to locate American headquarters to Springs, expected to bring 40 direct jobs
Press release: PARIS, FRANCE – Today, Governor Rick Scott, Secretary of Commerce Gray Swoope, The Beacon Council, and Miami-Dade County Mayor Carlos A. Gimenez announced ATR North America's plans to relocate its American headquarters to Miami Springs. ATR North America plans to relocate from Virginia to the Miami Airport area, adding up to 40 direct jobs and $125,000 in new capital investment within three years. ATR is an Alenia Aeromacchi and EADS joint venture, an aerospace company whose focus is turboprop aircraft manufacturing. The Governor and Florida leaders met with ATR at the Paris Air Show on Tuesday.
Governor Scott said, "It is great news that ATR North America is relocating their American headquarters to Miami Springs. ATR North America is providing Florida families with the opportunity to pursue the American Dream. The Paris Air Show has given us many opportunities to showcase Florida's great business climate, and we are glad that ATR will be joining us in the Sunshine State."
"Florida has always been a leader in the aerospace and aviation sector. By focusing on further improving our competitiveness, there is no doubt that Florida will be recognized as the place to be for global business," said Secretary of Commerce and President & CEO of Enterprise Florida Gray Swoope. "Florida's aviation and aerospace industry is one of the strongest in the world and companies like ATR help further elevate our stature. We're thrilled that they've chosen Florida as their new U.S. headquarters."
On Tuesday, Governor Scott, Secretary Swoope, The Beacon Council, Mayor Gimenez, and the Miami-Dade delegation met with ATR at the Paris Air Show as part of the business development mission to France. "I had a great meeting with ATR's leadership team at the Paris Airshow earlier this week, and I'm thrilled that they have chosen to move their American headquarters to our community," said Miami-Dade County Mayor Carlos A. Gimenez. "ATR represents exactly the type of company – and the kind of jobs – that we want to bring here: globally respected, high-skilled and technology-driven. And Miami-Dade County is a great fit for ATR, as well, with our ideal location, strong aviation industry and booming international airport at MIA."
Enterprise Florida and The Beacon Council assisted ATR North America with its plan to relocate from Virginia to the Airport area in Miami, adding up to 40 direct jobs and $125,000 in new capital investment within three years. "I'm thrilled that ATR North America has decided to make Miami-Dade County's District 6 the home of its American headquarters," said Miami-Dade Commissioner Chairwoman Rebeca Sosa, who represents District 6, which includes the Airport area. "This move will not only produce more jobs and stimulate the local economy, but it will strengthen Miami-Dade's position as the undisputed gateway to the Americas."
Enterprise Florida and The Beacon Council assisted the company with state and local incentives, research and marketing analysis and labor/training. "It is a pleasure to welcome ATR to our community as they are a great complement to our already thriving aviation industry in Miami-Dade County," said The Beacon Council Interim President Robin Reiter. >>> The Beacon Council uses trade missions as an opportunity to develop and strengthen business relationships that help grow and create jobs in Miami-Dade County. A recent report entitled Expanding Florida's Global Economic Footprint from Florida TaxWatch highlights the benefits. >>> The Beacon Council, Miami-Dade County's official economic development partnership, is a not-for-profit, public-private organization that focuses on job creation and economic growth by coordinating community-wide programs; promoting minority business and urban economic revitalization; providing assistance to local businesses in their expansion efforts; and marketing Greater Miami throughout the world. For more information, visit http://www.beaconcouncil.com.
>>> OTHER STORIES AROUND FLORIDA
BROWARD COUNTY
>>> Thank you for using the Broward County Commission Agenda E-mail Notification System. A new Broward County Commission Agenda is available. Point your browser to http://www.broward.org/commission/welcome.htm to view the new agenda.
CITY OF HOLLYWOOD
>>> Miami-Dade Department of Public Works Employee Charged with Accepting Bribes from Contractor
Press release: Wifredo A. Ferrer, United States Attorney for the Southern District of Florida, and Michael B. Steinbach, Special Agent in Charge, Federal Bureau of Investigation (FBI), Miami Field Office, announce the filing of a criminal complaint charging defendant George Brown, 50, of Hollywood, FL, with accepting bribes in connection with programs receiving federal funds, in violation of Title 18, United States Code, Sections 666.  Brown was arrested yesterday and is scheduled to appear in federal court tomorrow in Fort Lauderdale at 11:00 a.m. before Magistrate Judge Lurana S. Snow. According to the criminal complaint, Brown was the Roadway Lighting Coordinator for the Department of Public Works (DPW) in Miami-Dade County.  In this capacity, Brown was responsible for, among other things, overseeing the installation and/or maintenance of more than 45,000 street lights in the county's roadway system.  In 2011, a lighting contractor allegedly offered to provide Brown with "rewards" in exchange for the DPW's purchase of the contractor's lighting products.  Brown agreed and subsequently accepted more than $13,000 in bribes from the contractor in 2011 and 2012.  As detailed in the complaint, the bribes included appliances, computer equipment, and other merchandise, all paid for by the contractor.  Among the merchandise that Brown received from the contractor was a 2.5 ton air conditioning unit, a Samsung stainless steel refrigerator, and a KitchenAid built-in single electric convection oven.  The merchandise was either shipped directly to Brown's home address or picked up by Brown at the contractor's business in Miami, Florida.
During the investigation, the contractor began to cooperate with law enforcement and recorded the conversations with Brown.  In one recorded conversation, Brown assured the contractor that no one else knew about their arrangement.  In another recorded conversation, the two discussed delivery to Brown of certain merchandise costing approximately $2,600, in exchange for Brown's assistance in getting the DPW to purchase more than $40,000 worth of lighting products from the contractor for a project on 27th Avenue in Miami, Florida. If convicted of the charges in the criminal complaint, Brown faces a possible maximum statutory sentence of up to 10 years in prison. Mr. Ferrer commended the investigative efforts of the FBI.  The case is being prosecuted by Assistant U.S. Attorney Jeffrey N. Kaplan. A complaint is only an accusation and a defendant is presumed innocent unless and until proven guilty. A copy of this press release may be found on the website of the United States Attorney's Office for the Southern District of Florida at http://www.usdoj.gov/usao/fls.
PALM BEACH COUNTY
>>> Palm Beach County Resident Pleads Guilty to Enticement Of A Minor to Engage in Unlawful Sexual Activity
Press release: Wifredo A. Ferrer, United States Attorney for the Southern District of Florida, and Michael B. Steinbach, Special Agent in Charge, Federal Bureau of Investigation (FBI), Miami Field Office, announced that Gary Goldberg, 49, of Palm Beach County, pled guilty on Friday, June 14, 2013, before U.S. District Judge Kenneth A. Marra in West Palm Beach, Florida, to one count of enticing a minor to engage in an illegal sexual activity, in violation of 18 U.S.C. section 2422(b). Sentencing has been scheduled for September 16, 2013.  At sentencing, Goldberg faces a statutory mandatory minimum sentence of 10 years and a maximum term of up to life in prison on the enticement of a minor count. According to documents filed with the court, Goldberg entered into a sexual relationship with a 17 year old victim and her 15 year old friend.  In addition, Goldberg paid the minor victims to allow him to take sexually explicit photographs of them.
This case was brought as part of Project Safe Childhood, a nationwide initiative launched in May 2006 by the Department of Justice to combat the growing epidemic of child sexual exploitation and abuse.  Led by United States Attorneys' Offices and the Criminal Division's Child Exploitation and Obscenity Section (CEOS), Project Safe Childhood marshals federal, state and local resources to better locate, apprehend and prosecute individuals who exploit children via the Internet, as well as to identify and rescue victims. For more information about Project Safe Childhood, please visit www.projectsafechildhood.gov.
Mr. Ferrer commended the investigative efforts of the FBI, Boca Raton Police Department, the FBI Safe Streets Task Force, and the South Florida Minor Vice Task Force.  The case is being prosecuted by Assistant U.S. Attorney Lothrop Morris. A copy of this press release may be found on the website of the United States Attorney's Office for the Southern District of Florida at www.usdoj.gov/usao/fls. Related court documents and information may be found on the website of the District Court for the Southern District of Florida at www.flsd.uscourts.gov or on http://pacer.flsd.uscourts.gov.
CITRUS COUNTY
>>> Gov. Scott taps Dr. Christopher Mark Fallows, and the reappointment of Robert J. Priselac to the Citrus County Hospital Board.
Press release: Fallows, 55, of Crystal River, is an osteopathic physician at Gulf Coast Anesthesia Specialists. Previously, Fallows served as the president of the Florida Wellcare Alliance. He received his bachelor's degree from Alma College and his Doctor of Osteopathic Medicine from Kirksville College of Osteopathic Medicine. He fills a vacant seat and is appointed for a term beginning June 17, 2013, and ending July 8, 2014.
Priselac, 64, of Hernando, has been a self-employed contractor for Title Technology since 2010. During the past 20 years, he has held many positions in the health care field, including chief executive of both Coral Reef Hospital in Miami and the Lower Florida Keys Health System. He was the state chairman of Prevent Blindness Florida from 1990 to 1992. Priselac received his bachelor's degree from Ohio State University and his Master's of Business Administration from Nova Southeastern University. Priselac is reappointed for a term beginning June 17, 2013, and ending July 3, 2015. >>> The appointments are subject to confirmation by the Florida Senate.
COMMUNITY EVENTS
>>> Downtown Bay Forum – Wednesday, June 26, 2013:  When Will Black Miami See Progress? Speakers: Marvin Dunn, Professor of Psychology (Retired), Florida International University, John Dixon, Executive Director, Miami-Dade Economic Advocacy Trust, Dorothy Jenkins-fields, Founder, Black Archives History & Research Foundation of South Florida. Moderated by Tony E. Crapp, Sr., CMDI Solutions. 11:30 a.m. at Temple Israel, 137 NE 19th Street, Miami. Free self-parking available. $35 membership, $23 lunch for member with reservation, $58 membership & lunch, $27 non-member or member without reservation if space is available. To reserve, or for further information, call Annette Eisenberg, (305)757-3633, fax (305)754-2015. www.downtownbayforum.org
>>> Campaign Skills Seminar set for Miami Beach
Candidates and those considering running for office can learn the rules and regulations of electioneering by attending the next Campaign Skills Seminar sponsored by the Miami-Dade Commission on Ethics and Public Trust.   In addition to politicians, campaign managers, treasurers, volunteers and anyone interested in learning what it takes to run a clean campaign, are encouraged to attend.
The two-hour seminar takes place from 6:30 to 8:30 p.m. on Monday, July 22, 2013, in the Miami Beach Commission Chambers.  Speakers — including representatives from the Ethics Commission and the Elections Department — will provide essential information on election law and procedures, fundraising and record keeping.  The event is free and open to the public.  Attorneys can earn Continuing Legal Education credits from the Florida Bar. >> Campaign Skills Seminar, Monday, July 22, 2013, 6:30 p.m., Miami Beach City Commission Chambers, 1700 Convention Center Drive, 3rd Floor, Miami Beach, Florida 33139 For more information or to reserve a seat, call Robert Thompson at 305-350-0630 or e-mail robthom@miamidade.gov.
EDITORIAL
>>> PAST WDR MAY 2012:  Feds continue war on Medicare fraud, FBI SAC Gillies calls for stringent requirements for providers, and even a "carpenter" opened a clinic
Wifredo Ferrer, the U.S. Attorney for Southern District of Florida and John Gillies, the Special Agent in Charge for the local FBI Bureau were on www.local10.com show's This Week In South Florida hosted by Michael Putney, the stations senior political reporter today, and the feds have had a gangbuster week when it came to tamping out Medicaid Fraud. In two separate cases, almost $500 million of public dollars were involved and well over 160 people around the nation were busted. Gillies said last year alone as a result of a local federal Healthcare Fraud Task Force created in 2007. The federal government had saved $500 million in reduced billings by this clamp down but the volume of people involved in scams that evolve and mutate over time makes it a Herculean task to shut it down completely.
Ferrer noted in the federal strike force there are a wide array of different people assets including the FBI, IRS, the IG from Medicare and CMS and even nurses to spot these scams, coordinate a law enforcement response and to then prosecute the criminals. Gillies said he has been pushing for two changes in what is currently a "pay and chase," system where the government has to pay within 15 days of getting the patients bill. The top federal agent thought a better way would be to not use a person's social security number for Medicare but random numbers like is used with credit cards. He also suggested having Medicare providers under go a more extensive background checks and noted one such person started a Medicare business and scammed the system even though he "was a carpenter." Fraud in South Florida is off the charts and while some of these efforts are paying off in a big way. It is up to each of us to protect our identity and accounts because law enforcement cannot do it alone, and the taxpayers and residents must be forever on alert. For these public tax dollars is all of our money and should be going to where it is needed, not the Cayman Islands or Cuba as has happened in the past.
LETTERS
>>> The following link is to the Executive Summary of a recent Annie E Casey Kids Count report unfortunately confirming that those unable to read by the end of 3rd grade are likely to be failures in the American educational system.
http://sparkaction.org/content/early-warning-why-reading-end-third-grade-?utm_source=SparkUpdate+June+18+-+Come+Hangout+With+Us%21&utm_campaign=Update+6%2F19+Hangout+With+Us%21&utm_medium=email There are several points within the report that I feel are very important, but I especially urge those who open this to read the Call to Action which also provides some history that some may not know.
Wil Blechman, M.D.
>>> I met you at City Hall just before the election, the day Al Franken stopped by to campaign for Obama in the early voting lines. I have enjoyed your watchdog report as it gets me caught up in the local news in one quick stop, as I have the bad habit of focusing on national and international only. I am trying to get media exposure for a wonderful foundation in North Miami that I work with; The Hope Foundation http://www.hopeforbangladesh.org/ . There has been a tremendous amount of press recently on Bangladesh, so I think now is a good time to highlight the foundation and the work that it does. Do you have any suggestions of good outlets or people who may want to do a story on them or interview Dr. Mahmood, the founder?
Jessica Lawson
>>> Love your Father's Day story.
>>> Congratulations on 14 years of great work!
L.S.
>>> LIFETIME FOUNDING MEMBERS & INITIAL SPONSORS IN 2000
ANGEL ESPINOSA – (Deceased) owner COCONUT GROVE DRY CLEANER'S
HUGH CULVERHOUSE, Jr
FLORIDA POWER & LIGHT www.fpl.com .
THE MIAMI HERALD     www.miamiherald.com (2000-2008)
ARTHUR HERTZ
WILLIAM HUGGETT, Seamen Attorney (Deceased)
ALFRED NOVAK
LINDA E. RICKER (Deceased)
JOHN S. and JAMES L. KNIGHT FOUNDATION  www.knightfoundation.org
THE HONORABLE STANLEY G. TATE
>>> Watchdog Report supporters – $2,000 a year
BADIA SPICES    www.badiaspices.com
RONALD HALL
MIAMI-DADE COUNTY www.miamidade.gov
UNITED WAY OF MIAMI-DADE COUNTY www.unitedwaymiamidade.org
>>> Watchdog Report supporters – $1,000 a year
AKERMAN SENTERFITT   www.akerman.com
BERKOWITZ POLLACK BRANT Advisors and Accountants www.bpbcpa.com
RON BOOK
LINDA MURPHY: Gave a new laptop in Oct. 2001 to keep me going.
WILLIAM PALMER www.shutts.com
SHUBIN & BASS     www.shubinbass.com
WILLIAMSOM AUTOMOTIVE GROUP http://williamsonautomotivegroup.com/
>>> Public, Educational & Social institutions – subscribers at $1,000 or less
CAMILLUS HOUSE, INC.   www.camillushouse.org
CITY OF MIAMI www.miamigov.com.
CITY OF CORAL GABLES www.coralgables.com
CITY OF MIAMI BEACH www.miamibeachfl.gov
COMMUNITY PARTNERSHIP FOR HOMELESS www.cph.org
THE STATE OF FLORIDA www.myflorida.gov
GREATER MIAMI CHAMBER OF COMMERCE www.miamichamber.com
GREATER MIAMI CONVENTION & VISITORS BUREAU www.miamiandbeaches.com
HEALTH FOUNDATION OF SOUTH FLORIDA  www.hfsf.org
MIAMI-DADE COUNTY COMMISSION   www.miamidade.gov
MIAMI-DADE COMMISSION OFFICE OF THE CHAIR www.miamidade.gov
MIAMI-DADE COUNTY ETHICS & PUBLIC TRUST COMMISSION www.miamidade.gov/ethics
MIAMI-DADE COUNTY INSPECTOR GENERAL www.miamidade.gov/ig
MIAMI-DADE PUBLIC SCHOOLS BOARD www.dadeschools.net
MIAMI-DADE PUBLIC SCHOOLS www.dadeschools.net
PUBLIC HEALTH TRUST & JACKSON HEALTH SYSTEM www.jhsmiami.org
THE BEACON COUNCIL   www.beaconcouncil.com
THE CHILDREN'S TRUST www.thechildrenstrust.org
THE GOOD GOVERNMENT INITIATIVE http://goodgov.net/
THE MIAMI-DADE COUNTY LEAGUE OF CITIES www.mdclc.org
THE MIAMI FOUNDATION  www.miamifoundation.org
UNITED STATES OF AMERICA    http://www.firstgov.gov/
UNIVERSITY OF MIAMI             www.miami.edu
The Watchdog Report covers a few of the meetings attended weekly. It remains my belief that an informed public will make better decisions. Therefore, I go to meetings, make the presence of an informed citizen known, and bring the information to you.   The Watchdog Report is in the 13th year of publication and it has been an honor to be able to send this information to you. It is sent to readers in Miami-Dade, Florida, the U.S. and the world. The Watchdog Report is sent to thousands free and while readers have been prodded to subscribe the results have been mixed. Over 600 reports and Extra's have been sent since May 5, 2000 and over one million words have been written on our community's governments and events.  The report is an original work based on information gathered at public meetings, interviews and from documents in the public domain.
LETTER POLICY
I welcome letters via e-mail, fax, or snail mail. Letters may be edited for length or clarity and must refer to material published in the Watchdog Report.  Please see address and contact information. Please send any additions and corrections by e-mail, fax or snail mail. All corrections will be published in the next Watchdog Report. If you or your organization would like to publish the contents of this newsletter, please contact me. Please send your request to watchdogreport1@earthlink.net
Daniel A. Ricker
Publisher & Editor
Watchdog Report www.watchdogreport.net
Est. 05.05.00
Copyright © of original material, 2013, Daniel A. Ricker
>>> The Watchdog Report are now available to television stations web pages, and all the newspapers and other media in South Florida if the publishers have an interest to run part or all of the stories. Further, in 2000, I used to have some paper's running the report in the Spanish press, that option is available again, and publishers should contact me.  The news content will not be free, but you can pick and chose the stories of interest, edit them if necessary but you must still keep the general story intact.  If you are a news outlet and would like to learn more about, the Watchdog Report and this offer contact me at watchdogreport1@earthlink.net for further information.  >>> Here is what past newspapers have written about the Watchdog Report publisher including a survey and regional study done by the U. North Carolina at Chapel Hill on the media in the southeast United States.
>>> The Miami Herald and Orlando Sentinel & Sun-Sentinel articles on the Watchdog Report publisher over the years. >>> Published on September 9, 1999, Page 1EA, Miami Herald, The (FL) CITIZEN ADVOCATE' KEEPS TABS ON POLITICIANS >>> Published on January 3, 2000, Page 1B, Miami Herald, The (FL) MIAMI-DADE WATCHDOG WILL BE MISSED >>> >>> To read the full section large two page front page story, but without the photos and smart box graphics, go to: `I Go When You Cannot' – Sun Sentinel 20 Jan 2003 … Sometimes Dan Ricker lives in the dark so others may live in the light. … to his weekly Watchdog Report have finally mailed their checks. … http://articles.sun-sentinel.com/2003-01-20/news/0301190341_1_ricker-school-board-president-miami-s-first-cuban-american >>>Watchdog Report publisher named 'Best Citizen' 2003 by the Miami New Times  —The publisher would like to thank the weekly alternative paper Miami New Times for bestowing their 2003 Best of Miami, 'Best Citizen' award to me and I am honored.  Thank you. To read the full story go to http://www.miaminewtimes.com/issues/2003-05-15/citylife2.html/1/index.html
From the spring of 2003:  U. North Carolina, Chapel Hill:  Southeast U.S. Media Report lists Watchdog Report publisher as leading Florida commentator >>> Selected excerpts from the report on Florida's media sources. Those who do read the newspaper in Florida have a bevy of options for state government and political coverage. The dominant newspapers in the state are Knight-Ridder's The Miami Herald (Acquired by The McClatchy Company in 2006) and the Poynter Institute's St. Petersburg Times. Both papers endorsed Gore in 2000 but split on the 2002 gubernatorial race, with the Herald endorsing Republican incumbent Jeb Bush and the Times backing Democratic challenger Bill McBride. Daniel Ricker of The Miami Herald also writes an influential column as well as an email newsletter called the Watchdog Report that goes out to more than 100,000 subscribers. FEBRUARY 2004 – Florida: Columnists in Abundance –ERIC GAUTSCHI, graduate student, School of Journalism & Mass Communication, UNC-Chapel Hill – D) LEADING COMMENTATORS – Resource Commentator Organization Type Web site –Steve Bousquet St. Petersburg Times Column www.sptimes.com/columns/bousquet.shtml -"First Friday" WPBT TV (Miami) TV Show www.channel2.org/firstfriday/issues.html –Lucy Morgan St. Petersburg Times Column www.sptimes.com/columns/morgan.shtml –Daniel Ricker Miami Herald/Watchdog Report Newsletter >>> Readers who would like to read the complete University of North Carolina, Chapel Hill Southeast United States Media Report go to view the complete report or download all the data used in this study. >>> Watchdog Report Editor's note to the NCU/CH study: The subscriber number referenced is incorrect and applies to readership.
General subscriber's names will not be published in the Report. To subscribe to the Watchdog Report please use the form below as a subscription invoice.
********************************************************************
Watchdog Report Supporters Invoice-Form
NOTE: Invoice is for Yearly supporter/sponsorship Rates: Thank you.
Corporate Sponsors $1,000 (All levels above will be listed in the report with web-site link if desired)
Large Business Supporters $500
Small Business Supporters $250
Please make checks payable to: Daniel A. Ricker
Send to: 3109 Grand Avenue, #125
Miami, FL 33133 To contact the Publisher please e-mail watchdogreport1@earthlink.net