CONTENTS
Argus Report: Dolphins NFL Pro Bowl player Anderson kicks off 4th M-DC Park Summitt, but tens of thousands of other volunteers are the unspoken heroes in S. FL.
Florida: Gov. Scott signs $70 billion budget, South Florida whacked $25 million including $3.1 million for UM Med school
Miami-Dade County: Charter Review Task Force taps state Sen. Garcia & Mayor Greer for leadership positions
Miami-Dade Public Schools: SEED Foundation gets OK to start new charter school at old Bay Point campus in Cutler Bay, eventually will have student boarders, says Diaz-Balart
Public Health Trust: Some Miami-Dade commissioners beat up the messenger, FRB Chair Lapciuc, but were almost blind to Jackson's fiscal problems for a decade
City of Miami: FDLE agents descend on city hall, part of 5K Torch Relay, did not include public corruption unit, in the 1990s they were all over the place
City of Miami Beach: It's not over until the fat lady sings when it comes to Mgr. Gonzalez staying, preview on Tuesday at Breakfast Club meeting featuring Commissioner Wolfson
City of Coral Gables: Mayor Cason supports parks in City Beautiful, working to create two more, to "improve the quality of life" for residents
Village of Pinecrest: Mayor Lerner supports county's park initiative and its "vision," hopes Village is part of the process
>>> Other stories around Florida
Broward County: Commissioner Lieberman gets challenger in county court Group 6 race; Commissioner Ritter faces off against Sutton
Palm Beach County: Another Defendant Sentenced in Broward and Palm Beach Pill Mill Operation
Seminole County: Circuit Court Judge Lester now in the hot seat, presiding over Zimmerman trial, jurist had $2.27 million net worth through June 2011
Hillsborough County: Gov. Scott taps Jennifer Gabbard, of Tampa, to Hillsborough County Court.
Manatee County: Gov. Scott reappoints Carlos M. Beruff to the State College of Florida, Manatee-Sarasota District Board of Trustees.
Editorials: PAST WDR MAR.2007: Public confessions then rehab seems to be the new cottage industry for fallen community & elected officials – Check out the past national story in the Tribune papers: Paperwork Tiger By Maya Bell, Miami Bureau, Orlando Sun-Sentinel January 20, 2003
Letters: State Rep. Nunez on Kristi House supported legislation — Miami Herald guest editorial: South Florida's Muslim bashing By Shabbir Motorwala – Reader on Miami-Dade Property Appraiser story last week
Sponsors – Publisher's mission statement & Subscription information is at the bottom of this issue — Scroll down for all the headline stories text
>>> Just because you do not take an interest in politics does not mean politics will not take an interest in you. –Pericles (430 B.C.)
>>> If you wish to be deleted, just e-mail me with that message and you are free to e-mail this on to friends.

>>> The Watchdog Report publisher would like to thank the John S. and James L. Knight Foundation www.knightfoundation.org for funding by the Knight Foundation with technical support from the Knight Center for International Media http://knight.miami.edu within the University of Miami's School of Communication www.miami.edu to maintain my webpage. The Watchdog Report webpage is free, has no ads, pops-up and is just the news in a mainstream reporting manner.
>>> HELP: I NEED FINANCIAL HELP IF THIS IS TOO CONTINUE AFTER 12-YEARS AND HEADING INTO 13-YEARS IN MAY: If you think it is important to have someone watching your public institutions consider becoming a supporter or sponsor. For there is no trust fund, and I do have to live and I hope you or your organization will consider helping in a small or larger way and help keep another voice on line in the media. A convenient form is at the bottom of this week's Watchdog Report with all the instructions on how to support this newsletter and news service.
>>> CORRECTION: Miami-Dade Public Defender Carlos Martinez raised $72,800 for his reelection campaign and loaned it $40,000 more for $112,800, and he has won a new four year term after not being challenged on Friday by the filing-closing deadline.
ARGUS REPORT – Heard, Seen on the Street
>>> Dolphins Pro Bowl player Anderson kicks off 4th M-DC Park Summitt, but tens of thousands of other volunteers are the unspoken heroes in S. FL
Dick Anderson, 66, the Miami Dolphins all pro defensive back on the team's perfect season is one of the tens of thousands of volunteers in Miami-Dade County that make a cross section of our parks, cultural facilities, schools and a host of other activities possible in many ways, and saving taxpayers tens of millions of public dollars in the process. Anderson spoke Tuesday to Miami-Dade Commissioners as the Parks Foundation of Miami-Dade vice president created in 2004 and the money and volunteers role these people play saves the county millions of dollars while also providing high programs for the kids of all ages and the community as a whole http://www.parksfoundationofmiami-dade.com/index.html or to become a county parks volunteer go to www.miamidade.gov/parks and click on volunteer opportunities or call 305.961.2781 .
The role of volunteers is going to be looked at in this issue of the Watchdog Report and these people give their time and sweat equity ranging from coaching peewee football, or being a referee, to guiding ticket holders to their seat at the Adrianne Arsht Center and it actually might be Adrianne Arsht herself taking you to your seat. The Watchdog Report thought about volunteers when I attended the fourth Annual Miami-Dade Parks Summitt held at Fairchild Tropical Botanic Gardens on Thursday and volunteers are everywhere at the garden, that had a woman teaching some young children how past pioneers lived on a field trip to what I call Miami's Camp David, given some of the political meetings that had been held in the serene setting over the years.
What about Arsht & Vizcaya volunteers?
John Richards the CEO of the Arsht Center told county budget officials a few weeks ago the organization has a core of about 330 volunteers that has 35 of them assigned "for each House's performances," he said. He noted these volunteers provided 31,000 hours of their time in the course of a year and that translates to "$660,000 in voluntary support from these people." However, Richards said they could use some more people and "would love to see the number of volunteers double." Since the Arsht Center opened, after a somewhat rocky start, two new CEOs have turned it around and Richards has done a remarkable job that had 500,000 people attending events last year including 75,000 of the community's kids going to Rock Odyssey over the last three years. http://www.arshtcenter.org/
In the case of the Historic Vizcaya Museum and Gardens, the role of volunteers is also critical with these people helping to the tune of 14,000 volunteer hours a year valued at $260,000. Since they provide help with operations and the visitors experience through daily guided tours, program support and maintenance of the art collection and gardens. Vizcaya, a community treasure, sits on a 50-acre site, includes 15-historic buildings and with 100 years in deferred maintenance, needs all the volunteers and outside help, it can get. For more go to: http://www.vizcayamuseum.org/
What about Public and Private school volunteers?
From the public schools PTA to a host of other organizations volunteers, these thousands of people are the backbone of enhancing education and range from City Year members in the schools helping teachers in struggling schools teach the community's younger charges to helping on a sports team and possible being a driver or some other volunteer to a school event. www.dadeschools.net
What about Jackson Health & Baptist Health volunteers?
Jackson Health System also has a large number of people that work as volunteers or are donors to the Public Health Trust. And Baptist Health South Florida to name another organization has a host of volunteers who serve on oversight boards of the not-for-profit. And these people all make the community a better place in their own quite way with little fanfare and that is the way for many of them how they like to participate. For further information how to become a volunteer go to: Jackson Memorial Foundation & www.baptisthealth.net
>>> White House press release: Remarks of President Barack Obama
Weekly Address The White House Saturday, April 21, 2012
This week, I got the chance to sit down with some impressive students at Lorain County Community College in Ohio. One of them was a woman named Andrea Ashley. Two years ago, Andrea lost her job as an HR analyst. Today, she's getting certified in the fast-growing field of electronic medical records. Before enrolling at Lorain, Andrea told me she was looking everywhere trying to find a new job. But without a degree, she said that nobody would hire her.
Andrea's story isn't unique. I've met so many Americans who are out there pounding the pavement looking for work only to discover that they need new skills. And I've met a lot of employers who are looking for workers, but can't find ones with the skills they're looking for. So we should be doing everything we can to put higher education within reach for every American – because at a time when the unemployment rate for Americans with at least a college degree is about half the national average, it's never been more important. But here's the thing: it's also never been more expensive. Students who take out loans to pay for college graduate owing an average of $25,000. For the first time, Americans owe more debt on their student loans than they do on their credit cards. And for many working families, the idea of owing that much money means that higher education is simply out of reach for their children.
In America, higher education cannot be a luxury. It's an economic imperative that every family must be able to afford. That's why next week I'll be visiting colleges across the country, talking to students about how we can make higher education more affordable – and what's at stake right now if Congress doesn't do something about it. You see, if Congress doesn't act, on July 1st interest rates on some student loans will double. Nearly seven and half million students will end up owing more on their loan payments. That would be a tremendous blow. And it's completely preventable.
This issue didn't come out of nowhere. For some time now, I've been calling on Congress to take steps to make higher education more affordable – to prevent these interest rates from doubling, to extend the tuition tax credit that has saved middle-class families millions of dollars, and to double the number of work-study jobs over the next five years. Instead, over the past few years, Republicans in Congress have voted against new ways to make college more affordable for middle-class families, and voted for huge new tax cuts for millionaires and billionaires – tax cuts that would have to be paid for by cutting things like education and job-training programs that give students new opportunities to work and succeed.
We cannot just cut our way to prosperity. Making it harder for our young people to afford higher education and earn their degrees is nothing more than cutting our own future off at the knees. Congress needs to keep interest rates on student loans from doubling, and they need to do it now. This is a question of values. We cannot let America become a country where a shrinking number of people do really well, while a growing number of people struggle to get by. We've got to build an economy where everyone gets a fair shot, everyone does their fair share, and everyone plays by the same set of rules. That's how the middle class gets stronger. That's an economy that's built to last. And I'm not only going to take that case to college campuses next week – I'm going to take it to every part of the country this year. Thanks, and have a great weekend.
>>> Press release: Congresswoman Ileana Ros-Lehtinen (R-FL) recently voted to require the Federal Energy Regulatory Commission to approve the long-delayed Keystone XL energy pipeline within 30 days. The pipeline would bring crude oil from supply fields in Alberta, Canada to refineries in Oklahoma and Texas. Congresswoman Ros-Lehtinen has voted to support this important project four previous times. (Votes: H.R. 1938; H.R. 3630; H. Res. 370; H. Res. 501) Unfortunately, President Obama continues to reject the Keystone XL pipeline.
The President's decision is good news for China but terrible news for the millions of Americans who want and need jobs and energy independence. Approval of the Keystone XL Pipeline project would increase our domestic supply by 302 million barrels of oil per year. This project has the potential to change the current gas price dynamic in the consumer's favor. A Department of Energy analysis projects that the increased energy supplies and gains in energy efficiency could essentially eliminate U.S. dependence on Middle East oil. The U.S. already imports more oil from Canada than any other country and the enormous potential of this politically and economically secure source of energy can restore market confidence and could help gas prices while significantly rebalancing global oil markets toward North America's favor. In a statement, Ros-Lehtinen said, "Given that oil prices are so high, it is past time that real solutions are put on the table. The economy suffers catastrophically because of these high prices and the burdens being placed on American families only continue to grow. I am committed to measures that lower the price of gas in a responsible way and end our crippling dependence on Middle East oil."
>>> Press release: Congressman Mario Diaz-Balart (R-FL) released the following statement in response to the passage of H.R. 9, the Small Business Tax Cut Act of 2012, which provides all small businesses with a 20 percent tax deduction. Diaz-Balart comments:
"While small businesses continue to struggle, President Obama continues to insist on job-killing policies like tax hikes and burdensome regulations. We must focus on creating an environment that promotes economic security and opportunity for our nation's job creators; we do not need tax gimmicks that punish small businesses. My home state of Florida has been hit especially hard with double-digit unemployment rates, and this tax relief is a step in the right direction to encourage job creators to expand and hire." Click here, to see how the bill is good news for Florida.
>>> Knight Center for International Media newsletter: One Water Continues to Reach Audiences Globally with Eight Screenings this World Water Day
The film continues to cross borders, physical and cultural, by showing at a variety of settings this World Water Day 2012. With screenings spanning the globe, from British Columbia to Hungary, One Water continues to be a popular choice in media for discussing the world's water crisis. All screenings of the film are free. If you are interested in organizing or holding a screening, large or small, please contact Lauren Janetos. For more about the film and related educational projects, visit http://onewater.org/education. www.knightfoundation.org
>>> See what was said about the Watchdog Report in the Miami New Times 2003 — Best of Miami — BEST CITIZEN — Daniel Ricker – watchdogreport1@earthlink.net
Three years ago, we said Ricker was our Best Gadfly. Given his dedication and perseverance, this new honor, Best Citizen, is well deserved. Ricker goes to 2500 mind-melting meetings annually, from the Public Health Trust's purchasing subcommittee to the Efficiency and Competition Commission to the Alliance for Human Services' nominating council to the school board's audit committee. Sometimes he's the only public observer. Object: to be the Public Citizen for all those out there who can't attend, and to connect and serve as an information bridge among the special-interest-dominated Miami-Dade governmental institutions that seem so problematic and indifferent to the democratic process.
This month his e-mail newsletter, The Watchdog Report, celebrates its fourth anniversary (Now entering its 13th year May 5th ). In a former life, Ricker made a handsome living as an international salesman of heart pacemakers. As the hard-working publisher of Watchdog Report, though, he's struggling financially — this despite the fact that his weekly compendium of meeting summaries, analysis, interviews, and commentary has become essential reading for anyone involved in public affairs. What his written work may lack in polish, it more than makes up for in comprehensiveness. So raise a toast to the man whose official slogan says it all: "A community education resource — I go when you cannot!"
>>> All photos in the Watchdog Report are taken from public government sites, and the Report goes on line at www.watchdogreport.net on Monday sometime during the day usually. >>> If you believe it is important to have someone watching your public institutions consider supporting the Watchdog Report for I am a low cost news service, yet I do have to live, thank you! Further, I have been honored over the years by being named a WFOR-4 Hometown Hero in 2000, being profiled in a major way by The Miami New Times and was Best Citizen in the 2003 Best of Miami of The Miami New Times, profiled twice in The Miami Herald, and the Orlando Sentinel ran a nationwide story on me in the Tribune papers on Jan. 2003, and UNC Chapel Hill named me one of the top columnists in Florida in a multi-state study of the media back in 2004. I also thank Joseph Cooper for the opportunity to be on the WLRN/NPR showTopical Currents on www.wlrn.org since 2000, including yearly election coverage since then, and also numerous times over the past decade. Further, I am a frequent guest on WWW.WPBT2.ORG on Helen Ferre's show Issues, and have also appeared on Eliott Rodriguez's show News & Views on www.CBS4.com .
FLORIDA
>>> Gov. Scott signs $70 billion FL budget, South Florida whacked $25 million including $3.1 million for UM Med school
Gov. Rick Scott (Net worth $103 million) signed the $70 billion Florida budget last week, he cut $143 million from the legislative created budget, and South Florida got whacked to the tune of $25 million in Miami-Dade and Broward Counties. Scott has pushed the need for more educational funding and there is $1 billion more, but after past funding cuts around $2 billion each over the last few years. Critics say this new money cannot make up for the past reductions and much of it indirectly goes to servicing past school construction debt that is ballooning for some of the 67 public school districts in the state. Scott continues to approach the state budget as if he is running a business and the $500,000 for the Bay of Pigs Museum was slashed and the University of Miami Miller Medical School lost $3.1 million in state funding.
Scott a former healthcare executive of Columbia/HCA that paid a $1.6 billion fine to the federal government in the late1990s after widespread Medicare fraud was found in the well over 300-hospital chain nationwide resigned in the 1990s, but he was never charged. During the 2010 election, he was mum to a great extent about the federal settlement, the largest in the nation's history and the man ran on creating jobs and dominated the television airways with his campaign ads using his own millions. Now he has signed into law his second budget for the state and he has stayed on his pro business course that has the environmental community crying foul. After one environmental safeguard law after another is gutted or neutered by the governor's administration throughout Florida.
The governor already has started to raise money for his campaign in 2014, and so far termed out state Sen. Nan Rich, D-Broward is the only Democrat lined up to run against Scott. However, former Republican governor Charlie Crist's name has also surfaced as a possible candidate running as a Democrat after he switched to the Independent Party in his losing 2010 U.S. Senate race against then former Florida House Speaker Marco Rubio, R-Miami and Democratic Congressman Kendrick Meek, D-Miami that had Rubio coming out on top.
>>> AG Pam Bondi press release: I have always been committed to defending the interests of Floridians, businesses, and government entities that have suffered losses caused by the Deepwater Horizon Oil Spill. I had always wanted an audit in order to bring transparency to the Gulf Coast Claims Facility claims process. I requested that the audit include a review of unexplained discrepancies in payments to similarly situated claimants and the documentation required by the GCCF.
In response to prompting by my office, the Department of Justice, and the other Gulf Coast states, this fall Administrator Kenneth Feinberg agreed to an evaluation. On Thursday, the Department of Justice released findings and announced that approximately $64 million in relief will go to claimants who were adversely affected by GCCF errors. Approximately 4,450 Floridians will receive an estimated $37.7 million in relief. The roughly 4,450 Floridians account for more than 60 percent of the total estimated 7,300 claimants who were adversely affected by errors in claims processing. Thankfully, Floridians will now receive the millions in relief that they deserve. I will continue to monitor the claims process and help ensure that harmed Floridians are fairly compensated.
>>> Press release: I wish progress were easier, but it is not… Gov. Rick Scott just vetoed early learning legislation that was quite flawed despite the good efforts of leaders such as Marti Coley in the House and David Simmons in the Senate.
The governor's veto message emphasized the importance of arriving at a "uniform, nationally recognized pre- and post-assessment to ensure children are making education gains" while in school readiness programs. This is a major goal of The Children's Movement. The governor is absolutely right on this. He's asking Dr. Mel Jurado, who leads his Office of Early Learning, to get us to just that. To read his message, click here. That message said "solid early learning experiences" are "critical to our children being properly prepared for school success…. I am committed to ensuring Floridians have access to high-quality early childhood education." Amen, I'd say. That high quality must come to pass. Children's futures depend on it. You in The Movement made a difference. We, together, have so much more to do…. Dave Lawrence Jr., Chair The Children's Movement of Florida.
MIAMI-DADE COUNTY
>>> Charter Review Task Force taps state Sen. Garcia & Mayor Greer for leadership positions
The third Miami-Dade Charter Review Task Force since 2000 met Thursday and the members elected state Sen. Rene Garcia, R-Hialeah (Net worth $130,000 in 2008) chair of the body and former Pinecrest Mayor Evelyn Greer the vice chair. The 20-member group has four women, which is the same gender representation back in 2007, and 08 and Miami Beach attorney and Commissioner Victor Diaz chaired that past task force. Further, the 2000 charter review was held on the 29th floor of the Stephen P. Clark Government Center and former FP&L executive and Miami Beach commissioner Sid Levin chaired that one.
The Watchdog Report mentions this because throughout this charter review process I have covered all these meetings, that almost became a work program for me, and in this case, as well. I seemed to be the only press in the room. The group is planning to have public input sessions in five locations throughout the county hearing residents input, and then too get back together for further intense discussions before presenting their recommendations by July 17, to county commissioners and it is a tight time line to get the items on the Nov. general election ballot.
Anyone unusual on the task force?
Joe Arriola, the treasurer of the Financial Recovery Board overseeing Jackson Health System is one of the task force members and Miami-Dade Commissioner Jose "Pepe" Diaz (Net worth $64,200) appointed him. Arriola, the past businessman who made his around $40 million fortune when he sold his printing business in the 1990s has since morphed into a City of Miami manager under Mayor Manny Diaz (Net worth $1.8 million), became a member of the PHT board and now is one of seven people on the FRB. He is respected for his business acumen, but he can be vulgar and a bully sometimes and this new role is more thoughtful in nature than his past posts, and he has a history of outbursts and definitely does not like the press or being criticized in any way. During the Charter Task Force meeting that conflicted with his responsibilities at the FRB that held its monthly all day committee meeting. He provided periodic banter and quips during the discussion but the concern the Watchdog Report had was if he had the time for this new public task force.
Further, Arriola is also coming back as a major political fundraiser for upcoming state and local candidates running for office this year, though one countywide candidate demurred when Arriola asked if he wanted his help in this regard. And Arriola is also a frequent guest on radio shows. But all these activities put him in the center of a lot of local political drama while he has the very important task of keeping Jackson Health System financially afloat. And I write about this because I don't known if he has the time because he did not return to the FRB committee meeting, after the task force broke-up around noon, and he missed the important future strategy discussion given by the institution's new VP of strategy Jeffrey Crudele. After the previous strategic officer, Donn Szaro passed suddenly in his sleep a few weeks ago in Sarasota after working for ten months on a strategy to stop the fiscal bleeding and create a sustainable health trust for the 2.5 million county residents that includes the poor and needy of our community across all ethnic lines.
>>> Public in the dark how $275 million in county GOB money spent at Museum Park, closed to public scrutiny
The Watchdog Report has found that when it comes to the $275 million in 2004 GOB funding for the Perez Art Museum (MAM) and the Frost Science Museum going up in Museum Park on Bicentennial Park, the public, press and the county's inspector general are in the dark. A Miami-Dade assistant attorney in the county attorney's office who looked into this matter has concluded there were no open public record laws required when these organizations received the funding that is currently ongoing with MAM ahead in this public funding and will receive the last $26 million of its $100 million in the next county budget year beginning in October. The attorney did extensive research and the only organization possible similar was the Ringling Brothers Museum in Sarasota. However, the circus museum is a state agency when it comes to its public funding and these meetings are open to the public but the two museums here in Miami are not such an entity, and thus there board meetings are allowed to be closed.
And since that is the case, these two organizations boards and the chairs have a crucial role and must act as the community firewall when it comes to the oversight of these public funds. And any funding surprises in the future need to be minimal because the pubic trough is empty for unbudgeted hits and the public and taxpayers are putting their faith in MAM Chair Aaron Podhurst and the Frost Museum chair Dan Bell who in their leadership capacity are the overseers of this public money. And the Watchdog Report hopes these men do their duty and protect the public dime as well as building two new museums in the process, on time and on budget.
>>> MIA Abreu "cautiously optimistic" regarding new automated baggage & screening system, handling 30,000 bags a day at N. Terminal
The new over 10.5 mile automated baggage and security screening system at the North Terminal at Miami International Airport has completed a month of the trial run and its operation is "getting smoother," said MIA Aviation Director Jose Abreu last week. The baggage system is actually 13 miles long if the spurs are included and American Airlines was hesitant to fire up the system initially, but with federal officials putting on pressure, the trial run began last month. So far the aviation guru said the baggage system had met "90 percent of the [test] criteria," federal officials are assisting in tweaking the system, and we are "cautiously optimistic," said Abreu. He said the baggage-handling rate is about 30,000 bags a day and when it came to the "unknown bags," technicians are working to "minimize" those bags that were not photographed and have to be checked manually.
>>> PROPERTY APPRAISER PEDRO GARCIA REMINDS SENIORS TO RE-APPLY FOR THEIR 2012 PROPERTY TAX EXEMPTION – Press release: Miami-Dade County Property Appraiser, Pedro J. Garcia is appealing to homeowners who last year benefitted from the Additional Homestead Exemption for Persons 65 and Older (more commonly called the Senior Citizen's Exemption) to file their renewal applications for 2012.
Although the deadline to file timely applications ended March 1st, Mr. Garcia says his Office will accept late applications for the Senior Exemption. The Senior Citizen's Exemption can reduce overall property taxes by $500 or more each year. To qualify for the 2012 Senior Exemption benefit, the Adjusted Gross Income cannot exceed $27,030. This limit applies to everyone who lives in the house whether they are owners or not. Mr. Garcia points out that in most cases social security income does not count towards qualifying for this benefit. He is advising seniors filing for the exemption to check the "Adjusted Gross Income line" on their Federal Tax Return to verify actual income amounts.
Since December, the Property Appraiser's Office has sent notices to 42,341 seniors who received the benefit in 2011, reminding them that unlike the homestead exemption, this benefit does not automatically renew and they must re-apply for 2012. Mr. Garcia notes that 6,997 seniors have still not filed renewals for 2012. To file your senior renewal application, visit either the Downtown Miami or South Dade offices of the Property Appraiser:
Stephen P. Clark Government Center South Dade Government Center
111 NW 1st Street 10710 SW 211 Street
Miami, Florida 33128-1984 Cutler Bay, FL 33189
Suite 710, Public Information Counter Suite 207, Public Information
Renewal applications can also be filed online at the Property Appraiser's website: http://www.miamidade.gov/pa/exemptions.asp First-time applications have to be filed in person at either of these offices.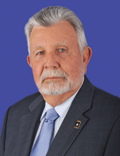 Garcia (Net worth $1.1 million)
>>> Press release: MIAMI-DADE COUNTY ANIMAL SERVICES NEEDS YOUR HELP IN SOLVING ANIMAL CRUELTY CASE
Earlier today, the Miami-Dade County Animal Services Department received an anonymous tip that a dog had been severely beaten with a baseball bat. Upon arrival in the vicinity of SW 155th Terrace and SW 111th Avenue, a small black and tan dog was found with severe head trauma. Unfortunately, due to the extent of his injuries the dog could not be saved. The department is actively investigating this alleged crime and is requesting assistance in identifying the person responsible. If you have any information regarding this case, please contact 3-1-1 to file a report. "All pets are very important to us, whether they are a stray, abandoned or lost. They all have a right to be treated with love and kindness. Acts such as this cannot be tolerated," said Alex Muñoz, Director, Animal Services Department. Muñoz added, "If what was reported to us regarding this case is true, we need to find the responsible party in order to prevent them from committing future acts of animal cruelty."
>>> Press release: The Bureau of Labor Statistics today released its employment and unemployment estimates for March. The latest release shows that payroll jobs (persons working in Miami-Dade) is regaining the growth momentum it experienced in the last quarter of 2011. The January estimate indicated a loss of approximately 4,000 jobs from the December peak of 1,016,500, but that loss was recovered in February and March. Payroll jobs, after accounting for regular seasonal variations, reached 1,017,400 March – a new peak since the end of the recession. The growth in payroll jobs has been led by the private sector, which has added 25,900 jobs over the past 12 months, while during the same period public sector employment has fallen by 2,700. Gains in consumer spending, health care, and tourism appear to be leading the gains in the labor market.
The number of unemployed workers and the unemployment rate, both adjusted for regular seasonal variations, fell in March. Unemployed workers last month declined by 2.3% from February, and the unemployment rate declined to 10% from 10.3% in February. The unemployment rate last March was 12.3%. More encouraging is that the decline in the number and rate of unemployment is that is entirely due to an increase in employment. The number of Miami-Dade residents holding jobs has increased 6% over the past 12 months. >> CLICK HERE TO VIEW THE REPORT<< Robert D. Cruz, Chief Economist, Miami-Dade County.
>>> Press release: Registration Now Open for Miami-Dade Parks' Summer Camps! Exciting Summer Camps are being offered by the Miami-Dade Parks, Recreation and Open Spaces Department, June 11-August 17, 2012, at its parks around the County. Programs are affordable and fully-supervised. There's fitness, sports, nature-encounters, arts and crafts, field trips and more! Camp hours: 9:00 a.m.- 5:00 p.m., with early drop-off/ late pick-up available. Miami Dade Parks provides inclusion services for children with disabilities who want to attend typical summer camps.
>>> Press release: Adrienne Arsht Center AileyCamp Miami 2012 AileyCamp Miami is a summer day camp where middle school students are "turned on" to dance and come to respect the discipline of dance as a physical activity that requires athletic ability comparable to skills demanded by any sport. Also, campers will increase their leadership skills and enjoy a variety of social activities. Monday – Friday, June 25 – August 4, 2012; 8:30AM – 3:30PM. Ages 11-14, MDCPS Grades 6-8, SPACE IS LIMITED, NOW ACCEPTING APPLICATIONS
MIAMI-DADE PUBLIC SCHOOLS
>>> SEED Foundation gets OK to start new charter school at old Bay Point campus in Cutler Bay, eventually will have student boarders, says Diaz-Balart
The school board on Wednesday approved the beginning of a new charter school on the old Bay Point Schools Cutler Bay campus with 157-beds that closed in the late 2000s after the Florida Department of Juvenile Justice shut down the facility that tried to turn around troubled youth when the state funding was cut. The new organization that wants to use the campus is the Washington D.C. based The SEED Foundation. Its representative Tia Diaz-Balart, the foundation's South Florida Director told the board that the plan was to start with around 80 students when it is open, well over a year from now, and build it up to around 400 students in the years ahead that would include students boarding Sunday through Friday at the south Dade location. SEED started its first such school in D.C. 15-years ago and there is also one in Baltimore Maryland started in 2008 she said. Notable people that have stopped by to review the schools success with at risk youth have included Oprah Winfrey and "up to 25 to 30 percent" of the students attending are expected to come from foster homes. Since the students remain on the school campus, it creates a more controlled education environment and the goal is for all the kids to graduate high school and go to college.
The public schools district's staff on allowing new charter schools to go forward said the application was for a "typical charter school" and the board was only approving the "day component," she said. And SEED's application with the district had met "state statutes for a day charter school." And the nation's fourth largest public schools district over the next year will hash out in further detail with SEED about making the facility a boarding school in the future, something that is rare in Miami-Dade versus in the northeast U.S.
>>> SEED webpage: The SEED School of Washington, D.C. is a public, college-preparatory boarding school whose primary mission is to provide an outstanding, intensive educational program that prepares children, both academically and socially, for success in college. More than 320 students in grades six through twelve attend SEED. All students live on campus Sunday through Friday, enabling them to benefit from an integrated curriculum that incorporates academic, extracurricular, and life skills learning. For more information, visit The SEED School of Washington, D.C.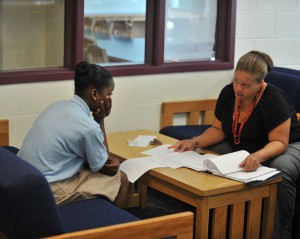 http://www.seedfoundation.com/index.php/seed-schools
>>> Press release: Dr. Wilbert "Tee" Holloway, Miami-Dade County School Board Member for District 1, will join some 150 students from three Miami-Dade public schools to engage in several exciting activities related to Earth Day at Fairchild Tropical Botanical Gardens, from 9:30 a.m. to 12:30 p.m. on Monday, April 23. The Botanical Gardens are located at 10901 Old Cutler Road in Coral Gables. Admission will be free that day.
The annual event raises awareness for the environment and continues to be an educational tool for the community. Students from Rainbow Park, Nathan B. Young and Dr. Robert B. Ingram elementary schools will participate in three activity stations: a cooking demonstration with Chef Chris Bulgarian, who will teach students how to make healthy, family friendly foods; a hands-on lesson on photosynthesis with Jeff Wasielewski; and a planting exercise with Kiki Mutis, in which students will pot a plant to take home. >> For more information, please contact Raquel Alexander, Assistant to School Board Member, Dr. Wilbert "Tee" Holloway, at 305-995-1334; or Amy Padolf, Director of Education at Fairchild Tropical Botanic Garden, at 305-663-8097.
PUBLIC HEALTH TRUST
>>> Some Miami-Dade commissioners beat up the messenger, FRB Chair Lapciuc, but were almost blind to Jackson's fiscal problems for a decade
Marcos Lapciuc, the Financial Recovery Board chair ran into a verbal buzz saw last week when he spoke in front of the Miami-Dade County Commission Tuesday morning and it was not some of the commissioner's finest hour. The international businessman born in Columbia told commissioners Jackson Health System must be "competitive" if it is to survive and thrive in what he described as a "healthcare reform business that moves so fast and [when it came to a strategic plan] and you can have the most beautiful plan, but you need the money" to pull it off, he said. Commissioner Sally Heyman (Net worth $425,000) has been carping for 11 months about not seeing such a plan that is slowly being developed and has called for a closed executive session with Jackson senior management staff including CEO Carlos Migoya to get a briefing on their new strategy to get paying patients to come to the health trust. She said during the stern discussion, "The one thing that has eluded us is specific details" and likened the future strategic plan to being in "the ozone," she said.
However, Migoya in the past has said he "had concerns about [giving commissioners] propriety information," that might be shared with competitors, said Heyman but she is moving forward with the May 1 closed session after getting the required commissioner signatures. Lapciuc will not attend this session for the same reason he did not attend a hearing by the organization's unions members after a significant staff cut was made. He believes the FRB must maintain its governance independence given its charge of trying to save JHS that has for the last three years hemorrhaged over $400 million in losses while giving roughly $1.1 billion in charity and bad debt medical care for the past year alone.
Commissioner Javier Souto (Net worth $658,000) a long time member of the old PHT board said in the past "The Jackson Board was not really interested in the Medicare business" and not "really interested in clinics." He thought the focus was more on giving a "triple organ transplant but that also costs a lot pf money" and generates "a lot of pizzazz," he said. The former state legislator also noted the competitive clinics that are controlling patients would be okay, but if that is the case for the health trust. "Jackson will be out of business," he contended. He then went on a verbal tear comparing patients to coffee beans and said it is "crucial Jackson needs to control the supply of patients" because that is what "makes the place work." Commissioner Xavier Suarez (Net worth $328,500) also joined the fray asking about a study he considered "shoddy" but was not done by the administration but a draft study done by a union consultant and Lapciuc did not know what he was talking about. Suarez even asked what time at the FRB daylong committee meeting, the fiscal committee would be going on, suggesting he might attend, but on Thursday, he was a no show at the Jackson committee meetings.
However, throughout this intense discussion by commissioners was the fact that Lapciuc and his other six board members are all volunteers, the amount of time they put in is considerable, and righting the public hospital financially is no easy task. Further, under the county commission's watchful eye over the past 12 years, JHS has lost money every year and posted a $84 million deficit back in 2004 that had fiscal adjustments going back to the late 1980s and settling a over $40 million outstanding obligation with the federal government. And to add to Jackson's fiscal burdens in 2000, the county commission shifted about $72 million in unfunded mandates on the PHT, including nursing home care and inmate prisoners' medical care and all of these come to over $100 million in the current budget year at JHS. And back in 1999 or so the health trust had about $400 million in capital infrastructure reserves for the campus and sprawling facilities but that was also drained. And now at JHS there is an estimated over $1 billion in capital infrastructure needs that has been pared down to over $600 million, but the campus facilities look old, and even include ashtrays in the bathrooms outside of the first floor executive wing, a throw back to the 1960s.
Now on May 1 at the closed meeting, only one FRB trustee can attend without it being a board Sunshine Law violation and Lapciuc at Thursday's committee meeting said if any other members wanted to go that was up to them. However, it sounds like just Migoya and his senior staff will attend the meeting and let's hope the commission allows these people to do their jobs. For while the Miami-Dade Home Rule Charter does give commissioners the charge of the community's health and public hospital, that is in a broad scope and does not actually cover how the hospital is run, and this past intervention by the commission over the years is one of the reasons JHS is in this position. Even though for years past, JHS administrations have brought the fiscal matter to the elected leader's attention. But county commissioners failed to heed the warnings and lack of capital for improvement of the health complex that this FRB and the administration is trying to stabilize and grow. And if the improving trend continues in the months ahead, JHS may actually have a good shot of a small loss or actually breaking even at the end of the budget year ending in September.
| | | | |
| --- | --- | --- | --- |
| Lapciuc | Suarez | Souto | Heyman |
>>> A PAST WDR: This is a graph PHT President & CEO Marvin O'Quinn presented to the Board of County Commissioners in June 2008 about the future for Jackson Health System in the coming years and frankly I am surprised anyone would want to be part of the oversight board given the fiscal and political challenges.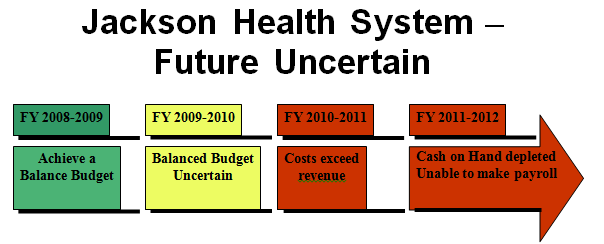 CITY OF MIAMI
>>> FDLE agents descend on city hall, part of 5K Torch Relay, did not include public corruption unit, in the 1990s they were all over the place
Florida Department of Law Enforcement (FDLE) special agents along with Miami Police SWAT members ran a 5K Torch Relay for the Special Olympics midday Friday and they arrived in mass at Miami city hall, but the FDLE public corruption unit was not part of the pack of runners. Over the decades either FDLE or the FBI special agents have been roaming the halls of the Miami commission and I remember a small posse of them in the mid 1990s that put a variety of commissioners in jail including the ex city Manager Cesar Odio. Miami-Dade municipalities over the years have been a vast breeding ground for wayward elected leaders and administrators and more recently included Miami ex Commissioner Angel Gonzalez being forced out of office by the state attorney's office in a plea deal in November 2009. However, these officers were there for charity or maybe casual reconnaissance of the area, but a number of people wondered why there were so many blue lights around the parking area in front of city hall at the time giving the impression of possible mass arrests.
What is the WDR connection with Miami?
I began this effort of watching our government and public institutions in late 1997 and without former Commissioner J.L. Plummer in office almost 30-years. I would not be doing this today and having a 13th Anniversary May 5. Back then, I went through almost 200 personal jackets for Miami employees and I would review about 18 to 20 of the files every Friday at Miami's personnel office. And at the time, for some people there was concern I was an undercover cop rather than an inquisitive citizen even though at meetings when people would introduce themselves. I would say, "I am just a citizen," that once had a television reporter covering the event as well, saying "Yeah right, just a citizen," but it was said in a respectful way, since at that point. I had about two and a half years of watching government under my belt. But it was the fact the citizens never won anything in the 1990s and were constantly getting steamrolled by their elected leaders regardless of the commission district they lived in. And my mission at the time was to try to change the odds for the ordinary people and while some major issues still get past the public like the Miami Marlins Stadium. There have been many other items before the commission that ultimately went down in flames over the past 15-years and I consider that a good thing.
CITY OF MIAMI BEACH
>>> It's not over until the fat lady sings when it comes to Mgr. Gonzalez, preview on Tuesday at Breakfast Club meeting featuring Commissioner Wolfson
While four commissioners are calling for a special commission meeting Mayor Mattie Herrera Bower is holding firm and Manager Jorge Gonzalez isn't calling one and a preview of what might be coming will be discussed at a civic breakfast club meeting on Tuesday. Gonzalez has been under pressure to step down after a variety of scandals and Wolfson was the first to call for his dismissal after over a decade in the top city administration spot. The commissioner now is running for the House District 113 seat and is facing Republican challenger Bryan Avila. After state Rep. Richard Steinberg, D-Miami Beach resigned amid a texting scandal with a married federal prosecutor he knew a few months ago. Wolfson has raised $49,625.00 for his campaign and Avila has $9,650 in his campaign war chest. Months ago, Commissioner Deede Weithorn seconded Wolfson's call for the removal of Gonzalez and now www.miamiherald.com is reporting that two other commissioners on the body, Michael Gongora and Ed Tobin are also jumping into the fray and will likely be discussed at the upcoming May 9 commission meeting.
However, Gonzalez has incredible political staying power since being appointed over a decade ago, that he seemed to have blunted the earlier movement for his removal but now with the arrests of seven Beach employees in code enforcement, and fire safety. The cry for his removal has raised its head again. However, Commissioners and the residents sometimes react in such a manner but then the issue dies down and some insiders speculate that after these recent fireworks, the matter will die down in the coming weeks. Further, Bower and Gonzalez both say he is rooting out the bad apples in a press release last week, the investigation continues, and they are fully cooperating with FBI investigators to get to the bottom of the issue of public corruption on Miami Beach.
>>> Press release: Miami Beach Commissioner Jonah Wolfson is the Breakfast Club speaker, Tuesday, April 24, 8:30AM – 10:00AM, David's Cafe II, 1654 Meridian Ave., Miami Beach. Since 1996, the Tuesday Morning Breakfast Club has been gathering every Tuesday at 8:30AM at a local Miami Beach restaurant for informal, non-partisan discussions of issues – political, governmental, etc. It is not affiliated with any other organization. We are currently meeting at David's Cafe II, 1654 Meridian Ave., Miami Beach, between Lincoln Road Mall and Macy's (formerly Burdine's). There is plenty of parking at that hour in the adjacent municipal parking lot. One orders from the menu or simply has coffee. Guest speakers range across the political, governmental, business, and social issues spectrum. Sessions are open to everyone. Simply show up. www.MBTMBC.com
CITY OF CORAL GABLES
>>> Mayor Cason supports parks in City Beautiful, working to create two more, to "improve the quality of life" for residents
The Watchdog Report spotted Mayor Jim Cason at the Miami-Dade County Parks Summitt held at Fairchild Botanical Gardens on Thursday and I emailed him asking what he thought of the meeting, since the Garden is in the Gables, is a community treasure and a place I have dubbed South Florida's version of Camp David. In an email back he wrote, "The Parks Summit is an important meeting where stakeholders gather to discuss and further the initiatives of the Miami-Dade County Parks and Open Space Master Plan.
The plan initiatives address issues and goals that directly affect Coral Gables residents, including access to parks, bike trails that connect the entire parks system and land acquisition for park use. The Parks Summit highlights some of the pressing issues in the County that the Miami-Dade County Parks and Open Spaces Master Plan is addressing. The acquisition of parkland is a priority in the City of Coral Gables. We are currently in the process of developing two new neighborhood parks, which is one of the significant ways by which a City can improve the quality of life for its residents," wrote the former U.S. Ambassador.
>>> City Extends Grace Period Until July 15th For Compliance With Truck Restrictions
The City of Coral Gables has extended the grace period until July 15, 2012, for enforcement of the restrictions pertaining to trucks parked in residential and commercial areas. The City has granted this extension to provide more time for residents to come into compliance with the law. Enforcement would begin after expiration of the grace period if compliance has not been achieved. Fines are $100 for the first violation, and up to $500 for each subsequent violation. The City of Coral Gables has prevailed in the legal court case challenging the City's ordinances restricting the parking of trucks. The Third District Court of Appeals previously upheld the constitutionality of section 4-411 and 4-412 of the Coral Gables Zoning Code pertaining to trucks parked in residential and commercial areas. The Florida Supreme Court has decided not to review this decision. For more information, please contact Code Enforcement at 305-460-5226.
VILLAGE OF PINECREST
>>> Mayor Lerner supports county's park initiative and its "vision," hopes Village is part of the process
The Watchdog Report contacted Mayor Cindy Lerner last week after she attended the 4th Miami-Dade County Parks Summit and asked her what she thought about the event and she wrote back. "I applaud the Parks Department's vision for and commitment to identifying distressed properties and revitalizing the surrounding communities by creating a new identity using green spaces as the anchor for healthy and livable communities. I am sure all of the cities in Miami Dade would love to partner with the county in identifying properties and planning together. I hope we will be invited to the table. In addition, I will now be looking within our village with a new eye for green space opportunities as well," wrote the mayor and former state legislator.
>>> OTHER STORIES AROUND FLORIDA
BROWARD COUNTY
>>> Commissioner Lieberman gets challenger in county court Group 6 race; Commissioner Ritter faces off against Sutton
Long time Broward Commissioner Ilene Lieberman (Net worth $921,309) who is termed out in 2012 on the nine-member body has qualified for county court judge Group 6, along with Kathleen McHugh and they will face off in November. The commissioner is reporting raising zero money for her campaign through March but that is likely to change in the future. Lieberman a long time elected official in Broward has been the county mayor while on the body but she also works as a lobbyist while being paid $92,000 as the commissioner of District 1. She and I verbally got into it years ago when I wrote about one of her lobbying gigs. She said at the time I "had a problem with lobbyists," and I responded only when they were also elected leaders in another capacity. Now she is seeking a spot on the bench, and she is considered a solid fundraiser. McHugh has $33,125.00 in her war chest but this countywide race is expected to heat up. But Lieberman also has quite an extensive past political narrative, and given Broward's past brush with public corruption at the county commission, school board and municipalities it is unknown if that will be a factor in voters minds in November.
Further, the Watchdog Report reviewed Lieberman's past gift disclosure forms and on the whole the report was benign though a physician gave over $200.00 in free medical care and she got a trip to Israel worth $2,800 states the disclosure forms. However, it is unknown if Broward's 1.07 million voters will support her effort to jump over to the courts, of which Democrats represent 561,000 voters, Republicans come in at 254,000 and "other" accounts for 263,900 of the county's electorate states the supervisor of elections webpage.

Lieberman
What about Commissioner Ritter?
Former Democratic Party state representative and now Broward Commissioner Stacy Ritter (Net worth $150,000) has also got a challenger for another term on the dais with Republican Robert Sutton throwing his hat into the ring. Ritter has $92,170 in her campaign war chest, has spent $27,100 and Sutton has $300.00 state campaign documents. Ritter has been a past county mayor, is close to President Barack Obama but she also has carped over the years that the press is after her as has Lieberman. But Ritter also had some campaign reporting irregularities in her unopposed 2008 race for her commission seat and some of the media criticism may be justified. http://articles.sun-sentinel.com/2010-12-03/news/fl-ritter-violations-20101203_1_campaign-law-violations-campaign-funds-russ-klenet She told the press back then it was a bookkeeping error and not personal enrichment said the attorney about the issue. Further, the sometimes-flamboyant woman when she was mayor even did a dance in a red dress that for some people was considered risqué in nature during a mayoral ball she held. Ritter first began her political career in 1996 when she was elected to the Florida House and in her case when it comes to gift disclosures over the years. She lists getting some Mikimoto pearls from the Janaenese general consul and she also attended a Super Bowl VIP media event party state the forms.

Ritter
>>> Press release: Broward Woman Pleads Guilty in Identity Theft Tax Fraud Scheme Involving U.S. Marine Victims
Wifredo A. Ferrer, United States Attorney for the Southern District of Florida, John V. Gillies, Special Agent in Charge, Federal Bureau of Investigation (FBI), Miami Field Office, and José A. Gonzalez, Special Agent in Charge, Internal Revenue Service, Criminal Investigation Division (IRS-CID), Miami Field Office, announced that Dorothy Boulin, 29, pled guilty yesterday afternoon before U.S. Magistrate Judge Edwin Torres to one count of wire fraud and one count of aggravated identity theft in connection with an identity theft tax fraud scheme.
According to the documents filed in Court, sometime prior to January 2012, the defendant received a list of military personnel (United States Marines) with names and social security numbers for identity theft tax fraud purposes. The defendant knew that the list contained names of military personnel. On January 17, 2012, the defendant, from a computer in her residence in Broward County, caused six fraudulent tax returns to be submitted online to an online tax filing company. Five of these six returns were submitted without the authorization of the individuals whose social security numbers appear on the returns. These five returns sought approximately $21,301 in fraudulent refunds. Several of these victims were marines.
On January 19, 2012, the defendant caused eight fraudulent tax returns to be submitted online. Seven of these eight returns were submitted without the authorization of the individuals whose social security numbers appear on the returns. These seven returns sought approximately $32,627 in fraudulent refunds. Several of these victims were marines. Boulin is scheduled to be sentenced on July 5, 2012. At sentencing, she faces a maximum statutory sentence of 22 years in prison. >> Mr. Ferrer thanked the FBI and IRS-CID for their work on the case. The case is being prosecuted by Assistant U.S. Attorney Michael N. Berger. A copy of this press release may be found on the website of the United States Attorney's Office for the Southern District of Florida at www.usdoj.gov/usao/fls.
>>> Thank you for using the Broward County Commission Agenda E-mail Notification System. A new Broward County Commission Agenda is available. Point your browser to http://www.broward.org/commission/welcome.htm to view the new agenda.
PALM BEACH COUNTY
>>> Press release: Another Defendant Sentenced in Broward and Palm Beach Pill Mill Operation
Wifredo A. Ferrer, United States Attorney for the Southern District of Florida, John V. Gillies, Special Agent in Charge, Federal Bureau of Investigation (FBI), Miami Field Office, Mark R. Trouville, Special Agent in Charge, Drug Enforcement Administration (DEA), Miami Field Division, and José A. Gonzalez, Special Agent in Charge, Internal Revenue Service, Criminal Investigation Division (IRS-CID), announced the sentencing of an additional defendant on charges stemming from Operation Oxy Alley, a coordinated investigation into pill mills in Broward and Palm Beach Counties. Today, U.S. District Judge Kenneth A. Marra sentenced defendant Gino Marquez, 30, of Wellington, to 84 months in prison, to be followed by one year of supervised release. Marquez pleaded guilty in February 2012, to one count of racketeering conspiracy. Including Marquez, 27 defendants have been sentenced on an indictment unsealed on August 23, 2011, charging 32 defendants, including 13 doctors, in this pill mill scheme.
The indictment alleges that defendants Christopher and Jeffrey George, twin brothers, operated, managed and financed four pain management clinics in Broward and Palm Beach Counties. According to the indictment and statements made in court, from 2008 to early 2010, these pill mills distributed approximately 20 million oxycodone pills and made more than $40 million from the illegal sales of controlled substances. Christopher and Jeffrey George are among those who have pleaded guilty. They were sentenced earlier this year. The investigation and prosecution was the result of work by federal, state and local law enforcement agencies. The FBI, DEA, IRS-CID were assisted by the Palm Beach County Sheriff's Office, the Broward Sheriff's Office, the Hollywood Police Department, the Boca Raton Police Department, and the Davie Police Department. Coordination efforts also included cooperation by the Palm Beach State Attorney's Office and the Delray Beach Police Department, Jupiter Police Department, West Palm Beach Police Department, Boynton Beach Police Department, Medley Police Department, Homestead Police Department, North Miami Beach Police Department, and Sunny Isles Police Department. This case is being prosecuted by Assistant U.S. Attorneys Paul F. Schwartz, Lawrence D. LaVecchio and Strider Dickson. >>> A copy of this press release may be found on the website of the United States Attorney's Office for the Southern District of Florida at www.usdoj.gov/usao/fls. Related court documents and information may be found on the website of the District Court for the Southern District of Florida at www.flsd.uscourts.gov or on http://pacer.flsd.uscourts.gov.
SEMINOLE COUNTY
>>> Circuit Court Judge Lester now in the hot seat, presiding over Zimmerman trial, jurist had $2.27 million net worth through June 2011
Circuit Court Judge Kenneth R. Lester Jr., has taken over as the judge that will preside over the George Zimmerman second-degree murder charge trial when he killed Trayvon Martin back in late February after a scuffle and the case has become the poster child for the Florida Stand Your Ground Law. The Seminole County judge got the appointment after the previous judge had a conflict of interest in this national high profile case and Zimmerman's bond was set Friday at $150,000.
What do we know about Lester's finances?
Lester through Jun. 1, 2011 had a net worth of $2.27 million and there is $270,000 in household goods. Two rental properties owned with others brings in $500.00 per month each, there is $170,000 in deferred compensation and another $110,000 in two bank accounts. He and his wife's personnel real estate holdings and homes are valued at $930,000 and $250,000 and the two rental properties are valued at $400,000 and $100,000. He lists total assets $2.23 million and the only listed liability on his financial disclosure is $40,000 owed to GMAC. He lists receiving no gifts last year, but he did not list his judicial salary on the Form 6 on file with the state, which was odd and may be just an oversight by the judge.
HILLSBOROUGH COUNTY
>>> Press release: Gov. Scott taps Jennifer Gabbard, of Tampa, to Hillsborough County Court.
Gabbard, 39, has been an assistant state attorney with the State Attorney's Office for the Thirteenth Judicial Circuit since 1997 and served as chief of the county court division for two years. Gabbard received bachelor's and law degrees from the University of Florida. "As a prosecutor for 14 years, Jennifer has gained valuable experience with the county court system," Governor Scott said. "During that time, she has handled a wide variety of cases and gained a reputation as a tough, fair and able prosecutor. I am confident she will continue to further the rule of law from the bench." Gabbard will fill the vacancy created by the appointment of Judge Nick Nazaretian to the Thirteenth Judicial Circuit Court.
MANATEE COUNTY
Press release: Gov. Scott reappoints Carlos M. Beruff to the State College of Florida, Manatee-Sarasota District Board of Trustees.
Beruff, 54, of Parrish, is a developer with Medallion Home Gulf Coast. He is a member of the National Home Builders Association and the Home Builders Association Manatee-Sarasota. He has served on the Board of Directors for Junior Achievement Sarasota/Manatee and the Boys and Girls Club of Manatee. Beruff attended the University of South Florida. He is reappointed for a term beginning June 1, 2012, and ending May 31, 2016. The appointment is subject to confirmation by the Florida Senate.
COMMUNITY EVENTS
>>> It's prom season again and we are currently collecting gently worn dresses for our Mentees attending prom this year and we need your support to make this year's event, even more successful than last year's! Long and short dresses are welcome, as well as any other clothing/accessories that you are interested in donating. Items can be dropped off Monday – Friday between 8:30am-5:00pm at WOT offices located at 22 East Flagler Street, 6th Floor, Miami, FL 33131 – we are located on the 6th floor of the Macy's building. Due to timing, we ask that all items be in WOT offices by no later than Thursday, April 19th. If you need the items picked up, please contact Beatrice Arias at 305-371-3330 or b.arias@womenoftomorrow.org to make arrangements and we will gladly have a WOT staff member pick up the donated clothing at your convenience. You will receive an acknowledgement letter after the event for your tax purposes. Thank you in advance for your donations and support – we are able to continue doing what we do, because of you! Warmest Regards, Women of Tomorrow
>>> www.downtownbayforum.org THURSDAY APRIL 26, 2012–11:30 AM -POLITICS AND ETHICS CAN THEY CO-EXIST? PRODUCED BY JOSEPH M. CENTORINO
SPEAKERS JOSEPH M. CENTORINO, EXECUTIVE DIRECTOR, MIAMI-DADE COMMISSION ON ETHICS AND PUBLIC TRUST: DAN GELBER, FORMER DEMOCRATIC STATE HOUSE LEADER AND STATE SENATOR: KATY SORENSON, PRESIDENT & CEO -GOOD GOVERNMENT INITIATIVE AT THE
UNIVERSITY OF MIAMI – MODERATOR, DR. SEAN FOREMAN, DEPT. OF HISTORY & POLITICAL SCIENCE-BARRY UNIVERSITY >>> WOLFSON AUDITORIUM @TEMPLE ISRAEL, 137 NE 19th STREET, MIAMI FREE SELF PARKING AVAILABLE Call ANNETTE EISENBERG (305)757-3633 Fax (305)754-2015 Membership Application &/or Luncheon Reservation
EDITORIALS
>>> PAST WDR MAR.2007: Public confessions then rehab seems to be the new cottage industry for fallen community & elected officials
Public confessions by elected leaders of their sins only after they have been confronted with hard facts of what they did has created a cottage industry of people denying responsibility of their actions until caught and they are filling the nation's rehabilitation centers with political outcasts fallen from grace. On a national scale, the general theme is similar and politicians seem to get either involved with money and kickbacks, or an affair of some variation. But what is surprising is how hard people fight the guilty admission hoping it would go away, rather than just face the music, admit it, and actually inoculate themselves for the story's legs are taken away from the media.
Locally, the community saw this with the elected leaders of Cooper City who were video taped at a restaurant eating and drinking before a commission meeting. They denied the accusations vehemently and it was only after being confronted with the video that they admitted they were eating and drinking. Further, in this town everything seems to be the fault of The Miami Herald. A double barrel of this theme occurred Thursday at the city of Miami and Miami-Dade Commission meetings and commissioners carped constantly about the papers stories over the past week.
Elected leaders in today's world of video phones and other small devices face scrutiny their predecessors never experienced, and overall the technology has been a good thing. But leaders must realize that it also raises the bar and questionable actions will eventually come to light, which is a good thing when it comes to public tax dollars and regaining the trust of taxpayers and elected leaders should always keep that in mind.
Miami-Dade must do something about the 500,000 unlicensed drivers on the county's highways and roads
A local Miami-Dade county judge in charge of the traffic division of the court has estimated that in Miami-Dade, there are 500,000 people driving without a valid license in the county and that is just unacceptable. The county with 2.4 million people cannot sustain such a large number of non-licensed drivers on the highways and local law enforcement must step up efforts to get these people off the roads before they kill someone or themselves.
The city of Miami has an accident occur every 24 minutes and along with this fact, it also drives up car insurance rates for those people that want to be compliant with the law and the privilege of driving a car. Further, car accidents many times results in serious injuries and this adds to the public cost for healthcare moving it up another tick. I certainly do not have the answer but when almost 20 percent of the county's population is driving without a valid license, something must be done to address this driving insanity that is highlighted by the fact we kill more people by vehicular homicide, than murder. Something every resident and lawmaker in South Florida should ponder for the community's streets and highways are a killing field only made worse by these illegal drivers.
Experience counts when it comes to the media covering South Florida
In Miami, if you are the press, time served covering this community gives you a major edge over the new less experienced reporters. How many television or print reporters can name all the Miami and Miami-Dade County Commissioners, 18 in all? I thought about this since I am coming up to ten years (soon to be 13 years in May) of watching South Florida and see many new media personnel in the field and they are many times just covering the story rather than giving any real past or current analysis of what is going on at a public meeting. This is not about young or old people for there are both in the longevity field when it comes to reporters. But it does highlight when you are dealing with such a complex community, as South Florida is, that past historical experience counts, and unfortunately, that is in short supply for many of the local media outlets.
>>> Check out the past national story in the Tribune papers: Paperwork Tiger
By Maya Bell, Miami Bureau, January 20, 2003 — MIAMI – Sometimes Dan Ricker lives in the dark so others may live in the light. It's not by choice. Miami's self-anointed citizen watchdog depends on the people he writes for and about to finance his quixotic quest to attend nearly every government meeting in Miami-Dade County. That's a lot of mind-numbing meetings — as many as 2,500 a year — but not a lot of income. So Ricker is always teetering on bankruptcy. He dashes to his post-office box daily, hoping subscribers to his weekly Watchdog Report have finally mailed their checks.
LETTERS
>>> Herald guest editorial: South Florida's Muslim bashing By SHABBIR MOTORWALA
Last year U.S. Rep. Peter King of New York had a congressional hearing on "Radical Muslims in America." One of the issues debated most during that hearing was assimilation of Muslim youth in American society.
What is assimilation, exactly? How is assimilation defined? One positive that emerged from the hearing was that Minnesota law enforcement officials praised the Muslim community's outreach as well as cooperation with law enforcement.
Locally, U.S. Attorney Wifredo Ferrer and John Gillies of the FBI praised the outreach by local Muslim organizations going so far as to specifically mention that the outreach by the Coalition of South Florida Muslim Organizations (COSMOS) should be a model for the entire country. Read More…
>>> Reader on Miami-Dade Property Appraiser story last week
This is wrong – so wrong – and state Rep. Carlos Lopez-Cantera knows it – PA Pedro Garcia was not about to "rule" – Garcia was imposing the law of the land.
The Sebring decision says "public property leased for private use shall be subject to ad valorem tax" – their lease said the City pays – it would require a constitutional amendment to overturn the court decision. His own staff told him that and it was in the Miami Herald reported to the world. But that wouldn't have made a good campaign issue for him. and he played right into your hands and all those who have reported this. It's unconstitutional – and as he said, "a judge will have to rule so." The judge in Sebring already did.
>>> LIFETIME FOUNDING MEMBERS & INITIAL SPONSORS IN 2000
ANGEL ESPINOSA – (Deceased) owner COCONUT GROVE DRY CLEANER'S
HUGH CULVERHOUSE, Jr.
THE MIAMI HERALD www.miamiherald.com (2000-2008)
ARTHUR HERTZ
WILLIAM HUGGETT, Seamen Attorney (Deceased)
ALFRED NOVAK
LINDA E. RICKER (Deceased)
JOHN S. and JAMES L. KNIGHT FOUNDATION www.knightfoundation.org
THE HONORABLE STANLEY G. TATE
>>> Watchdog Report supporters – $2,000 a year
BADIA SPICES www.badiaspices.com
FLORIDA POWER & LIGHT www.fpl.com
RONALD HALL
MIAMI-DADE COUNTY www.miamidade.gov
UNITED WAY OF MIAMI-DADE COUNTY www.unitedwaymiamidade.org
>>> Watchdog Report supporters – $1,000 a year
AKERMAN SENTERFITT www.akerman.com
RON BOOK
LINDA MURPHY: Gave a new laptop in Oct. 2001 to keep me going.
WILLIAM PALMER
SHUBIN & BASS www.shubinbass.com
>>> Public, Educational & Social institutions – subscribers at $1,000 or less
CAMILLUS HOUSE, INC. www.camillushouse.org
CITY OF MIAMI www.miamigov.com.
CITY OF CORAL GABLES www.coralgables.com
CITY OF MIAMI BEACH www.miamibeachfl.gov
COMMUNITY PARTNERSHIP FOR HOMELESS www.cph.org
THE STATE OF FLORIDA www.myflorida.gov
GREATOR MIAMI CHAMBER OF COMMERCE www.miamichamber.com
GREATER MIAMI CONVENTION & VISITORS BUREAU www.miamiandbeaches.com
HEALTH FOUNDATION OF SOUTH FLORIDA www.hfsf.org
MIAMI-DADE COUNTY www.miamidade.gov
MIAMI-DADE COUNTY ETHICS & PUBLIC TRUST COMMISSION www.miamidade.gov/ethics
MIAMI-DADE COUNTY INSPECTOR GENERAL www.miamidade.gov/ig
MIAMI-DADE PUBLIC SCHOOLS BOARD www.dadeschools.net
PUBLIC HEALTH TRUST & JACKSON HEALTH SYSTEM www.jhsmiami.org
THE BEACON COUNCIL www.beaconcouncil.com
THE CHILDREN'S TRUST www.thechildrenstrust.org
THE MIAMI-DADE COUNTY LEAGUE OF CITIES www.mdclc.org
UNITED STATES OF AMERICA http://www.firstgov.gov/
UNIVERSITY OF MIAMI www.miami.edu
The Watchdog Report covers a few of the meetings attended weekly. It remains my belief that an informed public will make better decisions. Therefore, I go to meetings, make the presence of an informed citizen known, and bring the information to you. The Watchdog Report is in the fourth year of publication and it has been an honor to be able to send this information to you. It is sent to readers in Miami-Dade, Florida, the U.S. and the world. The Watchdog Report is sent to thousands free and while readers have been prodded to subscribe the results have been mixed. Over 600 reports and Extra's have been sent since May 5, 2000 and over one million words have been written on our community's governments and events. The report is an original work based on information gathered at public meetings, interviews and from documents in the public domain.
LETTER POLICY
I welcome letters via e-mail, fax, or snail mail. Letters may be edited for length or clarity and must refer to material published in the Watchdog Report. Please see address and contact information. Please send any additions and corrections by e-mail, fax or snail mail. All corrections will be published in the next Watchdog Report. If you or your organization would like to publish the contents of this newsletter, please contact me. Please send your request to watchdogreport1@earthlink.net
Daniel A. Ricker
Publisher & Editor
Watchdog Report www.watchdogreport.net
Est. 05.05.00
Copyright © of original material, 2012, Daniel A. Ricker
>>> The Watchdog Report are now available to television stations web pages, and all the newspapers and other media in South Florida if the publishers have an interest to run part or all of the stories. Further, in 2000, I used to have some paper's running the report in the Spanish press, that option is available again, and publishers should contact me. The news content will not be free, but you can pick and chose the stories of interest, edit them if necessary but you must still keep the general story intact. If you are a news outlet and would like to learn more about, the Watchdog Report and this offer contact me at watchdogreport1@earthlink.net for further information.
>>> Here is what past newspapers have written about the Watchdog Report publisher including a survey and regional study done by the U. North Carolina at Chapel Hill on the media in the southeast United States.
>>> The Miami Herald and Orlando Sentinel & Sun-Sentinel articles on the Watchdog Report publisher over the years. >>> Published on September 9, 1999, Page 1EA, Miami Herald, The (FL) CITIZEN ADVOCATE' KEEPS TABS ON POLITICIANS >>> Published on January 3, 2000, Page 1B, Miami Herald, The (FL) MIAMI-DADE WATCHDOG WILL BE MISSED >>> >>> To read the full section large two page front page story, but without the photos and smart box graphics, go to: `I Go When You Cannot' – Sun Sentinel 20 Jan 2003 … Sometimes Dan Ricker lives in the dark so others may live in the light. … to his weekly Watchdog Report have finally mailed their checks. … http://articles.sun-sentinel.com/2003-01-20/news/0301190341_1_ricker-school-board-president-miami-s-first-cuban-american >>>Watchdog Report publisher named 'Best Citizen' 2003 by the Miami New Times –The publisher would like to thank the weekly alternative paper Miami New Times for bestowing their 2003 Best of Miami, 'Best Citizen' award to me and I am honored. Thank you. To read the full story go to http://www.miaminewtimes.com/issues/2003-05-15/citylife2.html/1/index.html
From the spring of 2003: U. North Carolina, Chapel Hill: Southeast U.S. Media Report lists Watchdog Report publisher as leading Florida commentator >>> Selected excerpts from the report on Florida's media sources
Those who do read the newspaper in Florida have a bevy of options for state government and political coverage. The dominant newspapers in the state are Knight-Ridder's The Miami Herald (Acquired by The McClatchy Company in 2006) and the Poynter Institute's St. Petersburg Times. Both papers endorsed Gore in 2000 but split on the 2002 gubernatorial race, with the Herald endorsing Republican incumbent Jeb Bush and the Times backing Democratic challenger Bill McBride. Daniel Ricker of The Miami Herald also writes an influential column as well as an email newsletter called the Watchdog Report that goes out to more than 100,000 subscribers. FEBRUARY 2004 – Florida: Columnists in Abundance –ERIC GAUTSCHI, graduate student, School of Journalism & Mass Communication, UNC-Chapel Hill – D) LEADING COMMENTATORS – Resource Commentator Organization Type Web site –Steve Bousquet St. Petersburg Times Column www.sptimes.com/columns/bousquet.shtml -"First Friday" WPBT TV (Miami) TV Show www.channel2.org/firstfriday/issues.html –Lucy Morgan St. Petersburg Times Column www.sptimes.com/columns/morgan.shtml –Daniel Ricker Miami Herald/Watchdog Report Newsletter >>> Readers who would like to read the complete University of North Carolina, Chapel Hill Southeast United States Media Report go to view the complete report or download all the data used in this study. >>> Watchdog Report Editor's note to the NCU/CH study: The subscriber number referenced is incorrect and applies to readership.
General subscriber's names will not be published in the Report. To subscribe to the Watchdog Report please use the form below as a subscription invoice.
********************************************************************
Watchdog Report Supporters Invoice-Form
NOTE: Invoice is for Yearly supporter/sponsorship Rates: Thank you.
Supporting Sponsors $5,000
Sustaining Sponsors $2,000
Corporate Sponsors $1,000 (All levels above will be listed in the report with web-site link if desired)
Large Business Supporters $500
Small Business Supporters $250
Individual Supporter $150
Student Supporter $ 75
Any amount $
Name & Address
Please make checks payable to: Daniel A. Ricker
Send to: 3109 Grand Avenue, #125
Miami, FL 33133
Fax 305-668-4784 -To contact the Publisher please e-mail watchdogreport1@earthlink.net